Nowadays anyone can setup a video surveillance system for a home or office using their Mac. We've taken a look at the best Mac security camera software which turn your Mac into a CCTV system to protect your property or business. Office or home security monitoring software for Mac – also known as Network Video Recording (NVR) software for Mac – is much cheaper than traditional home security solutions and you don't need to pay for any expensive installations. There are now quite a lot of security camera apps and gadgets for Mac on the market but not all of them work well or are suitable for an effective security camera solution. So here we've narrowed it down by reviewing the best Mac security camera software for all needs from home security to professional CCTV systems. All of the security camera apps featured here are compatible with the latest versions of OS X and macOS including El Capitan and Sierra.
Mac Security Camera Software Overview
There are many reasons you may want to use security camera software on your Mac but some of the most common reasons include:
Increased surveillance of home or office after cases of robbery, thefts or home invasions in your area
To keep an eye on your home or office while you are away on holiday
To setup a video baby monitor
To monitor if your children are doing their homework
To check on the behavior of authorized people in your home such as a cleaner or babysitter
To keep an eye on what your pets are doing while you're out of the home
To keep an eye on who is using or attempting to physically use your Mac when you're not home
There are some useful things to be aware of however before choosing one of the many office or home security software out there for Mac users. Here are some important things to know before deciding which security camera system is best for your needs and expectations.
Although most decent CCTV software for Mac allows you to record continuously, the best security camera software for Mac utilizes motion detection so that it only records video when it detects activity or movement in a room. To record constantly requires huge amounts of disk space not to mention makes it difficult to examine hours of footage to find an intruder. Some surveillance software will even send you text alerts or emails to let you know that motion has been detected on one of the cameras. Of course, for motion sensors to work properly, it's important that pets such as dogs and cats can't access the area you are monitoring while you are out. If you want something basic however, security webcams start from as little as $29.99 and you can of course also use your Mac's integrated iSight camera.

Most of the best surveillance software on OS X allows you to upload footage to external storage solutions such as Dropbox, Google Drive or their own cloud services. This is useful if your Mac is stolen or if your Mac crashes because it means you can download the footage on any computer anywhere to find out who the intruder was. If you don't want to upload video to an external storage solution for either cost or privacy reasons, make sure that your Mac is hidden or concealed so that potential invaders can't also steal your Mac and all the video footage on it. For this reason, Mac Minis are great for surveillance because they're very small and easy to conceal or hide from thieves. Most Mac IP camera software allows remote streaming meaning you can monitor cameras remotely from anywhere in the world just by going to their IP address in your browser or by logging into your surveillance software remotely.
Make sure that you have plenty of disk space available before installing any surveillance software on Mac. Most allow you to record video to an external hard drive but surveillance apps such as Sighthound require 25GB of free hard drive space just to install. We strongly recommend recording video to an external source both in case your Mac gets stolen and so that your Mac hard drive doesn't quickly fill-up. You can check out our guide to the best external hard drive for Mac here.
Ensure that your Mac is not set to automatically sleep when in surveillance mode. If your Mac sleeps, the surveillance software obviously won't be able to run. To deactivate the Sleep mode on your Mac, go to "System Preferences > Energy Saver". Click on the "Sleep" tab and set the sleep setting to "Never".
If you need to be able to control the angle of your cameras remotely, you'll need to check the cameras have Pan, Tilt, Zoom (PTZ) support. Note however that not many surveillance apps support PTZ still (although Xeoma does) and if this is important to you, you're probably better going for a proprietary solution such as Amcrest or Google Nest which provide their own software that only work with their own cameras (see reviews below).
The same is true if you need audio and microphone support. For example some Amcrest and Nest cameras include a microphone so that you can hear as well as see what's going on which may be particularly important if you want to setup a baby monitor. Other proprietary solutions such as Google Nest can integrate with Amazon Echo although Nest cams also have their own "Talk & Listen" feature so if you don't have Amazon Echo, you can still communicate 2-way. This is very useful if you want to tell your toddler to go back to bed for example rather than having to go into the room or warn an intruder that they are on private property.
If you want to record at night, you'll need to make sure both that you have an Infrared (IR) camera and that the software you're using supports IR. There are many IR cameras on the market and most work with all surveillance software but you should always double check that the one you choose is supported by the surveillance software you choose on your Mac.
Finally, be aware that no home security system is bulletproof. Thieves and home invaders are becoming increasingly sophisticated in taking-out DIY home security camera systems. Sometimes this can be as simple as cutting any external cables to a camera or your internet connection which is why it's important that if you have cameras mounted outside your property, the cables should not run along your wall – they should go directly inside the wall behind the camera. However, increasingly thieves are using more sophisticated methods of disabling systems that rely on wireless sensors on doors and windows by "jamming" the wireless frequency that security cameras and sensors communicate on. To those who know what they're doing, this can be done with a simple radio transmitter which overloads the frequency the sensors communicate with the cameras and effectively disables them temporarily until the break-in is complete. Alternatively, there have been cases of criminals aiming a simple laser beam at security cameras which can blind the lens during a break-in. At the moment, security camera manufacturers are still playing catch-up with robbers when it comes to jamming although it should be stressed that the majority of break-ins are opportunistic i.e taking advantage of an open window, door, garage etc. It's far less common that thieves stake out a property to assess the security system and then disable it although of course the more valuable the property, the more likely this is.
Best Mac Security Camera Software
The following are the best security camera software for Mac out there. You can find out more and try a free trial in some places by clicking on the names.
Security Spy is one of the most widely used security camera software for Mac out there. Security Spy looks good, is reliable and works extremely well on Mac. One of the main attractions of Security Spy is the ability to scale up or down both the amount of cameras and cost depending on how your needs as they grow or decline. Security Spy is therefore suitable for everything from a small to medium sized home solution to a large office or professional security system. Security Spy covers all the essentials we look for in surveillance software including motion detection, audio detection, email alerts or SMS alerts when activity has been detected. What we also like about Security Spy is that it's been designed with Mac users in mind with an OS X/macOS style interface that looks at home on OS X. A lot of surveillance software started life on Windows and has been ported to Mac but as a result, a lot of them feel like PC apps. Security Spy definitely doesn't and is very intuitive to setup an configure.
It's also been designed to make the best of your Mac's processing power with mutli-threading so that adding more cameras doesn't end up consuming all of your Mac's CPU power (a common problem with a lot Mac NVR software). The developers of Security Spy will even advise you on the best types of camera for your needs and it integrates with most major IP cameras including Sony, Samsung, Canon and Bosch.
You can try a 30 day free trial of Security Spy and watch it in action below:
Sighthound (previously known as Vitamin D) is definitely up there as one of the leading CCTV camera surveillance systems for Mac. Even better, Sighthound is now completely free surveillance software for Mac if you just need to just one camera in low resolution although this would only be suitable for a very basic surveillance solution covering the area around your Mac. To add more cameras in high-resolution, you must upgrade with a Basic license starting at $60 and Pro license $250. Sighthound is easy to set up with support for multiple cameras, IR cameras and support for remote access via any browser although Firefox and Chrome seem to work better than Safari for displaying cameras. All you need to do is enable remote access in Sighthound and you'll be given an IP address to access cameras from.
Your best bet is to try the free version of Sighthound before deciding if you want to upgrade to the Sighthound Basic or Sighthound Pro. Sighthound Pro is a remarkably good surveillance solution for Mac users and very economical compared to Security Spy although not quite as polished and advanced.
You can watch Sighthound in action below:
No mention of home security software would be complete without a mention of Nest Cam. Nest Labs was bought by Google in 2014 and the Nest camera is Google's answer to security around the home as well as other smart home solutions such as thermostats and smoke alarms. Smart home gadgets such as Nest are increasingly popular and have been hailed for their success in catching thieves and home intruders such as this dishonest landlord in Colorado. Nest Cam provides both high quality video with cameras designed for both inside and outside your home.
The cameras include a free Mac Nest App which allows you to view video history, create time lapses, share videos and create activity zones. There is also a dedicated Nest app for iPhone and iPad to receive intruder or activity alerts. Most recently, Next has launched Nest Cam IQ which features facial recognition meaning it can send alerts based on faces it does and does not recognize in your home. So for example, if the dog walker enters your house, you won't get any security alerts but if it detects an unknown intruder, you'll receive an alert on your phone.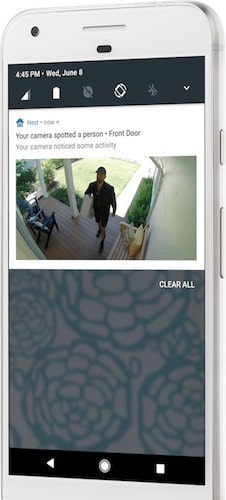 Nest Cam IQ also records in Ultra HD 4K quality which makes it one of the only consumer level priced security camera for Mac that can record in 4K. You can also setup activity zones that you want the camera to monitor so that it will ignore passing cars, pedestrians or other thing that may come into the camera's lens.
Nest cameras cost around $199 each and the quality of the video, software and ease of setup make them a very attractive product, as you'd expect from Google. The biggest drawback for some however is that if you want to be able to save and store footage for reviewing later, Nest will only record footage to Nest's cloud service Nest Aware – you can't record to a hard drive or external device. This means you have no choice but to subscribe to Nest Aware starting at $10 plus $5 extra for each added camera which saves recordings for up to 10 days online and can be reviewed whenever you want. Enhanced plans are available for $30 per month with additional cameras $15 per month each so the costs soon add up when you start adding cameras. Note that if you want to enjoy Nest Cam IQ's facial recognition technology, a Nest Aware subscription is mandatory.
Xeoma is aimed at those with little technical knowledge or time when it comes to setting-up a home or business surveillance system. Xeoma uses a unique building block approach to help you construct a tailor-made customized security system on Mac which is extremely easy and intuitive to use. Xeoma is certainly the easiest and quickest way to set up a security camera on your Mac and you can be monitoring in a matter of minutes after downloading it. Despite it being as simple as possible to set up however, Xeoma is packed with features and includes some surprisingly advanced tools such as PTZ tracking, license plate recognition (ANPR for Europe, UK, USA and CIS), facial recognition and motion detection.
Other nifty features include Fisheye dewarping, camera grouping, camera mapping and image rotation. You can record simultaneously to several disks at once and access camera from wherever you are in the world. In fact you can add up to 3000 cameras per server which is more than enough even for enterprise setups.
You can download a basic free version of Xeoma to get to grips with it and also check whether your cameras works with it. Xeoma is compatible with most types of camera including IR cameras and although you can check specific camera brands and models first. Note that the Mac version of Xeoma has specific installation instructions and a few features are not available on Mac such as Screen Capture and Full Screen mode.
You can watch a good overview of how simple it is to set up and use Xeoma below:
AirBeam is designed to turn all of your Apple devices into a flexible remote surveillance system. It can stream live video and audio to iPhones, iPads, Macs or simply a web browser. One of the impressive things about AirBeam is the video quality possible with up to Full-HD 1920 pixels and audio streaming in 16bit 44kHz CD quality. Another handy thing is that AirBeam automatically discovers AirBeam cameras on your network with support for robotic Motrr Galileo cameras too. AirBeam is quite limited in features but for just $3.99, it offers the best video quality we've seen for a simple surveillance setup.
Amcrest Surveillance Pro is designed to manage small network CCTV setups using its own proprietary Amcrest video cameras. The software itself is free to use on Mac but the cost of cameras can add up depending on whether you need indoor and outdoor cameras, HD quality, PTZ, wireless connections etc.
You can view real-time video of several camera channels, map cameras and even configure them to send the alarm out to other applications if it detects motion or intruders.
If you don't want the hassle of compatibility problems with webcams and other Mac surveillance software, Amcrest's range of cameras and software provide a reliable and easy to use security solution, both indoor and outdoor with support for Pan, Tilt Zoom, night vision, audio, microphone and more.
You can watch how to set up and use Amcrest cameras on Mac below:
iCam is a surprisingly good video monitoring app that allows you to remotely monitor webcam feeds from all iOS devices over Wifi and mobile EDGE, 3G, 4G and LTE networks. Be aware that iCam automatically records footage to iCam Cloud to ensure that you always have a backup of video in case your Mac gets stolen or crashes. iCam is definitely oriented more at iOS users than Mac users but there is an Mac app called iCamSource which basically streams video from your Mac to your iPhone, iPad and even iPod Touch devices. You can connect as many cameras as you want to your Mac via USB or Firewire and of course use your Mac's iSight camera. You can choose to receive Push Notifications when motion is detected by iCamSource on your Mac. You can also choose to view camera footage via iCamWeb although this requires utilizing Java on your Mac and we don't recommend installing Java on Mac for various reasons.
iCam also has a Pro version which provides better video quality, more efficient bandwidth usage and more customization options. iCam Cloud pricing starts at $4.99 per month for 5 GB of event storage. However, some users may experience problems connecting to cameras if they have Firewall or restricted networks in which case you need to subscribe to the iCam Unlimited Private Proxy Data auto-renewable subscription which also starts at US$4.99/month. Configuring routers and setting up cameras in general is a bit trickier in iCam than many other surveillance apps on Mac.
Be aware that there are some other extra in-app purchase costs to consider with iCam. For example, you can get an additional 25 MB of Private Proxy Data for $0.99, 5 GB$4.99, 22 GB$19.99 and 60 GB$49.99. The developer also encourages donations to support the ongoing development of iCam starting from $0.99
Of all the low-budget apps that claim to provide reliable video camera surveillance for Macs however, iCamera Recorder is one of the few that works surprisingly well.
You can watch how to set up iCam with your Mac and iOS devices in the video below:
Periscope Pro is designed for Macs and uses your Mac iSight camera or any other connected USB cameras to build a home security system. Persicope Pro is pretty basic but is well designed, easy to use and features essentials such as motion detection, video and sound recording and covert monitoring. You can also upload any recorded footage directly to Dropbox in case anything happens to your Mac. Setting up IP cameras is particularly well done on Persicope Pro with a setup wizard to automatically detect cameras. We also liked the fact that there's a Preview window with access to your cameras – just click on the camera you want to reveal wants happening in real-time in that space.
Persicope Pro is pretty good value at $19.99 if you want a simple, easy to set up video camera network on your Mac. There's also an older version of Periscope for older versions of OS X 10.7 and lower. You can also watch an overview of Periscope below:
IP Camera Recorder is a aimed at those that need professional video surveillance although you can use webcams or IP Cameras to set them up. However, in order to record, you need purchase the DComplex IP Camera Recorder software for Mac which costs $39.99. DComplex IP Camera Recorder is easy to set up and automatically discovers your IP Cameras with support for up to 100 IP Cameras simultaneously. You can schedule recording or set it to record based on motion which will also send you motion detection alerts, upload to FTP and remotely access cameras from PC. Mac and iOS devices.
DComplex IP Camera Recorder isn't the most polished application for Mac but if you want a simple but effective multi-camera surveillance solution at a modest cost, it's worth taking a closer look at.
If you're looking for an enterprise surveillance software for Mac, then iDVR-PRO Mac is a professional security surveillance software for both Mac and PC. Note however that iDVR-PRO for Mac requires proper surveillance cameras such as CCTV, AHD and HD-TVI cameras so it's not a system that simply uses any USB webcam.
The smart thing about iDVR Pro is that you can view up to thirty-six cameras in one view making it suitable for professional security guards to monitor. You can access camera on a local network or remotely from anywhere. iDVR-PRO is a professional surveillance software for Mac and pricing is only available on request.
BackStreet Surveillance is another professional CCTV security system that has a relatively easy user interface for something so powerful but like Amcrest, it requires proprietary cameras. Pricing is on quotation only.
Other Surveillance Software For Mac
These are the best security camera software for Mac and although you will find other budget surveillance solutions on the Mac App Store, in our experience the results are not great. Some examples are iSentry (Free/$29.99), Home Watch ($4.99), Who's Looking ($4.99) and iCamera Recorder which aren't suitable for setting up an efficient and stable multi-camera surveillance system. One of the most common problems with these apps is that they're only designed to use iSight for basic monitoring of activity around your Mac. In addition, some of them like Security Camera ($4.99) just take snapshots when they detect motion in a room and don't even record video. There are also other solutions on the Mac App Store such as OpenEye Remote but they only work with the developer's own rather expensive proprietary cameras. Others like Spy Cam ($9.99) are very limited in how they can be configured with no options to change simple things like where footage is stored, lack of motion detection and other basic configuration options.
Beware that there are some surveillance software such as C-MOR that claim they are "for Mac" but on closer inspection, require you to run Windows on Mac which we don't recommend when there's so many good native Mac surveillance software out there.
Finally, if you're looking for BlueIris surveillance software on Mac then you're out of luck. BlueIris is a Windows only application and the only way to run it on Mac is to run Windows on Mac although we don't advise trying to install surveillance software on Mac this way. There are plenty of Blue Iris alternatives for Mac here that do the job just as well and will be far more reliable and less stressful to setup.