Recent versions of Quicken for Mac have definitely closed the gap on Banktivity with the introduction of Quicken Bill Pay and enhanced Budgeting, Reporting and Investment tracking. However, it's still not as complete as Banktivity although if you need online banking integration, the choice may depend on whether Quicken Bill Pay or Banktivity's Direct Access work better for you. Banktivity's switch to a subscription only model is disappointing for those looking for a standalone desktop alternative to Quicken on Mac but it's still one of the best personal finance apps for Apple devices out there.
Pros
Designed specifically for Mac
Online banking integration
Imports from Quicken and other apps
Cons
Online banking integration costs extra
App can be unstable sometimes
Imported account may need manual corrections
Now subscription only
Banktivity is one of our top alternatives to Quicken for Mac and here we look at how the latest version Banktivity 8 can help manage your finances.
Banktivity has been around for over a decade now but was more commonly known as iBank until 2016 when it changed the name to Banktivity for various commercial reasons.
Banktivity has been a popular choice for Mac users looking for a Quicken replacement because it offered many things that Quicken for Mac lacked for years.
This includes features such as online banking integration, envelope and full year budgeting, loan amortization and multi-currency support.
The latest version of Quicken for Mac has now caught-up somewhat and unfortunately the latest version of Banktivity 8 is, like Quicken, subscription only.
But unlike Quicken, Banktivity is designed specifically for Macs and remains a very popular and robust personal finance app on macOS.
Because it's been designed exclusively for Macs, iPads, iPhones and Apple watches, Banktivity also looks great on Mac whereas Quicken was originally designed for PCs and later developed for Mac (with many essential Windows features left-out).
Importing Accounts Into Banktivity
The first thing you're likely to need when you start Banktivity is to import your accounts either from Quicken or any other financial software you've been using.
Banktivity has been designed with switching from Quicken or other personal finance apps in mind and includes a useful transfer setup assistant.
You can export your Quicken accounts (or any Windows/Mac personal finance software that supports QIF exporting) to QIF or QMTF format to import into Banktivity (if you're a TurboTax user, TXF format).
Note that unfortunately, Quicken 2019 has removed the option to export files in QIF format from the Mac version. It now only exports in QXF which is a proprietary Quicken format that can't be imported into any program. However, the Windows version of Quicken still exports to QIF so Mac users must open their accounts on a PC and export them if they want to import them to another program.
Banktivity supports both importing and exporting any file in OFX, QFX, QMTF, QIF or CSV format.
While the imported accounts aren't often perfect, it's a lot quicker than having to manually re-enter everything from scratch. You will have to make some manual corrections though. Note that Banktivity doesn't support importing "Classes" from Quicken 2007.
Unfortunately, although Banktivity can connect and sync to your accounts, it can't actually import all of your connected accounts from Quicken. You'll have to set them up manually again yourself (more on this below).
There are extensive video tutorials for Banktivity which make it easy to get started with importing accounts and to learn how the app works.
You can watch an overview of how to import Quicken into Banktivity below.
Connecting Banktivity To Your Accounts
Banktivity will pay your bills automatically and the lack of online bill payment and banking integration in earlier versions of Quicken for Mac were one of the major reasons that users first started switching to it.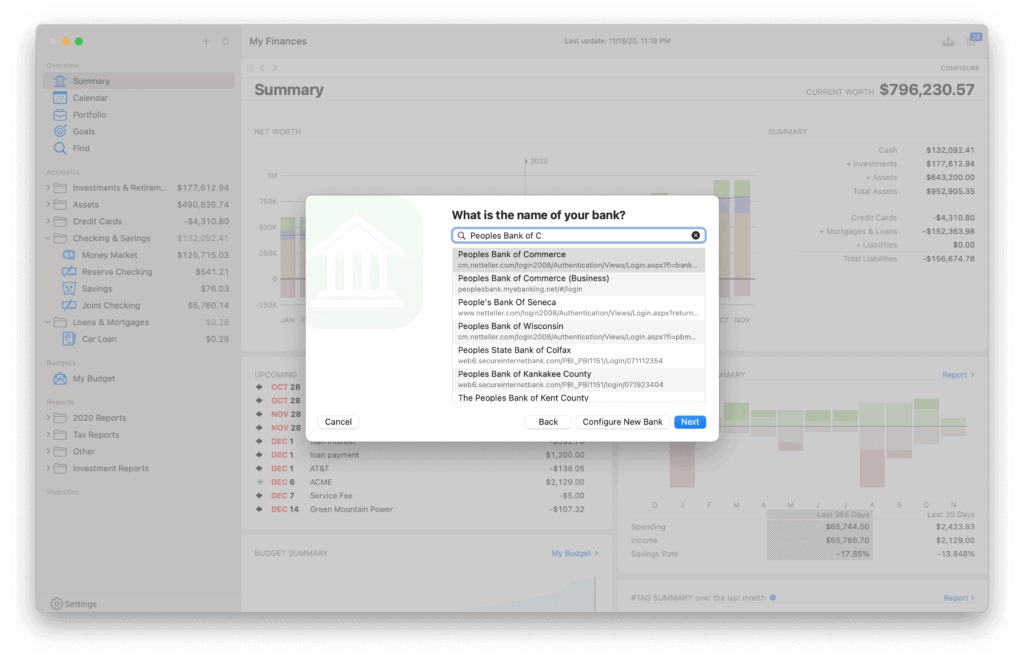 As mentioned earlier though, the Quicken import tool cannot import your existing online bank account connections so you'll have to set up them again.
Banktivty supports four different ways to connect to your bank, credit card or investment account:
Direct Access ($44.99 per year)
Direct Access is IGG Software's enhanced way of connecting to your account and the most reliable/widely supported.
However, it does cost an extra $44.99 per year in addition to the cost of Banktivity, $13.99 for 90 days and $5.99 for 30 days.
It does not pay bills either – it only updates your accounts in Banktivity.
Direct Download – also known as Direct Connect, Bill Pay or OFX – allows you to pay bills online and update your accounts.
This is free but some banks and financial institutions may charge for connecting to your accounts through it. It's also supported by less institutions than Direct Access.
Banktivity includes its own secure browser that you can use to access your banking site and download transactions manually. This is more time-consuming but is free.
If your financial institution doesn't support any of the above, Banktivity allows you to add accounts manually. You obviously have to update the figures manually too but it does allow you to have a complete overview of all your assets.
The fact that Banktivity charges extra for Direct Access will be a deal breaker for some but it's by far the most convenient with support for around 10,000 banks. However, like any such service, there's no guarantee it will work with all financial institutions and it may not work perfectly all of the time.
When it works well, Banktivity's Direct Access service is great. Just click to update your financial status and in a few seconds, Banktivity updates all of your data showing you your most recent transactions and Budget status.
However, as with Quicken Bill Pay and Direct Connect, Banktivity's Direct Access doesn't always work well with technical glitches and download errors.
As with any third-party online banking integration service, it's hard to tell whether the problem is at the bank's end or with the software. Quite often the problem is because the bank has changed it's API (the way it communicates with apps) and there's not much you can do about this until IGG software catches up and updates it.
Our tip is to try Direct Access for 30 days for $5.99 or get 90 days access for $13.99 to see whether it works well with your bank before making an annual subscription.
Financial Overview
Once you've got everything setup, you can finally see what Banktivity can really do.
The equivalent of the Quicken "Home" page is the Summary section in Banktivity.
This gives you a very clear overview of your current financial position including Net Worth, Upcoming Transactions and a useful Income/Spending Summary.
You can also create multiple profiles which makes Banktivity a good option for families or those planning to share it with others.
Multiple profiles allow you to keep accounts and investments separate, but also to password protect them so they remain private.
One thing we like is that if you're looking for something specific in your account, Banktivity helps you find specific transactions either by keyword or tags that you have applied to your spending (more on tags and categories later).
If you have accounts in different currencies, Banktivity also allows you to track them although most people will only need to track US dollars.
Note however that although this used to be part of the standalone version in Banktivity 7, it's now only part of the Banktivity Gold Plan which is subscription only.
Generating Reports
While reporting is still lacking in the Mac version of Quicken compared to Windows version, Banktivity generates useful reports very well.
There are reports for a wide number of areas including:
Income and Expense
Net Worth
Expense Timeline
Category Detail
Portfolio Summary
Investment Summary
Payee Summary
Categorized Payee
U.S. Tax
Debt/Liability
Forecast
There are also "Quick Reports" instantly generates reports to summarize the most important spending and budget figures.
To create custom reports, you must tag or categorize your transactions first. Banktivity allows you to add tag and categories to any transaction to make it easy to find or generate reports on later.
Examples of tags or categories include things such as "Entertainment", "Vehicles" and "Groceries".
Reporting in general is excellent in Banktivity and provides all you need to drill-down deep and see where your money is going in a specific area.
Investment Tracking
It has to be said that investment tracking isn't Banktivity's strong point and there are definitely better investment software tracking tools for Mac.
The Banktivity app tracks things such as 401k, 403b, brokerage or other investment accounts. It also allows you to manages mortgages and do loan amortization analysis.
However, there is a separate free app Banktivity Investor (formerly iBank investor) which offers better investment analysis and monitoring than Banktivity itself.
Banktivity Investor allows you to track buys and sells, dividends, review security prices and automatically download quotes from Yahoo.
You can also track stock options or short sales and analyze performance with various investor reports such as ROI, IRR and cost basis.
If Investment tracking and optimization is an essential feature for you, you should check out Empower which is the best personal finance software for Mac users when it comes to investment management.
You can check out our full review of Empower for an in-depth look.
Budgeting
Budgeting was finally improved in Quicken 2017 for Mac onwards with 12 month budgets now possible although this has been a feature of Banktivity for many years.
Banktivity takes you step-by-step in setting up a budget to help you create realistic targets based on scheduled and unscheduled expenses.
Banktivity supports both traditional annual budgeting and putting money aside for bills in advance (envelope budgeting). You can easily see if you're on track to hit your budget with a statement of your budget target and your actual position.
We like the way you can scroll through your budgets by time frame to see which months you've hit your targets and which you've gone over budget.
Budgeting is well thought out in Banktivity and gives you no excuses to claim you don't know where your money is going.
Workspaces
Banktivity 8 is also one of the only personal finance apps for Mac that allows you to use two monitors at once.
The Workspaces feature enables you to look at your budget on one screen and your transactions on the other for example which is useful if you really want to analyze your finances.
Alternatively you can use it to put two separate components side-by-side to get a better grip on your spending such as your Checking account on one side, and Budget on the other.
Banktivity iPad, iPhone and Apple Watch Apps
There's also a Banktivity iPad app ($19.99) and iPhone app ($9.99) mainly for entering and viewing transactions on the move.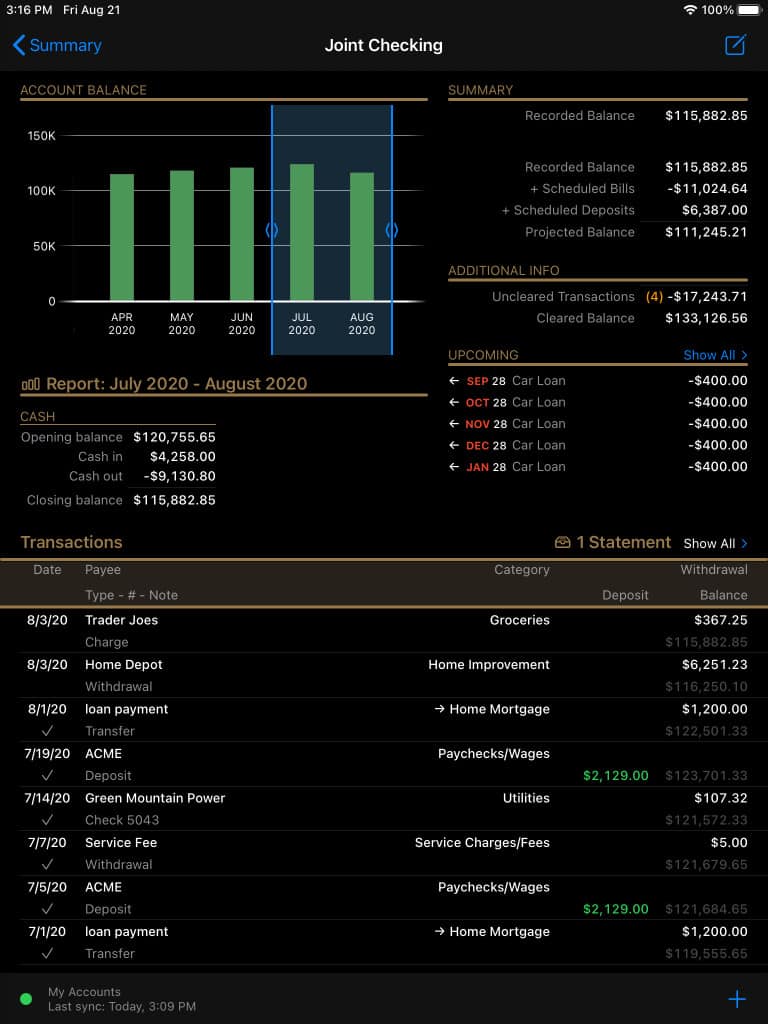 It used to be possible to sync the desktop app with the iOS app via WiFi or a webDAV server but that's no longer possible. You now need to sync via Banktivity Cloud Sync and means that your financial data and accounts have to be uploaded to Banktivity's server.
Banktivity guarantees the security of Cloud syncing by encrypting data before it uploads it to the Cloud and since it's encrypted, no third-party – including anyone at Banktivity – can read your accounts.
Banktivity Cloud Sync is free however and all you need is a free Banktivity ID to sync with iOS devices or other Macs. Note that you don't need to pay for Direct Access in order to use this service.
Like the Quicken mobile app however, there are many limitations to the iOS app compared to Banktivity. These include things like lack of envelope budgeting and report generation but if you just want to monitor accounts, edit transactions and manage budgets, it's useful.
Oh, and if you really need one, Banktivity is also the only budgeting software on Mac which has a Banktivity Apple Watch app.
Customer Support
When it comes to Customer support you can contact Banktivity Live Chat during working hours or email support out of office hours.
However there's no premium support or phone support as there now is with Quicken for Mac. You may therefore have to wait some time for a response even if your problem is urgent.
Banktivity Pricing
Previous versions of Banktivity were available as a standalone purchase with Direct Access costing extra.
However, the latest version of Banktivity 8 is subscription only but includes Direct Access as standard with the Bronze plan starting at $49.99 per year.
For investment features you'll need the Silver Plan ($69.99 per year) and for multi-currency support you'll need the Gold subscription for $99.99 per year.
You can find details of all Banktivity Plans here.
One drawback since it changed from iBank is that major updates to Banktivity are no longer free.
However, those that purchased the app direct from the developer get a 50% discount whereas the Mac App Store version offers no upgrade discount.
There is also a 30 day free trial of Banktivity so that you can judge for yourself.
There's also a new beta version of Banktivity 9 available which you can use for free. However, note that if you open a Banktivity 8 file in the new Banktivity 9 beta version, you won't be able to open it again in Banktivity 8 as they are not backward compatible.