If you want to get a better grip on your money, we've taken a closer look at the best personal finance software for Mac of 2023 that make excellent alternatives to Quicken for Mac and Mint.
If you've had it with bloated, subscription based personal finance tools like Quicken For Mac, the good news is there are many excellent alternatives available for Mac users.
The Mac version of Quicken has lagged behind the Windows version for years and even though things the latest version of is an improvement, the decision to make Quicken subscription only was the final straw for many faithful users.
Meanwhile Mint users were left out in the cold after Intuit announced that Mint will be shut-down on January 1st 2024.
The good news is that nowadays there's some great personal finance software for Mac that not only do a better job of apps like Quicken and Mint, they don't require a monthly or annual subscription to use.
We found the best personal finance tool on Mac is Empower (FREE) which blows the competition out of the water when it comes to investment tracking and even better, is free to use with no subscription or commitments.
Apart from price, other reasons the finance software here are better than Quicken and Mint include:
Mac and macOS Compatibility: All of the personal finance apps reviewed here work on the latest Apple Silicon Macs with the M1/M2/M3 chips and the latest version of macOS Sonoma unless indicated otherwise.
Bank Syncing: Quicken is notoriously bad at syncing with bank accounts and Mint has also been plagued with similar problems. You'll find the apps here that support connecting to financial institutions far more reliable with more connection options. Note that Direct Connect is increasingly being phased-out by banks as a way of syncing transactions so we've also looked for personal finance apps that provide alternative connection options to Direct Connect.
Mobile Support: Quicken's mobile app is limited and nowhere near as useful as the desktop app. Most of the apps here have well designed iPad and iPhone apps which are clear and easy to use.
Investment Tracking: The Mac version of Quicken has never been good at tracking investments and Mint's investment tracking is limited. You'll find software here that do a much better job of managing car loans, home loan amortization, stocks, retirement planning and more.
Budgeting: Most of the software we reviewed make it easier to get an instant overview of your budgeting goals and targets compared to Quicken or Minot.
Less Paperwork: By centralizing all of your accounts and bill payments with some of the tools here, you should also find that they help you if you want to create a paperless office on your Mac.
Better Tax Tracking: You'll also find that many of the apps here do a better job of preparing your accounts when it comes to filing taxes on your Mac.
Best Personal Finance Software For Mac
With this in mind, here then is our list of the best personal finance apps for Mac of 2023 in order of ranking that make excellent alternatives to Quicken and Mint.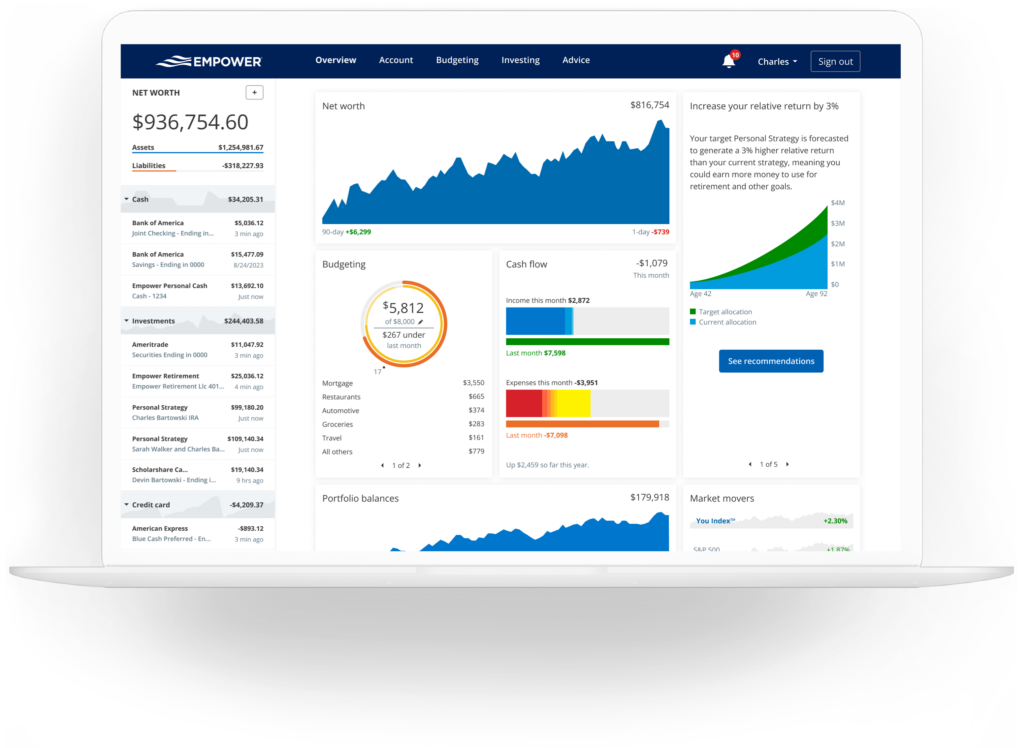 Empower is the best personal finance software for Mac and best of all, it's actually free to use.
Empower was previously known as Personal Capital which has long been the best personal finance app for Mac users but Empower acquired it way back in August 2020.
However, it wasn't until February 2023 that Personal Capital was finally rebranded as Empower although nothing has changed in the product itself.
If you're familiar with Mint, then you'll really like Empower because it's got the same feel as Mint but with far more powerful investment tracking.
Around 1.8 million people use Empower and many of them have switched from Quicken or Mint, especially those with investments.
Here's a summary of why Empower is the best personal finance software for Mac users.
Hard to believe for a personal finance software worth its salt but Empower is 100% free to use for as long as you want with no limitations.
Empower only charges you a small commission if you decide you want to maximize your investments via a personal consultation with one of its own Financial Advisors.
This is completely optional and not obligatory but is there if you want it.
It syncs accounts seamlessly in one place
If you're tired of constant syncing issues and problems with Quicken and Mint, Empower is a breath of fresh air.
It syncs extremely well with all major financial institutions, aggregates your accounts and makes it easy to get an overview of your finances.
This includes checking, savings, 401k, mortgage and investment accounts.
That's because Empower uses the reliable Plaid data network platform which is far more reliable than Direct Connect which is increasingly being phased-out by financial institutions anyway.
That's not to say that hiccups don't happen as much depends on technical changes made by financial institutions but it's so much more reliable than Quicken and Mint.
You can also download any transactions synced with Empower in CSV format.
It analyzes your investments to save you money
What makes Empower different to many budgeting apps is that it also helps you save money on existing investments.
One of the ways it does this is via a fee analyzer and an investment analyzer.
For example, the retirement fee analyzer immediately identifies areas where you may be getting ripped-off or over charged with 401K admin or management fees.
The investment analyzer does the same for your investments to see where your existing investments and holdings can be diversified to improve your returns.
It helps you plan for the future
By telling Empower exactly how much income you expect to have in retirement, Empower calculates exactly how on or off track you are.
It can also assess the impact on your 401k of major life events such as the birth of a child, illness, college fees etc.
Or it can be used to assess how your immediate finances could be improved if you get a lump sum and eliminate expensive premiums by getting an estimate on selling your life insurance policy.
There's also a comprehensive cost of living retirement calculator which gives you useful insights into your average net worth by age.
In fact Empower is easily the best retirement planning software for Mac available too.
It's as secure as any bank out there
Like any major financial institution, Empower is registered with the Securities and Exchange Commission ("SEC") and has to adhere to the same security standards and procedures.
What's reassuring about Empower is that it doesn't actually handle your log in details at all. It uses Yodlee which is a highly secure financial credentials management system used by major banks and investment institutions worldwide.
This is bank level, military grade security that's about as secure as it gets nowadays.
Even if your account were somehow compromised, Empower doesn't actually allow transferring of funds via the interface so they cannot be touched anyway.
There are other measures that Empower takes to encrypt and protect your data which you can read more about here.
You can talk to a human if you want to
Sometimes an app just isn't enough if you really want to grow your money.
Especially if you're investing large sums, Empower allows you to consult with an Empower advisor who can make specific recommendations based on your personal situation and minimize tax liabilities.
You need a minimum of $100,000 to use this service and Empower charges a commission for it but for serious investors, this is a unique bonus of the app.
Empower obviously encourages you to use one of its Financial Advisors but there's no hard sell if you're not interested.
You can check your finances on the move
The Empower iOS app is one of the best personal finance apps for iPad or iPhone we've tried, allowing you to manage and monitor your finances wherever you are.
It's clear, easy to use and has lots of features compared to most mobile budgeting apps.
Quicken vs Empower
| | Quicken | Empower |
| --- | --- | --- |
| Subscription Fee | | |
| Lifetime License | | |
| Easy To Use | | |
| All Accounts In One Place | | |
| Financial Advisors Available | | |
| Personalized Investment Strategy | | |
| Fiduciary | | |
| Smart Indexing | | |
| Mobile App | | |
| Customizable Portfolios | | |
| Tax Loss Harvesting | | |
| 401k Fund Advice | | |
| Portfolio Risk Assessment | | |
| Compare Mutual Funds | | |
| Track Cost Basis & Capital Gains | | |
| Income & Expense Projection | | |
| Spending Targets | | |
| Works on M1/M2 Macs | | |
| Price | $71.88/year (Premier) | Free |
| | | Free Account Sign Up |
So what are the drawbacks to all this? Well, like any finance tool for Mac Empower is not perfect.
The biggest gripe we have with Empower is that you can't import Quicken QIF or QFX files. This is definitely disappointing if you have years of Quicken accounts although even apps that do import Quicken files don't usually do it very well due to the complexities of the format.
However, this is less of an issue now anyway since Quicken has removed the option to export files in QIF format from the Mac version anyway (although the Windows version of Quicken still exports to QIF).
Quicken for Mac now only exports in QXF which is a proprietary Quicken format that can't be imported into any program. Therefore, there's no way to import Quicken files into Empower unfortunately.
As regards importing your Mint data however, you can easily do so in CSV format.
Unfortunately as well, you can't change transaction dates in Empower. If you have a fixed payment (such as salary or pension) that posts on the 1st of every month and it falls on a weekend or holiday, the transaction will appear in Empower as the last banking day before that. This means Empower will show that you have a double payment in the same month which messes up your budget.
Finally, another slight drawback to Empower is that it doesn't help you much at tax time.
Although there's dedicated tax software for this, there seems little reason why Empower can't make things easier when it comes to declarations.
Overall though, Empower not only helps you budget better but it manages your investments too and it's so convenient to have that all in one app.
You can also open an Empower account for free to judge for yourself.
For more information, you can check out our full Empower review.
Pricing: Free
If Cloud based apps are not your thing and you want a dedicated Mac desktop app, Moneyspire 2024 (formerly Fortora Fresh Finance) is an excellent no-nonsense personal budgeting software for both Mac and Windows.
Moneyspire doesn't store your accounts in the Cloud, doesn't require you to upgrade regularly or subscribe like Quicken and you can download it onto your Mac.
Even better, at the moment, Moneyspire is 25% off at just $79.99  compared to the normal price of $99.99 which is definitely a good deal for a desktop personal finance software for Mac on this level.
Moneyspire allows you to import QIF files from Quicken and export your accounts to QIF if you move back to Quicken at a later date.
You can also import Mint files in CSV format into Moneyspire.
If you've got a lot of accounts saved in Microsoft Money on Windows, Moneyspire can also import MS Money files.
Moneyspire supports online bill payments though its own free Moneyspire Connect service which is similar to Intuit's Direct Connect service.
Moneyspire Connect supports over 15,000 financial institutions so it's safe to say, your bank is probably supported by it.
Like many personal finance app bank syncing services, Moneyspire Connect doesn't always work perfectly (although neither does Intuit's Direct Connect) but this is often due to security changes on the bank side.
You may have to re-authenticate your Moneyspire Connect connection with the bank periodically but this is for security purposes.
Moneyspire Connect is free for the first year although you have to purchase an annual upgrade to Moneyspire every year (which is discounted for current users) to continue using it.
Moneyspire is a very complete alternative to both Quicken and Mint on Mac which tracks bank accounts, credit cards, loans, investments and more.
You can set bill reminders, budgets and generate detailed reports and charts to monitor your outgoings and if you run a small business, you can also create professional invoices and track payments.
It can even print checks which most finance apps no longer support anymore on Mac.
One of the things we like most about Moneyspire is that it doesn't over complicate things. It gives a very clear overview of everything from accounts and details of spending to bill reminders and budgets.
The Bill & Deposit Reminder provides a very clear overview of upcoming payments:
You can generate detailed reports and charts to see exactly where your money is going to make tax reporting less stressful and much easier.
Other useful features in Moneyspire include Balance Forecast, Reconcile Statements, Online Banking, Import & Export of Data and Cloud syncing.
Reconciling of accounts in particular is a very useful feature when it comes to budgeting and you can see how it works below.
For mobile users, there's a free Moneyspire app for iPad and iPhone which allows you to check your account balance, edit transactions, see upcoming bills and keep an eye on how your budget is doing.
Moneyspire used to be available in different versions but has now simplified its pricing policy.
There are now only two versions of Moneyspire. The standard version for $79.99 or the professional one for $99.99 which includes invoicing.
Normally the standard version retails for $99.99 so that's 25% off.
The impressively reliable Moneyspire Connect service is even included in the price (which previously used to cost an extra $49.99 per year) although you must purchase an annual upgrade to Moneyspire to keep using it for free.
If you do decide to purchase Moneyspire, you have a 30 day money back guarantee if you're not happy with it.
Unlike with Quicken, updates to Moneyspire are free but major updates usually require an upgrade fee which is discounted for existing users.
Currently if you upgrade from an older version of Moneyspire to Moneyspire 2024 you can get 50% off.
You can also try Moneyspire on Mac for free if you want to see what it's like for yourself.
You can also check our full Moneyspire review for more.
Pricing: Standard $79.99 / Pro with Invoicing $99.99. Free Trial available.
Banktivity (formerly iBank) is designed specifically for Mac and has long been one of the most popular desktop personal finance apps for macOS.
Long before Quicken for Mac, Banktivity supported things like online banking integration, bill pay, envelope and full year budgeting, loan amortization and multi-currency support.
Some of these things have now been introduced in the latest version of Quicken but Banktivity still remains an excellent home and personal accounting software for Mac.
Here are some of the things we like the most about Banktivity:
Banktivity will import your accounts from Quicken, Minit and other finance software.
Although it's not perfect, the import tool does a pretty good job and saves valuable time manually entering old accounts. You can see how this works below.
Banktivity will automatically connect to and download transactions from your bank or other financial institution in real time.
It offers various ways of doing this with the most reliable and widely supported being Direct Access.
Direct Access is Banktivity's own syncing service and generally works very well via Yodlee although it costs an extra $44.99 on top of the cost of Banktivity.
Other free ways of connecting are available though.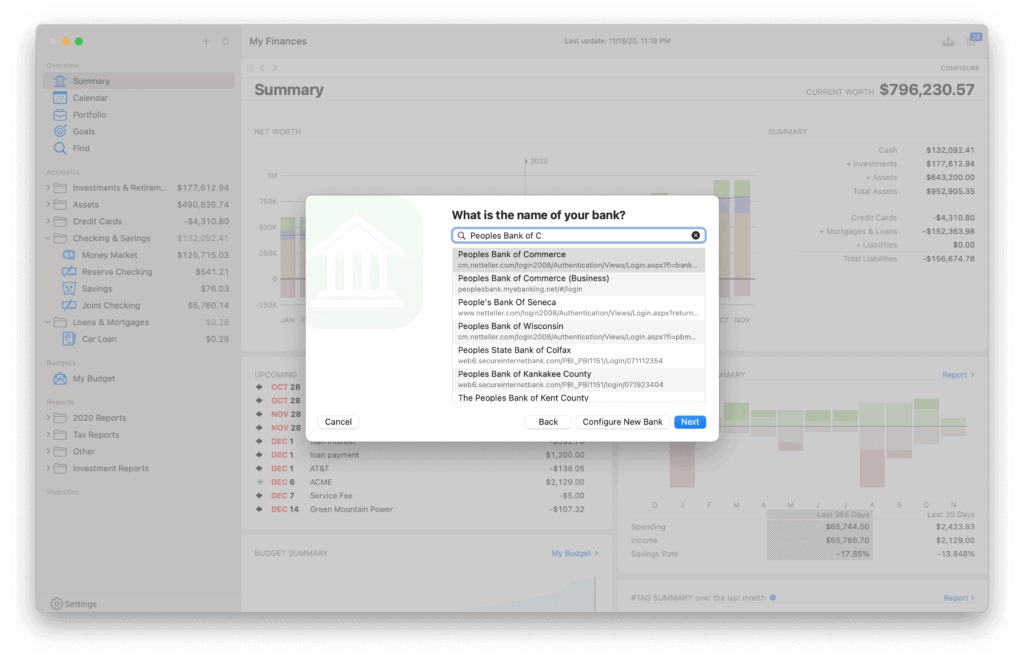 Detailed & Customized Reports
The reports generated by Banktivity are very well-organized due to tags and categorization.
There are Quick Reports for instant overviews of the essentials and you can create highly customized reports for virtually any kind of spending.
Banktivity supports traditional and envelope budgeting with useful setup wizards to get you going.
You can filter budgets by time frame to see exactly when you've gone under or over budget and set budgets for scheduled and unscheduled expenses.
iPad, iPhone and iWatch Apps
Banktivity is designed exclusively for the Apple ecosystem with iOS apps to help you monitor and enter transactions on the move.
The apps sync with the desktop version of Banktivity and there's even an iWatch app with spending alerts to help keep you on budget.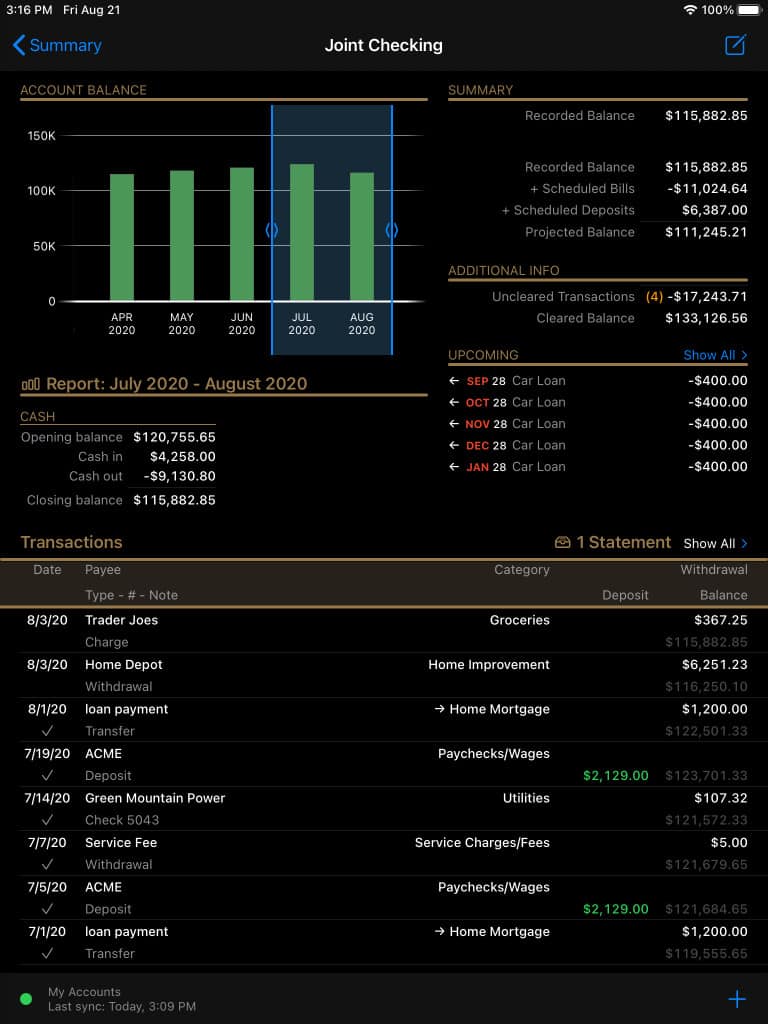 Investment management isn't Banktivity's strong point but there is a separate free Banktivity Investor app (formerly iBank Investor) which syncs investment data specifically.
So for example, you can see all of your holdings with the current gains or losses in real time with data pulled from Yahoo Finance.
Previous versions of Banktivity were available as a standalone purchase with Direct Access costing extra.
However, the latest version of Banktivity 9 is subscription only but includes Direct Access as standard with the Bronze plan starting at $49.99 per year.
For investment features you'll need the Silver Plan ($69.99 per year) and for multi-currency support you'll need the Gold subscription for $99.99 per year.
You can find details of all Banktivity Plans here.
For a more in-depth look, you can also read our full Banktivity review.
Pricing: Bronze plan $49.99/year, Silver $69.99/year, Gold $99.99/year
Moneydance has many satisfied customers that previously used Quicken or Mint and is an excellent personal finance solution for Mac users.
Moneydance has all of the features of Quicken and Mint including online banking and bill payments, bill attachments and arguably has better investment tracking and budgeting tools than both Quicken and Mint.
Moneydance is particularly good at handling investments and transactions in multiple currencies so is an excellent choice for those that hold investments or make purchases in currencies other than US dollars.
Moneydance provides a very clear overview of your finances. It gives you all the essentials such as account balances, upcoming and overdue transactions and exchange rate information.
The calendar overview is particularly useful for a quick oversight of upcoming credits and debits so you can manage your finances for that month more easily.
Moneydance can import Quicken files in QIF format although we noticed several duplicate transactions which had to be manually adjusted.
Moneydance can also import Mint files in CSV format.
Moneydance can automatically download transactions and make bill payments online to hundreds of financial institutions.
However, online banking is only available via Direct Connect and we found this can be tricky to setup in Moneydance.
Moneydance can sometimes be unreliable at retrieving bank data with Direct Connect especially from credit card accounts but it does offer an enhanced bank syncing service Moneydance+ for connecting via Plaid for an extra $4 per month of $40 per year.
However, there's no support for connecting to bank accounts via EWC+ instead which is an increasingly popular alternative to Direct Connect being used by banks.
Investment tracking is also easier to navigate and more powerful than Quicken or Mint, with support for stocks, bonds, CDs and mutual funds among others.
You can see the total value of your investments or the performance of individual stocks and mutual funds over time. Moneydance will also download stock prices automatically in real time.
Moneydance also has some powerful reporting tools that compare favorably with Quicken or Mint and it can generate reports for any of your accounts, savings or investments.
The Moneydance iPad and iPhone apps are both free so you can manage your budgeting on the move although it's only really useful for manually inputting transactions.
Slightly concerning though is the fact that Moneydance only syncs the Mac and iOS app via Dropbox which doesn't feel very secure compared to Banktivity's encrypted Direct Access features.
You can also extend its functionality with add-ons and extensions for such things as a Balance Predictor, Debt Insights and a Find and Replace extension.
The most recent version of Moneydance 2023 features a new balance adjustment feature so that you can easily sync with bank statements.
There's also an enhanced undo feature so that you can reverse unwanted changes such as an accidental deletion or batch changes.
The register allows you to filter more precisely now too such as by a specific date to make it clearer exactly which transactions are being displayed.
Overall Moneydance is a solid financial software for Mac to replace Quicken or Mint especially if you need reliable online banking integration.
Moneydance 2022 is $69.99 from the Mac App Store with a 90 day money back guarantee and there is also a free Moneydance demo for up to 100 transactions.
Note that currently, there is a revised version Moneydance 2023 but it is not yet available in the Mac App Store. It is only available for purchase directly from the developer for $99.99.
You can also check out our full Moneydance review.
Pricing: $69.99 for Moneydance 2022 or $99/$9 per month for Moneydance 2023. Free trial available.
If you prefer spreadsheets as a way of managing your finances then take a look at Tiller.
Tiller is an automated spreadsheet software that automatically fills in data as you feed it with financial data.
If you use Microsoft Excel or Google Sheets to track your net worth then Tiller can automatically pull in the data for you from them.
Tiller is even recommended by Microsoft to those that use Money in Excel or that are Microsoft 365 subscribers (formerly Office 365).
You can use one of the many templates provided by Tiller to get started or you can start from scratch.
Tiller can be used to track pretty much any financial metric you want from your net worth to managing your budget.
Tiller does take some time to setup and use, especially if you don't use one of the ready-made templates but it's extremely customizable compared to Quicken as you can track anything in it.
Tiller isn't just dry spreadsheets – it can also be used to generate reports and dashboards to make it all easier to digest and monitor your finances.
Most recently Tiller introduced a new Spending Trends dashboard to keep a track of where your money is going including dashboards for annual and monthly budgets.
The other big advantage compared to Quicken and Mint is that none of your data is stored in the Cloud with Tiller – it's all automatically processed in a spreadsheet on your desktop.
If you're a fan of spreadsheet budgeting then you'll absolutely love Tiller although if you prefer the more glossy approach of Quicken it may not be for you.
You can try a 30 day free trial of Tiller.
You can also check out our full Tiller review for more.
Pricing: $79/year
November 2023 Update: Mint will shortly be removed from this list as Intuit has announced it is shutting-down.
Mint is owned by Intuit the makers of Quicken and is basically a free, lighter and less powerful version of Quicken.
The biggest difference between Mint and Quicken is there is no automatic online bill pay feature in Mint so if this is a deal breaker for you, move on.
Mint has improved a lot over the years and has faced less criticism than Quicken, partly because it doesn't cost a cent to use.
In fact many people use Mint for day-to-day budgeting alongside Empower to manage their finances.
Mint is all about getting your money in order and is based around three things:
Budgeting: Mint will automatically suggest a budget for you based on your income and goals. You can factor in one off expenses and of course recurring monthly costs.
Bill Tracking: All your bills are clearly labelled and managed in one place. You can see when bills need paying and set alerts to let you know before they're overdue.
Credit Score Analysis: Mint performs a free credit score analysis if you verify your identity. It also gives you recommendations on how you can improve it.
Spending Summary: You get a weekly summary of where your money has gone. This is useful for seeing which areas you're spending most in and is handy to compare month-by-month. Mint will also alert you to unusual or large transactions.
Spending by Category: Mint can also categorize transactions to make it clearer where you spent your money. If you've ever looked through your bank statement and can't understand the codes and jargon used for certain transactions, this is useful. It also separates ATM withdrawal amounts from ATM withdrawal fees so you can see just how much your spending in charges and other hidden fees.
Investment Tracking: The investment tracking features in Mint are very basic and certainly nothing like the financial tools in Empower but for 401(k) accounts, mutual funds and IRAs it gives a basic overview.
Mint also has one of the best mobile apps out there for budgeting. The Mint iPad and iPhone app looks good, gives a clear overview of your finances and is easy to navigate.
The biggest problem you"ll encounter with Mint is connecting to banks to update your accounts.
Like many personal finance apps, Mint can take time to update your balances and transactions and can be affected by changes made by your bank to the way third-party apps communicate with it.
Sometimes this means you have to delete an account in order to reconnect it and the problem with this is that you lose your account history in Mint.
It's also important to note that although Mint and Quicken are both Intuit products, there is no integration between Quicken and Mint. They are completely separate products.
Overall however, as a more basic free alternative to Quicken, Mint is an excellent budgeting tool for Mac users.
Pricing: Free
Although You Need a Budget (YNAB) can't fully compare with Quicken, if you're looking for the best budgeting software for Mac, its definitely a contender and a solid replacement for Mint.
YNAB claims that new users save on average $200 in their first month and more than $3000 by month nine although this of course won't be true for everyone.
Because of the way it approaches budgeting, YNAB has proved very effective at helping users to save money and get their finances in order which is made it very popular with Mac and PC users alike.
More recently, it's now added online banking support via Direct Connect to conveniently sync and update all of your accounts and transactions in one place so you can keep tabs on your money better.
There is no support in YNAB for Bill Pay however.
Direct Connect is however increasingly being phased-put by banks in favor of EWC+ which is not supported by YNAB meaning if your bank doesn't support Direct Connect anymore, it won't sync with YNAB.
The developers of YNAB strive to help you manage your money more efficiently by encouraging you to use a Four Basic Rule method which can genuinely help you save money or get out of debt.
The four golden rules are:
Give Every Dollar A Job: Every cent is accounted for
Embrace Your True Expenses: Break down large purchases into monthly payments
Roll With The Punches: Create an overflow for the unexpected
Age Your Money: Deal with bills as they happen
YNAB is structured around these four principles and helps you to structure your budget accordingly.
YNAB can import bank files and transaction ledgers and can retrieve your balances from over 12,000 banks via Direct Connect (but there's no support for Express Web Connect+).
YNAB also does not support multiple currencies or investment tracking so it's not really suitable for those who have a big investment portfolio.
It does however allow you to factor mortgages and simple investments into your overall budget and gives you a very clear overview of where your money is going.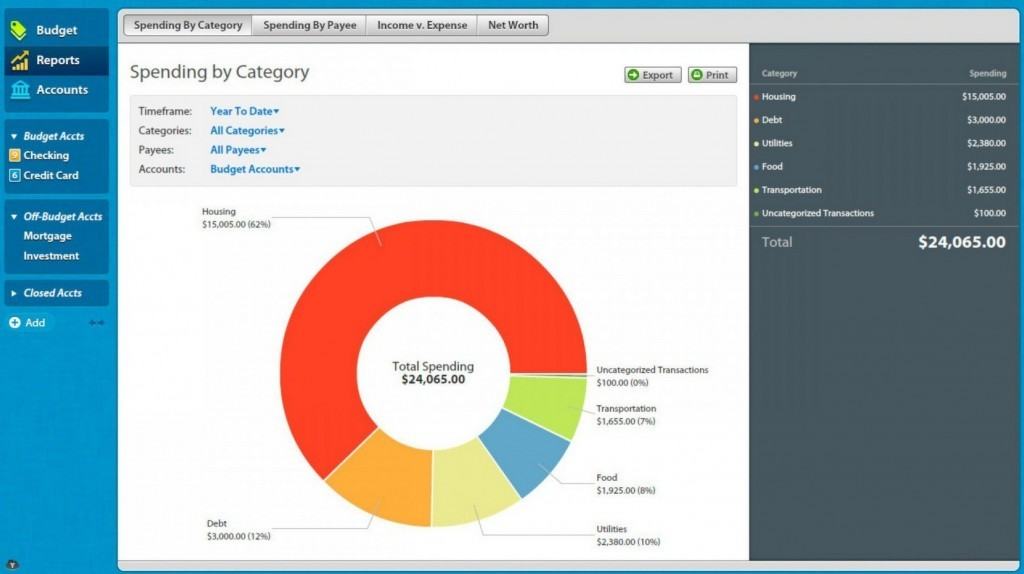 YNAB  is also one of the only personal finance apps that has an iWatch app but even more unusual, an Alexa app which can automatically check category balances or record new spending at your command.
Although YNAB can sync across all devices, note that it uses Dropbox for syncing and doesn't offer its own Cloud syncing service or syncing via iCloud.
More recently, YNAB has also added new features such a Net Worth Calculator which clearly illustrates spending and net worth reports.
YNAB now costs $14.99 a month or $99 per year direct from the developer.
If you're a US college student, YNAB is absolutely free.
You can also try a 34 day free trial of YNAB before deciding whether its for you or not.
If you're struggling to make ends meet at the end of the month, YNAB is an excellent straightforward budgeting software alternative to both Quicken and Mint.
Pricing: $99/year or $14.99/month – Free Trial
Copilot is a slick money tracking application that used to be only available on iOS but now has a Mac desktop app.
Copilot looks great on macOS and can track spending, budgets, investments and net worth.
Copilot features useful daily snapshots to give you an instant overview of how your spending was on any particular day.
There are also bill reminders for upcoming payments and a well organized spending by category summary. If you fall within your budget, you can also set Copilot to carry-over your budget into the following months too.
If you mainly budget on your iPad or iPhone but want a synchronized Mac app for using it on your desktop too, Copilot is a beautifully designed personal finance app for macOS.
Note that at the moment, Copilot is only available in the USA but there are plans to roll it out in other countries soon.
You also can't download the Copilot app from the Mac App Store but it is available for both Intel and Apple Silicon apps from the Copilot website.
Pricing: $13/month or $95/year
MoneyWiz is easily one of the best value personal finance apps on the Mac App Store with the desktop app free and subscriptions starting at just $29.99 per year.
What we also like is that MoneyWiz allows you to try a free demo so you can play around with it before you decide whether its worth paying for or not.
These are some of the things we really liked in MoneyWiz:
The interface is gorgeous – MoneyWiz is made specifically for Apple devices and it shows
Very clear overviews over time of Net Worth, Balances, Expenses and comparisons over time
Supports all types of accounts including everyday banking, credit card, investments, cryptos, loans (including custom loans), savings and retirement
Automatic stock price retrieval from Yahoo Finance and CoinMarketCap
The Mac app and iPhone/iPad app are exactly the same so there's no missing functionality in macOS
The syncing between maOS and iOS is far more reliable than many personal finance apps
Likewise syncing with bank accounts works very well due to the fact you can choose from three different connection services so if one doesn't work well, you can switch.
MoneyWiz also supports investment tracking syncing with stock trading platforms like Robinhood
The developer provides quick support for any issues and problems
There were a few things we didn't like about MoneyWiz:
All syncing features require a subscription although the cost of this is reasonable compared to other apps
In-app live chat Help feature isn't available in the Mac desktop app, only in the iOS version
Syncing connections still break-down although this is often out of the hands of the developer as it's down the the financial aggregator used (such as Plaid).
Overall, we loved MoneyWiz and think its an excellent alternative to apps such as CoPilot, Banktivity and Moneydance.
This is definitely one to watch.
Pricing: Free desktop app / Standard Subscription $24.99/year / Premium $49.99/year or $4.99/month
Money Pro is a slick budgeting tool that has a simple user interface that supports budgeting, bill planning and account syncing.
Here are some of the things we like about Money Pro:
It works on Mac, iPhone and iPad so it syncs across all device via iCloud
Calendar view makes it easy to see when Bills are due or schedule recurring bills.
Today view that predicts transactions that you may have not added manually based on your spending behavior
Alerts when bills are due
Budgeting by specific time frames including budget rollovers with a clear overview of your daily, weekly and monthly targets
Checkbook register with support for an unlimited number of accounts including checking, savings and credit cards. You can also attach photos of purchase receipts.
Manual account reconciliation with automatic calculation of your balance
Importing of bank statements in OFX and CSV format
Automatically connects to your bank and downloads transactions (Gold subscription is required for this)
Easy to search transactions across all accounts
Detailed monthly reports inlcuding income and expense, cash flow and projected balances
Multiple profiles for family members and real-time notifications of overspending based on profile budgets
Supports multiple currencies
Some of things we didn't like about Money Pro are:
The app itself is $18.99 which is reasonable but then many features such as bank syncing and cloud syncing require in-app purchases going up to as much as $49.99 for the Gold version.
No envelope style budgeting
Bank syncing can be hit and miss depending on the financial institution you're connecting it to
iCloud syncing can also be slow with iOS devices sometimes showing different balances to the Mac app
No free trial
Overall though, Money Pro is an excellent personal finance app that's well integrated with the Apple ecosystem and certainly much better than spreadsheet budgeting.
There's no free trial but you can download Money Pro from the Mac App Store.
Pricing: $18.99 plus in app purchases for Plus features $11.99 and Gold features $49.99
If you're looking for the best checkbook software for Mac then CheckBook Pro may be exactly what you're looking for.
CheckBook Pro is a check register that's designed to help you answer the time honored mystery "where's does all my money go?".
CheckBook Pro is personal finance software at its most basic but for those that simply don't need all the bells and whistles of most finance apps, it's a breath of fresh air.
Here's what we liked with CheckBook Pro:
One of the few checkbook registers for Macs that doesn't require a subscription to use
Simple and intuitive to use
Lots of video tutorials to help you get up and running
Generates useful reports for all your accounts
Easy to search transactions
Includes reminders alerts for upcoming payments
Ability to manually reconcile your accounts
Excellent migration support from other finance apps. Imports Quicken files in QFX format plus OFX, QIF, CSV and TXT files.
Supports check printing (Pro version only)
It keeps your financial data offline although you can choose data syncing via iCloud too (Pro version only).
Here's what we didn't like about it:
Although you can add multiple accounts, it only feels suitable for one or maximum too accounts such as a checking account and credit card.
There's no automatic syncing with accounts so it requires a lot of manual data entry work
Importing and then sorting-out accounts from other financial apps also takes a long time and is tedious.
CheckBook Pro costs $19.99 with no subscription which is very reasonable for a checking app.
There's also a slightly cheaper version called CheckBook which is $14.99 but it doesn't include features such as iCloud syncing, check printing, account wide reporting and more precise search tools.
Pricing: $19.99 from the Mac App Store and there's a free trial.
SEE Finance 2 is designed specifically for Mac and used to be the closest thing you could get to Quicken before Intuit finally released Quicken for Mac.
Despite the launch of Quicken, the makers have continued to develop SEE Finance into a very reliable, robust and feature packed personal budgeting app for Mac.
In fact the latest version of SEE Finance 2 has been built from the ground up and is a big improvement on SEE Finance 1 (which is still available) in terms of both looks, functionality and affordability.
We found that SEE Finance 2 is one of the best personal finance software for Mac when it comes to importing Quicken QIF data accurately.
Unlike apps such as Banktivity and Moneydance, there's less chance of duplicated transactions when importing large QIF files into SEE Finance.
Mint users can import their accounts into SEE Finance 2 in CSV format and you can also import files in QIF, QMTF, QFX and OFX format.
Investment tracking is also very well done in SEE Finance 2 with a clear and varied overview of your investments with lots of different reports.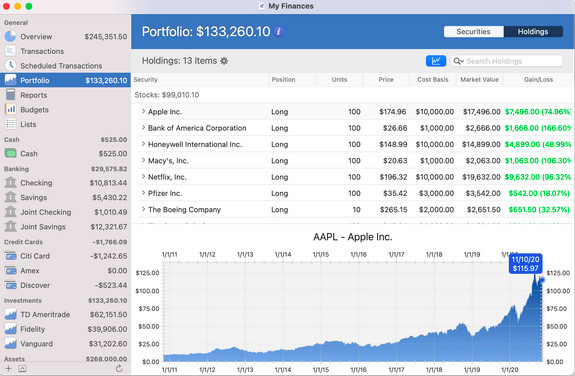 SEE Finance 2 is also very good at handling multiple currencies with over 150 different currencies supported.
You can connect to banking institutions via Direct Connect which will automatically download transactions and import data from others.
This is easy to setup and use in SEE Finance and pretty reliable at syncing and updating account.
Note that SEE Finance 2 does not support Bill Pay though which is usually available in personal finance apps such as Quicken and Moneydance that support Direct Connect.
A bigger concern however is that Direct Connect is being phased-out by banks in favor of EWC+ for syncing which SEE Finance 2 does not support.
In which case, if your bank doesn't support Direct Connect then you won't be able to sync it with SEE Finance 2.
More recently there's now an SEE Finance iOS app for iPhone and iPad that syncs with the Mac version via iCloud. It also works with OFX Direct Connection downloads if your bank supports it.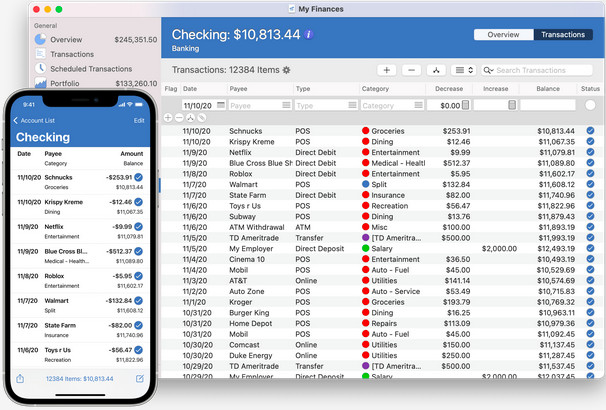 SEE Finance 2 is a massive improvement on the first version and remains a fast, reliable and slick app to manage your finances on Mac.
Note that although SEE Finance 1 is still available in the Mac App Store but we strongly recommend using SEE Finance 2 instead as it's far more modern, includes an iOS app and is more likely to be supported by the developer in the future.
You can also try a 30 day free trial of SEE Finance.
Pricing: $39.99 – Free Trial
CountAbout is a simple but effective budgeting app that can import Quicken QIF files and Mint files in CSV format.
The Quicken import tool is one of the best we've tried and accounts are imported with very little need for manual adjustment.
CountAbout automatically downloads transactions from your bank including investment balances like 401k's. There is no support for Bill Pay though.
CountAbout offers two subscription plans – one for $9.99 per year and a premium subscription for $39.99 per year.
The difference is that the Premium subscription includes Direct Connect which allows you to automatically download transactions from bank, credit card and investment institutions (although this is being phased-out by banks).
CountAbout is very good value for money and considerably cheaper than most personal finance software that support Direct Connect.
If you'd like to try it out before you buy, CountAbout offers a free 45-day trial.
You can see a quick overview of what CountAbout can do below.
Pricing: $9.99/year or $39.99/year with Direct Connect
MoneyWell is a slick, simple but effective money management software designed specifically for Mac.
MoneyWell is unique in that it uses an envelope budgeting system to help you manage your finances better.
Rather than setting targets that you either hit or miss, envelope budgeting works on the basis that any money you save or overspend is constantly adjusted to show the effect on your incoming bills.
MoneyWell also supports Direct Connect so that you can automatically pay bills from your bank account.
However, Direct Connect is being phased-out by banks and being replaced by Express Web Connect+ which as yet, is not supported by MoneyWell.
MoneyWell is clearly well thought out with some really smart interactive reports. In fact the graphs and reports in MoneyWell are some of the best we've seen in any budgeting software for Macs at this price.
Unfortunately, MoneyWell used to be available as a one-off purchase but like most personal finance software, has moved to a subscription pricing model of $49.99 per year or $5.99 per month.
If you ever stop your subscription, you'll still have access to your data, be able to run reports, make amendments to transactions and even sync data but it will be limited to 200 transactions.
The latest version of MoneyWell 2023 will also add other bank connection tools other than Direct Connect such as Express Web Connect+ (EWC+) which many banks are switching to.
Although it was discontinued for a while due to syncing issues, MoneyWell Express is also available again on iPhone which allows you to check your accounts on the move.
There's no iPad version of MoneyWell yet but the developers are working on one for 2023.
Pricing: $5.99/month or $49.99/year
Finally, if you're looking for something that can double as both a budgeting app and accounting software on your Mac, MoneyWorks might be for you.
MoneyWorks was one of the first ever finance apps for Mac and made its debut on OS X way back in 1992 – before Windows 95 was even invented.
If you're a treasurer and use Quicken or Mint to keep track of your organization or company budget, MoneyWorks may be ideal for you as it's designed for small businesses, organizations and accountants in mind.
MoneyWorks can import data from QuickBooks, MYOB, Xero and Greentree although it doesn't support importing Quicken data.
MoneyWorks also doesn't support Direct Connect, Bill Pay or EWC+ though so it's not suitable for those that want to sync it with their bank.
MoneyWorks is however well-integrated with other business software on Mac including Daylite, FileMaker, Numbers and Microsoft Office.
If you need something that can manage payroll, CRM and POS systems on Mac, then MoneyWorks is a particularly good choice.
MoneyWorks is also generally very good at representing complex business data in graphs and produces custom reports via the MoneyWorks Gold report writer.
It's also a good option for those that need to share their accounts with Windows-based accountants as it works on both Mac and PC.
MoneyWorks comes in 5 different versions aimed at differing sizes of business and all are available for standalone purchase or via subscription.
MoneyWorks Cashbook is completely free to use and is ideal for small organizations that need a simple financial management solution.
You can also try MoneyWorks free for 45 days.
If you're looking for a personal budgeting tool with a focus on accounting and cashflow, MoneyWorks is a powerful solution for Mac users
Pricing: Free/$18 per month+/$274 for MoneyWorks Express/$549 for MoneyWorks Gold
Which Is The Best Personal Finance Software For Mac?
If you're looking to maximize your investments as well as manage your budget, then Empower is still the best of the lot.
The fact that you can use it completely for free is obviously a massive advantage compared to any other personal finance tool out there.
It also just makes budgeting and maximizing your assets so easy compared to Quicken or Mint and it also looks like something that's made for Macs compared to Quicken which was originally made for Windows and later ported to Mac.
Which Is The Best Budgeting Software For Mac?
If you want something that just helps you manage your budget but don't need investment tracking and other features, then we think You Need a Budget (YNAB) is the best budgeting software for Mac.
As the name suggests, YNAB is built specifically around helping you stick to budgets.
Alternatively, if you want something with a really slick Mac and iPhone/iPad app then Copilot has the best budgeting app for both Mac and iOS.
Which Is The Best Mint Alternative For Mac?
Many Mint users were left disappointed by the decision to shut it down on 1st January 2024 and Intuit is encouraging users to switch to its other personal finance platform Credit Karma.
Credit Karma has some Mint features such as the ability to view bank accounts, transactions, spending, cash flow and net worth but crucially NOT monthly budgeting or budgeting by category.
In our testing and research, we found that Empower is the best alternative to Mint on Mac.
We found that Empower not only offers much more than Mint especially when it comes to investment tracking, but it also helps that it's completely free to use.
Considerations When Replacing Quicken
If you're looking to replace Quicken, then the best Quicken alternative for Mac really depends on your specific needs.
Some people need things like Bill Pay and Online Banking while others are more focused on investments.
To help you in your decision though, here's a checklist of features to bear in mind when deciding which Quicken replacement to choose.
You can see whether the application you're interested in supports these features by checking the comparison table above.
Online Banking Integration
This is essential for those that want their accounts to be regularly updated with real time bank transactions.
Direct Connect (known as QFX in Quicken products) is the standard method that most banks support although increasingly, users are finding it very unreliable.
Sometimes this is not an application's fault and is due to changes made by banks on how third party software connects to them.
Many banks such as Citibank and Bank of America have even dropped support for Direct Connect in favor of Express Web Connect (EWC+) instead.
As a result, some applications such as Moneyspire, Banktivity and Moneydance have developed their own version of Direct Connect although this usually costs extra.
However, Moneyspire's reliable Moneyspire Connect service is now included for free in the price of the product which makes it a very good deal indeed.
Note that some banks may levy a small charge for connecting your account to a third-party app via connection methods like Direct Connect so it's always wise to check with your financial institution first.
It's important to be aware that just because an app supports online bank syncing, doesn't necessarily mean it supports Bill Pay.
Bill Pay enables an application to automatically pay your bills to help keep on top of them.
Of course, you can do this easily by setting up a Direct Debit with your bank for things such as utility bills but Bill Pay enables your finance app to track them more easily.
Direct Connect is the only connection protocol that supports Bill Pay but many banks are dropping support for Direct Connect in favor of Express Web Connect+ (EWC+).
However, EWC+ doesn't support Bill Pay so paying bills and transferring money between accounts from personal finance apps is becoming increasingly difficult.
Not all personal finance apps allow you to reconcile accounts manually.
This is essential if you're trying to manage a budget but get payments that fall on the first of the month but it happens to be a weekend or holiday.
In such cases, many apps will automatically enter the transaction on the last previous banking day and there's no way to change this.
When it comes to security, remember that any connection made between finance apps and your bank are only as safe as the application accessing it.
Make sure that the application takes security seriously and uses encrypted connections to your bank to prevent unauthorized interceptions.
A few apps such as Empower add an extra layer of protection by not actually storing your financial credentials but managing access via specialized encrypted service Yodlee.
This is also used by many financial institutions and adds an extra layer of protection to your data.
This is essential to track loans, assets, stocks, shares and bonds etc.
One of the big gripes Mac users have with Quicken is that it doesn't do a good job of tracking basic things like car loans or home loan amortization (although fixed interest rate tracking was introduced in Quicken 2017).
Although Quicken has improved investment tracking in the latest version of Quicken For Mac Premier and Deluxe, it's still not Quicken's strongest point.
Alternatives such as Empower, Banktivity and Moneydance all feature robust investment tracking as standard.
If you like to manage your money or check accounts on the move, make sure the software you choose has a mobile app.
Most apps that have a mobile app sync accounts with your iPhone or iPad although many are limited in functionality and don't allow you to make many transactions. Some user their own servers to sync while others offer syncing via iCloud.
If you like to take photos of receipts and invoices to sync with your Mac later, make sure this feature is supported.
If you want to import your Quicken accounts into another application, you can easily do so by exporting them into QIF format.
Unfortunately, Quicken 2019 has removed the option to export files in QIF format. It now only exports in QXF which is a proprietary Quicken format that can't be imported into any program.
Therefore, there's no way to import Quicken 2019 files into any personal finance app anymore but earlier versions of Quicken can.
Note that not all personal finance software supports QIF importing so if this is important to you, make sure you can migrate from Quicken easily.
Note that no Mac personal finance app will import Quicken files 100% perfectly – there will always be some manual correction necessary.
For those that travel a lot or that deal with foreign transactions regularly. The Mac edition of Quicken is still lagging behind when it comes to multiple currency transaction support.
Those that imported foreign currency accounts into Quicken 2018 for example found that they were suddenly converted to dollars.
Make sure foreign currencies are supported if you do a lot of trade abroad to avoid some major headaches when importing data.
If you share the software with a partner, other members of your family or colleagues, support for creating multiple profiles is very useful.
It allows you to track spending and create budgets for each individual member whilst also preserving the privacy of each user.
Some financial software only allows one user per license and some don't support more than one profile so bear this in mind if you're intending to use the program with other.
We hope this article has helped you be more informed when choosing a replacement for Quicken on your Mac.
This is by no means a definitive list of programs to replace Quicken with on your Mac.
There are other options such as LiquidLedger but we haven't included them as most are now very dated and can't compare to the latest version of Quicken anymore.
If you have any other questions, experiences or suggestions regarding the Mac personal finance apps featured here, let us know in the comments below.