Tracing your family tree can be a fascinating and sometimes life changing experience. Here we look at the best family tree software for Mac in 2023 to trace your roots.
Although the majority of family tree programs out there are still Windows based, there are now some very good free and paid genealogy software for Mac now available.
Family Tree apps differ from Genogram software which are used more by social workers and psychologists to trace family issue rather than hereditary lines.
Nowadays anyone can dig deeper into their genetic roots than ever before thanks to amazing tools like MyHeritage which can trace back your family DNA for generations.
If you have been using a Windows based family tree program and would like to continue using it on your Mac, you can also run Windows on your Mac although we recommend checking out the options in these reviews first.
All of the programs featured here work on the latest versions of macOS including Mojave, Catalina and Big Sur unless stated otherwise.
Be careful however with macOS Catalina, Big Sur and Monterey as the latest versions of macOS only support 64-bit applications and many family tree programs only work on 32-bit Macs. It's best to check with the vendor about this if you're not sure.
You May Also Like:
Genealogy Software On Mac: Useful Tips
Before choosing which app is best for you, there are some important things to be aware of to choose the best genealogy software for your needs.
Genealogy research is increasingly moving online making it much easier for relatives to find each other and research their past. There are now powerful online ancestry databases such as MyHeritage DNA, FamilySearch and Heredis which can help build your family tree far quicker than having to research things yourself. Ancestry.com is extremely powerful and has access to over 20 billion historical records, although it has more data for European users than those in the USA. FamilySearch is the largest genealogy database in the world and is owned by The Church of Jesus Christ of Latter Day Saints but is completely free to use. The LDS Church are more commonly known as Mormons and the reason they maintain such detailed records is because genealogical research is extremely important to Mormons in maintaining their faith and blood lines. These databases are invaluable in saving time searching through family records or printed archives of your family history.
Some Mac genealogy apps automatically link to these online services in order to complete your family tree quickly and accurately. They also provide rich information such as major events in your ancestors lives, the percentage of your blood origins from different countries, migration reports etc. Be warned however that occasionally you may find that some family records suddenly disappear from these online databases. A common reason for this is that the developer does not own the rights to the information so a good tip is to download documents such as probate records and wills because when they're gone from the online database, it's very difficult to get them back. If you have a lot of family tree data stored on your Mac, always back it up to an external or online source in case your Mac crashes or dies. Check out our guide to the best external hard drive for Mac for the best backup solutions for Macs.
Some online genealogy services such as Ancestry.com go one step further and also offer DNA testing kits. DNA testing opens-up whole new avenues to explore and has even been used to catch serial killers such as happened to the Golden State Killer. For example, GPS Origins costs $99 and allows you to send a sample of your saliva DNA for analysis with results usually delivered to you online in a few months. This is a far more powerful way to trace your roots and reveal blood lineages to other countries you weren't even aware of, including Native American ancestry.
There are different ways of testing DNA. MyHeritage DNA uses what's known as micro array-based autosomal DNA testing which can trace your DNA genome in over 700,000 locations. This type of analysis also works for both men and women whereas some DNA analysis services only work for analyzing the male Y-chromosome and can't be used to analyze a woman's past. These types of test obviously raise some ethical and security concerns although Ancestry.com do not store your DNA with your name or any other identifying data and allow you to request destruction of your DNA sample at any time. You can also choose to download raw DNA data for your own records before Ancestry.com destroy it. If you really want to dig deep into your family history however, DNA testing could be one of the most interesting undertakings you've ever done.
Software developers come and go and the genealogy software you use today may not be around in 5 or 10 years time. It's therefore important that you can export your comprehensive family tree data in a format that can be read by other software if your family tree software developer disappears or ceases business. The most common export format that genealogy software uses is a specific format called GEDCOM (Genealogical Data Communication) . However, even if a program supports GEDCOM, some data such as images, citations and custom fields don't always import so well so if possible, try to pick one genealogy software and stick to it.
Not all family tree programs for Mac are up to date in terms of modern relationships. Some are still based on the model of the nuclear family and don't support same-sex marriages, adoptions, step relations etc. However you will find that all the software featured here supports a wide range family structures so that your family tree is reflective of changing times.
The best apps allow you to add rich information about your family tree through the use of media, citations and other attachments. This includes adding photos, videos and scanned documents such as birth certificates, death certificates and other documents relating to important events in your relatives' lives. The more the software supports, the richer your family tree will be.
Genealogy software can be complex and the best programs include comprehensive Help and Support sections although most of these are in the form of user guides, PDF files and forums. Note that there are few Mac family tree developers that offer live or 24/7 customer support but most are well documented.
One of the most rewarding things about family tree software is making a gift for relatives which you can either print out or send in digital form. Many genealogy apps support printing or gift features which make a unique present. If you want to print your family tree, heirloom pedigree charts or descendant charts, check out our guide to the best printers for Mac to get optimum results. Some genealogy software can also generate complex reports although these are more useful for academic research purposes.
With this in mind, here then is our list of the best family tree software for Mac of 2023.
MyHeritage is one of the biggest Family Tree software, genealogy sites and DNA analyzers in the world with a database of billions of records in over 2000 locations.
MyHeritage has a Mac desktop app which also syncs with the mobile and Cloid version which can be used anywhere on any browser.
MyHeritage has one of the largest international databases in the World with billions of records stretching back hundreds of years.
MyHeritage can even alert you via email to family matches via Smart Matches as its database expands. You can even search the 1950 US census on MyHeritage and was the first family tree software to catalog and make images from the census available to users.
Another nice touch is that you can use the MyHeritage colorize tool to add color to old black and white images. You can also restore old color images that have faded or degraded over time.
Even more impressive is the Deep Nostalgia animation tool which allows you to animate old photos using special video reenactment and deep learning technology.
You can use MyHeritage Family Tree free for up to 250 members although if your family tree grows beyond this, there are subscriptions available starting at $79.00.
Note that My Heritage only works up to macOS Monterey. While it may work on later versions such as Ventura, you may find that it is unstable and some features do not work properly.
There are also some Windows features in My Hertitage that do not work on the Mac version including Screen Saver, Slideshow, Book Report and Maps.
Pricing: Free for up to 250 members
MacFamilyTree is one of the few genealogy software built only for Macs and offers many of the features of its nearest rival Family Tree Maker (FTM – see review below) but in a more tailored macOS interface.
We prefer the interface to MacFamilyTree over FTM for Mac because it simply looks better on Mac and it's been around on Mac for almost 20 years now so they've refined it pretty well.
MacFamilyTree is dedicated to all things Apple so you can use it on your iPhone and iPad too with the MobileFamilyTree app.
Most recently, the app has introduced CloudTree Sync & Share which allows you to collaborate on building your family tree with other family members, similar to FTM's FamilySync in order to create richer family trees, faster.
One of the things that makes MacFamilyTree different to FTM for Mac is the impressive chart visualizations available.
You can visualize your family tree in a huge variety of ways including Hourglass, Fan Chart, Kinship Chart and Genogram.
In fact there are far more charts than you'll probably ever need but it's quite fun trying all the different ways of looking at your family history.
One of the most interesting is the Map view which shows you some interesting statistics on where your relatives are located around the globe.
It also generates some customized reports about your relatives and origins including Marriage Lists, Person Analysis and Kinship Reports.
If you want to make a gift out of your family tree, we also like the way that MacFamilyTree has a tasteful selection of templates and books that you can publish your family tree in.
You can print these yourself or export them in PDF to give to a professional print shop to make some really unique gifts with.
MacFamilyTree also makes it easy to publish your family tree as a website that you can share with family members or make available publicly.
MacFamilyTree is integrated with the online FamilySearch database so you have access to a huge repository of genealogical data.
This contains details of over six billion people and can undercover some fascinating nuggets of information about relatives such as court data, monastery log books and shipping registers.
You can use FamilySearch purely for research purposes or download data directly into MacFamilyTree making it very easy to build your family history.
You can also upload your own family data to the FamilySearch database for others to use although for data privacy reasons, you can only upload data of deceased persons.
MacFamilyTree is a really well supported product with good developer support and regular updates.
Most recently it has been updated to feature a much improved layout, an improved streamlined interface and better performance on your Mac.
You can try MacFamilyTree for free although the in the demo, you can't save, print or export.
Pricing: $69.99 Mac App Store – Free Trial
Family Tree Maker (FTM) is certainly the most well-known family tree software on Mac and the latest version of FTM 2019 for Mac is still one of the best.
Family Tree Maker is made by MacKiev, the makers of the popular Mavis Beacon Typing courses and features just about everything you need in family tree software on Mac.
FTM makes it very easy to build family trees with family history timelines, interactive maps, device syncing and more. One of the things we like most about Family Tree Maker is FamilySync which now replaces the old TreeSync.
This allows you and other members of your family to keep adding bits and pieces to the family tree in sync so that there are no duplicates.
This ability to involve all members of the family in building q family tree, makes it easier to build your family trees quicker and with richer data.
The other thing that makes Family Tree Maker powerful is integration with both Ancestry.com and FamilySearch which allow you to automatically download information about family members so you don't need to enter them manually.
Ancestry.com actually used to own Family Tree Maker for Mac before they sold it to MacKiev so integration with Ancestry.com is unsurprisingly very close and well done.
Other nice tools in FTM for Mac 2019 include a Photo Darkroom to retouch and improve old photos, color coordination and auto-suggestions regarding potential additions to your family tree.
It's amazing how quickly your family tree grows especially if online ancestry databases reveal relatives you never even knew existed.
However, the problem with this is that your family tree software can start to slowdown as your family tree grows and it has to process, retrieve and display more and more information.
Family Tree Maker seems to remain fast and responsive even when processing large amounts of data and we found it just as fast and efficient when it comes to processing several generations worth of data as it does with just a few.
Family Tree Maker is a huge application however and the user manual alone is over 300 page so to really get the most out of it, you need to invest some time in learning it.
It is still arguably the most powerful genealogy software out there for Mac though.
Family Tree Maker 2019 for Mac is available in three formats – a download, download with DVD and USB stick with download.
Pricing: $79.95 – Free Trial
RootsMagic has been in the family tree business for years and although started life on Windows, can now be used on Mac too.
RootsMagic is integrated with the Ancestry and FamilySearch databases so gives you a huge pool of genetics and family trees to search.
In reality, RootsMagic isn't a native Mac app but it works on Mac thanks to a wrapper made by Crossover which allows it to run on macOS including up to macOS Ventura.
So because it's a Windows based app, RootsMagic doesn't have the slickest interface of the apps featured here but its extremely powerful and still popular with professional genealogists.
There's also not native version for Apple Silicon Macs although it runs on M1 and M2 Macs thanks to Rosetta although performance can be laggy at times because of this.
RootsMagic is one of the most reliable apps we've seen when it comes to importing family trees in GEDCOM format if you're switching from another family tree application.
We also like the fact that RootsMagic has lots of way to share your family trees with others.
RootsMagic is one of the few apps that also still allows you to create sharable CDs or DVDs with family members although for this you will need a CD/DVD burner for your Mac too.
You can also create books and wall charts which make excellent gifts at Christmas and Birthday time for family.
Another great touch is that you can load your RootsMagic family trees onto a pendrive or external storage device on your Mac and then continue working on it at a library, family member's home, courthouse etc.
Finally, RootsMagic is integrated with heritage sites such as Ancestry, FamilySearch, FindMyPast and MyHeritage to make filling-out your family charts quicker and easier.
The latest version of RootsMagic 9 allows you to have more than one file open at the same time including support for multiple monitors.
Overall, at just $39.95 RootsMagic is also easily one of the best value family tree programs on macOS considering everything that it can do.
For a limited period, you can currently get RootsMagic for $20.00 too.
Pricing: $39.95 – Free Trial
Heredis is a huge online database of over 350 million persons and records that also has a desktop client for Mac.
Heredis is used by professional and amateur genealogists alike and has some of the most powerful and intelligent search capabilities of any online family tree software on OS X.
Heredis Smart Search passes your data through combined search criteria to give some extremely accurate matches.
Note that the Heredis database is mainly focused on European Anglo-Saxon family histories so those from other backgrounds, including the USA may find it less useful.
When you've entered your details, the dashboard in Heredis gives you a very quick overview of how many ancestors you have and even suggests other ancestors that may be related to you over several generations.
The information presented can be overwhelming which is why Heredis allows you to narrow searches by parameters such as country, event, number of children etc.
One of the most interesting features of Heredis is the migratory flows map that shows why your ancestors may have moved and where they moved to.
Other nice touches in Heredis are slideshows of your ancestors with different themes to choose from, a little like you find in Apple Photos.
There's also a very slick Heredis mobile app for iPhone and iPad which even allows you to dictate to Siri details about your family that you'd like you to add to ancestor profiles and other data.
Heredis for Mac is extremely good value at $69.99 and there's even a free version of Heredis for Mac which is limited to 50 entries but a good way to see if you like the software first.
Pricing: $69.99 – Free Trial
If you don't want all the fancy bells and whistles of either FTM for Mac 2017 or MacFamilyTree, then the rather more basic GEDitCOM II may be for you.
GEDitCOM II is quite a dated genealogy software nowadays but still interesting for those that want something a bit more manual and less "connected to the web" than most genealogy software on Mac.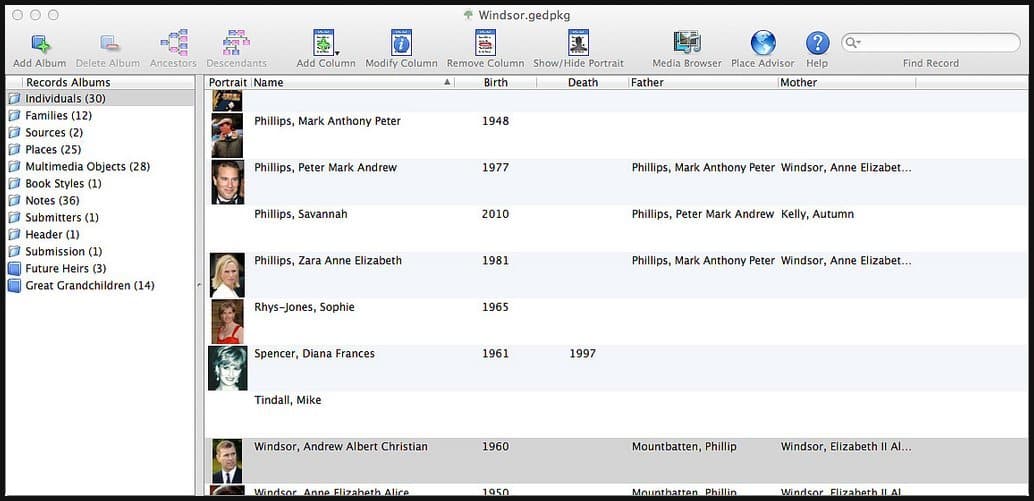 The main problem with GEDitCOM II is that it's far more tedious and laborious to upload census data and entering data in general is a far more hands on task than with FTM or MacFamilyTree.
The application also requires some knowledge of AppleScript, Python or Ruby to get the most out of it which will be beyond the capabilities or time for most Mac users.
You can try a free demo of GEDitCOM II for 14 days during which time you can save files but after 14 days, you will no longer be able to save anything.
Our advice is that unless you have a lot of time on your hands, there is far better and more modern family tree software on Mac nowadays than GEDitCOM II.
Pricing: $64.99 – Free Demo
iFamily for Mac is another quite dated genealogy software on Mac but is easier to use than GEDitCOM II and also one of the cheapest family tree software on Mac.
iFamily is focused around you the individual and who is related to you rather than the entire family tree as with most genealogy software.
For instance, it only goes 6 generation deep in one screen so that your connection to your direct descendants isn't lost in layers and layers of ancient family data.
However you can add multiple trees with several generations which you can link together and see 6 generations at a time.
iFamily for Mac supports GEDCOM import and export, publishing to the web and supports over 200 media file types which you can upload and drag and drop into your tree.
There's no online integration with ancestry databases however and as a result, filling it in is quite painstaking although since it only goes 6 generations deep at one time, it's manageable.
Like GEDitCOM II, iFamily has been left behind by FTM for Mac 2017 and MacFamilyTree but for an inexpensive genealogy software focused on the individual rather than the wider family, it's still very good.
If you just want to create a personal ancestral file on Mac, it's definitely worth a closer look.
Note that iFamily has been updated to work on the latest versions of macOS including Catalina and Big Sur. There's also a legacy version which works from OS X Tiger to Yosemite.
Pricing: $49.00 – Free Demo
Gramps is a well-respected open source free family tree software for Mac and PC.
Although it's ideal for amateur genealogy sleuths, it's also suitable for professional genealogists and is maintained by a community of genealogists.
Gramps certainly doesn't have the same slick interface as paid apps such as iFamily and can feel a bit slow but it's still a very accomplished and detailed genealogy app.
Gramps uses "Gramplets" on the main dashboard which are like widgets that provide analysis of your data.
These gramplets include widgets for People, Relationships, Families, Ancestry, Events, Places, Geography, Citations, Repositories, Media and Notes.
Gramps is well documented with an easy to follow Wiki on how it works. There's no online integration with ancestry databases and Gramps is about as basic as it gets when it comes to genealogy and family research on Mac but for a free application, it's ideal for those that just want to maintain some record of their family history at no cost.
Pricing: Free
Reunion has been around a long time now and works on both Mac, iPhone and iPad.
Family relationships are displayed in a very clear and easy to follow fashion and you can create a range of genealogy reports, charts, forms and books.
You can even create birthday calendars, slideshows, family mailing lists and questionnaires for fun quizzes at family reunions or special events.
Reunion also has a mobile app ReunionTouch which syncs automatically with any changes you make on your Mac via DropBox.
Reunion allows you to digitize photos of your relatives and link them to people, family and other records. You can also make slideshows from these which is a nice touch.
Many people switch from Family Tree Maker to Reunion and there are full instructions how to export GEDCOM files from FTM for Mac and import them into Reunion here.
You can try Reunion for free although in the demo, you can only enter up to 50 family records, there's no import or export options and printed documents will carry a watermark.
Note that Reunion does not offer free upgrades to new versions but offers discounted upgrades for $50.
Pricing: $99 – Free Demo
Conclusion
As we've seen, there's quite a lot of family tree software for Mac users to choose from.
If you want something that's powerful, got lots of useful features and tons of way to share your family trees MacFamilyTree is excellent in all aspects.
If you want to build a really rich family tree and dig deep into your past, you really need either MacFamilyTree or Family Tree Maker as they are the only ones that are integrated with online genealogy databases.
MacFamilyTree looks better on Mac but if you want to dig really deep into your past, Family Tree Maker's integration with AncestryDNA is hard to beat.
Both are focused more on North American family histories though and European users may find that Heredis database is more relevant to their family history.
This is by no means a comprehensive list of the best genealogy apps on Mac but in our opinion, they are the best available for Mac users.
We hope we help you find answers to your family history with some of the genealogy software featured here but if you have any questions, problems or suggestions, let us know in the comments below.