If you want to connect a Sony DualShock controller, Xbox One, Xbox 360 or Xbox Series S/X to play games on a Mac or use as a remote control for a Mac, here we show you the best ways to do so including for M1 & M2 Macs.
If you've recently switched to Mac, you can still play Xbox games on a Mac and there are many different ways of playing Windows only games on a Mac.
But you can also easily connect an Xbox or Playstation controller to a Mac so that you can play games such as Overwatch 2 on a Mac, Fortnite and Hogwarts Legacy without the keyboard and enjoy haptic feedback such as vibrations.
You May Also Like:
How To Connect An Xbox Or Playstation Controller To A Mac
If you just want to quickly connect an Xbox or Playstation controller to a Mac follow these instructions. Here we use an Xbox controller as an example.
Press and hold the Xbox button on your controller to turn it on and it will light-up.
Press and hold the small Bluetooth pairing button on the front of the controller to activate pairing mode. When pairing mode has been activated, the Xbox button will start flashing rapidly.
Then on your Mac, go to the Apple logo in the top left of your screen and go to System Preferences and select Bluetooth.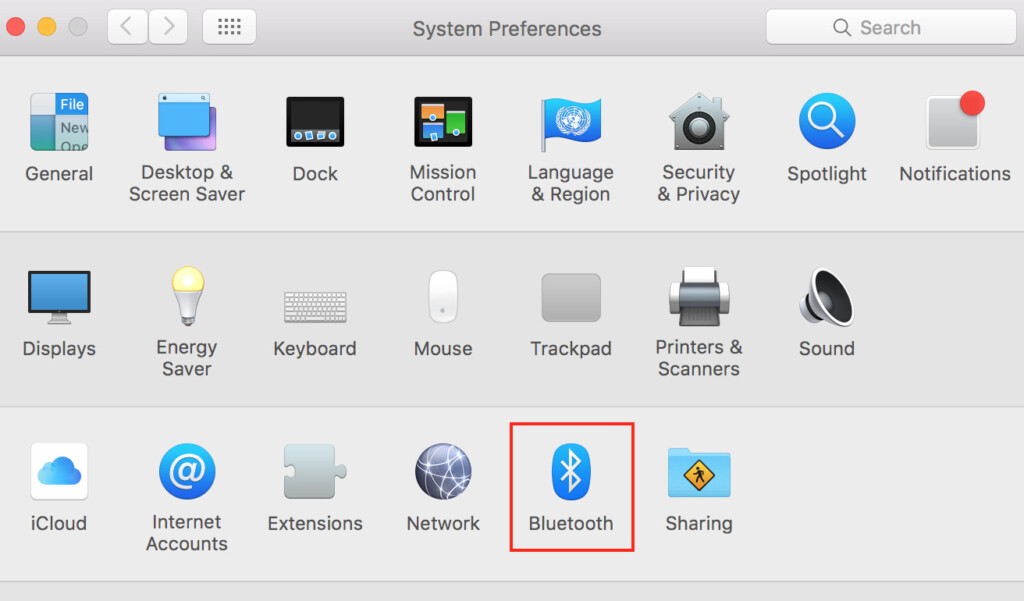 Select your Xbox controller from the list of Bluetooth devices that appears and click Pair.
You can now use your Xbox controller to play Xbox games on your Mac. You can disconnect the Xbox controller from your Mac at any time by going back into the Bluetooth settings or turning-off Bluetooth.
This is the easiest way to connect an Xbox controller to a Mac although it doesn't allow you to map out controls on it very easily.
For that you'll need a clever app called Controller which we'll look at now.
How To Connect An Xbox Or Playstation Controller To A Mac With Controlly
The best way to connect an Xbox or Playstation controller to a Mac is by an app called Controlly.
Controlly is an easy way to connect a console gamepad to a Mac as it not only supports Bluetooth but allows you to customize just about every button control.
Controlly turns any PS4 DualShock controller or XBox One gamepad into a remote control for your Mac which can do just about anything.
If you suffer from Repetitive Strain Injury (RSI) or have disability issues with your hands, Controlly makes it much easier to control your Mac without using the Trackpad or keyboard.
Note that Controlly is not specifically designed for gaming – it's more a way of mapping a controller to remote control your Mac although you could easily map keyboard controls for a game to it.
It's also not to be confused with a remote desktop tool for your Mac which are used for accessing Macs remotely.
Rather, it's a remote control mapping tool for PS4 and Xbox controllers which simply allows you to navigate around your Mac as long as you are in range of Bluetooth.
With Controlly, you can control your Mac cursor without touching the Trackpad and use it like an Apple TV remote for scrolling through content and other media in macOS.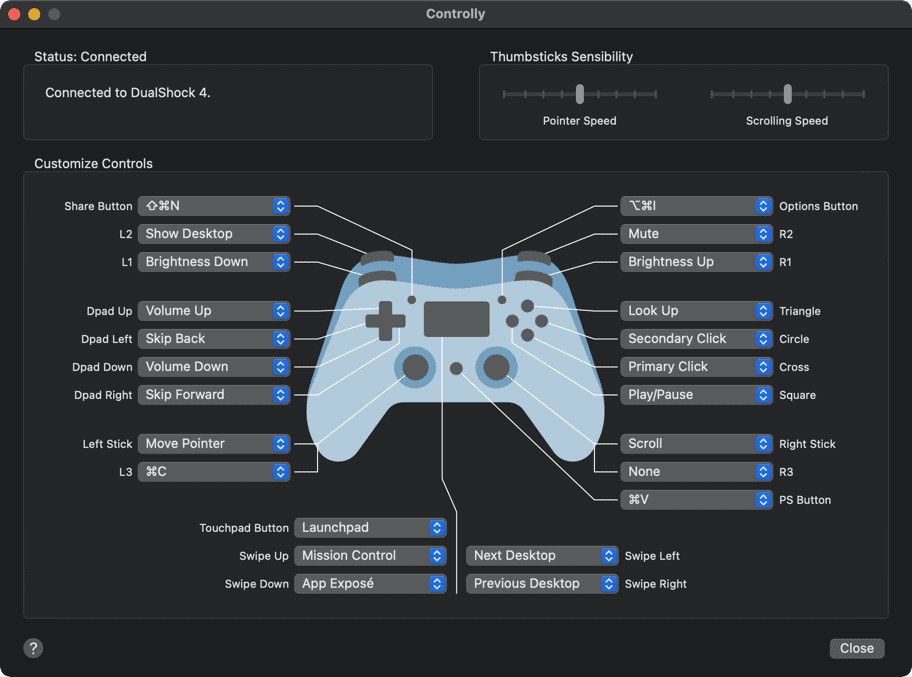 Controlly is much more than just a key mapping tool which usually only allow you to map one number or key to a function on the controller.
Controlly allows you to configure keyboard shortcuts, mouse movement and scrolling all of which is impossible with key mapping software.
Controlly allows you to visually define exactly what you want different buttons on your PS4 or XBox controller to do such as launch Mission Control, Expose, iTunes and more.
To connect your PlayStation 4, PlayStation 5, Xbox Series S/X or Xbox One controller to your Mac follow these instructions.
Download Controlly
Put the controller into Bluetooth pairing mode
On your Mac make sure Bluetooth is turned on and go to System Preferences > Bluetooth to connect to the controller
You then simply use the Controlly interface to map out the different actions you want your gamepad to control on your Mac.
Controlly is free for 7 days but after that it costs $3.99 to continue using it.