If you need to control another computer from a Mac, we've taken a look at the very best remote desktop for Mac software. Taking control of another PC or Mac computer remotely is known Virtual Network Computing (VNC) and can be useful in a variety of situations. These include a small business needing remote access software to manage a computer network, fixing someones computer remotely or if you need to access your office computer from home. For OS X users, a remote desktop client can also be useful if you want to run Windows only programs such as Visio on Mac, Publisher on Mac or Microsoft Project on Mac. Microsoft Remote Desktop Connection is the most well known RDP client for Mac users to connect to PCs but it still lacks the functionality of the Windows version. So here we take an in-depth look at the best remote desktop clients for Mac including some free remote desktop software as well.

Best Remote Desktop For Mac Software
Note that most of the remote desktop software featured here are also suitable for connecting from Mac to Mac as well as Mac to PC and most are also compatible with OS X Yosemite & El Capitan. At the end of this article, we also take a closer look at the latest version of Microsoft Remote Desktop for Mac to see how it measures up to the competition.
Jump Desktop is probably the slickest, easiest to use and in the opinion of many, best remote desktop software for Mac out there. It's certainly one of our favorites because it's clear the developer has made remote desktop connections easy enough for anyone to use without sacrificing features and stability. Jump Desktop is incredibly slick, user friendly, reliable and feels like everything Microsoft's client should have been.
Jump Desktop for Mac is multiplatform supporting iPad, iPhone, iPod and even Android and can be used for connecting from Mac to Mac too.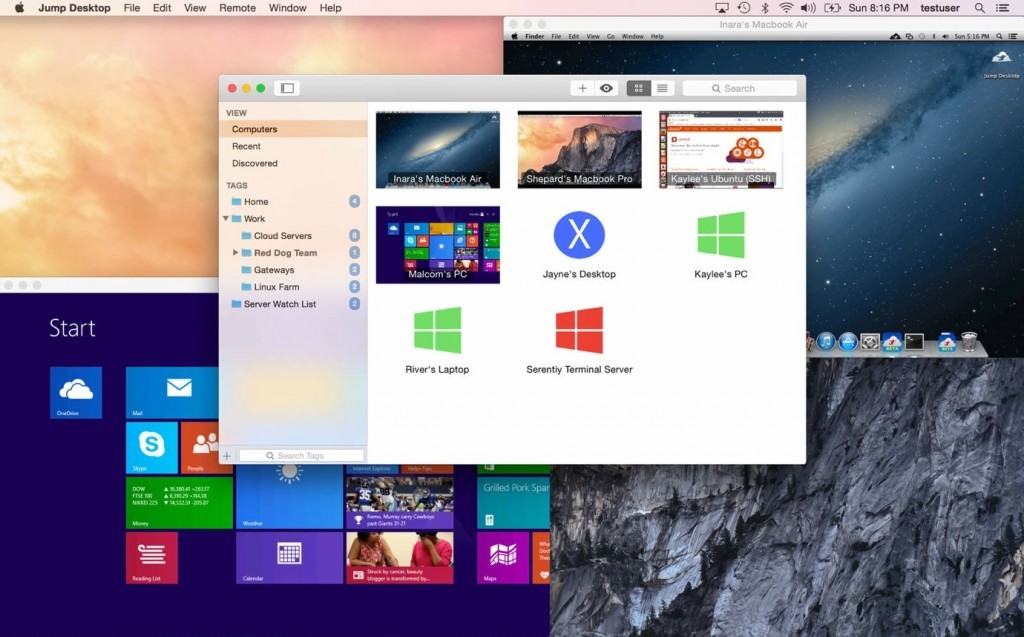 Jump Desktop is extremely easy to use and doesn't require networking knowledge making it ideal for beginners to Remote Desktop software. All you need is a Gmail account to get started:
Alternatively, Manual setup is also available for those that know what they're doing when it comes to Remote Desktop connections:
One of the smartest things about Jump Desktop is that it can map Mac keyboard shortcuts to make them work on Windows. You can also copy and paste between OS X and Windows and vice versa which is really helpful if you work on both Mac and Windows constantly.
You can also connect to another computer via WiFi which we found was the fastest way to connect. Connections via WiFi are almost instant and there is almost no lag. You can also connect to another computer using iPhone although this is a lot slower. However, if you turn the settings down and run in greyscale, it's also remarkably fast to say you're connecting via a mobile device. Jump Desktop is generally very secure and supports SSH connections and NLA for MSFT hosts. You get Live Previews of all ongoing connections and it seems considerably lighter on battery power than most RDP clients.
Overall, Jump Desktop is fast and stable, even in full screen mode, and allows you to share files and manage remote machines with ease. It's superb at managing several connections at once and is regularly updated to handle the latest Windows releases. For instance, it was one of the first Remote Desktop clients for Mac that officially supported connections to Windows 8.
If you want to see what it can do for yourself, you can try a free trial of Jump Desktop (note that this only works on OS X 10.8+ although there's also an older version of Jump Desktop 4.0 available OS X 10.6 Snow Leopard and OS X 10.7 Lion). The full version of Jump Desktop is $29.99 from the Mac App Store. It's a modest price to pay without any other monthly fees for a first class VNC client and most users report support from the developer is also fast and helpful. You can watch Jump Desktop in action below:
Remotix is another extremely fast, slick and user friendly remote desktop connection client for Mac. Remotix is integrated with OS X's screen sharing tool which makes sharing screens between Apple devices very easy and reliable. In fact, If you just need to share the screen of your iPad or iPhone with your Mac, then there are few better RDP clients around. There's very little lag in connections made with Remotix to Windows either as it optimizes itself for the speed of your internet connection. For those new to remote desktop connections, it guides you clearly through the setup process. You can store connection profiles via iCloud backup and even access printers from your remote Mac using Remotix.
If you just want to share files between Macs then Slink is a very easy to use yet powerful solution. It only works with Macs but it does it incredibly well and makes accessing remote Macs in another location as easy as accessing as an external hard drive. The nice thing about Slink is that it adds remote Macs to Finder, iTunes, iPhoto and other Apple applications so that you can simply drag and drop files into them. You can even use Slink to bypass geo-restrictions in one country by accessing apps such as Eye TV on a Mac in another country.
Slink is very easy to use with very little configuration needed – just install the client on the Macs you want to use it with. It automatically configures your router if you're at home to allow access to all Macs so there's no messing around with opening ports as can be the case with OS X's own integrated Screen Sharing tool. It's obviously not suitable if you need to connect to PCs but if you're a Mac based home or office with few technical skills, Slink is an excellent option.
Apple Remote Desktop is Apple's version of Microsoft RDP for Mac although we hasten to add it's only for connecting to other Macs and is considerably more advanced. Apple Remote Desktop is more of a professional tool for system administrators to manage Apple devices on a network although more general users that just want to connect their Macs at home can use it too (although it's a relatively expensive solution for something so simple). If you're a system administrator on a network of Macs who needs lot of administrative power to install software and updates remotely, then look no further than ARD.
Parallels Client (formerly known as 2X RDP Client), is a free RDP for Mac client that is designed to work with Parallels Remote Application Server. Before Parallels bought it, 2x for Mac was such a popular remote desktop client that some major corporate customers such as Airbus, McKesson and WD-40 used it for their Remote Desktop needs. As a result, it wasn't long before Parallels came along in 2015 and bought it. The old 2x client used to look like this:
And Parallels has updated the interface a little to make it look like this:
Parallels Client for Mac is free to download (if you're still using Leopard OS X 10.5, you can even still download 2X Client for Leopard for free too) but it only works securely with Parallels Remote Application Server (if you can't find it on the Parallels site, try here instead). It can also be used with other RDP connections but the default and securest is the Parallels Remote Application Server. Parallels Client for Mac has a modern interface and is generally very fast and stable with secure SSL connections. One of the nice features of Parallels Client is that you can even play sound from other devices and machines you are connected to on your Mac. You can switch between OS X and Windows simply by hitting CMD+Tab, cut and paste using Ctrl-C/Ctrl-V and there's very little lag on connections. However, you can't change default connections and you can't duplicate a connection which is annoying if you work with multiple connections. There's no way to import connections from Microsoft's RDP client but it does now support Retina Macs. However, for those that are looking for a free, faster and more reliable alternative to Microsoft's VNC app, it's definitely worth trying.
Royal TSX for Mac is focused firmly on system administrators or professionals with remote desktop needs that need a high level of security. Royal TSX is very clearly laid out making it easy to manage connections in the left hand sidebar with tabs to control sessions. Royal TSX for Mac is also one of the most secure remote desktop connection clients for Mac using the highly secure using 256 AES encryption standard. One extra nice thing about Royal TSX is that, like a browser, it can be enhanced with plugins. Royal TSX for Mac is actually free for use without any time limit although in free mode it is restricted to no more than 10 connections and credentials and you can only open one TSX document per application. It's also available for Windows, Android and iOS so you can open Royal TSX documents on all platforms. Royal TSX is also one of the few RDP servers for Mac which supports PIV or CAC Smart Card Redirection although be aware that this feature is not yet working in OS X 10.10 Yosemite.
CoRD is a very popular free and simple Remote Desktop client for Mac.
The quickest way to connect to a Windows PC using CoRD for Mac is to type the IP address or host name of the computer you want to connect to into the Quick Connect toolbar item and press enter (Shift-Enter will connect to the console).
You should then be able to see the Windows PC you are connected to:
Although CoRD for Mac isn't regularly updated, it has been recently updated to support Retina Macs so that icons look great when connected to Windows. Many people find that CoRD  works faster than Microsoft's Remote Desktop for Mac. The downside is that it does sometimes crash but not enough to be a real pain. Please note however that CoRD only supports:
Windows XP Pro
Windows Vista (only in Low Security mode)
Windows 7 (only in Low Security mode)
Windows Server 2000, 2003, and 2008 (only in Low Security mode)
Windows XP is supported but you must configure it first to allow remote desktop connections by using this Microsoft guide.
There is no official support for Windows 8.
NoMachine for Mac is a slick but free Remote Desktop Client which tends to go under the radar on Mac but is definitely worth a look. Like Jump Desktop, NoMachine looks great and is very easy to setup and use. All you need to connect to another machine over the internet is its IP address and port number. A setup wizard clearly takes you step-by-step through the connection process. Commections are stable and fast and there's a NoMachine forum where you'll get help with any problems you might have with the client. There's also an extensive knowledge base for those with more technical needs but generally, you shouldn't have many problems if you just need NoMachine for basic remote connections. NoMachine for Mac is free for personal use with paid Enterprise and Cloud editions available. There's also a free NoMachine iOS app and it also works on Windows and Linux.
TeamViewer (Free for private use, $59 for commercial use)
TeamViewer is more of a screen sharing tool popular with gamers and those that need to perform maintenance on a remote computer. However, it can be used as an RDP client for Mac. Teamviewer is extremely easy to use and ideal for those that want to give remote technical help to friends or family.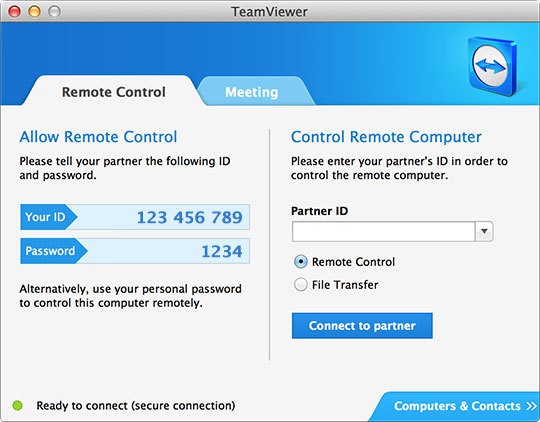 All you need to do is install the Teamviewer client on both machines, enter the ID of the computer you want to connect to and that's it – extremely easy. Teamviewer is cross platform so you can connect to a Windows, Mac, iPhone, iPad or Linux machine with ease.
Chrome Remote Desktop is a Google plugin which works directly within the Google Chrome web browser. If you're a Chrome user, it's a very simple and free way to connect your Mac to another user. Simply install the Chrome Remote Desktop plugin and you can connect to any other user with Chrome installed on any type of computer. Once installed, it works pretty much in the same way as Teamviewer. Just enter the ID of the computer you want to connect to, and it will connect instantly. Since it's only a browser plugin, it can be prone to a certain amount of instability and bugs and there's no way to share sound between computers with it but as a cheap and cheerful VNC solution that requires no client to install, it's very effective.
Beyond these RDP clients for Mac, there are a few other more expensive high-end corporate Remote Desktop for Mac solutions such as Ericom Blaze for Mac designed for the needs of large organizations. Ericom is partnered with Microsoft, Oracle and IBM and pricing is only available by quotation.
If you need a VNC client for professional or regular use, it's definitely worth paying for one and the best we've tried so far is Jump Desktop – it's easily the slickest and easiest to use. However, if you just need to occasionally connect to another computer or device, any of the free options covered here should do.
Splashtop (Free but in-app purchases for some features)
Splashtop is another user friendly way to connect to another computer or device. There's a free version for personal use and also Enterprise and Business plans. SplashTop is particularly good for gaming needs as it streams 3D graphics, sounds and video across local devices extremely well. For example, if you need to play a 3D game from your iPhone or iPad (SplashTop for iPad is also available for $4.99 from the Mac App Store), SplashTop enables you to play it on your Mac with almost no noticeable lag. Splashtop is only really free local use however because for remote access features across the internet, you must purchase in-app add-ons. If you want to access another computer over the internet for example, you must pay for Access Anywhere which costs either $1.99 a month or $16.99 per year. You can see SplashTop in action below and download the Splashtop client here.
After years focusing on Windows, Developer Devolutions now has a free Remote Desktop Manager for Mac. Remote Desktop Manager is free for individual use but there's also a free 30 day trial of Remote Desktop Manager for Mac Enterprise which is suitable for teams and corporate networks – full details of pricing here. Remote Desktop Manager isn't just a port of the Windows version – it's been built specifically for Mac and the result is quite impressive. One of the handy things about it is that it's integrated with other popular RDP clients such as Teamviewer, Microsoft Remote Desktop and even Telnet. The interface is also well designed allowing you to organize sessions by groups or folders and if you already use the Windows version, you can connect to the same databases with the Mac version so you can access all previous sessions. Remote Desktop Manager isn't quite as RDP novice friendly as applications such as Splashtop and Teamviewer but for those with a little Remote Desktop experience, it offers a lot of Remote Desktop power for free.
IMPORTANT UPDATE: On 8th October 2013, iTap for Mac was discontinued after being bought by Microsoft. Some users have switched to the new Microsoft Remote Desktop for Mac 8.0 which was released around the same time iTap closed. The information below is purely for legacy and reference purposes.

iTap, full name iTap Mobile RDP, was a relatively new RDP for Mac client that quickly became popular and caught the eye of Microsoft who bought it in late 2013. iTap was a powerful solution that was aimed mainly as business users and cost $24.99 from the Mac App Store or €20 direct from the developer until it was discontinued.
A 14-day free trial used to be available which was fully functional but disconnected after 10 minutes.
It lacked some of the features of Microsoft Remote Desktop for Mac and CoRD but it displayed much better than Microsoft's RDP on Retina Macs and was generally very stable and fast, hence one of the reasons Microsoft bought it.
iTap used its own full screen mode and went straight into full screen as soon as you established a connection although it would have been preferable if it had been integrated with Mountain Lion's full screen mode. One other slight problem with iTap Remote Desktop for Mac was that it didn't re-establish a connection if you suspended or put your Mac to sleep. In some cases, you had to Force Quit iTap in order to reestablish a connection. Finally, managing several different connections at once was tricky – there was no easy way to organize several screens open at the same time. If you want to see what iTap for Mac might have evolved into, you're best bet is to try Microsoft Remote Desktop 8.0 which was based upon it (see below).
Microsoft RDP for Mac is now called Microsoft Remote Desktop Connection Client for Mac (confusingly also known as RDC for Mac or Remote Desktop for Mac). Remote Desktop Connection Client for Mac is a Microsoft tool which allows you to connect your Mac to PC Windows machines and other devices. Microsoft RDP is used by applications such as Microsoft Azure to run Windows only applications and we showed how effective it is in our tutorial on How To Run Visio On Mac.
Microsoft released the latest version of Remote Desktop for Mac 8.0 on 17th October 2013. It was the first update to the client in two years and previous to that, there was no official Microsoft RDP client on Lion or above. The last version, Remote Desktop Connection for Mac 2.1.1, only supported up to OS X 10.6 Snow Leopard and does not officially work with Lion or above although some users claimed they had limited success using it. With the release of Remote Desktop 8.0 however, Mac users finally have an official client for OS X Lion, Mountain Lion, Mavericks and Yosemite.
The release of Microsoft Remote Desktop for Mac 8.0 coincided at the same time that iTap for Mac (see review mentioned earlier) was discontinued and the similarities in the new 8.0 version confirmed that Microsoft bought HLW Software's iTap client. The question is, have they improved it or ruined it?
Remote Desktop 8.0 allows Mac users to access virtual desktops on Windows, Windows RT, Windows 8, iOS, OS X and Android. The Mac version also includes support for printing to Mac configured printers and support for multiple monitors/projectors for presentations.
Version 8.0 is definitely an improvement over version 2.1.1 but yet still falls short of the Windows version. The connection speed is the most notable improvement on the last version and both full-screen and multi-monitor support were long overdue. The latest version also supports high quality audio and video streaming and connections feature greater NLA quality encryption.
There are some basic features missing from the Mac version however which many users will find frustrating. For starters, there's no way to import connections from the old version of Microsoft RDP for Mac meaning you have to go through the time consuming process of re-setting up all of your connections again. There's also no way to manage or even see how many multiple connections you've got going on at one time. Also, simple features such as Font Smoothing, Wallpaper options and Full-Screen drag are missing. Unlike the Windows version too, the Mac version does not support more secure methods of login such as via smart cards, PIV and CAC cards etc. If you need PIV and CAC Smart Card redirection support, check out the Royal TSX client further down in this article.
The Mac version also seems less helpful than the Windows version. For every new connection you make, you must preconfigure everything and add it to a connection list – you can't simply just paste in an IP address and connect to another machine like the old version. It can also be quite unreliable at connecting – sometimes it simply times out, freezes or won't connect and you feel like you're never sure if you can trust it to work when you really need it.
You can get Microsoft Remote Desktop for Mac 8.0 for free only via the Mac App Store.
According to Microsoft, officially you must have Tiger 10.4.9 or higher to use Remote Desktop for Mac 2.1.1. However, Remote Desktop Client 1.0.3 for Mac is still available to download and works on older PPC Macs. Remember that if you have Office for Mac 2011 installed, you already have Remote Desktop Connection for Mac 2.1 as it is included in the suite.
To connect Remote Desktop Connection to PC, you need network access and permission to connect to the computer. The PC must also be running Terminal Services or Remote Desktop Services. Microsoft Remote Desktop Connection for Mac does not yet work with Windows 8 but works with everything else from Windows 7 to Windows 2003.
How To Use RDP 2.1.1 For Mac
Using it is extremely simple. Just run the installer:
The Remote Desktop Connection icon will appear in your Dock. Click on it and you will see the main interface:
Then Simply enter the name of the PC you want to connect to on your network or the IP address of the PC.
There are several preferences and controls in Remote Desktop Connection once you've established a connection. You can save your Windows login information:
You can change the display settings to control how Windows appears on your Mac. Using this you can make Remote Desktop for Mac full screen.
You can configure Remote Desktop for Mac Keyboard Shortcuts:
You can change Sound settings:
You can choose which drives and folders the PC has access to but use it with caution as it allows anyone using the PC to view the contents of your Mac:
You can use Remote Desktop for Mac to print documents from the Windows PC:
You can start applications on the PC using Remote Desktop Connection for Mac:
Finally, you can configure the security settings:
Conclusion
As you can see, there is a wide range of Remote Desktop Connection Managers for Mac. If you just want an easy, user friendly way to connect from your Mac to another PC or Mac, we're still big fans of Jump Desktop. The latest version of Microsoft Remote Desktop has come a long way though and offers powerful RDC features for free. As stated earlier however, if you're intending to use a remote client to run Windows applications on your Mac, there are better ways and we recommend reading our guide on the Best Way To Run Windows on Mac. In the end though, running Windows on a Mac to use Windows programs can be fraught with technical glitches and issues and you're much better finding an alternative to Microsoft software such as Publisher for Mac, Access for Mac, Project for Mac and Visio for Mac.
If you have any suggestions for other RDP for Mac software that should be included in this article, or have any experiences with them to share, let us know in the comments below.