If you need to work from home, control, fix or access another computer from your Mac, we've taken a look at the very best remote desktop software for Mac in 2023.
However, finding software that does this reliably and securely isn't easy and we found the best remote desktop software for Mac to be GoToMyPC for its all round ease of use, performance and security.
Taking control or accessing another PC or Mac computer remotely is also known as Virtual Network Computing (VNC).
It can be useful in a variety of situations such as screen sharing, working from home, fixing a computer remotely, system administration or network monitoring of computers.
All the remote desktop apps reviewed here are suitable for connecting from Mac to Mac as well as Mac to PC or from mobile devices such as iPad, iPhone and Android to Mac.
Many of them make an excellent alternative to MobaXTerm for Mac which doesn't exist on macOS and are the best alternatives to Back To My Mac which Apple has now dropped from macOS.
It's important to be aware that there aren't any remote desktop apps that are optimized for retina displays on Macs.
For example, if you try to access your Mac remotely with your iPad on maximum resolution settings, the screen may look blurry.
In most cases, this can simply be fixed by lowering the resolution settings to give a much sharper image.
All the remote desktop solutions reviewed here are compatible with the latest versions of macOS including Ventura and Sonoma.
All those that offer Cloud solutions also work on the latest Apple Silicon M1, M2 and M3 Macs too.
You May Also Like:
Best Remote Desktop Software For Mac
Here then is our list of the best remote desktop software for Mac of 2023 in order of ranking.
GoToMyPC For Mac is the best remote desktop software for Mac as it is incredibly easy to use and offers rock solid reliability.
GoToMyPC is owned by GoTo which is one of the biggest players in the remote desktop market and was formerly known under the LogMeIn brand.
GoToMyPC For Mac is suitable for home users, small businesses and corporations as it sets-up everything automatically even if you're behind a corporate firewall on Mac or PC.
As a result, GoToMyPC is a particularly popular choice among companies and corporations that allow employees to work from home.
GoToMyPC is extremely easy to setup and use and allows you to transfer files between Macs and Windows PCs.
It's also one of the most secure remote desktop tools we've used as it protects each computer connected to it with an individual password so that no one else can access your network except authorized users.
We also like the fact that GoToMyPC allows you to temporarily invite another user into a session which is useful if you need tech support to fix a problem with your Mac or PC.
GoToMyPC also has an iOS app which allows you to easily connect to your Mac or PC from your iPhone or iPad.
GoToMyPC pricing isn't the cheapest remote desktop software for Mac but is definitely worth it for the reliability and ease of use it provides.
GoToMyPC is currently offering 25% off GoToMyPC Plans which start at $31.13 per month for Pro plans aimed at teams and $33.00 per month for the Personal Plan aimed at individuals that only need access to one computer.
If you're a small business and need to up to control of between 2 to 50 computers, you'll need to sign-up to the Pro Plan.
There are also Corporate Plans starting from $21.00 per month for large teams needing invoiced billing and more admin controls.
You can also try a 7 day free trial of GoToMyPC with no credit card needed.
You can check out our full GoToMyPC review for more.
Pricing: Starts at $31.13/month
Despite the name RemotePC isn't just for Windows PCs.
RemotePC has an excellent Mac desktop client which allows you to easily connect to other PCs, Macs and mobile devices instantly.
It's easily the best remote desktop solution we've seen in terms of value for money when it comes to remotely administering computers.
Connections with RemotePC are secured with TLS v1.2 and AES 256 bit encryption.
You can choose to connect to other computers either via the desktop app or via the web app and establishing a connection is simply a case of selecting the one you want and clicking "Connect".
You can chat online during remote sessions, print to remote printers and even record your remote sessions.
One thing we like with RemotePC on Mac is that you can toggle between either Better Quality or Better Speed depending on how the remote connection is performing.
There are various paid plans but the basic Consumer Plan allows access to 2 computers simultaneously and costs $37.12 per year with the new user discount.
You can try a 7 day free trial of RemotePC to see for yourself.
Pricing: Starts at $37.12 per year with up to 50% off.
If you're looking for a remote support solution for your Mac, Zoho Assist is the one of the best remote desktop software for Mac specializing in both remote helpdesk and unattended remote access of both Macs and PCs.
Zoho Assist is a popular all round remote access software that's not just for customer support but also makes it ridiculously easy to connect, access or control another computer or mobile device.
It's also probably the best deal on the market for remote access software on this level with a limited Free Forever plan and paid plans starting at just $10 per month.
Although Zoho Assist can be used by anyone, it's ideal for Customer Support and IT Professionals, IT Help Desks, Outsourced IT and MSP Support.
Some of the nice advanced touches in Zoho Assist include remote printing and custom branding of your company or organization.
Zoho Assist is also one of the most secure remote desktop tools for Mac users with no prior installation required at either end.
There are a range of extra security measures taken by Zoho Assist such as two factor authentication, SSL and 256-bit encryption and action log viewer to see who's accessing your network in real time.
You can try Zoho Assist free to see for yourself.
You can also read our full review of Zoho Assist for more.
Pricing: Limited Free Forever plan / Paid plans start at $10 per month
ManageEngine Remote Access Plus is an easy to use enterprise remote desktop software that's packed with features and highly scalable.
ManageEngine Remote Access Plus allows IT help desk technicians and system administrators to remotely manage and troubleshoot Mac, Windows, and Linux computers anywhere in the world.
Some of the best tools in MangeEngine Remote Access Plus include advanced remote access control, system manager, Wake on LAN, remote shutdown and remote file transfer.
ME Remote Access Plus is suitable for those that need to offer high level remote support and reduce troubleshooting times.
Some of the highlights of ME Remote Access Plus include:
Advanced Remote Control that's HIPAA ready for confidential connections
System Manager with 12 different tools to remotely solve issues with files, printers, user management etc
Voice & Video chat with technicians
Wake up on LAN which instantly switches-on remote machines including Macs
Remote Shutdown allows you to automatically turn-off machines with no users or for security
Detailed reports on your network so you can see remote sessions, chat history and troubleshooting history
You can install ManageEngine Remote Access Plus on premises or in the Cloud.
You can also try ManageEngine for free for 30 days to test it for yourself.
Pricing: Free / Starts at $75 for Cloud edition
LogMeIn for Mac is one of the most powerful remote desktop apps for Mac users of all abilities and needs.
LogMeIn for Mac offers specific tools for individuals, small businesses, IT professionals and help desk technicians and is the best on the market when it comes to enterprise remote desktop support.
LogMeIn offers a range of remote networking solutions, including the popular GoToMeeting video conferencing software for Mac.
LogMeIn is one of the first ever remote desktop tools on the market and years of experience and refining have made it one of the best remote desktop apps we've tried on macOS and Windows.
One of the things we like most is that LogMeIn is extremely easy to use, connects to devices in seconds and has lots of useful extra touches like the ability to print remotely from any device you're connected to, HD video support, support for multiple monitors and more.
All LogMeIn plans include an unlimited number of users, 1TB of file storage to share and exchange files and a free license for password manager LastPass so you don't have to keep entering passwords across your devices.
LogMeIn does not compromise a firewall but is still able to share screens behind one while still using SSL/TLS or even RSA SecureID and 2-factor authentication.
If unauthorized or failed logins are detected in a brute force attack, LogMeIn will also automatically lock accounts to protect them.
There is an also an excellent LogMeIn iOS app which make it very easy to log into your Mac or Windows PC from your iPad or iPhone.
Although not optimized for retina displays, connections between Macs and iPads using LogMeIn are surprisingly crisp and smooth.
Note that remote sound is not supported in LogMeIn for Mac running on Apple Silicon M-chip Macs.
LogMeIn pricing starts at $30 per month for individuals which allows access for up to 2 computers, unlimited users, remote printing, 1TB file storage and more.
There are also plans for Power Users and Small Businesses which allow access to up to 5 and 10 computers respectively.
Note that there is no longer any version of LogMeIn Free for Mac which was discontinued in 2014.
You can try a free trial of LogMeIn Pro which lasts for 14 days.
You can also check out our full review of LogMeIn For Mac for more.
Pricing: Starts at $30/month
Splashtop is a user-friendly way to connect to another computer or device.
Splashtop is particularly good for gaming needs as it streams 3D graphics, sounds and video across local devices extremely well.
For example, if you need to play a 3D game from your iPhone or iPad (Splashtop for iPad is also available), Splashtop enables you to play it on your Mac with almost no noticeable lag.
There's a very limited free version for personal use and also Enterprise and Business plans.
The downside is that Splashtop is only really free for local use because for remote access features across the internet, you must purchase in-app upgrades.
If you want to access another computer over the internet for example, you must pay for Access Anywhere which starts at $5 per month.
It's also a little tricky to set up with restrictions on port forwarding but overall, it's generally very reliable and effective at remote networking.
You can also currently get 30 days extra for free added to your plan.
Pricing: Starts from $5/month
Jump Desktop is easily one of the slickest and easiest to use remote desktop solutions for Mac users with a dedicated Mac client.
Remote networking can be a complicated affair but it's clear the developer has gone to a lot of effort to make remote desktop connections easy enough for anyone to use without sacrificing features and stability.
In fact, Jump Desktop is unique in using your Gmail account to automatically setup and configure a remote connection without any further effort on your part.
Jump Desktop for Mac is multi platform supporting iPad, iPhone, iPod and even Android and can be used for connecting from Mac to Mac too.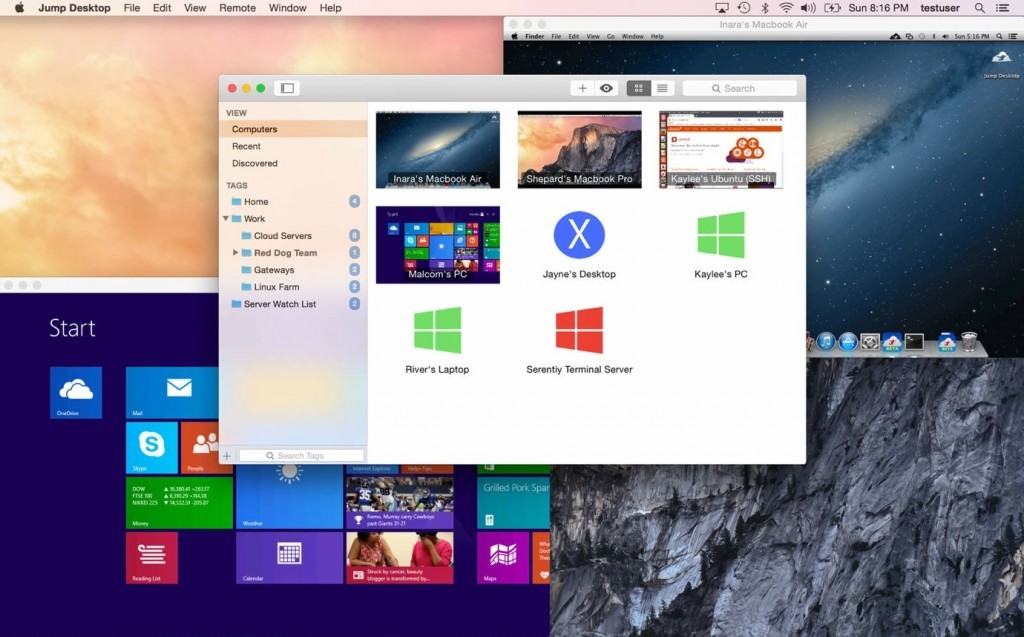 Jump Desktop is extremely easy to use and doesn't require networking knowledge making it ideal for beginners to Remote Desktop software. All you need is a Gmail account to get started:
Alternatively, Manual setup is also available for those that know what they're doing when it comes to Remote Desktop connections.
One of the smartest things about Jump Desktop is that it can map Mac keyboard shortcuts to make them work on Windows.
Jump Desktop can also stream audio from your Mac to another device using Jump Desktop Audio.
You can also copy and paste between macOS and Windows and vice versa which is really helpful if you work on both Mac and Windows constantly.
Jump Desktop also has a Live Previews feature which allows you to keep an eye on all connected computers in real time.
Collaborative Screen Sharing allows many users to connect to the same computer, where each user gets their own mouse cursor. This feature makes it easier than ever to co-editing documents, change design or prepare presentations with remote team members.
The full version of Jump Desktop is $34.99 which is a modest one-off price to pay without any other monthly fees.
Pricing: $34.99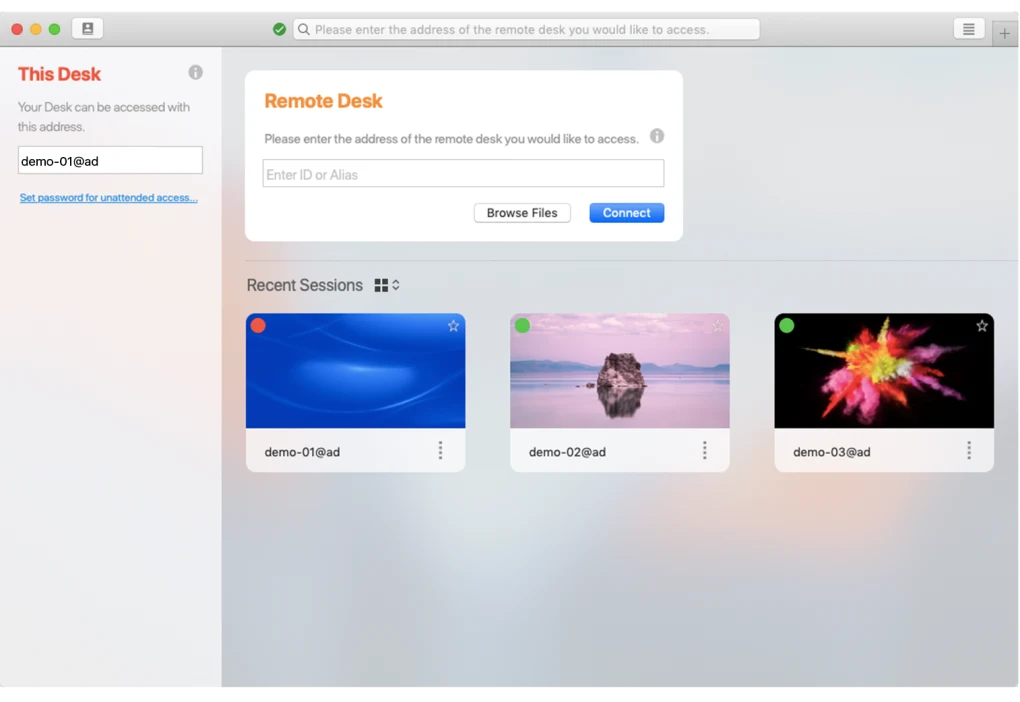 AnyDesk for Mac is a slick cross platform remote desktop software with flexible pricing models and an easy to use interface.
AnyDesk is particularly good for those with slow internet connection as it still manages to maintain a responsive and lag-free connection.
There's a desktop AnyDesk app for Mac, Windows, Linux and mobile so it's easy to connect to different devices wherever they are.
Setting up a remote connection with AnyDesk is easy with an intuitive setup wizard that even beginners to remote desktops can quickly grasp.
AnyDesk uses a combination of two-factor authentication and whitelisting to ensure that connections are secure.
You can also drag and drop files for quick file sharing or use the built-in file transfer manager for more control.
Other useful features include customization of the quality of the remote display, configure access permissions and the ability record sessions for reviewing later.
On the downside, the free version of AnyDesk has a cap on the number of devices you can connect to and for professional use you'll definitely need to subscribe to a plan starting at $14.90 per month for the Solo plan.
Pricing: Starts at $14.90/month
TeamViewer is easily one of the most popular remote desktop tools in the World users making it simple enough for anyone to connect to another PC or Mac.
One of the best things about TeamViewer is that for home users it's free to use although for small businesses and corporations, there are enterprise features.
The free version of TeamViewer is probably the most popular desktop sharing tools out there for gamers on both Mac and PC.
TeamViewer Enterprise plans also include TeamViewer Monitoring & Asset Management which not only provides remote access to Macs or PCs, but also monitors system critical aspects and provides easy IT inventory tracking.
TeamViewer is extremely easy to setup. All you need to do is install the TeamViewer client on both machines, enter the ID of the computer you want to connect to and that's it.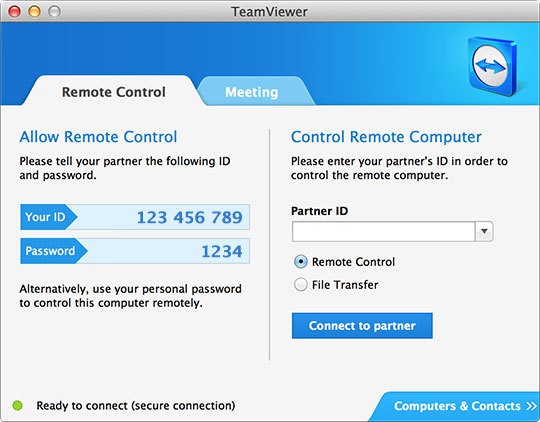 There's very little configuration of ports or firewalls as everything is handled automatically by the setup wizard.
Once installed, you simply ask the person you want to connect to for their Partner ID to establish a connection. Alternatively, you can give someone your partner ID and password to allow them to connect to you.
TeamViewer is extremely secure offering 2048-bit RSA keys and 256-bit AES encoding.
Note that unfortunately, the Mac version of TeamViewer does not support sound or remote microphones. You can only hear sound if the remote computer you are connecting to is running Windows.
Pricing: Starts at $24.90/month
Remotix is an extremely fast, slick and user-friendly remote desktop connection client for Mac.
In fact, If you just need to share the screen of your iPad or iPhone with your Mac, then there are few better RDP clients around.
There's very little lag in connections made with Remotix to Windows either as it quickly optimizes itself for the speed of your internet connection.
For those new to remote desktop connections, it guides you clearly through the setup process. You can store connection profiles via iCloud backup and even access printers from your remote Mac using Remotix.
You can clearly see how many connections you've got open via the Multiple Computer Observer screen:
Remotix is also one of the most secure RDP clients for Mac available with built-in SSH tunneling for both RDP and VNC.
You can also set a master password to protect all of your connections rather than have to enter individual passwords for each one.
If you've been having problems with Back to My Mac, or just want to connect to Macs, Remotix is definitely worth checking-out.
Pricing: Starts at $49.95
Royal TSX for Mac is focused firmly on system administrators or professionals that need a remote desktop solutions with a very high level of security.
Royal TSX is very well designed and makes it straightforward to manage connections in the left-hand sidebar with convenient tabs to control sessions.
Royal TSX is very versatile supporting RDP, VNC, SSH based terminals or web-based interfaces.
Security is a big selling part of Royal TSX for Mac as it uses using the highly secure 256 AES encryption standard.
Other enhanced secure features include built-in credential management, safe team-sharing features and the ability to share a list of connections without sharing your personal credentials.
Royal TSX is also one of the few RDP servers for Mac which supports PIV or CAC Smart Card Redirection.
There are various pricing plans for those that need more than this with the Individual License starting at $50 for multiple devices including Macs.
Volume licensing for unlimited users on a particular site start at $874 for a site wide license with a Global license for multiple users on multiple sites costing $1694.
Enterprise licenses are available on request
Pricing: Starts at $50
NoMachine is a slick Remote Desktop Client which tends to go under the radar when Mac users are looking for remote desktop software but is definitely worth a look.
NoMachine looks great on macOS, is very easy to set up and use and there's a free version for limited connections.
The good thing about NoMachine is all you need to connect to another machine over the internet is its IP address and port number.
It's incredibly easy to use and setup with no manual configuration required.
A setup wizard clearly takes you step-by-step through the connection process. Connections are stable and fast and there's a NoMachine forum where you'll get help with any problems you might have with the client.
There's also an extensive knowledge base for those with more technical needs but generally, you shouldn't have many problems if you just need NoMachine for basic remote connections.
NoMachine for Mac is free for personal use but there are paid Enterprise and Cloud editions available.
Pricing: Free / Enterprise plans starting from $44.50
If you want to connect to a remote PC for gaming, then take a look at Parsec.
Although Parsec can be used for connecting to business apps remotely on a PC, it's very popular with gamers that want to play PC only games that are not available for Mac.
For example, games like Diablo 4 that are not available for Mac can be installed on a PC and then by using Parsec, you can connect to the PC to play Diablo 4 on a Mac.
Parsec also has it's own catalog of games Parsec Arcade which provides a ready-made selection of games that you can play on Mac or PC remotely.
Parsec supports HD and up to 60fps for gaming.
Parsec is also used by developers, designers, architects and engineers to collaborate on projects on both Windows and macOS.
Parsec also hosts macOS in the Cloud so that you can build and test games or applications in macOS remotely. This means you can even use video editing software such as Final Cut Pro remotely on a Mac with remarkably low latency.
Pricing: Starts at $8.33/m
Free Remote Desktop Software For Mac
The following solutions all have free versions which can be used either free for personal use or with limitations. Most of them offer Business and Enterprise plans for those that need unlimited features and functionality.
The most well known remote desktop tools on Windows are Microsoft Remote Desktop and Citrix Receiver.
However, neither are the best remote desktop software for Mac users.
Unsurprisingly, Microsoft Remote Desktop is mainly designed for Windows users and has various problems on Mac although admittedly is has improved in recent versions.
Citrix Receiver for Mac was discontinued in 2018 but we think the software featured here are much better value alternatives to Citrix.
Note that there is also no version of the popular Windows remote control support app UltraViewer on Mac.
After years focusing on Windows, Devolutions also has a Remote Desktop Manager for Macs which offers a limited free version for individual use with some powerful features for Enterprise environments.
Devolutions Remote Desktop Manager isn't just a port of the Windows version – it's been built specifically for Mac and the result is very good.
Devolutions Remote Desktop Manager is a little bit like Royal TSX and is definitely suitable for system admins and small businesses and has all you need to manage a network of computers.
One of the handy things about it is that it's integrated with other popular RDP clients such as Teamviewer, Microsoft Remote Desktop and even Telnet.
The interface is also well designed allowing you to organize sessions by groups or folders and if you already use the Windows version, you can connect to the same databases with the Mac version so you can access all previous sessions.
Devolutions Remote Desktop Manager isn't quite as RDP novice friendly as apps such as Splashtop and Teamviewer but for those with just a little Remote Desktop experience, it offers a lot of Remote Desktop power for free.
You can use Devolutions Remote Desktop for free but there are limitations compared to the Enterprise version.
You can see a comparison of the Free edition with the Enterprise version here.
Chrome Remote Desktop is a Google plugin which works directly within the Google Chrome web browser. If you're a Chrome user, it's a very simple and free way to connect your Mac to another user.
Simply install the Chrome Remote Desktop plugin and you can connect to any other user with Chrome installed on any type of computer or mobile device (including iOS).
Once installed, Chrome Remote Desktop works pretty much in the same way as TeamViewer. Just enter the ID of the computer you want to connect to, and it will connect instantly.
Since it's only a browser plugin, it can be prone to a certain amount of instability and bugs and there's no way to share sound between computers with it but as a cheap and cheerful VNC solution that requires no client to install, it's very effective.
Note that Google does not record any of your activity using Chrome Remote Desktop – it uses SSL and connections are directly from host to remote session with no Google interference in the middle.
Apple Remote Desktop is Apple's version of Microsoft RDP for Mac.
With Apple's decision to drop the free Back To My Mac tool from macOS, Apple Remote Desktop (ARD) is now the only remote desktop software that the company offers nowadays.
It's important to be aware that ARD is mainly aimed at system administrators and there are far easier remote desktop apps to use nowadays.
Apple Remote Desktop is also only for connecting to other Macs and iOS devices and if you're not experienced with remote networking or VNC clients, we don't recommend it.
As a professional tool for system administrators to manage Apple devices on a network however, it gives you a lot of power to install software and updates such as Flash and Java, push UNIX commands and update macOS remotely.
Because of the explosion in more user-friendly remote desktop apps, ARD has become an increasingly unpopular remote desktop solution except among IT users.
You may also find that despite it being an Apple product, ARD for Mac is also frustratingly slow at times compared to most of the other remote desktop software featured here.
Apple Remote desktop costs $79.99.
Microsoft RDP for Mac is now called Microsoft Remote Desktop Connection Client for Mac (confusingly also known as RDC for Mac or Remote Desktop for Mac) and is probably the most well known way of remote networking on Windows.
Remote Desktop Connection Client for Mac is a Microsoft tool which allows you to connect your Mac to PC Windows machines and other devices.
However, Microsoft Remote Desktop on Mac has always had more problems and limitations than the Windows version which is why we don't recommend using it.
There are many issues with Microsoft RDP on Mac such as instability, usability issues and glitches that make it frustrating to work with.
Unlike the Windows version too, the Mac version does not support more secure methods of login such as via smart cards, PIV and CAC cards etc.
For every new connection you make on Mac too, you must pre-configure everything and add it to a connection list – you can't simply just paste in an IP address and connect to another machine like with most remote desktop clients.
It can also be quite unreliable at connecting – sometimes it simply times out, freezes or won't connect and you feel like you're never sure if you can trust it to work when you really need it.
However, if your company or organization requires you to use it – like many do – you may have no choice.
Conclusion
As you can see, there is a wide range of Remote Desktop Connection Managers for Mac although this list is by no means exhaustive.
We've covered a combination of paid and free remote desktop apps for Mac software and many vendors.
For rock solid security connecting to both Mac and Windows PCs, GoToMyPC is the best remote desktop software on the market.
The best enterprise remote desktop software for Mac is ManageEngine Remote Access Plus for power, features and scalability.
For all round remote access and help-desk support, Zoho Assist is another excellent remote desktop solution for connecting to both PCs and Macs.
For value for money, RemotePC for Mac offers the best value on the market.
For professionals that need an easy to use robust remote desktop solution on a Mac, LogMeIn Pro is a solid remote software solution.
If you have any suggestions for other remote desktop software for Mac that should be included in this article, or have any experiences or questions with the Mac remote apps reviewed here, let us know in the comments below.