Gantt charts are an essential part of any project management software so we've taken a look at the best ways to create a Gantt chart on a Mac to keep you on track.
Gantt charts are so effective at helping plan projects that they're still going strong in 2023 since way back to 1910 when Henry Gantt invented them.
Gantt charts are still one of the best ways to help you meet deadlines on time, plan projects, manage them and generally have a better overview of who's doing what and what's going on.
Many PC users use Microsoft Project to create Gantt charts but since it's not available for macOS, Mac users need an alternative to Microsoft Project for Mac.
All the Gantt chart makers reviewed here make it easy to make Gantt charts on a Mac nowadays including the latest versions of Ventura, Monterey, Big Sur, Catalina, Apple Silicon M1 Macs and M2 Macs.
How We Ranked The Best Mac Gantt Chart Software
The main things that Gantt charts should do well are representing Tasks, Resource/Activity Overlaps, Timelines and Budgets really fast and easily.
The apps featured here have been chosen because they fulfill some essential features that all the best Gantt chart creators have including the following:
The ability to create timelines
The possibility to import and export into multiple formats
Syncing with online or Cloud apps (if needed)
The ability to customize Gantt chart views
The option to share and collaborate with team members
Integration with mobile devices such as iPhone and iPad
The ability to drag and drop tasks into timelines
The ability to drag and drop schedules
Milestone modifications to adjust Gantt charts according to progress
Detailed report generation
Time tracking and invoicing tools
You May Also Like:
With this in mind here are the best ways to create a Gantt chart on a Mac in 2023 in order of ranking.
Project Plan 365 was ranked our top project management software for Mac and one of the reasons for that was the highly customizable Gantt charts it makes.
Project Plan 365 has both a Mac desktop and Cloud interface so you can choose to work offline or online on macOS
It can also import and export to the Microsoft Project MPP file format better than any Microsoft Project alternative we've seen. You can also connect Project Plan 365 to Microsoft Project Server, Sharepoint and Basecamp.
Project Plan 365 makes it very easy to share your Gantt Charts and project timelines with anyone even if they don't have Project Plan 365.
This means you can share instantly to team members, stakeholders and the public without the need for a Project Viewer on a Mac or additional software.
It allows you to produce highly customizable Gantt Charts that give you full control over the kind of variables you want displayed.
You can currently get 20% off Project Plan 365 with plans starting at $8.99 with the discount.
You can try Project Plan 365 for free to judge for yourself what a great project management software it really is.
You can also check out our full Project Plan 365 review here.
Monday.com is simple but deceptively powerful and unbelievably effective at helping you keep on top of projects using Gantt charts.
What we like about Monday.com is that it keeps things to a bare minimum making it easy for anyone to create a professional Gantt chart within minutes of signing-up.
Monday.com makes it easy to drag and drop tasks, assignees, and other data into Gantt chart or timeline views.
Monday.com makes it easy to update multiple Gantt charts at once as you can create rules to automate parts of the update process.
If a team member completes a task for example it will automatically update all affected Gantt timelines and move to the next project phase.
To create a Gantt chart in Monday.com you simply create a new board in the dashboard or open one of the many templates.
You then make a list of your tasks, insert a task timeline column and then decide on a time period for each task to be completed.
Monday.com will then automatically create a Gantt chart from this information. You can then edit the Gantt chart in a few clicks and everything will updated dynamically.
You can also create some really slick summary charts and export them for sharing with anyone that doesn't use Monday.com.
There's also lots of integration with third party products such as Jira, Google Drive, Slack, Excel and more.
Pricing for Monday.com gets cheaper the more users you subscribe with Enterprise plans available.
You can try Monday.com now for free and pricing starts at $24 a month for 3 users which works out at just $8 per user.
You can also check out our Monday.com review for more.
Pros:
Easy to use
Timeline views
Lots of Gantt chart templates
Excellent summary charts
Lots of third party integrations
Cons:
Complex pricing structure
ClickUp is an easy to use project management software and productivity tool that makes it easy to create eye-catching Gantt charts on a Mac and all platforms.
ClickUp has some of the widest range of viewing options we've seen in any project management tool including Gantt, list, box, Board, Calendar view and even your own customizable views.
Some of the things we like most about ClickUp for project management are:
Customized views from Gantt charts to Scrum boards
Dynamic timelines to schedule tasks and manage project progress
Lots of color coordination options for Gantt charts
Ability to drag and drop, resources, tasks and people on Gantt charts
Apart from project management and making Gantt charts, ClickUp is also a highly effective organizational tool that also makes an excellent alternative to Microsoft OneNote on Mac for organizing clippings, notes and other tasks.
You can use the basic version of ClickUp for free to see for yourself.
You can also check-out our ClickUp review for more.
Pros:
Creates eye-catching Gantt charts quickly
Slick, easy to use interface
Huge choice of customizable views
Can be integrated with third party apps
Cons:
No support for importing Microsoft Project files
No syncing with Microsoft Office
Although Teamwork (formerly known as Teamwork Projects) is a professional project management tool, it also allows you to use a version to make Gantt charts for free on macOS.
Teamwork is an incredibly powerful alternative to Microsoft Project and yet the Free Forever plan allows you to manage a maximum of 2 projects with 100MB of free storage.
It has a slick Mac app which allows you to launch Teamwork from your Mac desktop.
If you just need to manage a few projects at a time, or can delete projects once they are complete, you can easily keep using Teamwork for free for as long as you want.
Teamwork is tastefully designed with a clear, color coordinated dashboard that allows you to instantly switch between Gantt Charts and Kanban boards.
You can import and export Microsoft Project MPP files and you can even sync it with the Windows version of Microsoft Project (although this isn't available in the free version).
Other great features include automatic Triggers and Webhooks to alert other stakeholders and team members when work is complete, useful mobile apps to track projects on the move and contact management.
You can even try the paid plans for free and after 30 days, it will automatically revert to the Free Forever Plan if you don't want to subscribe.
You can start using Teamwork for free now.
You can also check out our Teamwork review for more.
Pros:
Mac desktop app
Great for large teams
MS Project import support
Cons:
Many features limited in free version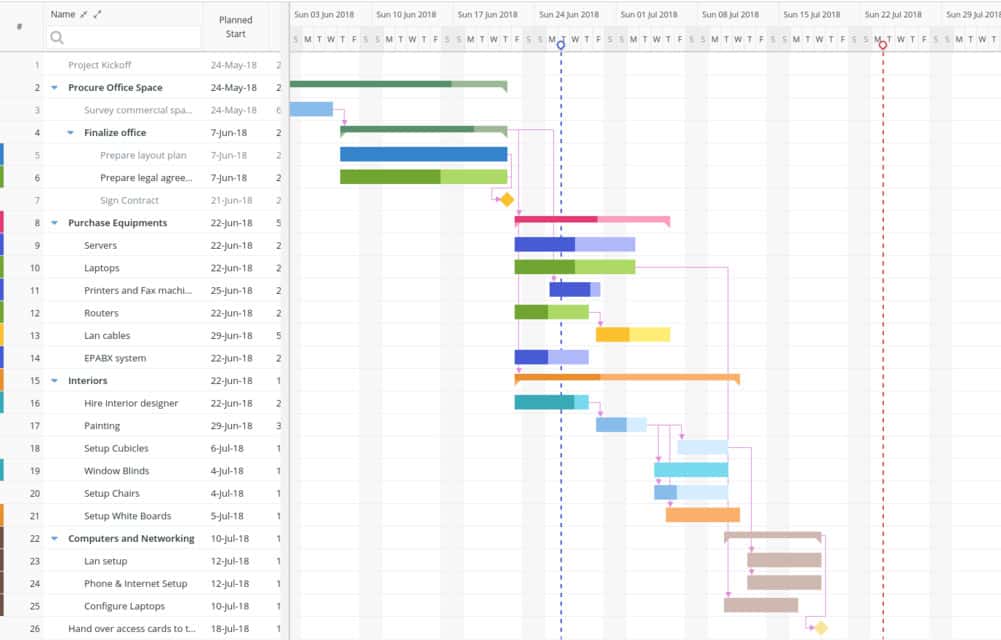 Celoxis takes complex project planning and attempts to simplify everything via Gantt charts that can be drilled down in great detail.
Celoxis uses a smart automatic scheduling tool and allows multiple resources per task to help keep a tight overview of your pending tasks.
We also like the fact that Celoxis uses plenty of keyboard shortcuts to edit and change your Gantt chart such as to move tasks up and down, edit tasks and save tasks.
Celoxis is also full of drill-down charts, allows as many dashboards as you like per user and project request tracking depending on your business KPIs.
Celoxis is available as a Cloud app for $22.50 per user per month or as an on premise solution for $450 per user.
You can also try a 30 day free trial of Celoxis to test it first.
Pros:
Excellent for reports
Easy to setup and use
Time tracking and budgeting tools
Cons:
No billing or invoice
No free version
When it comes to creating Gantt charts, or in fact diagrams of any kind, it doesn't get much easier or quicker than with SmartDraw.
SmartDraw is an incredibly effective diagramming software that works on all platforms and has so many templates, much of the hard work is done for you before you even get started.
The great thing about SmartDraw is you're not just getting an incredibly easy way of creating Gantt charts on a Mac – you also get an entire diagramming suite that useful for everything from creating organizational charts to creating flowcharts.
In fact Visio users find it a superb alternative to Visio on Mac because it covers so many different types of diagramming needs, so well.
SmartDraw is packed with Gantt chart templates which get you up and running really quickly including for PERT charts.
It's incredibly easy to add dependencies and insert tasks and you can track the progress of projects by entering a percentage of completion rate for each task.
Another really neat feature is the ability to switch from the Gantt chart view into a Mind Map View to get a greater overview of dependencies between departments and staff.
You can also connect your Gantt charts to Trello and assign tasks to team members. When a task is marked as complete in Trello, it will automatically be marked as complete in your SmartDraw Gantt chart.
One other nice thing about SmartDraw is the possibility to conduct a project status meeting via the mind map view with just one click.
During meetings, this clearly shows which team members are responsible for what and where their tasks overlap which helps keeps them engaged during meetings.
SmartDraw gives you far more than just Gantt charts and you can see a useful overview of how easy it is to use below.
You can try SmartDraw for free and pricing starts at $5.95 for teams.
You can also check out our full review of SmartDraw for more.
Pros:
Very easy to use
Lots of gantt chart templates
Allows you to create many more diagrams easily
Slick, clean interface
Cons:
Did you know you can produce Gantt charts for free in Apple Numbers? The trick is to use the Bar Chart feature and then format it to make it look like a Gantt chart.
This takes a little playing around to get right but it creates a basic Gantt chart and doesn't cost you a cent.
We wouldn't recommend using Numbers for Mac for professional presentations as it's designed more for summarizing budgets, statistics and other numeric data.
However, if you want to create a Gantt chart quick and easy on your Mac for free, Apple Numbers is a very quick and straightforward solution.
You can find full instructions on how to create a Gantt chart in Numbers for Mac here.
Pros:
Free to use in macOS
Works on iOS too
Also a useful alternative to Microsoft Excel
Cons:
Not easy to create Gantt charts
Creates very limited basic Gantt charts
Not suitable for professionals
Pages is Apple's alternative to Microsoft Word for Mac and although it's mainly a word processor, you can create Gantt charts for free in Pages.
Pages allows you to insert 2D Bar Charts into documents which you can tweak to make a simple Gantt chart.
It's important to be aware that Apple Pages is not designed for making Gantt charts or project management of any kind.
There are no Gantt chart templates in Pages for Mac because it's mainly designed for word processing on Mac.
Formatting and making changes to Gantt charts made in Pages is also time consuming and not very intuitive at all.
We definitely don't recommend using Pages for creating Gantt charts if you're planning to do presentations or generate reports from them.
For more, you can find full instructions how to draw Gantt charts in Pages for Mac here.
You can also check out our full Apple Pages review for more.
Pros:
Free to use in macOS
Works on iOS too
Also a useful alternative to Microsoft Word
Cons:
Not easy to create Gantt charts
Creates very limited basic Gantt charts
Not suitable for professionals
If you're looking for something that makes creating elegant Gantt charts an absolute breeze, take a look at Vizzlo.
Vizzlo specializes in creating charts of all kinds and produces results that really fit the macOS aesthetic.
Vizzlo isn't a complete project management solution but if you're just want to make eye catching Gantt charts that look great in presentations and on a Mac, it's hard to beat.
Vizzlo is packed with templates that get you up and running immediately and is fully integrated with both Microsoft Powerpoint and Google slides for presentations.
It also allows you to easily embed Gantt charts into blogs, websites and share them easily on LInkedIn, Twitter and Facebook.
You can try Vizzlo for free now and there's no limit on documents created.
Paid Plans starts from $11 per month.
Pros:
Create all types of eye catching business charts
Integrated with Microsoft Powerpoint and Google slides
Embed Gantt charts easily in presentations
Cons:
Limited advanced Gantt features
Toggl Plan is a really slick Gantt chart software which works across all platforms and is used by major corporations such as Netflix, Amazon and The New York Times to get things done.
Toggl Plan is big on color coding everything to make Gantt chart timelines easy to spot which tasks go together, which team members are working on what and which tasks are getting behind.
You can easily drag and drop tasks into a timeline in Toggl Plan and then filter them by specific task. The color coding makes it very easy to identify which charts relate to which projects or line of business.
If you're a non-profit organization, Toggl Plan is free to use with Premium plans just $9 per month when paid annually.
Pros:
Used by Blue Chip companies
Powerful Gantt chart customization and updating
Free plans for non-profits
Cons:
Takes some learning
Aimed more at large companies
Team Gantt is a powerful, slick and incredibly effective at making Gantt charts in minutes on your Mac.
As the name suggests, Team Gantt is aimed at helping teams communicate and be more productive through the power of Gantt charts.
Team Gantt is for Project Managers with several projects on the go as it allows you to display multiple projects in one Gantt chart so you can see which resources are affected across multiple projects.
For meeting deadlines and streamlining team communication, it's a superb tool for project management needs of all kinds.
Team Gantt is particularly popular with Digital Agencies, Event Planning, Construction Companies, Marketing Teams, Manufacturing, HR Teams and Software Developers.
You can try Team Gantt for free and team pricing starts at $19 per month.
Pros:
Used by companies such as Amazon, Netflix and Intuit
Ideal for project managers on large projects
Updates resources across multiple projects
Cons:
Workzone is a powerful project management software that produces elegant and easy to use Gantt charts in no time.
Workzone claims to be more advanced that entry level tools like Basecamp but easier to use than Microsoft Project.
Gantt charts are only part of Workzone's appeal as it produces many other useful types of chart including task dependencies, workload reports and time tracking.
You can try Workzone for free although it's aimed strictly at teams and enterprises rather than individuals and demos are on request only.
Pros:
Suitable for a wide variety of industries
Lots of useful project dashboard for different stake holders
Useful time tracking tools
Cons:
Takes some learning at first
Pricing compared to similar products
If you need some serious power when creating Gantt charts, then look no further than GanttPRO.
GanttPRO claims some pretty impressive stats such as 45% time saved on team planning and 75% less missed deadlines as a result of companies switching to its software.
GanttPRO is very big on making Gantt charts as interactive as possible and is aimed at project managers with multiple projects running at once.
GanttPro mixes collaboration features with team progress management tools that make it easy for Project Managers to track who is doing what and when.
GanttPRO starts at $7.99 per user per month with team plans starting from $12.99 for bigger teams. You can also try GanttPRO for free.
Pros:
Attractive, easy to use interface
Custom fields for Gantt charts, kanban boards and more
Suitable for complex projects
Cons:
Steep learning curve for beginners
Limited reporting tools