Microsoft Project for Mac does not exist so we've looked at best project management software for Mac that make great alternatives to Microsoft Project.
Is There A Version Of Microsoft Project For Mac?
There is currently no version of Microsoft Project available for Mac.
This might seem surprising but Microsoft doesn't always release Mac versions on its products including major software like Visio for Mac.
The last version of Microsoft Project for Apple devices was released way back in 1993 and was discontinued long ago.
Microsoft simply decided to invest all of its efforts into the Windows version rather than the relatively small Mac user market.
Although Microsoft now offers an online version of MS Project, it's vastly inferior to the desktop version of Microsoft Project.
The good news is there are some excellent project management tools now available for Mac users, many of which can import Microsoft Project files, create Gantt charts, support team collaboration, scheduling, allocation and provide detailed analytics.
In these reviews, we selected the best Mac compatible project management tools that are suitable for a wide range of industries including Digital Agencies, Event Planning, Construction Companies, Marketing Teams, Manufacturing, HR Teams and Software Developers.
In our extensive research and testing, we found that that the best Microsoft Project for Mac alternative is Project Plan 365 For Mac (20% off) which is the closest thing to having a desktop version of Microsoft Project on a Mac.
Microsoft Project For Mac Alternatives: What We Looked For
Here's what we looked for in choosing which tools were the best equivalents to MS Project on macOS.
Ease of Use: We looked at project management tools that had modern, clear interfaces that looked great on macOS and were easy for you and your team to learn.
Value: We only chose PM tools that offer excellent value for money with free trials or plans to start out with.
Mac App: We ranked higher project management software that had a Mac desktop client that also works on Apple Silicon M1/M2 Macs but also allowed you to use them in the Cloud via a browser.
Microsoft Project Compatibility: We gave preference to software that allow you to import, export or edit MS Project files in the Microsoft Project .mpp format.
Timelines & Gantt Charts: We ranked those apps higher that have a wide choice of timeline views and Gantt Charts for a range of project management needs
Sharing: We valued those programs that make it easy to share project timelines via link or export to Microsoft Office, Google Apps, PDF etc.
Integrations: We looked for project management tools that allow you to integrate with third party software such as Zapier, MS Office, Jira, Confluence, Trello etc or online storage solutions such as Dropbox, Google Drive, OneDrive etc.
Reviews: We selected tools that have been widely acclaimed by Project Managers and other professionals for project management on macOS.
Apple Silicon compatibility: The latest Macs such as the M2 MacBook Pro and M2 Mac Studio have the Apple Silicon M1 and M2 chip inside which replaces the Intel chip in older Macs. Although most software works on Apple Silicon thanks to Rosetta 2 in macOS, we have given extra credit to those apps that have a native M1/M2 chip version as they perform better without the need for Rosetta. This is obviously not an issue for Cloud based project management software which work in a browser on any platform.
macOS compatibility: We also gave preference to those Mac desktop apps that are frequently updated for the latest releases of macOS such as Sonoma, Ventura and Monterey.
You May Also Like:
With this in mind then, here are the best Microsoft Project for Mac alternatives that make the best project management solutions on a Mac in 2023.
What we love about Project Plan 365 is that it not only feels like MS Project but its got the best Microsoft Project import support of any alternative to Microsoft Project on Mac – and more.
Here's what makes Project Plan 365 the best equivalent to Microsoft Project on a Mac and such a great project management tool:
It has both a Mac desktop and Cloud interface so you can choose to work offline or online on macOS
It imports and exports to the Microsoft Project MPP file format better than any Microsoft Project alternative we've seen. In fact, Project Plan 365 is tested rigorously with each new release of Microsoft Windows to ensure that it's always 100% compatible with Microsoft Project.
It's very closely modeled on Microsoft Project so if you've ever used Microsoft's product, you'll find the interface and functionality of Project Plan 365 instantly recognizable.
It's incredibly easy to use with a modern Agile methodology that's not intimidating like most project management solutions.
Project Plan 365 can be used on any platform including macOS, Windows, Android, iPhone and iPad.
Project Plan 365 can be used in the Cloud and has it's own storage solution but if you prefer, it also supports Cloud storage solutions such as Google Drive, Dropbox, Box and OneDrive.
You can also connect Project Plan 365 to Microsoft Project Server, Sharepoint and Basecamp.
It's easy to share your Gantt Charts and project timelines with anyone even if they don't have Project Plan 365. This means you can share instantly to team members, stakeholders and the public without the need for a Project Viewer on a Mac or additional software.
There are also some other stand out features and tools which make Project Plan 365 such a great project management solution.
Some of the highlights include an Advanced Scheduling Engine which calculates costs, end dates, critical paths, resource over allocations and more.
It also allows you to produce highly customizable Gantt Charts that give you full control over the kind of variables you want displayed.
Finally, Project Plan 365 is available in 12 languages with support for over 100 currencies and date formats.
You can currently get 20% off Project Plan 365 with plans starting at $8.99 with the discount.
You can try Project Plan 365 for free to judge for yourself what a great project management software it really is.
You can also check out our full Project Plan 365 review here.
Pricing: $8.99/m (20% off)
Pros:
Looks and feels like Microsoft Project
Seamless Microsoft Project MPP file import and export support
Connects to Microsoft Project Server
Slick Mac desktop app
Agile methodology
Creates highly customizable Gantt charts
Cons:
Annual subscription only pricing but cheaper than MS Project
Monday.com is simple but deceptively powerful and unbelievably effective at helping you keep on top of projects.
What we like about Monday.com is that it doesn't try to be the ultimate project management tool. It just keeps things to a bare minimum making it easy for anyone to learn and use within minutes of signing-up.
The best thing that Monday.com does is make it crystal clear the sequence in which tasks need to be completed before the next can be done.
In fact, Monday feels a lot like a spreadsheet but is far easier to manage, track and modify without complicated formulas or endless numbers of cells.
You can actually choose various views for projects such as spreadsheets, lists, maps, Kanban boards and more.
You can easily upload attachments to cards and leave comments for colleagues. There are also specific Gantt chart views and Monday.com also has something very similar called timelines.
You can create some really slick summary charts and export them for sharing with anyone that doesn't use Monday.com.
You can't import or export Microsoft Project files into Monday.com but there's lots of integration with third party products such as Jira, Google Drive, Slack, Excel and more.
Pricing for Monday.com gets cheaper the more users you subscribe with Enterprise plans available.
You can try Monday.com now for free and pricing starts at $24 a month for 3 users which works out at just $8 per user.
You can also check out our Monday.com review for more.
Pricing: Free / Plans starting from $8 per user/month.
Pros:
Easy to use
Timeline views
Excellent summary charts
Lots of third party integrations
Cons:
Complex pricing structure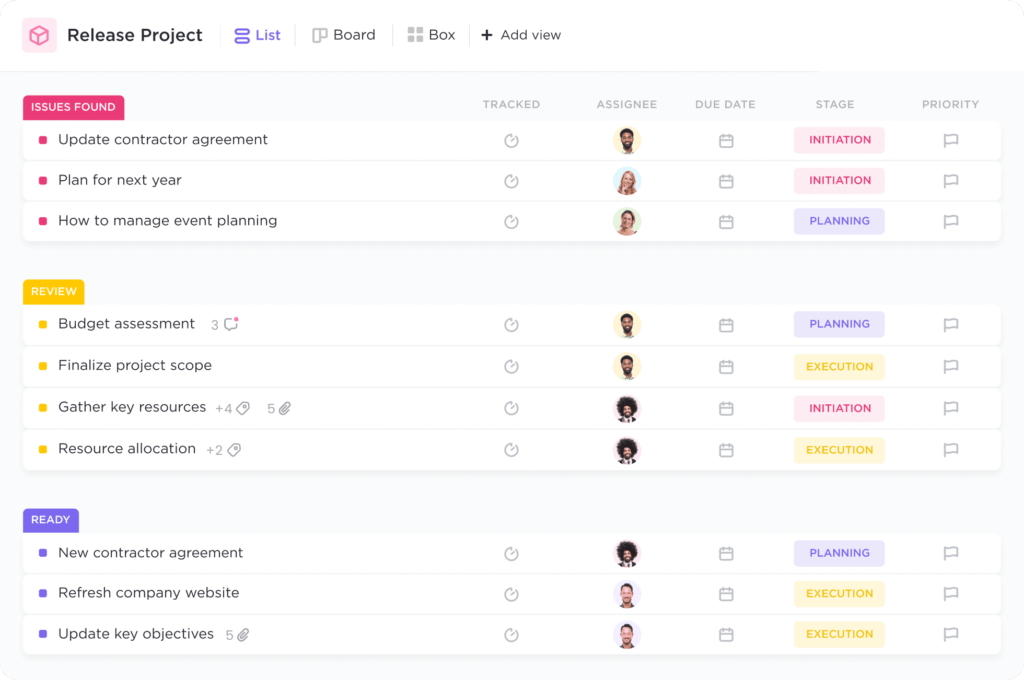 ClickUp is an easy to use project management software and productivity tool that's used by companies ranging from Samsung to IBM.
ClickUp does everything from project management to CRM and even mind mapping for brainstorming ideas.
ClickUp is also a highly effective organizational tool that also makes an excellent alternative to Microsoft OneNote on Mac for organizing clippings, notes and other tasks.
ClickUp has some of the widest range of viewing options we've seen in any project management tool including list, box, Gantt, Board, Calendar view and even customizable views.
ClickUp allows unlimited users, tasks and access to most product features in the Free Forever version.
Some of the other things we like most about ClickUp for project management are:
Customized views from Gantt charts to Scrum boards
Resource management views to see your team's workload
Lots of dashboards for sprints, projects, tasks and more
Ability to drag and drop, resources, tasks and people
Many of the free features in ClickUp are only available in paid plans of other project management software and you can use the basic free version of ClickUp to see for yourself.
You can also check-out our ClickUp review for more.
Pricing: Free / Plans starting from $7 per user/month
Pros:
All-in-one productivity and project management tool
Slick, easy to use interface
Huge choice of customizable views
Can be integrated with third party apps
Integrates with Microsoft Outlook and Google Calendar
Generous free version
Unlimited number of work-boards
Cons:
No support for importing Microsoft Project files
No syncing with Microsoft Office
Wrike is one of the most popular cloud based project management apps available and used by over 10,000 organizations worldwide.
Wrike is like a mix between project management tools Trello and Jira but in a slicker and more intuitive interface.
Wrike is very flexible and suitable for everything from creative projects to corporate project management and marketing campaigns.
When it comes to scheduling and project overviews, Wrike uses a classic Gantt chart timeline to help you see how you're doing and make adjustments to project estimates.
Wrike is also one of the most well-integrated apps we've seen and works with over 30 major apps such as Microsoft Office 365 including Microsoft Project, Google Drive, Dropbox, Box and OneDrive.
You can import MS Project files into the Professional and Business versions of Wrike as long as they are in MPP, MPX and XML format.
There are 4 main versions of Wrike, Free, Professional, Business and Enterprise plus an extra version Wrike for Marketeers which is designed specifically for marketing professionals.
You can get more information on Wrike pricing here.
You can try it for yourself as all plans have a free trial of Wrike.
You can also check out our full review of Wrike.
Pricing: Free / Plans starting from $9.80 per user/month.
Pros:
Integrated with lots of third party tools including MS Office
Familiar to Trello and Jira users
Imports MS Project files
Cons:
No time tracking or invoicing tools
Smartsheet is a powerful online alternative to Microsoft Project which puts making Gantt charts easy at the center of its design.
It's incredibly easy to get up and running with Smartsheet as the learning curve is minimal compared to most project management software but it does not skimp on features and capabilities.
Smartsheet is very easy to use and makes it simple to create timelines, calendars and share or collaborate on projects with other users.
If you need to work with Microsoft Project users, Smartsheet can import and export Microsoft Project files as well as PDF, PNG and other major formats.
Managing timelines is also easy allowing you to drag and drop tasks to change duration or completion dates and enter more information.
You can also add Milestones and choose whether you want them to have a knock-on effect on the rest of your tasks or not.
You can even use Smartsheet for free for one user and up to 2 editors.
Pricing for additional users and editors starts at $7 per month.
Pricing: Free / Plans starting from $7 per user/month.
Pros:
Great for simplifying spreadsheets into project management timelines for viewing critical paths along Gantt charts
Powerful Gantt chart features
Imports Microsoft Project files
Lots of customization via add-ons
Cons:
Requires add-ons for time tracking, resource management and other features
No real time updating
ProjectManager is a slick cloud based project management software for Mac and Windows that's based around Gantt chart and Kanban visual task management.
ProjectManager features online project dashboards that update in real time so you can see instantly if projects are on schedule.
There are powerful Gantt chart and Kanban boards views which are easy to setup and use.
ProjectManager enables you to see Critical Paths, manage team workflows and automate the most common workflows.
You can track tasks, budgets and teams in the main dashboard which is clearly laid out and customizable with modules displaying different types of data.
You can also integrate ProjectManager with over 1000 business apps including Office 365, Google Drive & Calendar, Slack, Jira and Zapier.
ProjectManager also supports importing Microsoft Project MPP files along with Excel and CSV formats.
You can try a free trial of ProjectManager to test it for yourself first.
Pricing: Free trial / Plans starting from $13 per user/month.
Pros:
Slick interface looks great in macOS
Customizable dashboard
Clear and easy to use Gantt charts and Kanban boards
Imports Microsoft Project files
Cons:
Teamwork has been around for over a decade now and is all about helping employees, teams and PMs be more organized, cooperative and informed without getting in the way.
Teamwork is suitable for use in all industries although its particularly popular with marketing, creative, software and customer support teams.
One of the things we really love about Teamwork is that it has an excellent Mac desktop app which you can launch from macOS including Catalina and Big Sur.
Combined with clear, color coordinated Gantt Chart and Kanban project views, automated Triggers and Webhooks to alert others when work is complete and Zoho Reports integration, Teamwork is a pleasure to use when it comes to project management.
Teamwork also has some of the best integration with Microsoft Project of any project management software we've tried.
The Teamwork Microsoft Office add-on not only allows you to import and export to Microsoft Project but even integrate with Microsoft Project in real-time with it too.
Unfortunately, the Teamwork Microsoft Project add-in is only available for Windows but you could consider running Windows on your Mac to use this feature on a Mac too.
Although Teamwork is an enterprise project management tool, private individuals or freelancers can use it for free but note that free accounts are limited to just 2 projects and 100MB of storage.
Starter Plans start at a reasonable $5.99 per user/month.
You can find full details here on Teamwork pricing.
You can try a 30 day free trial of any Plan with no credit card required.
You can also read our full Teamwork review for a more in-depth look.
You can see a full comparison of how Teamwork vs Microsoft Project compares below.
Pricing: Free / Plans starting from $5.99 per user/month.
Pros:
Excellent Mac desktop app
Clean modern interface
Easy to use
Ideal for Team collaboration
Cons:
MS Project add-on not Mac compatible
OmniPlan is easily one the most popular native Mac desktop project management apps for macOS.
OmniPlan is from Omni Group, the same team that created the excellent diagramming software Omnigraffle which is a popular alternative to Microsoft Visio on Mac.
Omni Group products are made specifically for Apple devices such as Macs and there are no Windows versions.
OmniPlan is easier to use than Microsoft Project, imports MS Project files (although only up to MS Project 2016) and looks great on a Mac because it's designed specifically for macOS.
OmniPlan uses a clear Gantt chart layout which gives you a very clear overview of what needs to be done.
The smart thing is OmniPlan adjusts itself automatically according to the resources you drag and drop into the project bars.
You can read our full review of OmniPlan for a more in-depth look.
You can also download and try a fully featured free 14 day trial of OmniPlan for Mac.
Pricing: $199.99/license or $19.99/month
Pros:
Made specifically for Mac
Imports MS Project files
Superb Dark and Light mode interface
Seamless integration across Apple devices
Cons:
Project Online is Microsoft's Cloud project management software but it's important to be aware that it's not the same as Microsoft Project.
Microsoft clearly states that:
Project Online is an entirely separate service that offers full portfolio and project management tools on the web.
If you've already got a Microsoft Office 365 account then you can start using Project Online on your Mac now.
Windows users can also open Project Online plans in Microsoft Project on their PC but of course, this isn't possible for Mac users.
Project Online can though be used on all platforms, including Mac, and does many of the things MS Project can including Gantt charts, project planning and scheduling and team collaboration.
If you just want to track timescales, balance resources and manage projects Project Online is sufficient although it feels very dated and lacks the modern approach of modern project management tools.
The other thing to be aware of is that Project Online isn't cheap.
If you want to access all features, it costs $55.00 per user per month which is a lot more than most of the alternatives to Microsoft Project featured here.
You can try a free trial of Project Online to test it first.
You can also read our full analysis of Microsoft Project vs Project Online to learn how they compare.
Pricing: Office 365 Subscription/$55 per user/month
Pros:
Made by Microsoft
Gantt charts
Resource balancing features
Cons:
Not all the same functionality as Microsoft Project
Price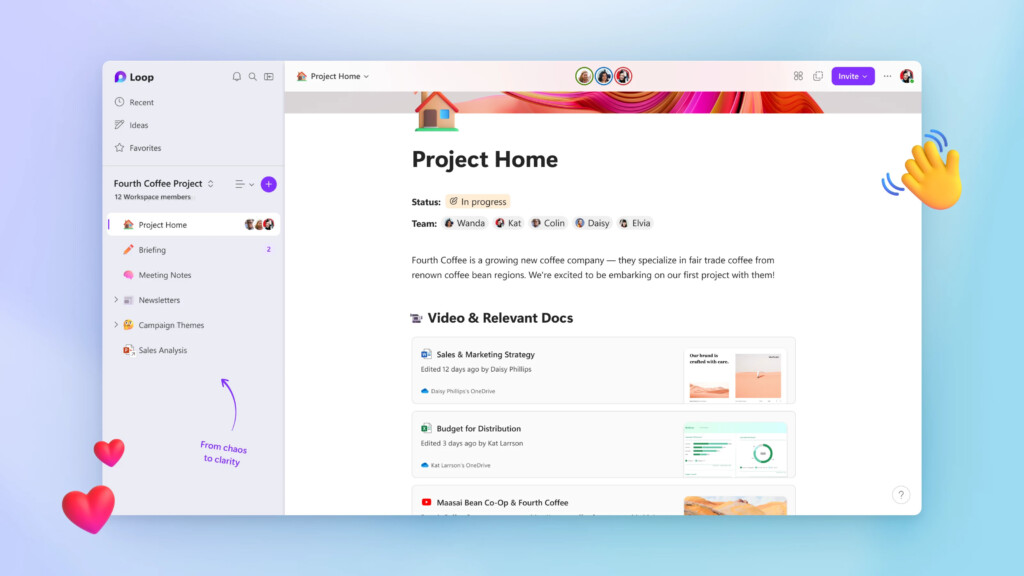 Microsoft Loop is a lighter, more collaborative version of Microsoft Project Online with a bigger focus on helping teams work together more efficiently.
Microsoft Loop is a little bit like a Microsoft version of Monday or ClickUp with a but with less features and more Microsoft Office and Microsoft 365 integration.
Microsoft Loop also has a lot in common with collaboration tools like Google Docs, Notion, Coda and Craft.
Microsoft Loop allows you to search for shared Office documents, collate them together in one workspace and then add labels, emojis, images and tag co-workers or friends.
You can currently have up to 50 people editing a Loop workspace project at one time.
Microsoft Loop on a Mac supports basic project management with task management tools, syncing with To-Do lists, importing and exporting of Trello boards
Microsoft has also integrated the AI Pilot chatbot to suggest ideas during brainstorming and mind-mapping sessions.
There is no desktop client for Microsoft Loop on Windows or Mac but you can use it in the Cloud for free during the Preview period as long as you have a Microsoft account.
This means Microsoft Loop work on both Intel Macs and Apple Silicon M1/M2 Macs too.
There will also be a Microsoft Loop app for Android and iOS released although it will mainly be limited to capturing ideas or notes for later similar note taking software like OneNote.
All you need to use Loop on Mac is a Microsoft account to use it for free during the Preview period.
Pricing: Free.
Pros:
Can be used for free during Preview period
A lot simpler to use that Project Online
Excellent team collaboration tools
Integration with Microsoft Office
Cons:
Limited advanced Project Management tools
No time tracking, invoicing features
No Mac desktop app
nTask Manager is used by some of the biggest companies in the world including Apple, Google and AT&T and it's our choice for the best value project manager software for Mac users.
nTask Manager is an incredibly comprehensive project management tool which has more features than just about any other solution for prices starting at $3 per month.
If you're familiar with Trello or Asana, then nTask manager follows a similar look and feel but offers far more power, detail and control over your project planning.
nTask manager allows you to manage tasks, projects, meetings, time tracking and identify resource issues and risks all in one tool.
nTask manager also has some useful meeting management tools allowing you to define an agenda, note down discussion points and enlist follow-up actions and decisions.
You can even track employee timesheets with time tracking to help you spot bottlenecks and resource conflicts.
The risk management tools in particular are excellent providing a risk matrix, risk likelihood and impact plus mitigation with possible solutions.
You can use nTask manager now for free to try it for yourself.
Pricing: Free / Plans starting from $3/month.
Pros:
Very good value for money
Trello and Asana look and feel
Timesheet tracking
Risk management tools
Cons:
Project Office X is a slick Project management software designed specifically for Mac and iOS devices.
Project Office X uses Gantt charts with Critical Path highlighting to show important tasks that have a direct influence on a project deadline.
You can set multiple baselines for each project so that you can reference them later to track and compare the progress of your projects.
Project Office X allows you to juggle multiple projects, assign resources, track work to be done and identify bottlenecks easily.
You can also switch from a Gantt chart view to a Network Diagram View which gives a graphical flow of task boxes, dependencies and critical paths.
Project Office X can also import and export Microsoft Project files although only in XML format, not the native MPP format.
You can try Project Office X for free to try it for yourself.
Pros:
Slick design on Mac and iOS
Easy to see critical patchs
Import & Export MS Project files in XML format
Cons:
Doesn't import native MS Project files
Desktop only
No third party integrations
Merlin Project is definitely one of the best looking desktop project management tools for Mac users and uses an innovative "hybrid" approach to project planning.
Merlin Project does both traditional and agile project management (Gantt meets Kanban) and has a slick interface that looks great on macOS.
You can use Merlin Project with a Gantt Chart layout which is excellent at showing the dependencies between multiple projects and potential problems.
You can also use Kanban Boards as used by popular web-based collaboration tools like Trello. Just move work from your backlog to in progress, verifying and completed when done.
Other useful tools include resource pools, groupings and a mind mapping tool to help you brainstorm ideas which it can then automatically breakdown into a project Gantt chart.
There's plenty of third-party integration with other apps including Excel, Dropbox and it can import Microsoft Project files.
The full version of Merlin Project costs $169.99 per user/year or $16.99 per month but there's also a lighter version Merlin Project Express which is cheaper than the full app at $39.99 per user/year but only allows Gantt chart views.
There's also a standalone Merlin iPad and iPhone app (formerly known as Merlin Project Go) that syncs with the desktop app via Merlin Server.
It can also be used on its own without purchasing Merlin Project if you just want a project management app for your iPad instead and costs $6.99 per month or $69.99 per year.
If you're new to project management, Merlin Project is attractive, innovative and user-friendly. If you're looking for a more modern Mac alternative to MS Project, Merlin Project is a great project management tool.
You can find full details of Merlin Project Pricing here.
You can start a free trial of Merlin Project to see for yourself.
Pricing: $169.99 per user/year or $16.99 per user/month.
Pros:
Slick interface
Innovative hybrid project planning approach
Gantt charts and Kanban boards
iOS apps
Available in two versions depending on your budget
Cons:
High up front cost
Limited third party integrations
ConceptDraw Project is a professional project management tool that has particularly strong reporting features.
ConceptDraw Project is the sister application to ConceptDraw Diagram for drawing professional flowcharts, organizational hierarchies and more.
It allows you to add hyperlinks and files to projects and displays the current status of your projects via Gantt charts.
Everything is updated in real-time so project managers and participants are always up to date on what's happening.
One of ConceptDraw's strongest points is how powerful it is when it comes to importing files.
It can import and export files not only from Microsoft Project but also from Microsoft Word and Excel so you don't have to tediously manually input lines of text or data.
ConceptDraw products are quite rich in features and take some getting used to but you also get a free personalized 30 minute one-one-one webinar with each purchase to help you get to grips with them.
You can get a free trial of ConceptDraw Project Pro project by signing-up for an account.
Pricing: $299
Pros:
Works across platforms
Imports from Microsoft Project and other Office apps
Powerful import tools
Mac desktop app
Cons:
When it comes to creating Gantt charts, or in fact diagrams of any kind, it doesn't get much easier or quicker than with SmartDraw.
SmartDraw is the best gantt chart maker we've tried and an incredibly effective all-round diagramming software that works on all platforms.
SmartDraw has so many templates much of the hard work is done for you before you even get started.
The great thing about SmartDraw is you're not just getting an incredibly easy way of creating Gantt charts on a Mac – you also get an entire diagramming suite that useful for everything from creating organizational charts to creating flowcharts.
In fact Visio users find it a superb alternative to Visio on Mac because it covers so many different types of diagramming needs, so well.
SmartDraw is packed with Gantt chart templates which get you up and running really quickly including for PERT charts.
It's incredibly easy to add dependencies and insert tasks and you can track the progress of projects by entering a percentage of completion rate for each task.
Another really neat feature is the ability to switch from the Gantt chart view into a Mind Map View to get a greater overview of dependencies between departments and staff.
You can also connect your Gantt charts to Trello and assign tasks to team members. When a task is marked as complete in Trello, it will automatically be marked as complete in your SmartDraw Gantt chart.
One other nice thing about SmartDraw is the possibility to conduct a project status meeting via the mind map view with just one click.
During meetings, this clearly shows which team members are responsible for what and where their tasks overlap which helps keeps them engaged during meetings.
SmartDraw gives you far more than just Gantt charts and you can see a useful overview of how easy it is to use below.
You can try SmartDraw for free and pricing starts at $8.25 for teams.
You can also check out our full review of SmartDraw for more.
Pricing: $8.25/m for teams
Pros:
Amazing all round diagramming tools
Easy to create Gantt charts
Great alternative to Visio for Project Managers
Cons: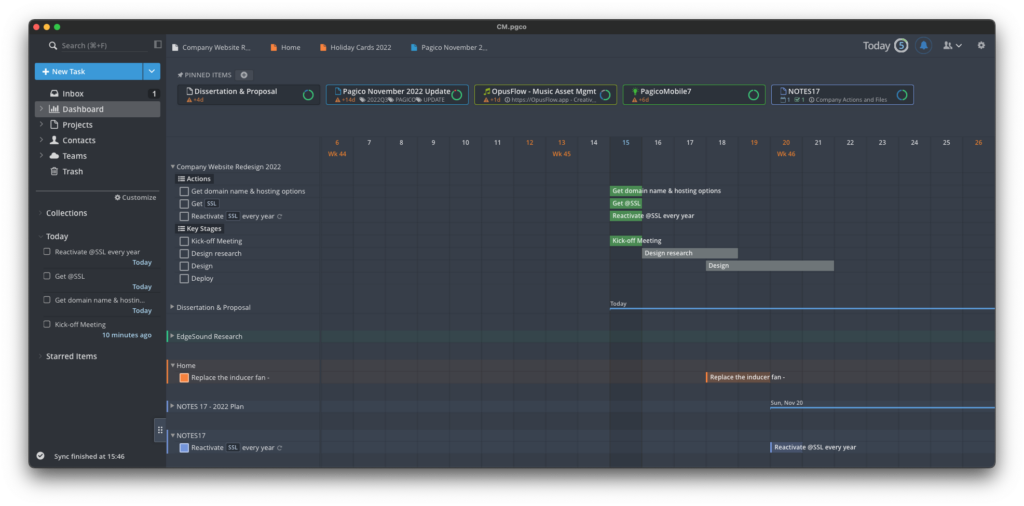 Pagico is an attractive project management software that's designed specifically for macOS.
Pagico is designed to bring all of your tasks, notes, documents, projects and clients together in one slick desktop app.
If you're forever missing deadlines or struggling to manage your work, then Pagico breaks down tasks into timelines.
You can attach important relevant data to your tasks including photos, documents, checklists, emails and contracts. If you find something online that's useful or relevant for your project, you can also turn them instantly into tasks.
The default dashboards in Pagico present data clearly but you can also create your own custom dashboards too.
Pagico gives you a clear, daily update on how a project is progressing and a useful "Today" view clearly shows what's due on that particular date and what needs to be completed.
If you're a fan of tagging, you'll also like Pagico's tagging tool which allows you to tag anything to keep them organized.
For those looking for an offline alternative to Microsoft Project, Pagico also works offline on a Mac if you don't want your project data saved in the Cloud.
However, you can use the Pagico "Personal Cloud" feature to sync the Mac desktop version with iOS and Android devices. This is even free for personal use although Team plans start at $4 per month.
Pricing: $65.00 for personal use plus $5/per user/month
Pros:
Designed specifically for Macs
Brings notes, projects, tasks and documents into one app
Useful tagging feature
Cloud syncing free for personal use
Can be used offline
Cons:
No Microsoft import support
Does Apple Have Project Management Software?
Surprisingly, Apple has never developed a project management software for either macOS or iOS.
However, you can create basic Gantt charts in Apple Numbers which is Apple's equivalent to Microsoft Excel but the results are very basic and it's not suitable for serious project management on a Mac.
Can You Open Microsoft Project Files on a Mac?
Yes you can open open Microsoft Project files on a Mac by using one of these Microsoft Project Viewers For Mac. They do not allow you to edit or modify Microsoft Project Files though.
Can You Run Microsoft Project on a Mac?
It is possible to run Microsoft Project on a Mac by installing Windows on a Mac and for running Microsoft Project we recommend using the Parallels virtual machine.
However, you also need to purchase Parallels first for around $80 and then also have a valid Windows subscription to Office 365, Office 365 Home, Office 365 Personal or Office 365 University.
The alternative project management software reviewed here offer far better value for money and benefits than going this route.
You can find out exactly how to install Microsoft Project on a Mac here.
Free Microsoft Project Alternatives For Mac
Almost all of the project management software reviewed here have free trials or very limited free versions with restrictions.
There are however some free alternatives to Microsoft Project for Mac although they're too limited for small or medium sized businesses.