If you want to harness the power of AI to enhance your design skills, here we've looked at the best AI art and image generators for Mac of 2023 including both free and paid options.
Artificial intelligence has already revolutionized many aspects of our lives with ChatGPT the most well known AI technology for creating content.
However, AI has also taken the world of art and graphic design software by storm too.
AI art software has gained popularity among artists, designers, and amateur designers for its ability to generate stunning artwork, assist in the creative processes and push the boundaries of artistic expression.
In this article, we've looked at the best AI art software for Mac of 2023 to help you harness the power of AI art and images for your creativity.
How Do AI Art & Image Generators Work?
AI art and image generation software work by taking commands and turning them into original works of art or images.
The possibilities are endless and you can create pretty much anything with AI art that would normally take you hours using graphic design software.
So for example in the Canva AI art app, you could type: "A panda riding a bike through a city with depth of field" and Canva's AI generator will instantly create the image.
You can then customize the style, tweak the colors and do pretty much anything you want to it either in the AI app or if you need more control, import it into a graphic design software.
Some AI art generation software will also render the image in different styles such as 3D, 2D, cinematic, modern, oil painting etc.
Are AI Image Generators Ethical?
AI art generators rely on the data they are trained with which are usually the billions of often copyrighted images and art published on the internet.
AI art generation software use complex calculations and processing to then create something original from everything it has knowledge of.
There is an ethical debate raging on the morality of this because many of the images that AI image generators learn from are copyrighted or belong to artists.
Although the results they deliver are not the same as the original art, they take inspiration from copyrighted works which receive no credit or financial compensation for them.
There are exceptions such as our pick for best AI generator software for Mac Adobe Firefly as it bases its creations on Adobe Stock and images that are in the public domain.
There are also other ethical issues surrounding AI art in general such as the difficulty in telling which images are real and which have been created by AI, the use of AI to create violent or graphic images and the impact on jobs in the creative industries.
What To Look For In The Best AI Art & Image Generators?
The criteria for the best AI image and art generation software for Mac is similar to any other platform but of course, added native support for macOS is a big plus for Mac users.
Some of the things we looked for in the best AI art and image software were:
Support for macOS: Many AI Art software are either Windows PC only or Cloud based but for those that have desktop versions, we looked for those that have a native Mac desktop app or close integration with macOS.
Pricing: AI art generation software is usually either based on a subscription pricing model or credits pricing model per usage. However, some also offer a limited free version which is usually limited by the amount of requests you can make.
Integration with Design Software: The best AI art generation tools are closely integrated with the best graphic design software or best desktop publishing software so that you can tweak and customize the results.
AI Algorithm Used: AI art software usually uses either the DALL-E 2 algorithm or Stable Diffusion algorithm. However, other algorithms are used as this is still a rapidly evolving technology. Generally the bigger the data set the AI art generator can draw on, the better or more varied the results.
With this in mind, here are the best AI art and image generators for Mac in order of ranking.
1. Adobe Firefly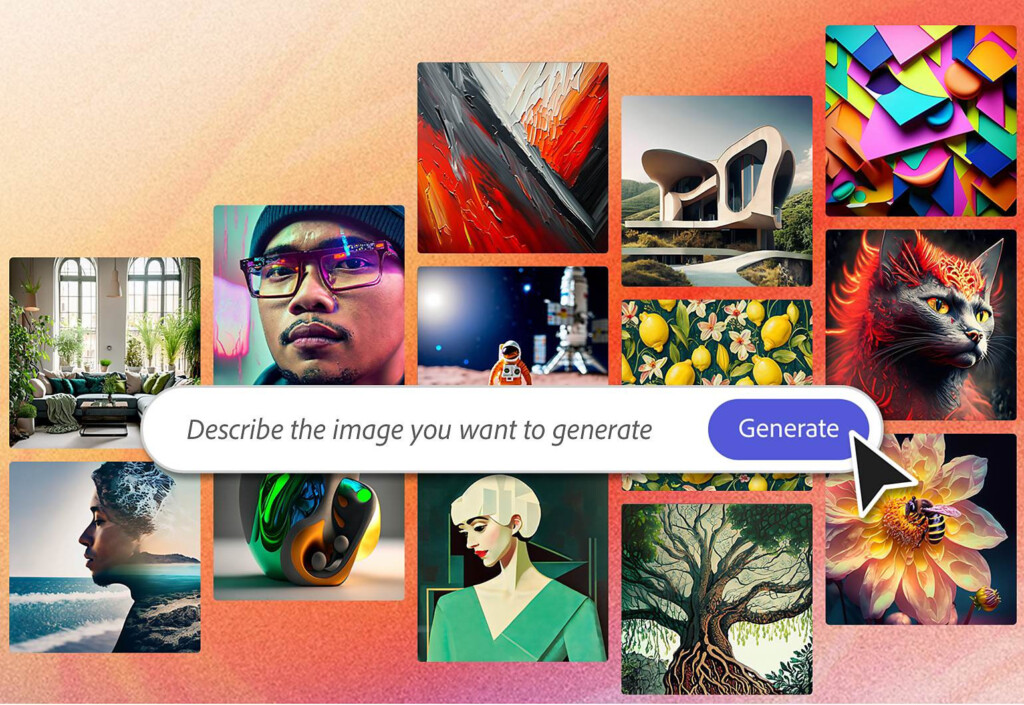 Adobe Firefly is an AI art software that is available across Adobe's Creative Cloud range of products including Adobe Photoshop, Illustrator, InDesign.
Firefly is what's known as a "Generative AI" tool which means that it creates artwork based on prompts you give it regarding your ideas for a design.
Firefly also uses context-aware image generation which detects the style of the design you are working on and then automatically generates backgrounds and other artwork that Firefly thinks goes well with it.
This allows you to create custom textures, brushes and vectors via the command line prompt or a sketch outline.
Firefly's interface is easy to use and you can generate images or designs within seconds by typing a few requests about what you want it to look like.
Once it has been generated, you can customize anything about the image manually.
Adobe Firefly's Generative Fill feature allows you to use the text prompt to tweak images uses AI by adding to an existing image, removing parts of an image, expand an image or change the aspect ratio.
Adobe Firefly uses its own Adobe Stock database and public domain artwork to base it's AI model on so to a certain extent, Adobe Firefly is more ethical than most other AI art tools that trawl the net for copyrighted work to base creations on.
If you want to really add something new to your creativity, Firefly is a never ending supply of AI art that's incredibly impressive at breathing new ideas into designs.
To try Adobe Firefly for free you need to first sign-up for a free trial of Adobe Creative Cloud and then you can use Adobe Firefly in Creative Clouds design apps.
Firefly is also available in Adobe's more basic, free user friendly version of Creative Cloud, Adobe Express.
Pricing: Free in Creative Cloud subscriptions starting at $19.99 for students (free trial available). Also available in Adobe Express.
Pros:
Easy to use
Very fast at generating art
Works via commands or context aware generation
Integrated with the Creative Cloud suite
Works on Mac desktops
"Ethically" based on Adobe Stock and public domain images
Cons:
Requires a Creative Cloud subscription
Still in beta so may be subject to crashes and bugs
2. DiffusionBee
DiffusionBee is a slick, user friendly AI images creation tool with a great Mac desktop app that works natively on both Intel Macs and Apple Silicon M-series Macs.
DiffusionBee is not only free to use but works completely offline too so it's an AI art generator that doesn't require an internet connection.
DiffusionBee works by connecting networks of Macs together to harness the processing power of them to produce AI generated images.
DiffusionBee is free for both Intel and Apple Silicon M1/M2 Macs and simply requires you to describe the image you want, set the dimensions and you're done.
DiffusionBee is easily the best offline AI art generation tool we've used and if you want something free and Mac desktop based, it's a great tool for artists and designers.
You can download DiffusionBee for free to try it for yourself.
Pricing: Free
Pros:
Free to use
Works offline
Works on both Intel and Apple Silicon Macs
Allows you to configure dimensions
Easy to use
Cons:
Can be slow to process requests
Creations aren't as wild or impressive as other AI art tools
3. Midjourney
Midjourney is one of the most popular AI art generators out there and can create some stunningly realistic AI art.
Midjourney uses the Discord platform to generate AI art and benefits from the knowledge and experience of the huge Discord platform in generating results.
Sometimes it can be hard to get Midjourney to follow your specifications as you want but when it does, the results are amazing.
You'll need a Discord account to sign-up for Midjourney to see what it can generate for you.
Pricing: 10$/m+
Pros:
Incredibly realistic results
Harnesses power of the Discord platform
Cons:
Requires Discord account
Confusing for those new to Discord
Sometimes doesn't follow requests accurately
4. Canva AI
Canva is a user friendly graphic design software for Mac and now incorporates it's own AI art generator Canva AI.
Canva AI is a text to image generator that simply requires you to describe what you want it to draw and then Canva AI will give you a choice of results to choose from.
To use Canva AI, you need to be an existing Canva user but if you're a graphic designer, it's well worth exploring the Canva Mac app too.
You can also use Canva AI in the free version of Canva but it is limited to 50 requests and some editing features are not available.
You can download and try Canva for free to see for yourself.
Pricing: Starts at $6.49/m
Pros:
Very easy to use
Integrated with Canva graphic design software
Gives you a choice of designs from one command
Includes Mac desktop app
Can be used in Free version of Canva too
Cons:
Free version has limited requests
5. DALL-E 2
DALL-E 2 is from AI giants Open AI which is the company behind ChatGPT.
DALL-E 2 is probably the most well known AI art software out there and is known for it's Outpainting feature which develops an image beyond the original canvas.
DALL-E 2 is truly incredible it what it can do from oil paintings and realistic art to cartoon style and animation art work.
Initially, you could use DALL-E 2 for free but now the testing phase is over, you must purchase credits per request.
You can find more about this powerful AI art tool on the DALL-E 2 website.
Pricing: $15 for 115 images
Pros:
Incredible range of art styles output
Outpainting feature creates some truly unique images
From the makers of ChatGPT
Cons:
Processing times vary depending on requests
No free version anymore
6. Playground.ai
The big attraction of the Playground.ai generator is that it is free to use for up to 1000 pictures per day.
Playground.ai can be very over zealous when it comes to trying to block anything it deems unsafe or NSFW so you may experience issues when you just draw a blank with it.
We also found that it can be a bit buggy when trying to resize and start new projects, possible due to the large number of requests it gets per day.
However, with 1000 free images per day, you can generate all kinds of weird and wonderful images to your heart's content and not spend a cent.
You can start using Playground.ai for free now.
Pricing: Free
Pros:
Free for 1000 images
Easy to use
Cons:
Can be slow to process requests
Can be buggy depending on browser and server requests
7. Stable Diffusion
Stable Diffusion is one of the most well known deep learning text to image AI generators and the Stable Diffusion engine is used in many AI art generating software.
Stable Diffusion allows you to enter text to generate AI art images for free using a latent diffusion model.
Diffusion model AI generators like Stable Diffusion are designed to generate new images similar to what they have seen in training.
Without getting into the complexities of this, it's called a diffusion model because the mathematics behind it is very similar to diffusion in physics.
You can install Stable Diffusion on a Mac including the latest Apple Silicon M-Series Macs although it's not easy and not really suitable for beginners.
There is however an adapted version of it Easy Diffusion which helps those with no technical knowledge to access Stable Diffusion on a Mac.
There is also now Stable Diffusion online which works in any browser although is frequently overloaded with requests.
Pricing: Free
Pros:
One of the most established AI art engines
Uses diffusion model AI generation
Produces lots of results
Free to use
Cons:
Difficult to install and setup
8. OpenArt
OpenArt is a free open source AI art generation software that can use either the Stable Diffusion or DALL-E 2 engine.
Uniquely, OpenArt allows you to create and train your own AI image generators to help you get more personalized images based on your most frequent requests and searches.
OpenArt is also very relaxed about what you request meaning that Not Safe For Work (NSFW) images often make it through on OpenArt whereas other AI generators block them.
Although OpenArt is free to use you only get back what you put into it via the Discord community with plans for more requests starting at $7.99/m.
Pricing: Free/Plans starting at $7.99/m
Pros:
Free and open source
Ability to train the AI image generator
Also works for NSFW images
Cons:
No desktop app
Credits must be earned on Discord
9. Craiyon
Craiyon (formerly known as DALL-E Mini) is a free AI art generator that works on a Mac in any browser.
If you want a no fuss, easy way to start experimenting with AI art on a Mac then Craiyon is a great place to start.
Simply enter the kind of art, photo, or drawing that you want Craiyon to create and sit back while it creates it for you.
Craiyon can be a bit slow to process to requests but this is common in many free AI art tools online.
To help improve the results, Craiyon will also suggest search terms that may give you better images if the first generation of images isn't quite what you wanted.
The results with Craiyon can be a bit hit and miss and quite often you'll find the images it creates aren't exactly what you asked for.
Craiyon is also ad supported so you'll get pop-up ads while it generates images for you.
There are also no editing tools so you'll need to export the resulting images into a graphic design software if you want to customize or alter them.
You can start using Craiyon for free now.
Pricing: Free/Starts at $5 per month to remove watermarks
Pros:
Free to use
Easy to use
Suggests better phrases to use
Works in any browser instantly
Cons:
Can be slow
Ad supported
Results can be random
10. Dream by WOMBO
WOMBO is most well known as the AI app that makes people sing but it also generates AI art for free with the Dream app.
Simply enter your prompt into Dream and it will generate an image for free or if you upgrade to the Premium version for $9.99 per month, you'll get several images to choose from.
Dream processes requests quickly and Premium subscribers are offered you the option to add subtle variations to your requests to give you more to choose from.
You'll also get quicker processing times, premium styles and the ability to save AI art as videos which is useful for those lip syncing videos of friends and celebrities.
The free version is suitable if you're happy to take your chances with just one image generation although the results are not often very accurate especially for more complex subjects.
There is a Dream app for mobile devices but on a Mac or PC you can use Dream now in any browser.
Pricing: Free/Premium $9.99/m+
Pros:
Easy to use
Can be used to turn art into videos
Can also be used for lip syncing videos from art
Cons:
Many features limited to Premium version
Results can be poor especially in free version