Macs are the best computers for graphic design so we've looked at the best graphic design software for Mac in 2023.
Graphic designers need vector-based graphic design tools which go way beyond simple drawing software on a Mac.
The best graphic design software can handle advanced color editing in CMYK and HSB as well as the widely used RGB.
This ensures that your graphic designs look just as good in a small logo design as they do when they're blown-up in posters and billboards created in desktop publishing apps.
If you're a professional artist or illustrator, most of the Mac compatible graphic design software reviewed here are perfect for using with drawing tablets on a Mac too.
After much research, we found that the best graphic design software for Mac is Adobe Illustrator for it's incredible range of features and integration with the amazing Creative Cloud suite.
It's also optimized for the latest version of macOS Sonoma and the latest Apple Silicon Macs such as the M2 MacBook Pro and M2 Mac Studio.
You May Also Like:
Here then are the best graphic design software for Mac of 2023 in order of ranking.
Adobe leads the industry when it comes to graphic design and Adobe Illustrator is easily the best graphic design software for Mac of 2023.
Adobe is easily the biggest competitor to Corel when it comes to graphic design and Adobe Illustrator is way ahead of its nearest rival CorelDRAW when it comes to graphic design.
Adobe Illustrator came out of the now discontinued Adobe Freehand program and has evolved into an incredibly powerful design tool that's now the industry standard for graphic designers.
When it comes to working with vector graphics, Adobe Illustrator's AI format is so widely used that it's virtually essential when it comes to sharing and collaborating with other graphic design professionals.
Another big advantage over CorelDRAW is that Illustrator can even import CorelDRAW files up to CorelDRAW 10 – CorelDRAW still can't import Illustrator files though.
When it comes to designing logos, icons, typography and other complex illustrations, Adobe Illustrator produces truly outstanding results.
There's an unparalleled choice of brushes and filters and layers – far more than you'll probably ever need in fact – but it's an example of how powerful and complete Illustrator is. From enormous advertising hoardings to tiny logos, Adobe Illustrator has templates for everything.
If you already use other Adobe products such as InDesign or Photoshop, then choosing Illustrator really makes sense as the workflow, interface and layout is immediately familiar.
All Adobe Creative Cloud products are integrated with each other making it easy to polish designs and enrich them in other software such as Photoshop or desktop publishing software on Mac like InDesign.
Adobe Illustrator has also been updated to use the Adobe Firefly AI which is the best AI art and image generator to automatically generate images and content.
Firefly's "Generative Fill" tool automatically creates backgrounds and objects based on prompts you give it about the design and style you want.
Finally, another big plus for Illustrator is that it also works on iPad.
Although the app doesn't offer quite as much power as the desktop version, Adobe Illustrator for iPad is perfect for doodling and continuing sketches you've started on your Mac.
The main disadvantage of Adobe software is the subscription pricing model.
However, this shouldn't hold you back choosing Adobe Illustrator because the reality is, subscription based pricing is the way all software is going nowadays.
There are also advantages to subscription based software such as smoother updates and no big upgrade costs when new versions are released.
On its own, Adobe Illustrator costs $20.99/m for individuals and there are different deals for businesses.
However, you're much better off subscribing to the entire Creative Cloud suite for $54.99/m as this gives you access to all Creative Cloud apps.
That's not just Illustrator you get – Creative Cloud includes more than 20 different apps including industry leading tools including Photoshop, Lightroom, Spark, Adobe XD, InDesign, Premiere Pro and Acrobat Pro.
So you're basically getting 20 Adobe applications for the price of just over two.
If you're a student or educator, you get 60% off Creative Cloud making it just $19.99/m for the entire Suite.
If you're a professional graphic designer, we strongly recommend adding a subscription to Adobe Stock which is the best stock photo site for graphic design professionals.
Adobe Stock is a huge repository of over 60 million very high-class images, videos, graphics and templates.
This is not only time saving but saves hundreds of dollars that would otherwise be spent on licensing or sourcing of images for commercial use.
You can download a free trial of Illustrator to see what you think for yourself.
You can also read our full Adobe Illustrator review for more.
Pricing: $20.99/month
CorelDRAW was only finally re-released on Mac in 2019 but no roundup of graphic design software would be complete without featuring Corel's products.
CorelDRAW is still one of the best graphic design tools in the industry although the long absence on Mac means it is way behind Adobe Illustrator nowadays in terms of users.
CorelDRAW is both a vector drawing software and desktop publishing software combined and is aimed more at the Illustrator crowd than Photoshop users.
The Mac version isn't quite the same as the Windows version although it still features most of the same precision tools for online graphics, vector effects and a huge choice of professional looking templates.
The responsiveness of the Intel Mac version seems a little laggy at times although CorelDRAW has been recently updated to work on M1 and M2 Macs with a faster more responsive interface.
There's also no AI art generator in CorelDRAW for Mac yet.
You can try a free trial of CorelDRAW 2023 For Mac to see for yourself.
Pricing: $549/license or $19.92/month.
In just a few years, Affinity Designer 2 has rapidly become one of the best graphic design applications for Mac and won an Apple award for design.
It's easy to see why too with Adobe quality features and interface touches but without the price tag or learning curve.
Affinity Designer 2 started life as DrawPlus by developers Serif but that's now a legacy product and Affinity Designer 2 has replaced it.
It claims to be the "fastest, smoothest, most precise vector graphic design software available" and although that may be pushing it, it's certainly a powerful and impressive graphic design application.
Affinity Designer 2 is incredibly fast working at an impressive 60fps, well designed, relatively easy to use but packs a serious design punch even compared to Adobe Illustrator.
Some of the nice touches in Affinity Designer 2 include a 1,000,000 x zoom for precision drawing, support for Photoshop PSD import and export, customized tool palettes and layer support.
Affinity Designer 2 also runs on iPad so you can draw in it using the Apple iPad Pro which is one of the best drawing tablets for Mac.
For just $52.99, Affinity Designer 2 is an incredibly good value professional design software for Mac.
It's not on the same level as Adobe Illustrator but it's definitely suitable for those that are looking for a desktop app with Illustrator style features.
You can try a free trial of Affinity Designer 2 to judge for yourself.
Pricing: $69.99/license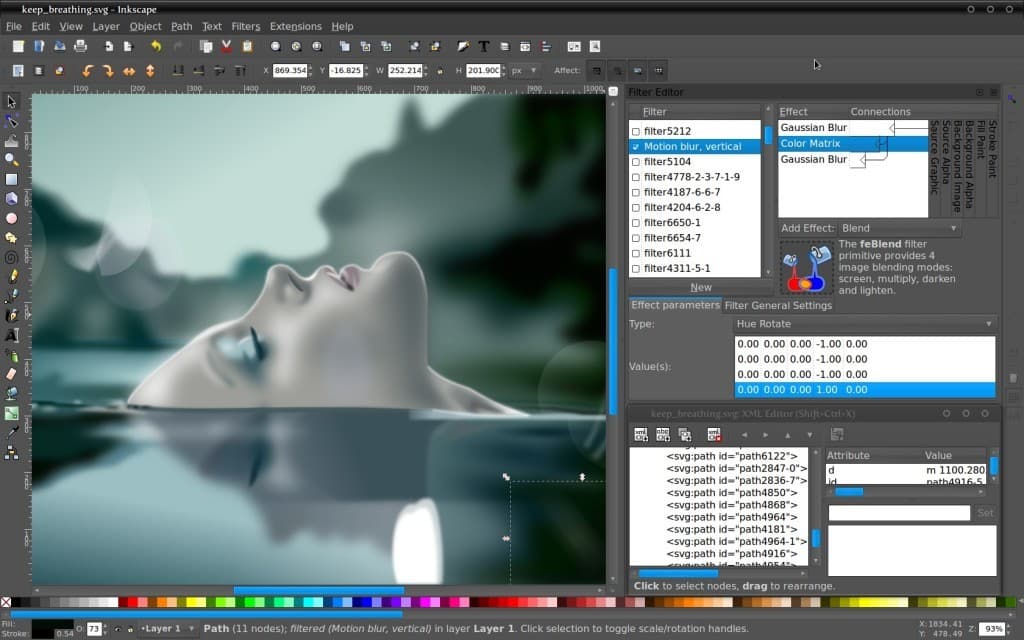 Inkscape is easily the best free graphic design software for Mac on the market.
Inkscape can even import CorelDRAW files and there are very few free design applications that can do that.
Inkscape is a vector graphic design software based on Scalable Vector Graphics (SVG) – an open source XML based format that you can easily import and export into other graphic design programs.
Among Inkscape's many features are object creation, object manipulation, fill and stroke, text support, rendering and more.
Inkscape is regularly maintained by the open source community and is compatible with the latest versions of macOS including Big Sur.
On the downside, Inkscape is RGB only. You'll also need to install XQuartz first in order to run Inkscape on Mac and then need to configure XQuartz correctly to ensure that Inkscape runs correctly on Mac.
Of course, Inkscape is nowhere near the same level as Adobe Illustrator but considering it's completely free to use, it's a very impressive graphic design tool.
You can download Inkscape for free to see for yourself.
Pricing: Free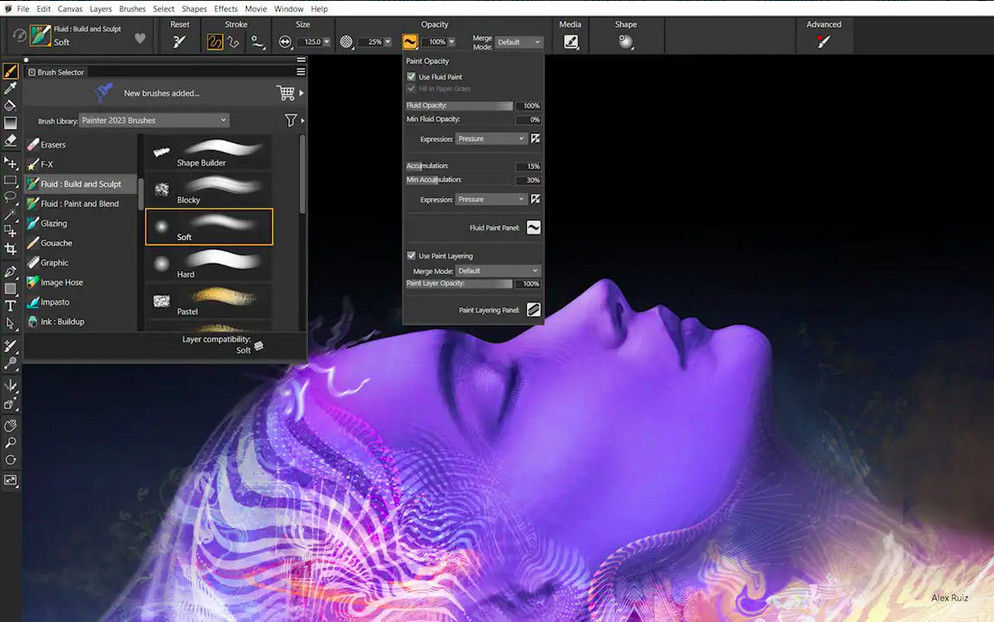 Painter 2023 is available on both Mac and PC and while it's not exactly the same as Corel's famous CorelDRAW, it's a cheaper alternative aimed at professional illustrators and artists.
Painter 2023 is aimed at those that want to create stunning digital art especially on tablets and drawing pads.
Painter 2023 is quite complex to learn but if you're a professional designer, the learning curve is no different to Adobe Illustrator.
However, there are many tutorials to get you started and the tool layout is very similar to other Corel products such as CorelDRAW.
Some of the highlights of Painter 2023 include acclaimed Natural-Media emulation and digital art brushes with an amazing range of customization options for brushes, textures, and other media.
You can easily use Painter 2023 on your Mac but to get really creative and create designs naturally, you we recommend using a drawing tablet with it.
Although there's more in Painter 2023 than you'll probably ever need, you can extend its functionality with plugins too.
Painter 2023 is optimized to run natively on the Apple Silicon M1 and M2 Macs.
You can try a free trial of Painter 2023 to test it for yourself.
Pricing: $429/license
Autodesk Graphic is by the creators of the hugely popular AutoCAD software.
Autodesk Graphic started life as iDraw on iPad but Autodesk saw its potential after it was released on Mac and bought it to create Autodesk Graphic.
Autodesk Graphic is available for both Mac and iOS and has evolved into a very powerful vector drawing tool for an app that costs just $29.99. In fact in terms of bang for buck, you can't really get much better than Autodesk Graphic.
Graphic can import and export to PSD, SVG, PDF and EPS files and has a fully featured Bezier Pen tool for creating custom shapes. There are also tons of brushes, layer styles and it's optimized for OpenGL.
Graphic is similar to Affinity Designer although we prefer Affinity for its Adobe inspired interface and all round general ease of use.
However, for $29.99, you can't go too far wrong even if you decide Graphic is not for you, it's definitely worth trying.
You can download Graphic from the Mac App Store.
Pricing: $29.99/license
Sketch is another increasingly popular graphic design app for Macs that's very popular with User Interface (UI) designers.
In fact Sketch is actually powerful enough to be a wireframe alternative to Visio on Mac and we think it's the best desktop user interface design software for Mac.
Sketch is a very accomplished all round graphic design software for Mac that's used by companies such as Google, Facebook and Apple.
Sketch is designed specifically for Mac so it looks amazing on macOS and produces professional results whether it's icon design, web design or product design.
It's definitely more of a user design tool than a drawing tool but if you're into UI and wireframe design, it's a superb option for Mac users.
You can download a free trial of Sketch to try it for yourself.
Pricing: Starting from $12/month or $100/year.
Corel Vector is unusual because it's an online vector graphics design software offering the power and features you'd expect from more expensive desktop graphic design apps.
Since Corel Vector is cloud based, it works on all platforms and is remarkably fast and responsive for an online graphic design app.
Corel Vector allows you to add multiple layers and elements to an image without slowing it down and is used for everything from marketing materials and presentations to UI design and social media.
Advanced features include non-destructive Boolean operations and the ability to vectorize borders or offset path contours.
You can control font styles and weights, kerning, line, character and paragraph spacing, all non-destructively which is rare in an online graphics tool.
The paid version is a reasonable $69.99 per year which allows unlimited storage and the ability to work offline giving you the best of both worlds.
You can also try Corel Vector for free for 15 days first.
Pricing: $69.99/year
If you don't need something complex and shiny on your Mac and just want a free drawing program on your Mac, then take a look at OpenOffice Draw.
Draw is part of the excellent Office for Mac alternative OpenOffice and is a surprisingly accomplished drawing tool that doesn't cost a cent.
It doesn't have the features or polish of most of the graphic design apps featured here but as a drawing tool, it's very easy to use.
Especially if you just want to draw org charts on Mac or business processes, OpenOffice Draw is ideal although for more advanced design such as dealing with layers and different paint brushes, it's not really suitable.
However, there are useful tools such as a 3D object manipulator, smart connectors to create professional flowcharts on Mac and you can import images from most major file formats (but not SVG or Photoshop).
For a basic free graphic designer, OpenOffice is worth looking at.
Pricing: Free
EazyDraw has been around for many years on Mac  – since OS X 10.2 Jaguar in fact – and there's no denying it's definitely a bit dated nowadays compared to recent competition such as Affinity Designer and Sketch.
However, it's still a very complete drawing software and definitely a good alternative to CorelDRAW on Mac and one of the few that mow supports the Touch Bar on the latest MacBook Pro.
EazyDraw is more of an all round drawing application that's suitable for everything from technical drawing to 3D logo design and creating floor plans on Mac.
EazyDraw offers some unusual but interesting purchase options too. You can try EazyDraw for free but it's limited to 20 objects. However, a better option is to pay $20 for a trial license which allows you to use it with no limits for 9 months.
If you decide it's the graphic design tool for Mac you've been looking for, you can deduct the $20 from the full purchase price of $95. Alternatively, you can even order USB Flash drive for $119.04 with EazyDraw installed that you can plug-in and run anywhere.
Pricing: Free / Starting from $20