Surprising as it may sound, a desktop version of Microsoft Visio for Mac has never been released and even in 2023, there's still no sign of one.
That's why we tested and reviewed the best Visio alternatives for Mac of 2023 both free and paid replacements.
Visio is one of the most popular diagramming software on the market for visualizing ideas, processes and hierarchies by creating flowcharts, org charts, network diagrams and more.
In our extensive testing and reviewing, we found that best Visio alternative for Mac is SmartDraw because of its excellent import and export support for Visio files, incredibly fast diagramming tools and value for money compared to Visio.
Is There Visio For Mac?
There is no version of Visio for Mac available from Microsoft and it has never existed.
If you search for "Visio for Mac", you'll find that Microsoft do now offer the Cloud based "Visio for the web" (also known as Visio Online) which it claims enables Mac users to use Visio on a Mac.
However, the reality is that Visio for the web is not the full desktop version of Microsoft Visio and certainly not an equivalent of the desktop version of Visio.
Visio for the web does support basic viewing, creating and editing of Visio files in the Cloud on a Mac.
However, it does not have the same drawing tools as the full desktop version of Visio and is not suitable for professional needs.
For example Visio for the web lacks things such as shape data, you can't edit hyperlinks in diagrams and there are annoying glitches like session timeouts if you leave the browser tab idle for more than a few minutes.
It also only works if you have saved your Visio files in SharePoint Online or One Drive for Business – you can't open Visio files that are saved locally on your Mac's hard drive or sent to you via email.
Visio for the web is also only available with a Visio Plan 1 subscription and not part of Microsoft 365.
The full desktop version of Visio only works on Windows and requires either a Visio Plan 2 subscription or a one-off purchase of $579.99 for the desktop app.
Why Is There No Mac Version Of Visio?
Microsoft has never officially given a reason for never releasing a Mac version of Visio but the main reason is probably the relatively small market share of Macs compared to PC.
The cost of dedicating a team of developers and engineers to creating and maintaining a macOS version of Visio is probably not considered economically viable by Microsoft.
What We Looked For In These Visio Alternatives
Here's what we looked for in testing which was the best replacement for Visio:
Intuitive User Interface: Microsoft is a bloated, clunky application that hasn't aged well. We looked at modern diagramming software that have clean, easy to use interfaces that enable you to access their features quickly.
Price: We only chose diagramming tools that offer excellent value for money with free trials or plans to start out with.
Reviews: We selected tools that are widely acclaimed by other users and professionals for diagramming.
Visio Import: We gave preference to software that allow you to import Visio files in VDX and VSDX format.
Visio Export: We gave added preference to software that can also export to the Visio VSDX format.
Templates: We ranked those apps higher that have a wide choice of templates for a range of diagramming needs.
Sharing & Collaboration: We looked for programs that make it easy to work on diagrams in a team, share diagrams via link or export them to Microsoft Office, Google Apps etc.
Data Integrations: We valued those apps that allow you to integrate with third party software such as MS Office, Jira, Confluence, Trello, Excel etc or pull information dynamically from other data sources.
macOS Compatibility: Last but not least of course, we looked for software that are compatible with the latest Apple Silicon M1/M2/M3 Macs and the most recent versions of macOS including Sonoma, Ventura, Monterey, Big Sur and Catalina.
With this in mind, here then are the best Visio alternatives for Mac users of 2023 in order of ranking.
In our extensive research, we found that SmartDraw is by far the best alternative to Microsoft Visio on a Mac of 2023.
SmartDraw has been on the market since 1994 and is used by around 85% of Fortune 500 companies, many of them in Mac only environments.
The best thing about SmartDraw is that it does everything that Visio can but makes it far simpler and faster.
Here are some of the things we liked about SmartDraw:
It's the only alternative to Visio on Mac that can both accurately import AND export to the latest Visio VSDX format. The key word here is accurate – there are other Visio alternatives we reviewed that can import and export Visio files and stencils but not very well with lots of formatting issues.
You can start drawing diagrams including network diagrams for free instantly in any browser.
SmartDraw has more than 4,500 diagram templates compared to little more than 100 in Visio.
It's much better value than Visio. Microsoft Visio costs $15.00 per month for Visio Plan 2 for access to all features compared to $8.25 per month for SmartDraw. SmartDraw Enterprise Plans are also 10 times cheaper than Microsoft Visio.
The data integrations in SmartDraw are excellent with the ability to automatically draw flowcharts and org charts based on importing data dynamically in spreadsheets including Excel, AWS and Azure configurations.
You can easily can export files to Microsoft Office For Mac, PDF, SVG or PNG format or share via file sharing apps such as Dropbox, Google Drive and OneDrive for Business.
There are some limitations to SmartDraw however:
There's no desktop or mobile app
The Whiteboard tools are limited, especially compared to Miro (see review below)
You can start using SmartDraw for free now to judge it for yourself although to save diagrams, you'll need to subscribe.
For a more detailed look, you can check out our in-depth SmartDraw review.
You can also see how SmartDraw vs Visio compare side-by-side below.
SmartDraw vs Visio
| | SmartDraw | Visio |
| --- | --- | --- |
| Works on a Mac | | |
| Works Online | | Only some features |
| Visio Import & Export (VSD/VSDX) | | |
| Import Visio Stencils | | |
| Import AutoCAD | | |
| Symbols | 34,000+ | 1,800+ |
| Templates | 4,500+ | 100+ |
| Mobile Support | | |
| Firewall Protected | | |
| Automatic Flowcharting | | |
| Easy Sharing via URL | | Limited |
| Real Time Collaboration | | |
| G Suite Integration | | |
| Confluence Support | | |
| Microsoft Office Integration | | |
| Trello Integration | | |
| OneDrive Integration | | |
| Google Drive, Dropbox, Box Support | | |
| Build Class Diagrams from Data | | Some support |
| Build ERD from data | | |
| Build Sitemaps from Data | | |
| Open API | | |
| Shape Data | | |
| Standard Engineering Scales | | |
| Annotation Layer | | Limited |
| Pricing | $8.25/m (for teams) | $15/m for desktop and web verison or $579.99 for Windows desktop version of Visio Pro |
| | Free Trial | |
Price: $8.25 per month for teams of 5+ / $9.95 per month individuals / Enterprise plans $4,995 for 500 users
Platforms: Cloud
2. OmniGraffle Pro
If online apps are not your thing, OmniGraffle Pro is the closest thing to a native Mac desktop alternative to MS Visio.
OmniGraffle Pro is designed specifically for Mac although it's a more artistic design tool than Visio and it's not as easy to use as SmartDraw.
However, once mastered OmniGraffle Pro produces attractive, professional diagrams, user interfaces and wireframes that look better than anything possible in Visio.
Here are some of things we liked about OmniGraffle:
It's Mac and iOS only with the desktop apps for both. The integration with macOS and iOS is really tight including a native app for Apple Silicon Macs.
It can import and export Visio files reasonably well although it can only export to VSD format which has since been replaced in Visio by VSDX.
The Graffletopia community site is excellent for downloading stencils and templates for OmniGraffle (although it costs extra).
There are some drawbacks to OmniGraffle though:
VSDX importing is possible but there's no accurate VSDX export support. You can export to VSDX but the results are often a mess.
There are no team collaboration features in OmniGraffle which is a common limitation of desktop apps.
If you need Visio file support, you need to purchase the Pro version for a one off payment of $249.99 which makes it one of the most expensive Visio replacements we tried. You can however choose to subscribe to OmniGraffle Pro instead for $12.49 per month or $124.99 per year.
The iOS app is sold separately for iPad and costs $59.99 although if you pay for a subscription its included in the price.
You can try OmniGraffle for free for 14 days to test it for yourself.
You can check out our review of OmniGraffle Pro for more.
Price: Standard $149.99 / Professional $249.99 or $12.49/m
Platforms: Mac desktop, iOS app
3. ConceptDraw Diagram
ConceptDraw Diagram (formerly ConceptDraw Pro) is a cross-platform desktop alternative to Visio that works on both Mac and Windows PCs.
The VSDX Visio import and export tool can be hit and miss but it's very good at exporting diagrams to other apps.
ConceptDraw Diagram does a good job of exporting diagrams to Microsoft Office and Evernote among other formats.
Here are some of the things we liked about ConceptDraw Diagram:
It has a Mac desktop app so that you can work offline with no need for an internet connection.
There are plenty of templates to get you started divided into different areas such as landscaping, engineering, management, science, flowcharts etc.
It can import and export Visio files in VSDX format (but not very well).
There's a rich collection of high quality vector objects, audiovisual clips, additional templates and tutorials in ConceptDraw Solution Park.
You can create presentations and slideshows of your diagrams.
It can be used alongside ConceptDraw Project which is a powerful project management software made by the same developer.
There are some things we didn't like however:
Importing and exporting of Visio files is not very accurate with a lot of formatting issues.
The interface feels like its been ported across from Windows which makes sense as ConceptDraw was originally Windows only.
It costs $199 for the desktop app which is one of the more expensive one off purchase Visio alternatives we tried.
You can try ConceptDraw Diagram for free.
You can check out our review of ConceptDraw Diagram For Mac.
Price: $199
Platforms: Mac, Windows, iOS
4. Cacoo
Cacoo's philosophy is "Teams who diagram together, thrive together" and it's certainly true that Cacoo is an excellent alternative to Visio when it comes to collaboration.
Cacoo is excellent for drawing everything from flowcharts to wireframes but it's the remote team working features that we really like.
Cacoo has some of the best tools we've seen to share and edit the same diagram at the same time, track changes and discuss diagrams with other colleagues.
Here are the things we liked about Cacoo:
The collaboration tools are comprehensive including in-app video chats and multi-user editing
Cacoo imports Visio files in VSD and VSDX format although it can't export to VSDX
Cacoo integrates with lots of services including Backlog, Google Drive, Google Docs, Atlassian, Adobe Creative Cloud, Dropbox, Microsoft Teams and Zapier.
The free plan allows you to collaborate with unlimited users
There are some limitations to Cacoo however:
There aren't many templates but all the essentials are there including flowcharts, wireframes, mockups, network diagrams, presentations, database diagrams and project timelines.
The free plan is limited to just 6 sheets
Video chatting is a nice feature although most users will use Teams or other web conferencing tools if they need this.
You can try Cacoo for free to see for yourself.
Price: Starts at $6/user/m
Platforms: Cloud
5. Edraw Max
Edraw Max is a cheaper desktop alternative to Visio but with a strikingly similar interface.
Edraw Max can both import and export Visio files but the results aren't great, especially on complex diagrams.
Here are some of the things we liked about Edraw Max:
The Edraw Max UI is very closely modeled on Microsoft Visio's ribbon interface so if you're familiar with Visio, you'll find it very easy to navigate.
It supports high quality vector graphics allowing you to create eye-catching diagrams.
It imports Visio files in VSDX format (but can't export them to VSDX).
Edraw Max uses AI to automatically create flowcharts and diagrams based on your diagram prompts.
Edraw Max integrates with Edraw Mind for mind mapping.
The limitations to Edraw Max are:
There are only around 280 templates in Edraw Max although that includes basic flowcharts, org charts and brainstorming.
No VSDX Visio file export support.
The interface feels very Windows inspired and has been closely modeled on Microsoft Office.
You can try Edraw Max for yourself.
You can check out our full Edraw Max review for more.
Price: Lifetime License costs $171.50 with no upgrade costs. Subscription costs $99 per year.
Platforms: Desktop – Mac, Windows
Best Visio For Mac Alternatives Compared
Best Free Alternatives To Visio for Mac
All of the above apps allow you to start diagramming for free but ultimately require payment.
If you're looking for a completely free alternative to Visio however, then the following tools offer either unlimited free usage or are free to use with restrictions.
Bear in mind the following if you're considering using one of these tools:
Free diagram apps usually only allow very limited free use for individuals. If you need to use them in a team, you will have to pay for a team license.
All free diagramming tools limit the number of diagrams you can create and the number of objects available unless you upgrade to a paid plan.
Many free diagramming software also make your diagrams public in the free version. You will have to upgrade to a paid version to make them private.
We wouldn't recommend using these for professional use but they are fine for creating diagrams for free and in some case, even editing Visio diagrams for free on a Mac.
For a more extensive look at free options available, check out our look at the best free alternatives to Visio on a Mac.
6. Draw.io

Draw.io (also known as "Diagrams.net") isn't as powerful as Visio but it's the best free alternative to Visio on a Mac we've tried and it can handle Visio files.
Draw.io also allows you to work offline on your Mac desktop via an extension for Google Chrome which is useful if you want to work on the move or don't have internet access.
Here's what we liked about Draw.io
It's one of the few alternatives to Visio that's completely free to use (apart for Team use).
You can import and export Visio files in VSDX format although we found the formatting was often not very well preserved.
Draw.io is closely integrated with most major online cloud storage solutions such as Dropbox, Google Drive and Dropbox so you can choose where your diagrams are stored although you can also save diagrams on your Mac desktop
You can work offline on diagrams with a Draw.io Chrome extension.
Draw.io also offers integration with Kanban tools such as Trello and even Github which has made it a popular choice for software developers and programmers.
You can import a CSV file or URL and then turn it into a flowchart instantly with a bit of code.
There are some limitations to Draw.io:
There's a distinct lack of templates or shapes in Draw.io so you have to start from scratch with most diagrams. There are however Network Diagram, Engineering and UML templates to get started with.
There's a lack of objects to illustrate diagrams and flowcharts with.
If you want to work offline you have to use Chrome (there's no Safari or Firefox extension).
The Visio import and export tools aren't very efficient.
You can start using Draw.io for free.
Price: Free for personal use, Teams pay for Confluence connections.
Platforms: Cloud plus Chrome Desktop app
7. Miro
Miro is an incredibly easy to use digital whiteboard which is an excellent alternative to Visio on a Mac for those working in teams.
Miro is used by Blue Chip companies such as Cisco, Hewlett Packard and Dell so it's more than powerful enough for the needs of enterprises.
Miro is the best whiteboard software we've used and also the best mind mapping software for Mac we've seen too.
Here's are some of the things that make Miro a great alternative to Visio:
The infinite whiteboard allows you to develop detailed, extensive diagrams compared to Visio.
Lots of templates including workflow flowcharts, Stakeholder Analysis, UML Diagram, PERT Diagram, Opportunity Solution Tree, Conversion Funnel Backlog, Supply & Demand, BPMN/UML templates for product lifecycles.
Excellent team collaboration tools with integrated video chat, @mentions and presentation mode.
There were some things we didn't like about Miro however:
There's no support for importing or exporting flowcharts made in Microsoft Visio.
Free version is very limited with only 3 flowchart boards possible.
You can start using Miro for free for individual use but it is limited to 3 boards while subscriptions start at $8 per month for unlimited boards.
You also check out our full Miro review for more.
Price: Free / Plans starting from $8 per month
Platforms: Cloud, Mac, Windows, Linux, iOS, Android
8. Creately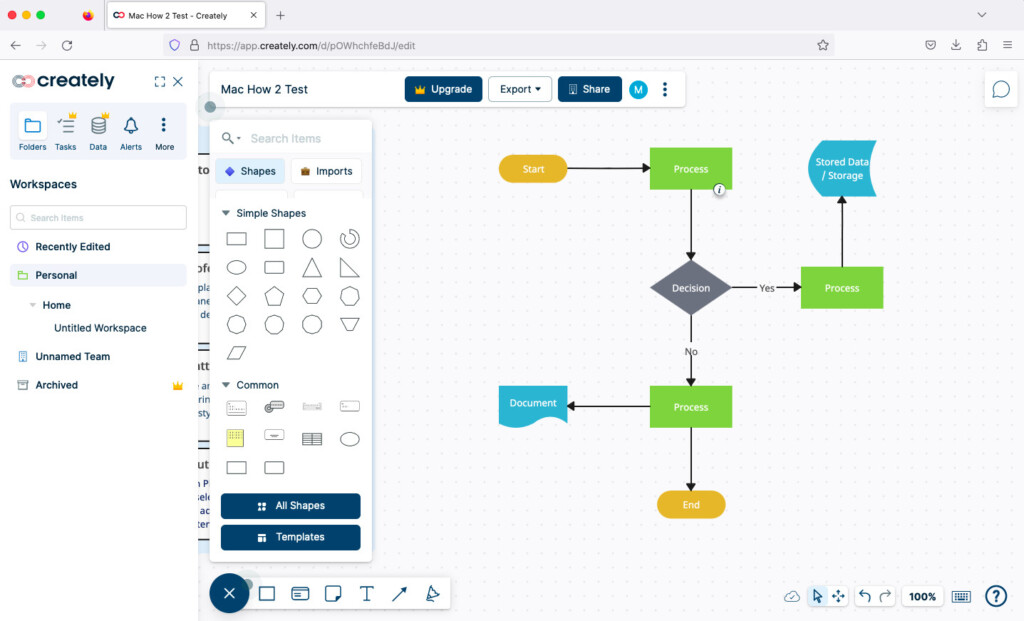 Creately is a lightweight, fast and cost-effective alternative to Visio. Creately is a lot simpler than Visio but you can create some pretty impressive diagrams, Venn diagrams, flowcharts and process flows with it.
Creately can also import but not export to Visio VSDX format.
There are some neat touches in Creately like shared project libraries, a useful Google Image search tool and auto snapping of objects connectors.
What we liked about Creately was:
Creately has a desktop app for Macs to draw offline.
The interface is elegant and looks great on a Mac. All tools are in the top menu and adding shapes and symbols is fast and easy.
There are thousands of Creately templates and a 1-click create and connect function which automates much of the process.
You can create up to 5 diagrams for free in Creately but after that it costs $5 per month.
Creately also integrates with Confluence, Jira and the G Suite Marketplace.
What we didn't like about Creately was:
Visio files importing and exporting isn't great.
All free diagrams are made public so make sure you don't create anything that you don't want sharing.
The free version limits the number of flowcharts you can create and restricts the functionality.
You can create up to 5 diagrams for free in Creately before deciding whether it's for you.
You can also read our review of Creately if you want to learn more.
Price: Free for up to 3 diagrams then starts at $5/month.
Platforms: Cloud, Mac, Windows, Linux, iOS, Android.
9. Lucidchart
Lucidchart is a powerful online diagramming software with strong team collaboration features and excellent integration with Microsoft Office.
While it's not as slick as similar Cloud based solutions like SmartDraw and doesn't come close to it in terms of templates, objects or graphics quality, it's still one of the leading diagramming tools out there.
Lucidchart can import Visio files (although it can't export to the latest Visio VSDX format).
Here are some of the things we liked about Lucidchart:
It can import Microsoft Visio flowcharts in VSDX and VDX format (although there's no VSDX export support).
Integration with Microsoft 365 means you don't even need to open the app to draw flowcharts – you can draw instantly in Microsoft Office or Microsoft 365 documents.
You can draw flowcharts offline in Google Chrome with a plugin.
Lucidchart is integrated with Google Drive so that you can draw flowcharts directly in Sheets and Docs.
The setup wizard customizes Lucidchart for your industry with specific tools for diagramming.
Lucidchart has excellent team collaboration feature with in-app chat, annotations and permission controls.
Lucidchart data linking allows live data to be uploaded dynamically from spreadsheets such as Excel saving a lot of time updating flowcharts with real-time data.
There are some drawbacks to Lucidchart that we found though:
It can only export to the older Visio VDX format used in Visio 2010 and older. It can't export to VSDX format used in Visio 2013 and later
It also does not support VST/VTX stencil importing.
The free version is limited to just 3 flowcharts and 60 shapes.
You can start using Lucidchart for free to test it for yourself.
For a more in-depth look at Lucidchart, check-out our full Lucidchart review.
Price: Teams $9/m, Individuals $7.95/m
Platforms: Cloud
10. Gliffy
Gliffy is an extremely easy to use team focused alternative to Visio that's ideal for collaborating on UML, network diagrams and org charts.
Gliffy is actually divided into two tools,: Gliffy Diagram and Gliffy Project. The latter is for integrating and sharing your diagrams with Atlassian products such as Jira and Confluence.
The biggest disadvantage of Gliffy is that although it can import Visio files, it can't export to Visio which rules it out if you need to work alongside other Visio users.
Here are the things we liked about Gliffy:
Gliffy is quick and snappy at creating diagrams with smooth, fast drag and dropping of objects.
Gliffy is well integrated with Jira and Confluence. You can even draw flowcharts in Jira using the Gliffy Atlassian plugin.
There's a limited free version for personal use and students.
The Team collaboration features are very good including embedding of diagrams and commenting on edits.
There's a Chrome extension for drawing offline.
There are some limitations to Gliffy though:
There's no support for exporting of Visio flowcharts.
Very limited number of templates and symbols.
The interface is very basic and doesn't look very modern on a Mac.
There's no extension for Safari or Firefox for drawing offline.
The free version of Gliffy makes your diagrams public so it's definitely not suitable for confidential data.
You can use Gliffy for free and test it for yourself.
You can also check out our full review of Gliffy for more.
Pricing: $8/month for individuals. Teams start at $6 per user/month.
Platforms: Cloud
Can You Run Visio On a Mac?
If none of these options fit your needs, then the other alternative is to run Visio on a Mac
To run Visio on a Mac, you firstly need to install Windows on a Mac.
There are various ways to do this but the best way to install Visio on a Mac is by using Parallels.
Parallels is a virtual machine which allows you to run macOS and Windows at the same time.
Although there are other free virtual machines available such as VirtualBox and VMware Fusion, they are much harder to setup to use Visio on a Mac and liable to crashes than commercial products.
However, there's a big drawback to be aware of running Windows on Macs with the M1, M2 or M3 chips.
Apple Silicon Macs cannot run the standard version of Windows 11 – they can only run Windows 11 ARM.
Although Windows ARM can "translate" Microsoft Visio to work in on a Mac running in a virtual machine, the performance is slow and unstable due to the added processing power this requires.
Our recommendation is to use one of the Visio alternatives reviewed here rather than run Visio on an Apple Silicon Mac.
Is There A Google Version Of Visio?
There is no software made by Google that can compare with Microsoft Visio.
The closest thing available is Google Drawings which is free and allows you to draw very basic diagrams in your browser.