Let's be straight – you're simply not going to find something as powerful as a professional industry standard tool like Microsoft Visio for free.
The closest thing to Visio on a Mac is SmartDraw which is by far the best alternative to Visio for Mac.
You can start diagramming in SmartDraw for free to see that from importing and exporting Visio files to diagramming in seconds, SmartDraw is the best alternative to Visio on a Mac.
SmartDraw is as powerful as Visio but far easier to use thanks to some clever automated diagramming features and tens of thousands of templates/objects.
It's also the only Visio alternative on Mac that can not only import but also export to the latest VSDX Visio file format.
This is crucial if you want to send and work on diagrams with Windows based Visio users or colleagues.
SmartDraw also works on the latest Apple Silicon M1 and M2 Macs including the latest version of macOS  Sonoma, Ventura and Monterey.
For more about why we rate it so highly over Microsoft Visio, check out our look at the best alternatives to Visio for Mac or our full SmartDraw review.
Why We Don't Recommend These Free Tools For Professionals
It's important to be aware that all free diagramming software come with some serious catches which do not make them suitable for professional use unless you upgrade to the paid versions:
All of these apps only allow free use for individuals. If you need to use them in a team, you will have to pay for a team license.
All free diagramming tools limit the number of diagrams you can create and the number of objects available unless you upgrade to a paid plan.
Many of these apps also make your diagrams public in the free version. You will have to upgrade to a paid versions to make them private.
You May Also Like:
With all this in mind, here then are the best free equivalents to Microsoft Visio on Mac of 2023 in order of ranking.
Although Draw.io (also known as "Diagrams.net") can't compare to Visio in terms of features and power, it's still a remarkably easy to use, fast and impressive diagramming tool.
Draw.io imports and exports Visio files and allows you to work offline on your Mac desktop via an extension for Google Chrome.
The biggest plus is that Draw.io is completely free to use for individuals with no limitations (at least for now anyway).
Unlike a lot of diagramming software, there's no free use limitations even when it comes to Visio importing or exporting.
As soon as you visit the Draw.io site (which is now hosted on the "Diagrams.net" domain) it takes you straight into the main editor.
It instantly presents you with the option to import Visio VSD/VSDX files or competitor formats like Lucidchart and Gliffy.
Alternatively you simply choose a storage location such as Google Drive, Dropbox or your Mac hard drive and you're good to go.
Draw.io is very hot on integration with online services such as Dropbox, OneDrive, Google Drive, Trello and even Github (making it a good choice for software developers).
It's also available in many different languages including Arabic and other right-to-left languages which isn't common is free diagramming software.
Draw.io does support exporting to VSDX format although it should be noted that this feature is in beta and doesn't always work well.
You can also export diagrams to other major formats such as PNG, JPEG, SVG, PDF, HTML, XML and also share diagrams via a simple URL.
The other attractive thing about Draw.io are the Chrome extensions.
There are two Chrome browser extensions – one that allows you to work offline on your desktop and another which adds the Diagrams.net domain it is hosted on to Chrome for quicker diagramming.
Note that there are no templates at all if you use the Chrome desktop extension so if you need one, you'll have to start one online first, save it in on your Mac and then upload it to the desktop extension.
The other Diagrams.net Chrome extension does not have these limitations and makes it easier to launch the app in Chrome but it does of course require an internet connection.
The offline browser extension is a real bonus meaning you don't need an internet connection or data plan to use it.
However you can only open and save diagrams that are saved on your Mac – you can't access your Cloud saved diagrams in Google Drive, Dropbox, Github etc.
There aren't a huge amount of templates to choose from but all the essentials are there including Network Diagrams, Engineering and UML diagrams.
For individuals or students looking for an alternative to Visio, Draw.io is an excellent basic, free alternative to Visio.
If you're a business and want to use it in a team, you'll need to connect to Confluence Server which starts at $10 for 10 users which is still extremely good value for money.
On the downside, Draw.io won't be enough for Visio power users. There are little more than 70 templates and the objects are both basic and limited in choice.
Pros:
Completely free to use for individuals with no limits
Visio file import support
Integration with lots of online services
Quick to start and easy to get going
Chrome extension allows you to work offline too
Cons:
Very limited objects and templates
VSDX export not always accurate (still in beta)
Quite basic compared to Visio
Teams must pay for connections to Confluence
No Cloud integration with Chrome desktop extension
If you just want to import Visio diagrams but don't need export support and prefer a Mac desktop app rather than a cloud solution, take a look at Creately. Creately is an excellent Visio equivalent for Mac which also has a free desktop app.
Creately can import VDX and VSDX files although to export them to Visio you can only export to the more limited SVG format.
The desktop app isn't just a browser extension either – it's a proper desktop client which you can download and install on your Mac.
Creately has a really nice, clear interface that makes it extremely easy to drag and drop elements to create flowcharts, org charts, process flow diagrams, UML, UI mockups and more.
Like most cloud based diagramming software, Creately is a lot easier to use than Visio. It has lots of useful prompts and tutorials to help you get the most out of it with a big choice of templates to get you started.
Creately is free to use for an unlimited period but the free version has limitations on users, objects and collaborators.
It's also limited to just 3 diagrams and all free diagrams are public. You can remove these restrictions with pricing plans ranging from $5/user per month up to $89 per month for unlimited users.
You can read our review of Creately for more.
Pros:
Free Mac desktop app
Imports Visio files
Easy to use, clean interface
Plenty of templates
Cons:
Free version limited to 3 diagrams
Free version makes diagrams public
No native Visio export support
Lucidchart is a powerful but insanely easy to use online alternative to Visio. It includes much of the power of Visio but with a gentler learning curve with far better team collaboration features.
The basic version of Lucidchart is free to use although it's important to be aware that there are limitations. The free version allows you to import and edit Visio files but you can't export them.
You can also only add up to 60 objects for free but you do get access to the entire shape library and you get 25MB of free storage space.
Lucidchart not only allows you to import Visio files but also OmniGraffle, Gliffy and AWS Architecture files.
If you subscribe, you can also export Lucidchart diagrams to Visio as well as most other major image formats. However even with the paid version you can only export to Visio VDX format used in Visio 2010 or older.
It does not support exporting to Visio 2013 and above VSDX format which may be a problem for people that regularly work alongside Microsoft Visio users on Windows.
Importing and exporting Visio files is however very easy and accurate with Lucidchart. You can watch here how we imported and exported MS Visio files in Lucidchart.
Lucidchart is the most well integrated Microsoft Office diagramming software we've seen. There are add-ins for Microsoft Word, PowerPoint and Excel so you can edit and create Lucidchart flowcharts or diagrams directly in Office documents.
Just install the Lucidchart plugin for Microsoft Office, open PowerPoint, Word or Excel and go to Insert > My Add-ins and search for Lucidchart to install the add-in. This conveniently allows you to create or insert dynamic diagrams, flowcharts, and wireframes within Office documents.
The paid version of Luicidchart also has add-ons for online services such as Google Drive, Google Docs, Dropbox, Box, Slack, Confluence, JIRA and more. The Confluence and JIRA apps enable you to create, edit and embed diagrams within Confluence and attach them to JIRA tasks.
One neat feature unique to Lucidchart is data linking from Google Sheets. This is an extremely time saving feature which pulls data from Google Sheets and updates diagrams in Lucidchart accordingly.
So for example, if you're constantly having to update an office floor plan as employees join and leave the company, you can simply update the information in Google Sheets and your Lucidchart floor plan will update automatically.
This doesn't work with Microsoft Office yet but for those that use Google Sheets, it's a very convenient and efficient rather than having to manually update data.
In general, third party integration with other apps and services is better in Lucidchart than almost any other diagramming tool although integration is limited to the Team version or above.
Lucidchart is also one of the few Visio alternatives that has a free native iOS app.
Lucidchart for iOS allows you to view and edit Visio diagrams on an iPhone or iPad and sync with the desktop version to carry on where you left off. The iPad version is free to use and you can read our full review of Lucidchart for iPad for more.
One final thing we like about Lucidchart is that it also tries to bring a bit of fun to diagramming and specifically flowcharting. Lucidchart features a ton of pop-culture flowcharts based on popular culture such as Pokemon Go, Star Wars and Harry Potter.
You can start diagramming now with Lucidchart for free.

You'll need to upgrade to at least the Individual Plan for full Visio import and export support though. An Individual Plan starts at $8 per month and Team subscriptions start at $9/user per month with a minimum of 3 users.
For a more detailed look at Lucidchart, check out our Lucidchart review.
Pros:
Very easy to use
Imports (but does not export) Visio files (paid plans)
Works offline in Chrome
Lots of templates and tips
Cons:
Does not export to Visio VSDX format
Free version limited to 60 objects
Free version limited to 3 documents
Gliffy is a cloud based diagramming app with a clear, simple interface that is focused on collaboration with others.
Gliffy is excellent for everything from Venn diagrams to Floor plans and doing a SWOT analysis. It's tailored for large organizations as it's fully integrated with Confluence and JIRA.
Although it's not as powerful as Visio, you can get some surprisingly similar results using Gliffy with a simple drag and drop interface. You can export diagrams in various formats including XML although there's no Visio export support.
Like Lucidchart, Gliffy also has a Google Chrome extension which allows you to draw diagrams offline on your Mac.
On the downside, there aren't many templates to choose from and if you want to embed diagrams in other applications, you'll need to subscribe to a Team subscription .
The good thing is that you can use Gliffy for free for an unlimited amount of time. There's an initial 14 day trial but after the free trial finishes, you can continue to use it for free although all diagrams will be made public. None of your diagrams will be deleted from the account though and you can continue to access them.
You can also check out our complete review of Gliffy for more.
Pros:
Easy to use
Strong team collaboration focus
Chrome extension for offline diagramming
Cons:
Free version makes all diagrams public
Not many templates
Embedding requires subscription
No Visio export support
LibreOffice is an open source alternative to Microsoft Office and the Mac adaptation of OpenOffice which is a free alternative to Microsoft Office 2016 for Mac.
LibreOffice Draw is the suite's equivalent of Visio and is completely free to use. You can't import Visio files into LibreOffice draw but you can import and export XML and SWF files.
You can create flowcharts and diagrams with LibreOffice draw and there are some useful touches such as a grouping tool which allows you to group several objects at once and move them together.
LibreOffice Draw is nowhere near as diagram focused as the other software featured here and isn't as easy to use. It's a lot more hard work to create even the simplest diagrams and there's no drag and drop support.
However, if you want an alternative to Microsoft Office and want an open source alternative to Visio, LibreOffice Draw may be worth persevering with.
Pros:
No free use limitations
Integrated into the LibreOffice suite
Cons:
Not easy to use
No Visio import or export support
Dia was one of the first free Mac desktop diagramming tools out there but nowadays is pretty dated. Dia only works via a desktop app and is heavily inspired by Visio with a similar old style MS Office interface.
It can import Visio files in XML and VDX format but cannot export to Visio format. It does however export to EPS, SVG, XFIG, WMF and PNG.
Although Dia is completely free with no limitations, it is donationware which means the developer encourages donations in order to cover the costs of membership to the Mac Developer Program. This is necessary in order to meet Apple's security requirements for small projects such as Dia.
Pros:
No free use limitations
Desktop app
Visio import support
Cons:
Dated interface
No Visio export support
yEd works both online and offline and is designed for those who are experienced with diagramming tools. It's probably the most powerful free diagramming tool you'll find anywhere although it does take some getting used to.
However we strongly recommend Mac users to use the online version of yEd Live as the desktop version is based on Java which we don't recommend downloading on Mac.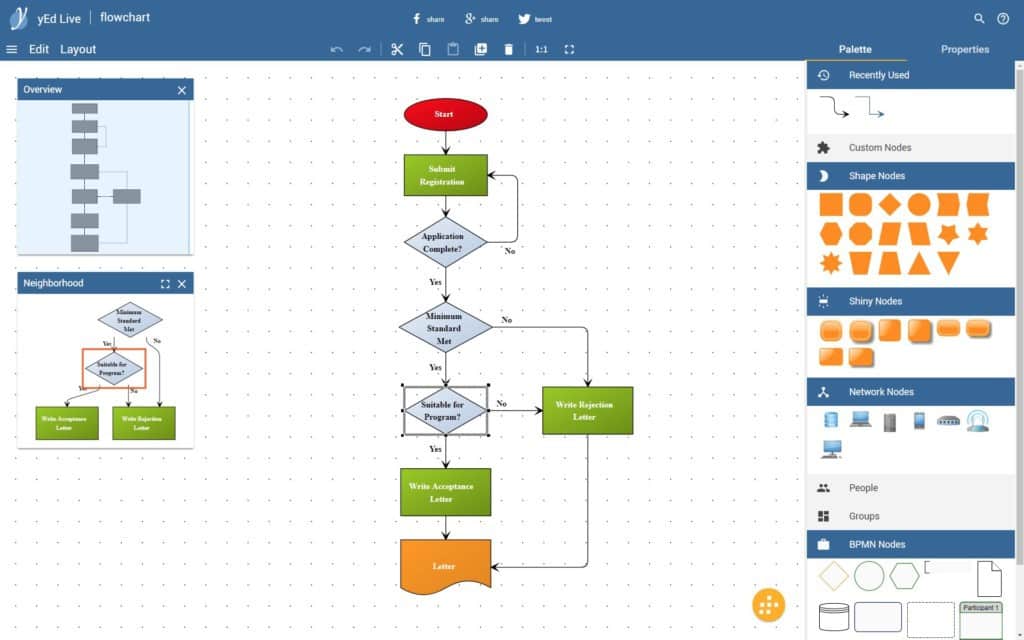 yEd is quite tricky to work out compared to most diagramming software but has a clever automatic layout algorithm that means any changes you make to structures or layout are automatically calculated and re-balanced.
yEd goes beyond traditional diagramming and even supports Virtual Reality for the exploration of graph visualizations.
At the moment, yEd is completely free to use which is amazing considering how powerful it is. However, a commercial version will eventually be released although the developers say it will continue to remain free for private use.
Pros:
Very powerful for a free Visio alternative
No free use limitations
Virtual reality support
Cons:
Desktop app based on Java
Not easy to use
Will eventually require payment for commercial use
Pencil Project, or "Pencil" as it's more commonly known, is a slick open source cross platform design tool that's aimed mainly at those creating Graphical User Interface (GUI) prototypes.
Pencil is not cloud based and has it's own desktop app for Mac. Although there's no Visio import or export support, It's very useful for those designing app interfaces with a selection of built-in shape collections and can export to PNG, Web Page, PDF, SVG and OpenOffice format.
It also has a huge online library of clipart courtesy of integration with the free open source OpenClipArt resource which you can drag and drop into Pencil. However, Pencil is geared mainly at designing GUIs so it's not the all-round diagramming tool that Visio is.
Pros:
Mac Desktop client
Ideal for designing GUIs
Integrated with OpenClipArt
Cons:
No Visio import or export support
Not great for other types of diagramming other than GUIs
Cacoo is a fresh and clean cloud based diagramming software that allows you to create up to 6 diagrams for free. You can import Visio files but only export to SVG, PPT, PNG and PDF.
There are hundreds of templates to choose from in Cacoo including Network Diagrams, Flowcharts and Org Charts. What's we really like about Cacoo is the minimalist, elegant interface which looks really at home on macOS.
Cacoo is also very team focused allowing you to chat in real time with other members.
After you've reached the free 6 diagram limit, Cacoo costs $6 for the Pro Version and Team plans starting at $6/user per month for up to 1000 users.
Pros:
Slick, fresh interface
Visio import support
Lots of templates
Cons:
Free version only allows 6 diagrams for free
If you do a lot of mind mapping on Visio, then XMind may be the perfect choice for you. XMind is focused on brainstorming and mind mapping in a clean, easy to use interface that looks great on Mac.
XMind is idea for business plans or brainstorming ideas for products and sales campaigns.
There are lots of nice features to XMind such as Fishbone, Matrix, Timeline and Gantt chart views as well as thoughtful touches such as a timer and day/night mode for extra focus.
XMind has a free Mac desktop app so you can work offline but you can also use the Cloud version too. It's free to use with no limitations on the amount of documents you can create although you have to upgrade for most added features  such as exporting files, presentation mode and Gantt chart views.
Pros:
Excellent for Mind Mapping
Mac desktop app
No limit on use in free version
Cons:
Most features such as exporting require upgrading
Google Drawings is the closest thing to a Google Visio alternative. Like most of Google's products, it's free to use but it's nowhere near as powerful as Visio. If you just want to sketch out some simple process flows, mindmaps or flowcharts, it is however an easy to use solution.
You only need a Google Account to use Google Drawings although the best way to use it is via the Chrome extension which also allows you to work offline. Google Draiwings is a simple vector based app that's integrated into Google Docs which makes it easy to add diagrams to your Google Documents. You can also add it to other documents via a link which will dynamically update the diagram when you modify it.
The number of shapes, connectors and other objects are limited and it can be laggy to use but if you want a really basic alternative to MS Visio, it does the job.
Pros:
Very easy to get started
No limitations on free use
Cons:
Very basic
No Visio import or export support
Finally, ProcessOn is a free Chinese based web app which allows you to create diagrams online for free. However, the website is entirely in Chinese but if you install the Chrome extension, you can use it in English.
ProcessOn is designed particularly with real-time collaboration in mind and has millions of diagrams and charts to help you compose quickly. You can see the sorts of diagrams and organizational charts possible with ProcessOn in the Explore section.
Note that the developer is based in China and usage of Processon must follow Chinese law. The lack of English translations for certain aspects of the app is quite frustrating too.
Pros:
Unlimited free use
Chrome extension
Cons:
Poorly translated from Chinese
Is Visio Online A Free Visio Alternative For Mac?
Finally a note on Microsoft Visio Online which certainly isn't free, but does allow some basic free use.
Microsoft released Visio Online in 2017 to allow commercial Windows Office 365 subscribers to view and edit Visio files without actually having Visio installed.
Visio Online allows Academic, Government and Enterprise Office 365 subscribers on Windows to view and edit a Visio file in any browser but note that it's not a fully fledged version of Visio.
You can only open, view, comment and do basic editing of Visio files but for advanced editing, it automatically takes you to the Windows desktop version of Visio which of course, is not available to Mac users.
However, if you're a Mac user with one of the commercial Office 365 subscriptions mentioned above, you can use it as a free Visio viewer, and make very basic edits or add comments to Visio diagrams.
You can watch an overview of Visio Online for more.