If you need to open a Visio file on your Mac, here we look at 5 free Visio viewers which allow you to instantly open Microsoft Visio VSD and VSDX files on macOS.
Since Visio for Mac does not exist, if you find this helpful, we also strongly recommend checking our guide to the best equivalents to Visio for Mac.
There are some amazing alternatives to Visio on a Mac such as the excellent SmartDraw which can do everything that Microsoft Visio can and it costs much less.
SmartDraw also works on the latest Apple Silicon M1 and M2 Macs.
We've looked at a range of paid and free Visio viewer software for Mac that allow you to open and in some cases edit MS Visio files online and offline.
Visio Viewers For Mac: Online vs Offline
There are two types of apps for opening Visio files:
Online Viewers: These include apps such Microsoft Visio Online and Lucidchart and which work instantly in your browser and are therefore compatible with any version of macOS. However, it's important to be aware that they upload Visio files to their own servers in order to display them in your browser. Although these services guarantee confidentiality, you should be aware of this fact if you're dealing with sensitive corporate Visio files or diagrams.
Desktop Viewers: These include apps such as OmniGraffle and Nektony VSDX Annotator which are desktop applications and require no internet connection to use. The advantage of these is that all data stays on your desktop and isn't uploaded anywhere. The disadvantage is that you usually have to pay for major upgrades in the future. There's also more likelihood of compatibility or technical issues with future releases of macOS.
You May Also Like:
Here then are 5 easy ways to open Microsoft Visio files on a Mac.
Microsoft Visio Online (also known as Visio For The Web) is a more basic version of Visio Professional but can be used to open Visio files on a Mac.
However, you must have an Office 365 subscription in order to use it. Visio Online is available to all paying customers on Business, Enterprise or Government Office 365 subscriptions.
You can check here which Office 365 subscription you currently have if you're not sure.
Note that Visio Online requires you to upload a VSDX file to a Microsoft OneDrive for Business or SharePoint Online account first before you can view Visio files in your web browser.
You can Pan around Visio diagrams and Zoom in and out with the slider:
You can also view metadata of shapes by clicking on the shape and selecting Shape Info:
You can click on links within Visio diagrams. If you want to find a specific object or item in a diagram, you click on Find to search shape text, shape data and user defined cells:

If you want to share the Visio drawing with other users, just click on the Share symbol in the menu bar and you can send a link via email.
You can also perform basic edits or leave comments on the diagrams. However, if you need to do further editing, it takes you to the desktop version of Visio which isn't available to Mac users.
Visio Online supports all browsers but Microsoft says it works best in Microsoft Edge, Google Chrome, and Microsoft Internet Explorer. Firefox and Safari are supported but it doesn't work quite as well in them.
You can see the Visio Online compatibility table below:
If you don't have an Office 365 subscription and you have an iPad or iPhone, you can also download the free Microsoft Visio viewer for iOS.
For more you can check out our full review of Microsoft Visio Online.
Lucidchart is a powerful online diagramming software that allows you to open Visio files for free.
You can instantly open Visio files on your Mac by using either the free Luicidchart Chrome extension or the Lucidchart Firefox add-on depending on which browser you're using.
In our experience, the Chrome plugin seems to work better than the Firefox plugin so if you have problems with Firefox, try Chrome instead.
If you receive Visio files by email regularly, the Firefox and Chrome plugins are convenient as they automatically detect any attached Visio files in emails and open them directly on your Mac.
Lucidchart supports opening of VSD, VDX and VSDX formats including Visio 2007, 2010, 2013 and 2016 files. It also allows you to add comments, add embedded documents and see the revision history.
To open a Visio file in Lucidchart, simply Ctrl-click on the file and you'll see an option to "Open in Lucidchart".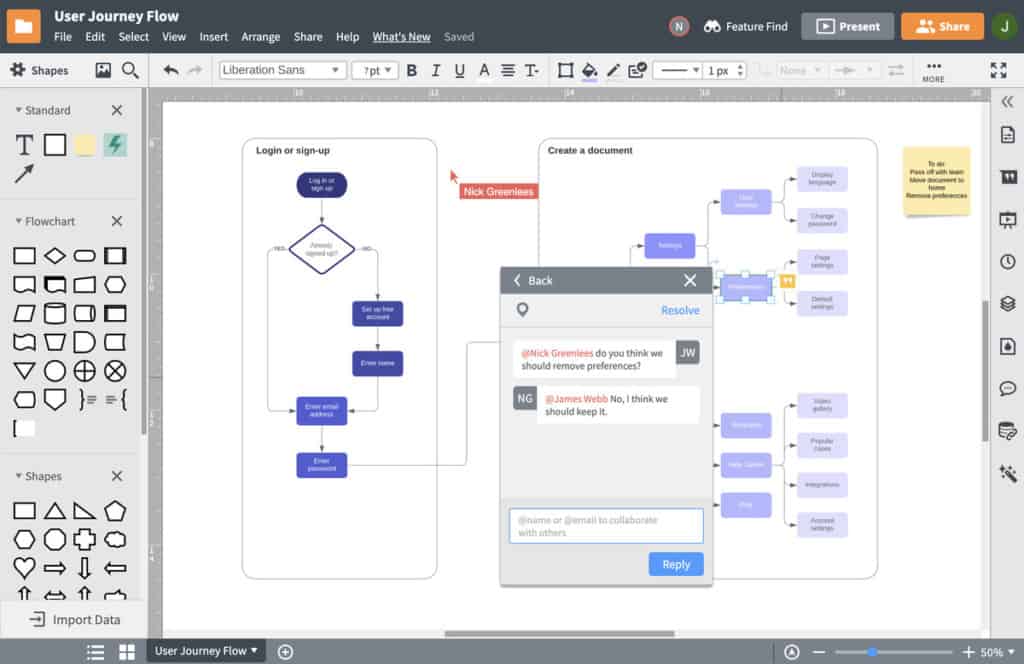 The slight downside of the Lucidchart browser plugin is that it only works for Visio files that are stored online i.e. either sent to you by email or stored on the web.
Technically, it does not work for Visio files that are saved locally on your Mac's hard drive although you can easily get round this by uploading the file to your email account and then sending it to yourself.
You can open Visio files on your Mac now with a free Lucidchart account.
You can also check out our full review of Lucidchart.
If you don't want to use an online solution, OmniGraffle offers an excellent free way of opening Visio files on your Mac desktop.
You can download the Standard version of OmniGraffle free from the Mac App Store and when the free trial expires you can continue to use it for free.
This makes it ideal to open Visio files that are saved on your Mac desktop and also allows you to get a feel for OmniGraffle if you ever decide you want to upgrade to the Pro version at some stage.
You can check out our full review of OmniGraffle for more.
VSDX Annotator is a desktop VSD viewer which allows you to open, preview and convert Visio files on Mac. It also allows some basic annotation of Visio documents on.
VSDX Annotator supports VSD, VDX and VSDX flowcharts, diagrams, schemes and drawings. There are also 12 annotation tools which allow you to add notes, callouts, comments, blocks and graphics files.
Among other features of VSDX Annotator are the ability to hide or show layers, shape data and hyperlinks, convert VSD, VDX, and VSDX documents to PDF for sending via email or printing.
VSDX Annotator renders Visio diagrams very well and files are reproduced exactly as you would see them in Microsoft Visio.
There are several useful viewing options such as tools to view documents with embedded OLE-objects, EMF- and WMF-metafiles and objects that are outside page boundaries or gradient-filled objects.
You can also see the original dimension units if you need to.
The developer of VSDX Annotator Nektony also make VSD Viewer For Visio Drawings (see below) the difference being that VSDX Annotator is newer and allows basic annotation of Visio files on a Mac.
If you're torn between the two, you might as well go for VSDX Annotator as although it costs $10 more, the annotation tools can be useful and the interface is newer than VSD Viewer.
Overall, if you regularly just need to open Visio files on your Mac and send a few comments or observations to colleagues or clients, VSDX Annotator is ideal.
You can try a free trial of VSDX Annotator although the full version costs $22.99.
VSD Viewer For Visio Drawings is a more basic version of VSDX Animator from the same developer Nektony.
The main difference between them is that VSDX Annotator allows you to annotate and comment on Visio files while VSD Viewer is purely for opening Visio diagrams on Mac.
The full version of Nektony VSD Viewer for Mac is not free, but it does offer a free trial and at $14.99, if you need to view Visio files regularly on a Mac, is well worth it as it's a very powerful tool.
With it you can open VSD, VDX and VSDX files on Mac plus stencils in VSDM, VDW, VSSX, VSSM, VSX or VSS format. Basically, anything created in MS Visio 2000 onwards.
To open a Visio file using VSD Viewer for Mac, you simply double-click on the .VSD file to open it.
You can switch layers using VSD Viewer, preview Shape Data, zoom in and out, export to PDF (very useful for sharing Visio diagrams with others), view documents with OLE objects, EMF and WMF embedded meta files and much more.
For those that need to share Visio data in meetings without always having to ask CAD designers for different layers or files, VSD Viewer is extremely useful.
The good thing as well is that VSD Viewer doesn't store your Visio files online anywhere – everything is stored on your Mac for better security if you're dealing with confidential designs and data.
You may occasionally experience formatting issues when you open Visio files which you can fix by going to Preferences and selecting "Render Metafiles with Transparent Backgrounds".
The slightly frustrating this is there's no way to search Visio files using VSD Viewer but otherwise, if you don't need to annotate or comment on drawings, it's an excellent way to read Visio files on Mac.
To upgrade the trial to the full version of VSD Viewer For Visio Drawings costs $14.99 from the Mac App Store but you can also try the free trial to view Visio files for free.
There's also a companion Nektony VSD Viewer app for iPhone/iPad and Android which offers almost all of the functionality of the Mac version but because of processing power limitations, can be considerably slower.