The LG UltraFine 34 inch 5K monitor is definitely one of the best monitors for use with any Mac. If you've only previously used 1080p or 4K displays, the 5K, 163 ppi resolution looks stunning. The display is ideal for video editing on a Mac although the scaling issues at 5K make it unsuitable for lots of text work. If you don't have the budget for an Apple Studio Display though, the LG 34BK95U-W 34 inch 5K2K is an excellent alternative.
Pros:
5K resolution with 5K2K support
163 pixels per inch (ppi)
3 USB-C ports plus Thunderbolt port
Huge screen estate improves productivity
3 year LG guarantee
Excellent for video editing
Supports HDR
Cons:
Sound or brightness can't be controlled from Mac keyboard
Swivel requires mounting a stand
No webcam
Text looks small at 5K so needs to be scaled down
Plastic build quality
We voted the 5K LG 34BK95U-W UltraFine 34" as one of the best external monitors for many different Macs and in this LG 34 inch 5K monitor review, we look at what makes this Nano LED monitor such a great option for Mac users.
LG monitors are some of the best displays you can get for Macs and Apple even helped LG develop the UltraFine display as it contains a very similar panel to the 27 inch 5K iMac display.
In fact Apple used to sell the 27 inch version of this model on its website until the release of its own impressive Apple Studio Display.
Now the smaller 27 inch 4K LG 24MDKL-B is the only non-Apple display sold on the Apple website (pictured below) although it's not as good as the 5K UltraFine 34 inch model we reviewed here.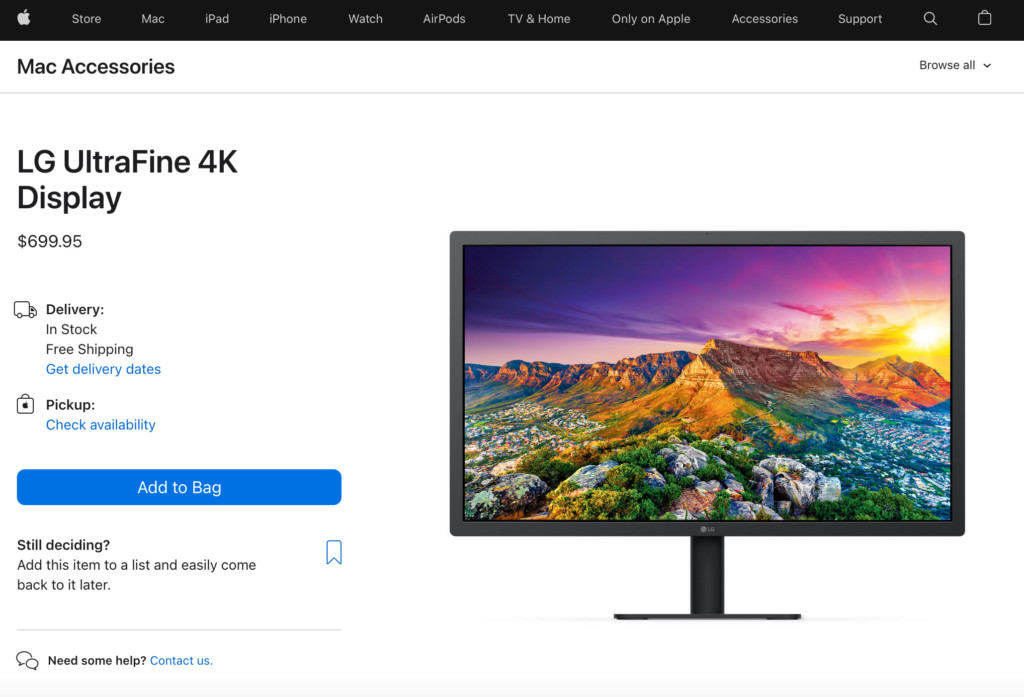 As a result, we ranked the LG 34BK95U-W UltraFine 34 inch model as the best monitor for the MacBook Pro, the Mac Studio, and the Mac Mini of 2022.
In this LG 34BK95U-W review, we take a closer look at why it's a great choice for Mac users.
You May Also Like:
LG 34BK95U-W vs LG 34WK95U-W
Firstly, there's a lot of confusion between this model and the LG 34WK95U-W UltraWide 34″ which was first showcased at CES 2018 because they were marketed at the same time by LG but are almost exactly the same.
The main difference is that the LG 34WK95U-W is more commonly available in the UK and other countries outside of the USA.
However, there are some other differences which is why we focused on the BK95U instead of the WK95U.
The LG 34BK95U-W is basically exactly the same monitor as the LG 34WK95U-W but the only differences are that the LG 34BK95U-W is cheaper and comes with a 3 year warranty compared to only 1 year with the LG 34WK95U-W.
The 3 year warranty on this model is because it comes from the Business division of LG not the Consumer division.
The other reason we've reviewed the LG 34BK95U-W is that the LG 34WK95U-W has been discontinued by LG.
Although you can still buy the LG 34WK95U-W on Amazon, it makes far more sense to buy the cheaper LG 34BK95U-W with a 3 year warranty that's currently in stock with LG than a discontinued model!
LG 34 Inch 5K Monitor Overview
Outside of the 5K Apple Studio Display and the 6K Apple Pro XDR Display, we ranked the LG 34BK95U-W UltraFine as the best external monitor for the MacBook Pro, Mac Mini and Mac Studio.
The Apple Studio Display also costs $1,599 and Apple Pro XDR Display $4,999 but not everyone has that kind of budget to spend.
If you need the highest possible resolution outside of Apple displays, the superb LG UltraFine 34 inch offers stunning 5K resolution at 163 pixels per inch (ppi).
You can also get full 5K 5120 x 2160 resolution (also known as 5K2K) with the LG 34BK95U-W UltraFine including when connected to the latest M1 and M2 Macs such as the Apple Silicon M1 MacBook Pro and Mac Studio.

However, due to limitations in macOS that make everything look extremely small at 5K on a non Apple external display, it's advisable to use a scaled resolution which we go into in more detail later on.
LG 34 Inch 5K Specifications
The LG 34BK95U-W UltraFine 34" specifications are as follows:
34″ 5K2K Ultra wide Nano IPS display
Viewing Angle (L/R) (CR>=10) is 178°/178°; Brightness(Typ) is 400cd/m² ; Aspect Ratio is 21:9
5120 x 2160 resolution
Vega displays 600, 450nits (typ. )
4-Side borderless screen
5Wx2 Stereo speaker/rich bass
Connectivity technology: Thunderbolt 3; USB; USB Type C; HDMI
60 hertz
One of the first things that hits you with the LG UltraFine 34 inch is the incredible depth of color on the screen.
The display supports High Dynamic Range (HDR) which, like Dolby Vision, makes bright and dark parts of an image incredibly intense and contrasted.
The LG UltraFine 34 inch 5K monitor is VESA Certified to HDR 600 which delivers peak luminance of 600 nits.
Not even the impressive Apple Studio Display supports HDR so this is a real bonus for a monitor in this price range.
The Nano refers to the Nano IPS which also controls colors with 98% coverage of the DCI-P3 color space which is the industry standard for the film industry making this a great external monitor for video editing on any Mac.
You can test the screen's ability to display P3 wide color on WebKit to try this out.
It supports 1.07 billion colors and the Nanometer-sized particles on the screen's LED is designed to absorbs excess light for richer color expression.
The LG UltraFine 34 inch 5K monitor can display up to 163 Pixels Per Inch (PPI) which isn't quite as much as the 218 PPI in the M1 MacBook Pro Retina display but still makes text and images look razor sharp.
The 34 inch screen is generous and provides plenty of space for multi-tasking, especially at full 5K.
Because it's a 34 inch 5K screen you get over 30% more screen estate on the LG34BK95U-W UltraFine than on a standard 4K monitor.
This makes it a great choice for video editing with a Mac as editors for example can have video assets open on a 5:9 area while also editing or watching a 16:9 4K video on the same screen.
The monitor's 5K2K 21:9 display supports full 5120 x 2160 resolution which is ideal for video editing and graphic design on a Mac although for text editing this can make the text look rather small and you might need to scale down the resolution to prevent squinting.
You can change the tilt 15 degrees forward and -5 degrees backwards and height up to 110mm on the aluminum stand that comes with the LG34BK95U-W UltraFine.
There's a little bit of wiggle room to tilt left and right but if you need swivel though, you'll have to add a VESA stand mount connection (the monitor is 100 x 100 VESA compatible).
The build quality on the LG UltraFine 34 inch 5K is sufficient but uses plastic throughout (except the foot of the stand) which means it does feel a bit "wobbly" on the stand if nudged or bumped.
The thin border design looks great though and means your picture stretches close to the edges of the monitor.
There's also a useful plastic strap to keep cables tidy although if you're connected via Thunderbolt cable, there's only one cable to worry about.
There's a small four way joystick on the bottom of the LG UltraFine 34 inch 5K2K monitor which is used to control everything from sound and brightness to input source and contrast.
There's also a pair of 5 watt speakers on the left and right on the bottom of the monitor but the sound quality isn't great and we recommend connecting external speakers to the LG UltraFine 34 inch 5K monitor.
LG 34 Inch 5K Monitor Connectivity
In terms of ports, apart from the standard HDMI there's a dedicated Thunderbolt 3 port (with 2 meter Thunderbolt cable included) which provides 85W of charging power and also offers DisplayPort Alt Mode.
There are also an additional 3 USB-C ports which are ideal for connecting an external hard drive.
Although you can connect both via HDMI 2.0 (only supports up to 4K) and DisplayPort (which supports 5K) but for best results, we strongly recommend connecting via Thunderbolt 3 which offers several advantages.
HDMI 2.0 does not have the bandwidth to handle anything above 4K resolution and the results look terrible when connected to a Mac.
Thunderbolt 3 supports much higher bandwidth for resolution and means that you only need a single cable for video, audio, and data as well as MacBook Pro or MacBook Air battery charging up to 85W.
Thunderbolt 3 also supports 40 Gb/s data transfers for high-bandwidth video and either a 4K signal to two different screens or 5K/60 fps to a single screen.
Note that the base model M1 and M2 chip Macs can only support one external monitor although there are workarounds to connect more than one monitor to M1/M2 Macs.
Gaming On The LG 34 Inch 5K Monitor
The refresh rate of the LG 34BK95U-W UltraFine is 60Hz which isn't ideal for gaming or having to edit fast moving video editing or ProMotion footage on.
There is no integrated webcam for chatting when gaming in the LG UltraFine 34 inch either although you can connect one via USB-C or use a digital camera as a webcam.
Note that we don't recommend using the LG 34 Inch 5K with an eGPU on an Intel Mac.
Users have reported many issues with the monitor when connected via eGPU although some have also managed to get it working well too.
This is not an issue for Apple Silicon M1 or M2 Mac users as eGPUs don't work with M1/M2 Macs anyway.
LG 5K 34 Inch UltraFine vs Apple Studio Display
Many users choose the LG 5K 34 Inch UltraFine as a cheaper alternative to the Apple Studio Display.
However, although the Apple Studio Display is more expensive, it does have some advantages over the 5K LG UltraFine 34 inch display:
The Apple Studio Display supports 600 nits of brightness vs 500 nits in the LG UltraFine
The Apple Studio Display has a Quality Aluminum casing vs plastic casing in the LG UltraFine
The Apple Studio Display has a high quality six speaker system vs two in the LG UltraFine
The Apple Studio Display supports True Tone which the LG UltraFine does not
The Apple Studio Display USB-C ports are the fastest 3.1 Gen 2 vs the slower USB 3.0 in the LG UltraFine
The Apple Studio Display features a 12 megapixel ultra-wide camera with support for Center Stage compared to a 1080p webcam in the LG UltraFine 5K 34 inch model.
The Apple Studio has a professional studio quality three microphone array vs one in the LG UltraFine
However, neither the Apple Studio Display or the 5K LG UltraFine 34 inch support ProMotion or have mini-LED backlighting although it's rumored these will be added to the Apple Studio Display in 2023.
LG 5K Scaling Issues On Macs
The big problem Mac users have with 5K external displays others than the Apple Studio Display and Apple Pro XDR display are scaling issues.
In full 5K, the monitor is great for video editing software like Final Cut Pro X with long timelines but not so good for reading text or desktop publishing software as it minimizes the size of everything.
When using non Apple 5K displays such as the LG UltraFine 34 inch 5K, Mac users find that they can hardly read the tiny text when the monitor is using 5K resolution on a Mac due to technical limitations in macOS.
To prevent this, make sure that in the display settings, the "Default for Display" setting is selected.
This will automatically select the best possible setting to use the LG UltraFine 34 inch 5K with a Mac although it may only be half of the monitors full resolution.
However, you can also change the resolution manually yourself and force it to use 5K by going into System Preferences > Displays and then hold down the Option key and click on Scaled.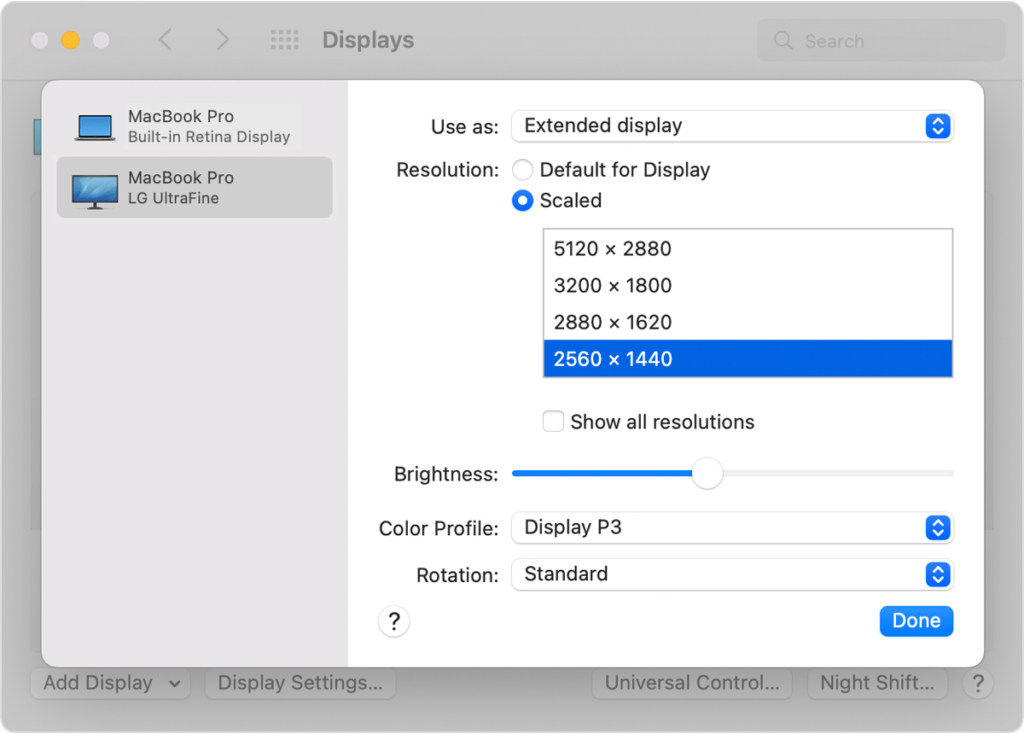 You can then change the setting to full 5120 x 2160 5K although you will find that everything appears extremely small on your screen.
It's therefore better to use a scaled resolution such as 3200×1800 or 2880×1620 which still provide a very clear and sharp picture and make it much easier to read text.
You can also use an app such as Display Menu ($1.99) to make this easier or there is also free open source software which allows you to customize scaling on macOS.
You can read more on how to fix 5K display scaling on issues on a Mac here.
LG 34 Inch 5K Monitor Drawbacks
Some users have reported problems with the display not reactivating after their Mac has gone to sleep.
This seems to be because that in some cases, the monitor does not save the settings and keeps resetting itself on waking-up.
However, this seems to be a random issue that affects a small number of users and may have been fixed in Apple updates to macOS.
As already mentioned, the fact that at full 5K, everything looks small on the LG 34BK95U-W is also a bit frustrating but this is the case with all non Apple 5K monitors on a Mac and simply requires scaling the resolution lower.
Finally, the plastic built quality on the LG 34 Inch 5K feels a bit flimsy for a monitor in this price range although it's very common now in many big brand external displays.