There's no doubt that once you've experienced the crisp 5K resolution of the Apple Studio Display, it's hard to go back to using any other monitor. Creative professionals will love the stunning 5K resolution and the high quality mic and speakers make also make it a great choice for music production. For those that simply can't justify the price of the Apple Pro Display XDR, the Apple Studio Display is a far more affordable alternative although it still isn't cheap.
Pros:
5K resolution is crystal clear
3 mic array suitable for professional audio recording
6 high fidelity speakers
No on screen glare especially with Nano texture
Cons:
Price
No High Dynamic Range
Some speaker issues
Mounting stand and Nano glass costs extra
Webcam quality should be better
May require scaling resolution depending on usage
The Apple Studio Display was released to coincide with the release of the amazing Mac Studio and in this Apple Studio Display review, we take a closer look at this stunning 5K display.
The new 27 inch 5K Apple Studio Display is basically a more affordable version of Apple's stunning 6K Pro Display XDR costing $1,599 compared to $4,999 for the XDR.
However starting at $1,599 (£1,499 in the UK) it's still not cheap and there are many cheaper alternatives to the Apple Studio Display for a fraction of the cost.
Although the Apple Studio Display was designed to coincide with the release of the Mac Studio, it can also quite easily be used with any Mac including the M2 MacBook Pro and the more recent M2 Mac Studio.
In fact, the Apple Studio Display is also an excellent external monitor for MacBook Pros as it can charge your MacBook Pro thanks to a Thunderbolt 3 port.
For iMac users that have bought an Apple Silicon M1 or M2 Mac, the Apple Studio Display is also a good option if you miss a bigger screen since you can't use an iMac as an external display with the latest generation of M1 & M2 Macs.
Here then we take a closer look at the Apple Studio to see how good it is and whether it's worth the money.
You May Also Like:
Apple Studio Display Features
The Apple Studio Display features many of the same state of the art features as the Apple Pro Display XDR including:
P3 Wide color gamut
True Tone auto adjusting technology which adapts to your ambient light
Nano-texture glass (optional)
600 nits brightness with support for up to 1 billion colors (compared to 500 nits in the latest 27 inch Retina iMacs)
Inside the Apple Studio Display is Apple's powerful Apple Silicon A13 chip that's in the latest iPhones and iPads too.
Other specifications of the Apple Studio Display include:
27-inch 5K Retina display with 5120 x 2880 native resolution and 218 pixels per inch (ppi)
60Hz refresh rate
12MP Ultra Wide camera with 122° field of view, ƒ/2.4 aperture and support for Centre Stage
Six speaker with force-cancelling woofers and support for Spatial Audio & Dolby Atmos
Three-mic array with with directional beamforming for professional studio level audio recording
Weight: 6.3kg
Size: 478 (h) x 623 (w) x 168 (d) mm
Apple Studio Display Pricing
The Apple Studio Display is available in six different prices ranging from $1,599/£1,499 to $2,299/£2,149.
Pricing depends on whether you choose to add extras such as a titling stand, tilting plus height adjustable stand (which costs $400/£400 extra), VESA mount and a choice of standard anti-reflective or Nano texture glass.
The main difference between the standard anti-reflective and nano texture is that the Nano texture glass costs an extra $300/£250 because it reduces glare even further by scattering light more effectively than the standard anti-reflective glass.
If you're going to be working in front of strong lighting, sunlight or an office with lots of windows, the Nano texture glass is definitely worth it to reduce glare but if you're in normal lighting conditions, it's no big advantage.
The Nano texture also makes the screen look a little duller than the shiny standard glass although it's more a question of whether you like matte or glossy displays.
Apple Studio Display Connectivity
At the back of the Apple Studio Display you have:
Power cable which is designed to be non-removable although can be yanked out with force. There's no power brick like there is with the M1 iMacs though so it's just a convenient slimline power cable and that's it.
1 Thunderbolt 3 port which can also charge your MacBook Pro or MacBook Air when connected to it meaning you don't need to have your MacBook plugged into the mains to use it with the Apple Studio Display inlcuding in Clamshell mode (meaning with the lid closed). Note that the Thunderbolt cable that come with it is only 1 meter long.
3 USB-C ports which support up to 10GB/s and can be used to connect external devices such as external hard drives or charging USB-C devices.
Along the top of the Apple Studio Display is a 12MP webcam with an in-built three-mic array microphone setup which is suitable for professional audio recording and allows you to use "Hey Siri" with the Apple Studio Display.
Along the bottom of the Apple Studio Display are six speakers which we'll look at more closely shortly.
There are also cooling vents along the top and bottom of the Apple Studio display which work silently meaning the aluminum casing never gets warm.
Note that there is no HDMI or DisplayPort in the Mac Studio Display so Thunderbolt 3 is your only way of connecting it to a Mac.
Apple Studio Display Usability
The first thing you notice about the Apple Studio Display is that there are no external controls of any kind – not even a power button. There is also no on screen display to change settings such as brightness, color, volume or input source.
Everything on the Apple Studio Display has be controlled within macOS so this pretty much rules it out as an option for Windows PC users, although it can be used with any Windows PC with a Thunderbolt 3 or 4 port.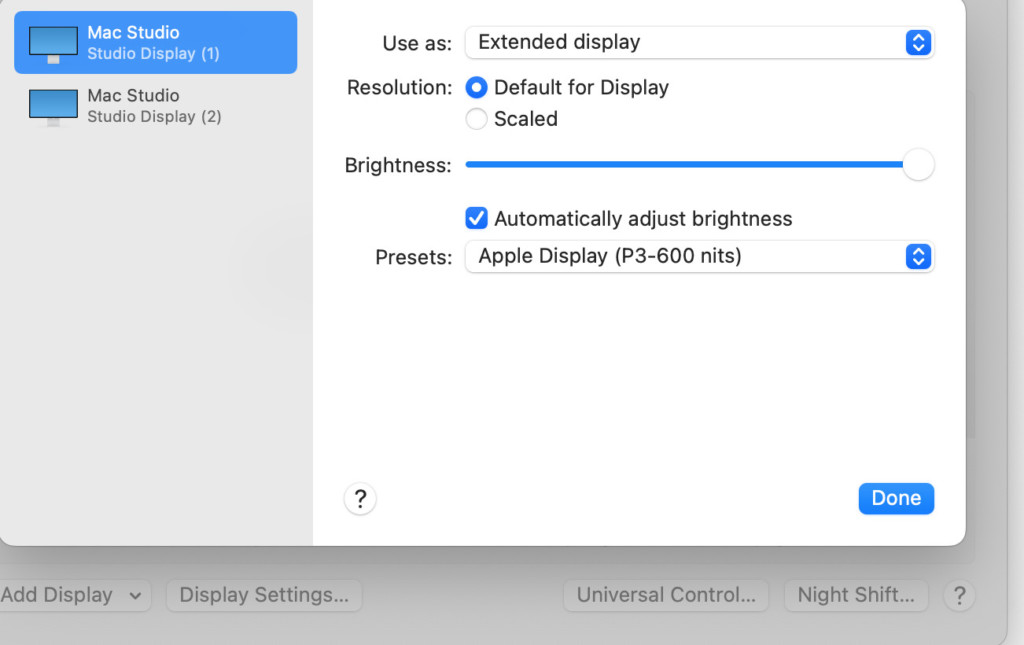 Windows users will however miss out on software driven features such as Spatial Audio, Center Stage and Hey Siri.
The native resolution of the 5K Apple Studio Display is 5120 x 2880 at 218 pixels per inch which gives an unbelievably crisp picture.
The difference between standard 1080p displays and the 5K Apple Studio is amazing and once you've enjoyed such image clarity, it's hard to accept anything less on other displays.
Although the Apple Pro XDR Display is 6K, it's almost impossible for the naked eye to tell the difference between it and the Apple Studio Display.
You can also select a scaled setting but the it won't give the same Retina quality image quality.
The Apple Studio has a backlight and because the Apple Studio Display has 600 nits of brightness, it has nine different modes. There is however no High Dynamic Range (HDR) mode like the far more expensive Apple Pro XDR Display.
The refresh rate of 60Hz is however a little disappointing although this is only because the Thunderbolt 3 port that comes with it can't support a higher refresh rate.
Since even the $5,000 Apple Pro XDR also uses Thunderbolt to connect to a Mac, not even it can support ProMotion.
ProMotion is only supported by the 120Hz display of a MacBook Pro which means the Apple Studio Display may not be the optimum choice for professional video editing on a Mac.
Apple Studio Speakers
The Apple Studio has four force-cancelling woofer speakers and two tweeters to give a very full bodied panoramic sound.
The speakers support Spatial Audio for Dolby Atmos which makes the Apple Studio Display one of the best monitors for music production on a Mac.
If you use music creation software such as Logic Pro, the Apple Studio Display is compatible with the Logic Pro Atmos plugin.
However, there have been some well publicized issues with the Apple Studio Display speakers cutting-out intermittently or sounding distorted/garbled.
Because there's no power button, the only solution to this has been to unplug the Apple Studio Display and plug it in again.
Apple hasn't made any comment on this but it's likely it will issue an update via macOS to address this problem.
Apple Studio 5K Scaling Issues On Macs
One of the big problems Mac users have with 5K external displays including the Apple Studio and Apple Pro XDR Display are scaling issues.
In full 5K, the Apple Studio is great for video editing software like Final Cut Pro X with long timelines but not so good for reading text, word processing or desktop publishing as it minimizes the size of everything.
When using 5K displays monitors, Mac users find that they can hardly read the tiny text when the monitor is using its maximum 5K resolution on a Mac due to technical limitations in macOS.
To prevent this, make sure that in the Display settings in macOS, that the "Default for Display" setting is selected which is usually 2560 x 1440 for most 5K monitors.
This will automatically select the best possible setting to use the Apple Studio Display with a Mac although it may only be half of the monitors full resolution.
However, you can also change the resolution manually yourself and force it to use 5K by going into System Preferences > Displays and then hold down the Option key and click on Scaled.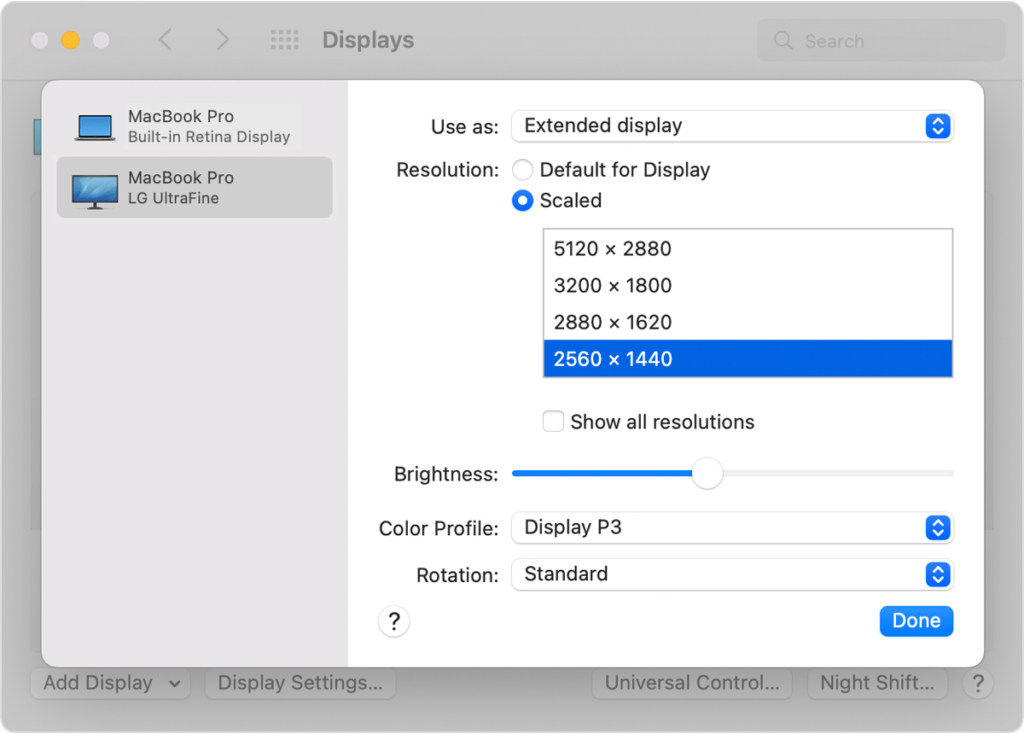 You can then change the setting to full 5120 x 2880 5K although you will find that everything appears extremely small on your screen.
It's therefore better to use a scaled resolution such as 3200 x 1800 or 2880 x 1620 which still provide a very clear and sharp picture and make it much easier to read text.
Alternatively, you can also use an app such as Display Menu ($1.99) to make this easier or there is also free open source software which allows you to customize scaling on macOS.
You can read more on how to fix 5K display scaling on issues on a Mac here.
Apple Studio Display Downsides
Apart from the aforementioned sound and resolution issues, there are some other drawbacks to the Apple Studio Display considering the price tag.
The lack of High Dynamic Range (HDR) is one of them which you'd expect in a monitor costing at least $1,599.
One big advantage of the Apple Studio Display over the Apple Pro XDR Display is that it has a webcam built in.
However, the 12MP webcam also isn't as good as you'd expect with poor image quality in video conferencing and online meetings especially in low light.
This is surprising as it's the same camera that's inside the iPad Air but possible because it lacks the M1 image signal processor, the quality doesn't seem to be quite as good as even the $600 iPad Air.
You could also use a digital camera as a webcam with your Apple Studio Display instead but it shouldn't be necessary to look for workarounds for a monitor in this price bracket.
As you'd expect though, the webcam does support Central Stage which helps keeps your face in shot and Portrait Mode to blur out the background for Zoom or other important meetings.
Apple Studio Display Alternatives
The big question of course is, is the Apple Studio Display worth the money?
There's no denying that at $1,599 it's an expensive external display, even though it's much cheaper than the $4,999 Apple Pro XDR.
If you've bought yourself a Mac Studio and are planning to keep it for the long term, then it's definitely worth getting the Apple Studio display.
However, there are some excellent alternatives to the Apple Studio Display which cost around $1,000 or less.
Top of the bunch is the 5K LG UltraFine 34 inch monitor which supports the same resolution as the Apple Studio Display but comes in at just over $1,000.