Rufus for Mac does not exist but there are some great alternatives to Rufus on Mac to create a bootable USB drive.
If you want to install Windows on your Mac or reinstall and older version of macOS on your Mac, creating a bootable USB allows you to do so even if you don't have the original installation disk.
Or if you have a Windows ISO on your Mac and you want to create a Windows installer, you can mount it on a USB stick to install it on a Mac or any Windows PC.
Although Apple provides instructions for creating a bootable installer for macOS including links to the DMG files for macOS El Capitan, High Sierra, Mojave, Catalina and Big Sur, it's quite complicated for most users as it requires using Terminal.
Using a USB disk boot utility makes things much easier.
To use any of these tools, you'll of course need an external storage device or SSD drive.
You will also need to format the disk before starting (see instructions at the end of this article).
Sale
Can I Use Rufus On Mac?
You cannot use Rufus on a Mac. Rufus only works on 32 bit 64 bit versions of Windows XP/7/8/10 only.
The only way to run Rufus on a Mac is to install Windows on your Mac and then install Rufus in Windows.
All of these alternatives to Rufus work on Intel Macs and Apple Silicon M1/M2 Macs thanks to Rosetta.
Best Rufus For Mac Alternatives To Create a Bootable USB Drive
You May Also Like:
With this in mind, here are the best equivalents to Rufus on Mac to create a bootable USB drive.
Etcher works on all platforms including Mac and is very easy to use. Simply select an ISO image, USB stick and click on Flash. That's all there is to it.
Etcher is very fast at flashing images and also includes Image Validation which verifies the system image and removable drive before flashing.
This prevents wasted time writing images on corrupt USB drives and isn't something you usually find is boot utilities.
Pros:
Free to use
Image validation feature
Very fast
Also works with SD cards
Works on the latest versions of macOS Monterey & Big Sur
Cons:
Can't choose between GBT and MBR partition styles
UNetbootin works on Mac, Ubuntu and other Linux distributions. It's designed mainly to create Linux-based bootable USB drives from any machine but works perfectly on macOS.
UNetbootin is extremely fast and is a great Rufus alternative for flashing macOS, Windows, Ubuntu or any other Linux distro
Pros:
Cons:
Designed mainly for Linux distros
No UEFI mode
No SD card support
Not compatible with macOS Monterey & Big Sur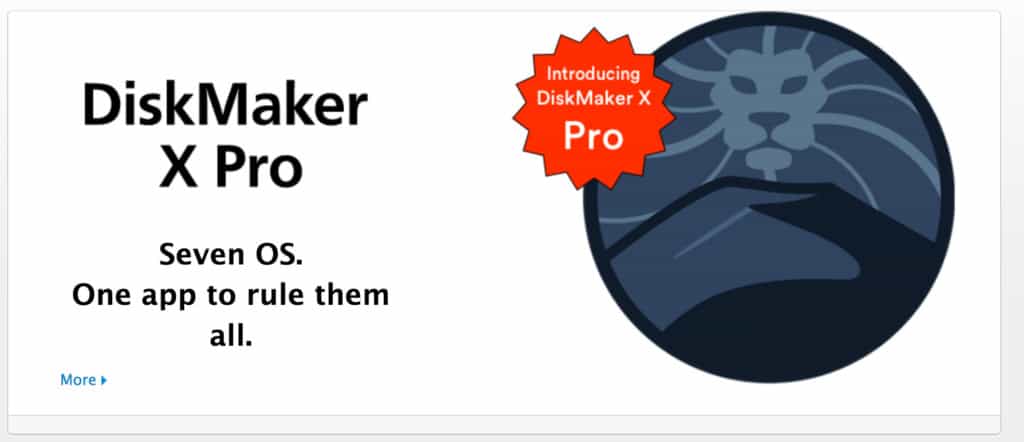 DiskMaker X (formerly Lion DiskMaker) is designed specifically for macOS and is one of the most popular USB boot tools on Mac.
Simply launch DiskMaker X and it will automatically find the installation file using Spotlight. It will also detect any USB drives plugged into your Mac and automatically flash the system image.
Unfortunately, due to changes in macOS Big Sur, DiskMaker X does not work on Big Sur and the developer has no plans to upgrade it in the future.
However, for anyone looking for a Rufus alternative that works on all versions of macOS including Mojave and Catalina DiskMaker X is all you need.
Pros:
Designed specifically for macOS
Automatically detects drives
Cons:
Not compatible with Big Sur & Monterey
These are by far your 3 best ways to create a bootable USB drive on a Mac.
There are a few other alternatives such as Deepin Boot Maker and ROSA Image Writer but they aren't updated frequently for macOS and are mainly designed for creating bootable Linux distros.
How To Format a USB Drive on Mac
You'll need to format your USB drive to use as a boot disk by using Disk Utility in macOS.
Disk Utility is a free tool in macOS which allows you to perform a number of diagnostic tests on your hard drive including creating a USB boot disk.
Just go to Applications > Utilities > Disk Utility to launch it and choose Erase and then select OS X Extended (Journaled) to format it (if you're going to create a macOS boot disk).
You can find full instructions on how to format an external hard drive on a Mac here.