If you want to install Windows 11 on a Mac, here we show you the easiest way to run Windows 11 on a Mac including on both Intel and Apple Silicon M1/M2 chip Macs.
There are various ways to run Windows on a Mac although very few of them allow you to install Windows 11 on a Mac due to Windows 11 requiring a physical TPM module.
However, here we show you how to use Parallels to install Windows 11 on a Mac including on both Intel Macs and the latest Apple Silicon Macs with M1 or M2 chips.
You can use Parallels free for a trial period while you test it out too although after 14 days you'll need a subscription to keep using it.
Microsoft also allow you to use Windows 11 for free unless you want to customize the appearance of it in which case you need to  activate it with a license key.
You May Also Like:
Windows 11 on Mac and TPM
The requirements for running Windows 11 on a Mac are a little trickier than installing Windows 10 on a Mac.
This is because Windows 11 requires support for Trusted Platform Module (TPM) 2.0. TPM 2.0 is built into the motherboard of a computer to ensure the integrity of the operating system's security.
Unfortunately, neither Intel, M1 or M2 Macs have a TPM built into the motherboard. In fact, even many Windows PCs built before 2014 do not have a TPM and cannot run Windows 11.
However, some Intel Macs do have a TPM built into the CPU which in theory, allow those Macs to officially support Windows 11 physically.
Intel Macs which have a TPM built into the processor and in theory should be able to officially support Windows 11 are:
MacBook (Retina, 12-inch, 2017)
MacBook Air (13-inch, 2017)
MacBook Pro (15-inch, 2016)
MacBook Pro (13-inch, 2016, Four Thunderbolt 3 ports)
MacBook Pro (13-inch, 2016, Two Thunderbolt 3 ports)
Mac mini (2018)
iMac Pro (2017)
iMac (Retina 5K, 27-inch, 2017)
iMac (Retina 4K, 21.5-inch, 2017)
iMac (21.5-inch, 2017)
Mac Pro (2019)
However, to officially support Windows 11 Apple would have to update macOS to support TPM and Windows 11 and that seems highly unlikely as Apple is currently discontinuing all Intel Macs in favor of the new Apple Silicon M1/M2 chip Macs.
You can however still install Windows 11 on Intel Macs using Apple's free Boot Camp utility by making an edit to the Windows registry during the installation process.
If you've got an Intel Mac you can find instructions how to install Windows 11 for free on a Mac with Boot Camp here.
Unfortunately though you can't use Boot Camp to install Windows 11 on M1 or M2 Macs as Boot Camp isn't available for Apple Silicon Macs.
Apple decided to remove Boot Camp from Apple Silicon Macs making it harder for Mac users to run Windows.
The good news is that the virtual environment Parallels allows you to install Windows 11 on both Apple Silicon and Intel Macs by simulating the TPM module virtually.
This means that Windows 11 features such as BitLocker, Secure Boot, and Windows Hello are supported in Windows 11 on a Mac running in Parallels.
Parallels is also the only solution officially authorized by Microsoft to run Windows 11 on a Mac so it's far more likely to work better on a Mac and be supported on a Mac in future updates to Windows 11.
TPM modulation has been available in the Professional version of Parallels for quite a while already and so adding the feature to the Standard version for Windows 11 was an easy move for Parallels.
You can use Parallels for free for 14 days to test it out although after you have to subscribe.
A Parallels subscription costs $99.99 for home users although existing users can upgrade for $69.99 to the latest version of Parallels 18.
You can check out our full review of Parallels for more on how it works and what it can do or read on to find out how to install Windows 11 on a Mac with it.
Can You Install Windows 11 on M1 & M2 Macs?
You can install Windows 11 on M1 and M2 Macs using Parallels as we'll show you but there are a few drawbacks to consider when doing so.
As already mentioned, Windows 11 requires a physical TPM chip and the M1/M2 Mac equivalent is Apple's T2 chip.
Parallels can cleverly emulate the TPM module on M1 & M2 Macs allowing you to run Windows 11.
Therefore you can run Windows 11 on M1 Macs using Parallels but it's important to be aware that you can only run Windows 11 for ARM on M1 & M2 Macs.
It's not yet possible to run the standard x86 version of Windows 11 using Parallels like you can on Intel Macs.
Windows ARM is very similar to the standard version of Windows but is compatible with less software as it only works with ARM (Advanced RISC Machine) chips such as the Apple Silicon M1 and M2 chips.
The good news is that Windows ARM can translate many Intel x86 Windows applications to work in it although it often results in poorer performance and in some cases won't work at all.
This means that unfortunately many of your Windows applications may not work using Windows 11 on an M1 or M2 Mac unless they are ARM compatible.
You can watch full instructions how to install Windows 11 on an Apple Silicon M1 or M2 Mac below.
You can also watch a copy of Windows 11 running in Parallels on an M1 Mac below.
Will Windows 11 Run on Mac With Windows 365?
Windows 365 is a new Cloud service by Microsoft that will allow Mac users to use Windows online in any browser.
Microsoft Windows 365 was released on August 2nd 2021 but at the moment is only available to businesses.
However, it should eventually offer a Cloud based way for Mac users to access Windows on a Mac including Windows 11 – eventually.
Note that Windows 365 is not part of Microsoft 365 which is the online replacement for Microsoft Office For Mac.
Microsoft is currently rebranding Microsoft Office with Microsoft 365 across all platforms including macOS.
How To Install Windows 11 On A Mac
Firstly, you'll need at least 64GB or more free storage space on your Mac startup disk to install Windows 11.
This is the bare minimum you'll need but we strongly recommend at least 128GB of free storage space as automatic Windows updates will quickly eat up that space.
The Windows 11 download is around 5GB alone so if you're running low on disk space, you may need to recover some hard drive space on your Mac to download it.
If you can't or don't want to delete anything from your Mac hard drive, you should get an external hard drive to transfer files from your Mac and free-up some space on your Mac.
With this in mind, follow these instructions to Install Windows 11 on both Intel and Apple Silicon M1/M2 Macs.
Download Parallels for Mac and double-click on the installer. Because Parallels has been downloaded outside of the Mac App Store, you may receive a warning that the installer can't be opened. Simply right-click or Control-click on the installer and select "Open" and then "Open" again from the pop-up menus that appear.
The latest version of Parallels 18 now automatically downloads and installs Windows 11 from Microsoft which makes it incredibly easy to install Windows 11 on all Macs including Intel and M1/M2 Macs.
Simply click Continue and Parallels will automatically download and Install Windows 11 on your Mac when you click Install Windows.
Parallels will then proceed to download Windows 11 automatically from Microsoft.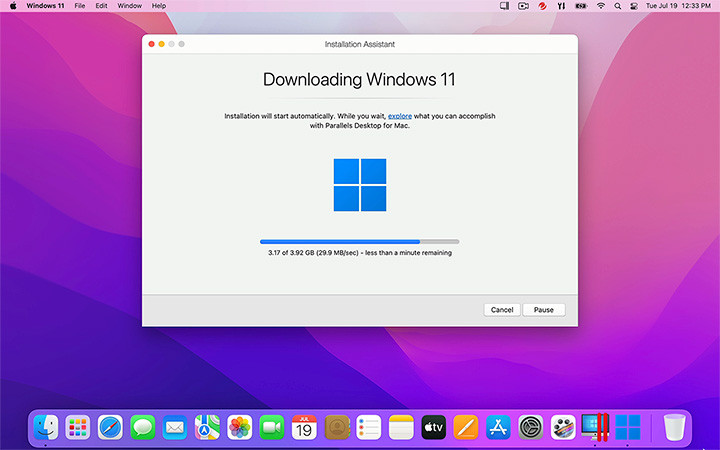 If you don't see the option to automatically download and install Windows 11 then you must be using an earlier version of Parallels than Parallels 17.1.1 which was the first version to support this. In this case, we strongly recommend downloading the latest version of Parallels. Alternatively, you can also download a free ISO image of Windows 11 here from Microsoft and select Windows 11 (multi-edition ISO) from the Windows 11 download site.
Note that if you go down this route and you've got an M1 or M2 Mac, you need to register for the Windows Insider Program and then download the VHDX image of the Insider Preview Windows 11 For ARM instead from Microsoft.
Open the Parallels Installation assistant and when prompted, upload the Windows 11 ISO Installation Image.
When prompted for the license key, you can skip by unchecking the box "Enter Windows license key for faster installation". Note that you don't have to buy a license key to use Windows 11 unless you want to customize the look of it so Windows 11 is essentially free to use on a Mac in Parallels.
Select the Windows 11 Pro Edition.
Parallels will then prompt you to select what you intend to use Windows for such as Productivity, Gaming, Work etc. This help Parallels optimize the installation for you.
Give your installation a name (such as Windows 11) and Parallels with then begin the installation process.
The Windows 11 installer can take a while to run and you'll see the Windows setup status as the installation progresses. Once the Windows 11 installation is finished, you'll see an "Installation Complete" message.
To complete the installation you have to sign-in with a free Parallels account or you can also use your Apple account if you don't want to use your email address. The free trial last or 14 days after which you'll need to subscribe to Parallels. Once you've signed-up, Parallels will boot your Windows 11 installation in macOS and you'll also need to accept the Windows 11 license agreement to start using Windows on your Mac.
Although it's optional, you can also install Parallels Toolbox to get extra features such as tools to clean disk space, uninstall apps, manage windows screenshot tool and other things to make using Windows easier on a Mac. To install Parallels Toolbox simply go to the menu at the top of the screen and select Parallels > Install Parallels Toolbox For Mac and then click Install Now.
How To Use Windows 11 In Parallels
Parallels can run macOS and Windows 11 in different modes depending on how to use them.
The best mode to run it in is Coherence Mode which means the two operating systems work seamlessly together.
You can however switch to three other views: Window View Mode, Full Screen View Mode and Picture-in-Picture View Mode.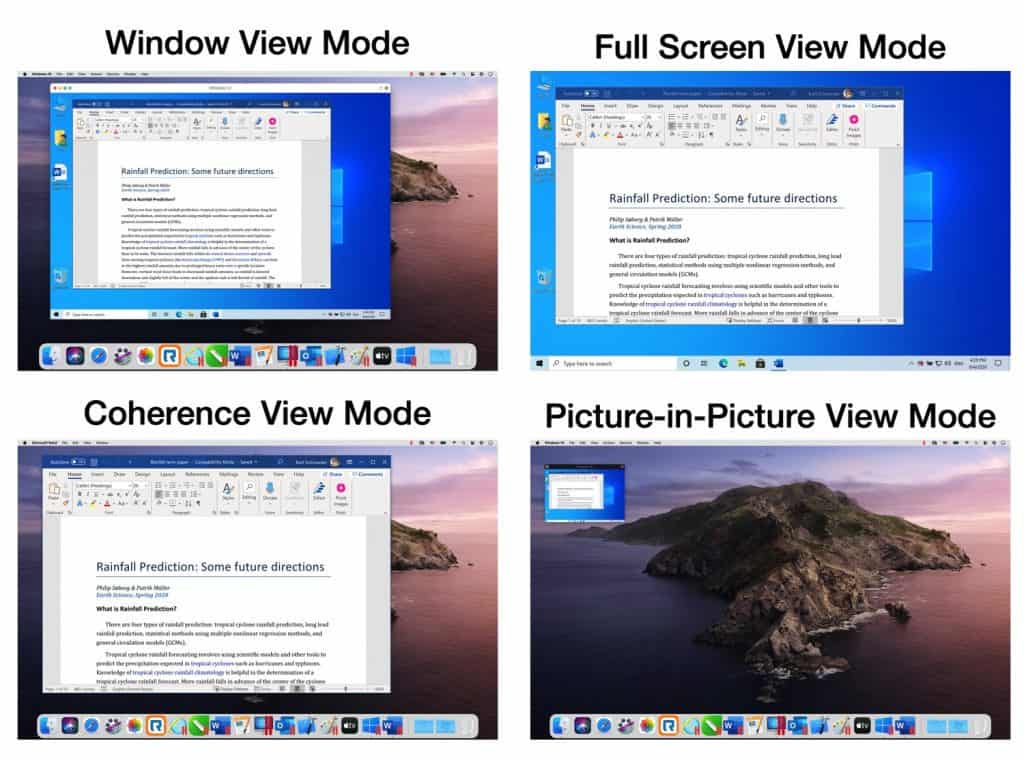 Coherence Mode merges macOS and Windows into one but if you want to use them separately, use Windowed Mode.
You can also optimize Windows 11 depending on how you plan to use it.
If you go to the menu at the top of the screen and select Parallels > Configure you can choose to optimize Windows for specific tasks such as Productivity, Software Development, Software Testing, Design and Gaming.
Note that some customization modes are only available if you upgrade to Parallels Pro.
If you find that some applications are not running very smoothly in Windows or that there's a lot of lag, then you can allocate more of your Mac's resources to Parallels to give it more power by going to Parallels > Configure.
By default most settings in the Hardware tab are set to automatic but you can manually allocate more RAM and CPU resources, as well as manage external hardware connected to Parallels such as Printers and external hard drives in Windows.
If you have any problems installing Windows 11 on your Mac let us know in the comments below and we'll try to help.