Boot Camp is a free utility which allows you to install Windows 11 on Intel Macs for free. Here we show you how to install Windows 11 on a Mac for free using Boot Camp.
Firstly it's important to be aware that Boot Camp is definitely not the best way to run Windows on a Mac anymore in 2023.
There are various ways to run Windows on a Mac but by far the best way to run Windows 11 on a Mac is using a virtual machine.
Virtual machines allow you to run macOS and Windows simultaneously whereas Boot Camp can only run one operating system at a time.
The best virtual machine for Mac is Parallels which even automatically downloads and installs Windows 11 from Microsoft for you.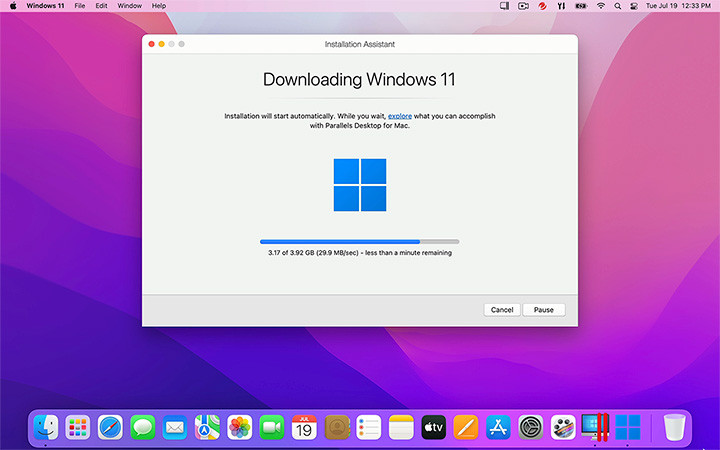 Boot Camp also does not work on Apple Silicon Macs with the M1, M2 or M3 chip either.
Virtual machines however work on both Intel and Apple Silicon Macs too making them the best way to run Windows 11 on Apple Silicon Macs too.
Can You Install Windows 11 On M1, M2 or M3 Macs Using Boot Camp?
You cannot install Windows 11 on Apple Silicon Macs using Boot Camp.
However, there are other ways to install Windows 11 on M-chip Macs.
If you have any of the following Apple Silicon Macs, you cannot install Windows 11 on your Mac with Boot Camp:
MacBook Air (M1, M2 2020, 2022)
MacBook Pro (M1, M2, M3 2020, 2022, 2023)
Mac Mini (M1, M2, 2020, 2022)
iMac (M1, M3 2021, 2023)
Mac Studio (M1, M2, 2021, 2023)
If you're not sure whether you have an Intel chip or M-chip Mac simply go to the Apple logo in the top left of your screen and select About this Mac and you will see both the Chip and version of macOS you are using.
Boot Camp is only available on macOS on Intel Macs including those running Catalina, Big Sur, Monterey, Ventura and Sonoma.
Can You Install Windows 11 On A Touch Bar Mac?
Unfortunately, you can't install Windows 11 on a Mac using Boot Camp as there is no F10 key on a Touch Bar Mac which is required during the installation process.
However, the easiest way to install Windows 11 on a Touch Bar Mac is to install Windows 10 using Boot Camp and then upgrade to Windows 11 from Windows 10.
How To Install Windows 11 On a Mac With Boot Camp
With all this in mind and assuming you have an Intel Mac, here's how to install Windows 11 on a Mac with Boot Camp.
Firstly, you'll need at least 64GB or more free storage space on your Mac startup disk to install Windows 11 using Boot Camp. This is the bare minimum you'll need but we strongly recommend at least 128GB of free storage space as automatic Windows updates will quickly eat up that space. The Windows 11 download is around 5GB alone so if you're running low on disk space, you may need to recover some hard drive space on your Mac to download it. Alternatively, you can also use an external hard drive to install Windows on using Boot Camp and run it on your Mac but you'll need to make sure you format the drive first in MS-DOS (FAT) format otherwise Boot Camp will not recognize it.
You'll also need a USB stick with at least 5GB of storage space on to put the Windows 11 ISO file on.
Although installing Windows 11 using Boot Camp is perfectly safe, we also recommend backing-up your Mac with Time Machine before starting.
With this in mind, follow these instructions to install Windows 11 on a Mac using Boot Camp.
Download the Windows 11 ISO from Microsoft which is the third option down on the page. When you click the blue Download button it will then prompt you to select the Product Language which should be English. Be warned that there are some websites that have published workarounds to install Windows 11 on a Mac that bypass the TPM requirement by using a modified ISO image of Windows. However, we do not recommended using these modified ISO images as they're not officially supported and are likely to be broken by updates to Windows 11 or macOS in the future. It will also be very difficult to apply updates to unofficial installations of Windows 11 on a Mac so we strongly advise against it. We strongly recommend using the official Windows 11 ISO from Microsoft and modifying the registry manually as instructed later in this tutorial.
Click the blue Confirm button to confirm the language and the Download link will appear at the bottom of the page. Click on 64-bit Download to start downloading the Windows 11 ISO onto your Mac.
Insert a USB stick into your Mac and open the Boot Camp assistant which you can find by searching in Spotlight on your Mac for "Boot Camp" or by going to Applications > Utilities > Boot Camp Assistant.
Click Continue and then select both "Create a Windows 10 or later install disc" (this includes Windows 11) and "Install Windows 10 or later version."
Click Continue on your Mac and browse to the Windows 11 ISO file that you downloaded earlier to create the installer on the USB drive. Boot Camp will do this automatically for you when you click Continue.
You must then decide how much space you want Windows to occupy on your Mac hard drive by dragging the bars representation macOS and Windows. It's important you estimate this correctly as you cannot resize the partition later. The minimum partition for Windows 11 is 64GB but the more Windows applications or games you intend to install, the more amount of hard drive you should dedicate to Windows. If you need to clear some space on your Mac, you can also get an external hard drive.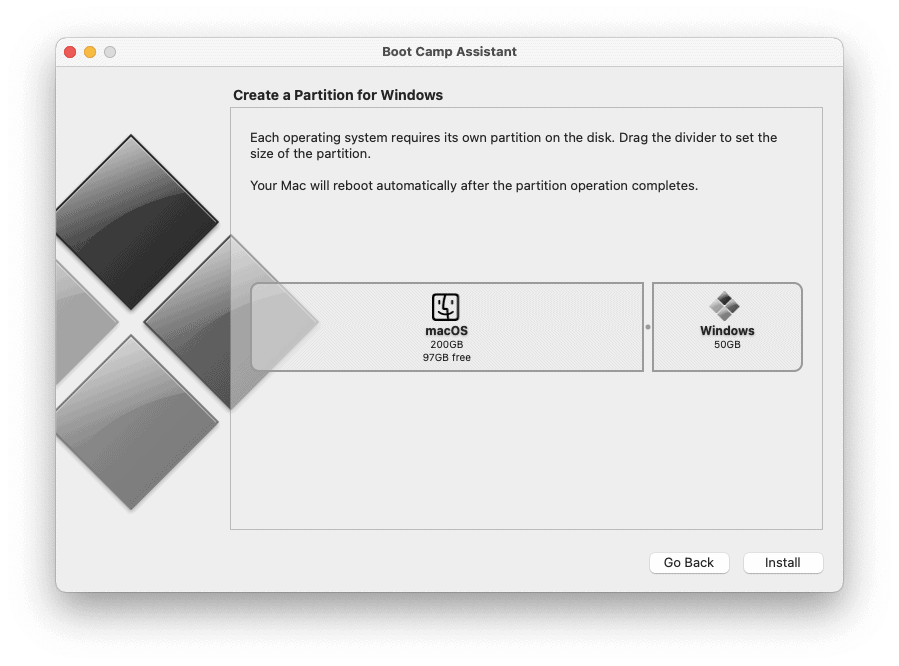 Click Install and Boot Camp will restart your Mac and then take you through the Windows 11 installer just as if your were installing Windows 11 for the first time on a PC. If you are using battery power, Boot Camp will advise you to connect your Mac to the main electricity as the installation will not complete successfully if the battery dies half way through.
Boot Camp will then begin to install Windows 11 on your Mac.
If during this process you receive the error message: "Can't install the software because it is not currently available from the software server" then you need to download the Windows support manually in Boot Camp. To do this, restart your Mac and Boot Camp and go to Action > Download Windows Support Software.
During the Windows 11 installation process you need to take an extra step to "trick" Windows into thinking your Mac is compatible with it.
The reason is because Windows 11 requires a physical TPM 2.0 module which Macs do not have.
If you try and install the Microsoft Windows 11 ISO without taking the following step, you will receive a "This computer is incompatible with Windows 11" warning during the installation because it will check for the TPM 2.0 chip on your Mac.
The following steps are essential to bypass the TPM check in the Windows 11 installer in order to install Windows 11 on a Mac.
Follow these instructions to bypass the TPM restriction to install Windows 11 on a Mac.
When the Windows 11 setup screen appears, do not click "Install Now". Instead, press "Shift+F10" to open the command prompt in Windows.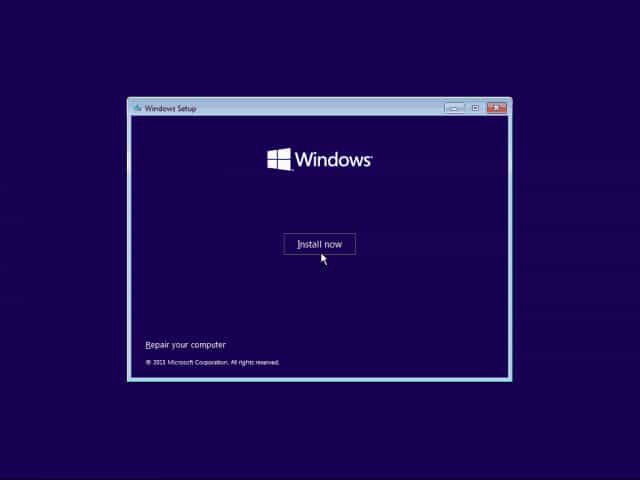 In the Command Prompt Window type: "regedit" to open the Registry Editor in Windows 11.
In the Registry Editor browse to HKEY_LOCAL_MACHINE\SYSTEM\Setup. Right click on the Setup folder and select New > Key.
Set a new name called LabConfig for the key and right click on it. Select New > DWORD (32-bit) and give it the name BypassTPMCheck.
You must then repeat the above process to bypass the RAM check and Secure Boot check respectively by naming the keys ByPassRAMCheck and BypassSecureBootCheck.
The final step is to double click on these three values you have created and set them to "1".
You can then quit the Registry Editor and Command Prompt to return to the Windows 11 installer and click "Install Now" to install Windows 11 on your Mac successfully.
If you are prompted with the message, "Let's connect you to a network" then you can skip this step. To skip the network connection when installing Windows 11 with Boot Camp press the "Shift + F10" keyboard shortcut. In Command Prompt, type "OOBE\BYPASSNRO" and hit Enter. Your system will then reboot and you'll see the option to Skip this step.
Once you've installed Windows 11 in Boot Camp, you can use Windows just as if you were on a PC.
If you want to switch back to macOS at any time, simply shut down your Mac and then restart by holding down the Option key as you turn it on.
You will then be given the choice to boot in either macOS or Windows.