Macs are fantastic for live streaming, broadcasting and TV production so we've looked at the best software to stream, broadcast and produce videos on your Mac in 2023.
These are the best streaming software for all Macs including the latest Apple Silicon M1 & M2 Macs such as the M1 MacBook Pro and Mac Studio.
Not so long ago, live streaming and broadcasting from a Mac would have been impossible and would have required a team of people and thousands of dollars' worth of equipment.
The internet quickly changed all that and nowadays, all you need is a Mac, some software, a high quality webcam or digital camera you're good to go.
You May Also Like:
Some of the most common uses of these live streaming solutions on Mac include:
Church services
Online learning
News broadcasts
Live events broadcasting
Corporate communications
Lectures, conferences and presentations
Social Media Broadcasting such as YouTube Live, Facebook Live, Twitch and Periscope
Note that although these apps can be used just for video conferencing, they're way more powerful than that and if that's all your looking for, something like GoToMeeting will be more useful – and cheaper.
We've also highlighted which of the solutions here are for Mac desktops i.e. have a native Mac client and which are Cloud based and work in any browser.
If you're looking for vMix for Mac, unfortunately it doesn't exist on macOS but you'll find all the software featured here are the best alternatives to vMix on Mac.
Here then is our selection of the best live streaming and video broadcasting software for Mac of 2023 in order of ranking.
If you're looking for something Cloud based and incredibly simple, then look no further than BeLive. BeLive is the best streaming and broadcast software for beginners and you can be up and running in no time.
BeLive is about as simple as it gets and almost anyone can use it. There's no Mac or PC client as it works in your browser so there's absolutely nothing to download.
It couldn't be faster and easier to start broadcasting with BeLive.
Simply click "Start Broadcasting" on the BeLive website
Add a source (such as Facebook Live)
Choose where to broadcast i.e. on your timeline or on a specific page
Give the stream a title
Select your camera source (such as your Mac's iSight camera)
And that's it! BeLive gives you a quick countdown before you go Live.
Obviously, there aren't many live production features in BeLive and it's extremely basic but for those completely new to live streaming that don't want to learn how to use professional software, it's incredibly easy to use.
BeLive is offering a free trial before you decide which package is best suited to your needs.
the Starter version starts at $34.91 per month and the Growth version is $74.91 which includes multiple cameras.
When it comes to live streaming, broadcasting or any kind of video production on Mac, Wirecast Studio is easily the most powerful and professional desktop solution out there.
Unlike mimoLive (see review below) and many other video production solutions featured here, Wirecast Studio is cross platform making it suitable for those working across Mac and PC on TV projects (although it was originally designed on a Mac).
Wirecast Studio is suitable for absolutely everything from corporate promos, home videos and live streaming to recording gaming, remote conferencing and re-streaming.
Wirecast is a giant in the broadcasting market and also bought Ustream Producer from IBM a while back. Ustream was particularly good at creating video for e-commerce sites and integration with social media platforms and Wirecast has now integrated all that know-how into its own product.
What's amazing about Wirecast is for such a a professional package, it's surprisingly easy to use and find your way around.
When you first open Wirecast, you'll see an extremely simple interface offering you a huge range of broadcasting tools and options..
As long as you've got a video source connected, Wirecast automatically detects any capture cards or devices connected to your Mac which will be visible in Source Settings, including IP cameras:
For those intending to produce videos for webcasting, you then need to select an Output Source depending on the service you're planning on using (such as Twitch.tv) and from there, you need to configure your encoding settings which will depend on various factors such as the speed of your internet connection, hardware, capture card etc.
From a cost perspective, Wirecast Studio doesn't come cheap at $599 and for this you get video capture and encoding of live streams for broadcast to multiple servers and platforms simultaneously.
However, for features such as integrated HDV input support, support for more capture devices, IP cameras, live scoreboards, 3D virtual sets, and advanced audio controls, you must purchase Wirecast Pro for $799.
Our advice is to start with Wirecast Studio to learn the ropes and then when you become more established, switch up to Wirecast Pro to create some truly professional video broadcasts.
There's no doubt that Wirecast Studio is the most complete and professional streaming tool for content over the web. The amount of control coupled with a managable learning curve, means you can master it very quickly and create some truly impressive results.
You can try a free trial of Wirecast to judge for yourself.
mimoLive was known for many years as BoinxTV and is easily the best live video streaming software available for Mac as it's one of the few designed specifically for macOS.
mimoLive originally started life as BoinxTV owned by the German multimedia software company Boinx with BoinxTV it's most popular "Prosumer" (i.e. aimed somewhere between Professional and Consumer level) broadcasting suite.
However in mid 2016, it decided to change the name to mimoLive and withdraw it from the Mac App Store.
The reason Boinx did this was to "reflect the giant leap in user experience, functionality and technology" as Boinx became a Multi-in, Multi-out Live Video Engine and changed the name to "mimoLive".
Since it's one of the few video production software suites designed specifically for Mac, it works seamlessly with macOS and even won an Apple Design Award.
mimoLive works by adding layers. It uses QuickTime in order to capture and record video which is your bottom layer and then it allows you to build other layers – such as titles, effects and backgrounds on top of that.
What's really nice is that mimoLive too is that it also includes lots of ready made themes such as Sports and News which give your production a real professional touch straight away.
And it's incredibly easy to grasp the basics for such a powerful package. To get going, simply select a theme:
Select an output format in Template Format at the bottom (iPhone, NTSC, PAL etc) and you're then presented with the "Document Window" which is basically your workspace where you'll see a Preview of your video input on the right.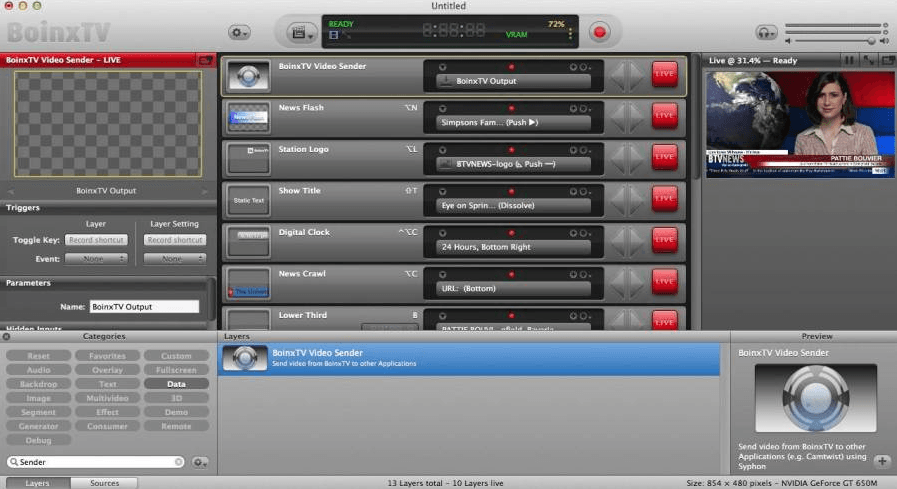 Select the video source you want to use:
And then you're pretty much ready to broadcast although from there you'll definitely need to refer to the extensive user guide and tutorials in order to configure encoding settings, frame rates etc.
mimoLive supports just about everything you need for professional live TV production from blue screens and multiple cameras or webcams to programmable special effects. It also allows you to combine video, photos, 3D effects, live broadcasts and more.
mimoLive is ideal for live broadcasts with multiple cameras making it easy to switch between them and title layers during transmission.
It can also encode and export your footage into just about any major format including exporting directly to YouTube and PodcastProducer:
The downside is that inevitably with such a complex package, there's a lot to learn to get the most out of it but the documentation and tutorials are very clear and in-depth and it's worth the time investment in order to learn the package properly.
mimoLive has changed it's pricing model to compete in the rapidly changing live streaming market. It used to be a flat fee of anything from $199 to $1,999 depending on whether you chose a Personal, Commercial or Broadcast plan but is now subscription only.
This brings down the initial outlay although the cheapest plan for Non-Profits starts at $20 per month. The Studio plan for commercial use is $70 per month and the Broadcast plan is $200 per month.
You can also try a limited free trial of mimoLive to see for yourself.
Note that with the switch to mimoLive, the simpler version BoinxTV Home is no longer available on Mac anymore.
BoinxTV Home was not a professional solution anyway as it lacks support for multiple cameras, unlimited layers and resolution is limited to 950 x 540.
OBS Studio (Open Broadcast Studio) is arguably the most popular broadcasting software for Mac or PC, mainly because not only is it free, it's got lots of professional level features.
OBS is a free and open source software for video recording and live streaming which is supported by sponsors and other backers including Facebook, Twitch and NVIDIA.
OBS is nowhere near as user friendly as Wirecast or mimoLive but once you've learned the basics, it's pretty powerful free video production software.
OBS gives you lots of control over scenes but there are no such things as presets and templates like you get with most streaming software.
There is however a huge choice of plugins and add-ons that lets you enhance the functionality of OBS in almost every possible way such as Layer Views, Vintage Filters and Stream Effects.
OBS is great for those that know what they're doing with streaming apps but for beginners, it's a steep learning curve.
For value for money, you can't do much better than Ecamm Live. And even better, unlike many video creation platforms it's designed specifically for Mac.
If you're on a budget and you need something straightforward to use, then Ecamm Live is an excellent option for Mac users.
If you're looking for social media integration, Ecamm Live has been built with Facebook Live, YouTube Live, Twitch and Periscope all in mind.
In fact, it couldn't be easier or quicker to get broadcasting live on social media than with Ecamm Live for Mac.
Among the highlights of Ecamm Live are:
Support for multiple cameras and Blackmagic HDMI capture devices
iPhone and Mac screensharing
Live camera switcher to direct shows in real time
Support for saved scenes so that you can compose scenes in advance including on-screen titles and split screens
Advanced support for the ElGato Stream Deck so that you can quickly switch scenes, add sound effects and more
Stream in HD quality using any connected mic and capture device including Canon DSLRs
Automatic video recording to your Mac hard drive
Live stats such as audience size, comments and reactions showing in Ecamm Live
Ability to zoom into specific parts of your screen with ease when sharing your screen live
There's a lot more to Ecamm Live than this including the ability to broadcast up to 4 Skype guests, overlay and live picture-in-picture support.
Ecamm Live is also extremely good value for money. The Standard plan costs just $16 per month although to enjoy all the features, you'll need to Pro Plan at $32 per month which includes Virtual Webcams and real-time bandwidth monitoring of your broadcasts.
You can also try Ecamm Live for free for 14 days first.
Streamlabs has been around on Windows for a while but in April 2020 it was released on Mac for the first time.
Streamlabs OBS (Open Broadcaster Software) is very basic but the big appeal of it is that it's open source and free to use.
Streamlabs gets you up and running in literally seconds once you've downloaded the client.
You simply download the Streamlabs app on your Mac, log into your chosen social media platform such as Facebook Live, YouTube, Twitch or Mixer and Streamlabs automatically optimizes settings for you.
You then simply personalize with widgets and themes and away you go.
Streamlabs is popular with charities because it's free and it allows you to easily make alerts for donations, follows and more within the app.
Streamlabs never takes a cut of donations and allows you to use payment processing solutions such as PayPal or Stripe to accept funds.
If you want more effects and features, Streamlabs offers a Pro version for $4.99 per month which allows you to spice up broadcasts with various animations and effects.
There's also Streamlabs prime costing $12 per month for which offers professionally designed templates, widgets, overlays and themes.
You can also have your own custom domain and store to sell merchandise on.
If you're looking for something online that's a little more powerful than Be.Live then StreamYard may be for you.
StreamYard offers far more control than Be.Live over things such as titles, transitions and which social media platforms you want to broadcast to.
You can have 6 people live at once with 10 people able to be invited in via the StreamYard studio.
There are loads of themes and templates in StreamYard that make it extremely fast and easy to make things look professional without much knowhow. They're not very customizable but there's much more done for you in advance than Be.Live.
Pricing of StreamYard is free for up to 6 on-screen participants but you'll be stuck with StreamYard branding in all your broadcasts. For $20 a month the Basic plan allows you to add your own branding and do unlimited screening with a Pro versions for those that need multi-streaming to up to 5 destinations for $39 per month.
StudioBinder isn't a TV production suite but it's a useful web based film production software for Mac and PC which focuses on the job of organizing your video production project efficiently and smoothly.
StudioBinder helps you manage cast and crew contacts, create customized, professional call sheets and backup everything to the Cloud.
StudioBinder is particularly good at helping you create call sheets quickly with useful localizers for weather and hospital details in the local area.
You can also assign such things as individual call times, private notes, custom parking instructions and shooting schedules.
A Stripboard allows you to create multi-day shooting schedules which you can then easily import into call sheets.
There is also a useful approval system built-in so you that you can send drafted call sheet to clients for approval before officially sending it out.
The result is highly professional and personalized call sheets that can be sent by email, PDF or put online which can be updated and tracked so that cast and crew can confirm their call times.
StudioBinder is free to sign-up for and use although to access all Premium features, you need to upgrade to a paid plan ranging from $29 to $99 per month.
The difference in plans mainly concern the number of Projects you can open, the amount of online storage space you have and the number of templates and branding customization available.
To help get the most out of the TV production software you use on your Mac, StudioBinder is an easy to use, well thought-out too to organize and setup filming efficiently.
Mac Live Streaming & Broadcast Software Tips
First some things to consider before purchasing any TV production software for your Mac.
We highly recommend using the highest end Mac you can afford for running live TV broadcasting software on Mac. The demands the software puts in your processor and RAM are very high – especially when dealing with multiple streams or video inputs – and slow or old equipment will make life very difficult. At the very least, we recommend a MacBook Pro or iMac from 2010 onwards with at least 2GB of RAM but preferably much more.
We've focused on video production packages that are available specifically for Mac. There are other options that work on PC that can be installed on Mac using Windows on a Mac but we do not recommend trying to run video broadcasting software on Mac this way. Trying to run Windows software of this type on Mac is more prone to bugs and does not integrate as well with essential components such as the Graphics Card and iSight camera that TV production software relies heavily on. Also, if you have any issues or technical problems, developers are less likely to be able to help if you are running their software via Windows on a Mac. Live TV production and web casting can be stressful enough without having to worry about the stability of the software you are using so that's why we've stuck strictly to Mac software.
Conclusion
These are the best streaming apps and video producing software tools for Mac.
If you're just getting into streaming or broadcasting from your Mac, there's nothing easier than BeLive.
For professionals looking for a Mac desktop solution, Wirecast Studio and in particular, Wirecast Pro is still the most professional live streaming software for Mac users.
The fact that you can stream to multiple destinations at one time will be a major requirement for most serious broadcasters and BoinxTV does not offer this.
However, BoinxTV has come a long way in the form of mimoLive and offers a more accessible, user friendly and value for money alternative.
mimoLive is also Mac only although Wirecast was also originally designed for Mac even though it's now cross platform.
However, the mimoLive monthly subscription model will work out more expensive in the long run and while Wirecast costs a lot up front, it's definitely worth it for pros.
If you have any questions about any of the live video production software for Mac covered here, let us know.