Bluebeam Revu for Mac is no longer available but we've looked at the best Bluebeam for Mac alternatives for those in the construction business.
Bluebeam Revu is a powerful PDF editing software and document management software which is used by many architects, engineers, general contractors and other professionals in the construction industry to edit takeoffs, CAD plans, submittals, blueprints and collaborate on them.
Bluebeam is purpose built for the Architecture Engineering Construction (AEC) industry and is often used alongside CAD software to markup, organize and collaborate on architectural plans or blueprints in PDF format.
Although there are several alternatives to Bluebeam, none of them work on a Mac. Examples include Fieldwire, Procore and PlanSwift which are only available on Windows or mobile platforms.
In our extensive research, we found the best alternative to Bluebeam for Mac is Adobe Acrobat which is made by Adobe who invented the PDF format that Bluebeam is based on.
Is There A Version of Bluebeam For Mac?
There used to be a version of Bluebeam Revu for Mac but it was discontinued on March 1st 2020.
The last version of Bluebeam for Mac does not work with the latest versions of macOS either including Ventura, Monterey and Big Sur.
The earliest version of macOS that Bluebeam is compatible with is macOS Catalina and it's no longer being supported by Bluebeam.
Since the main thing that professionals use Bluebeam for is PDF editing, the closest thing to Bluebeam for Mac is Adobe Acrobat Pro DC which is by far the best PDF editor for Mac.
Adobe invented the PDF format so when it comes to editing PDFs, it's easily the best software at handling PDFs on the market.
It also makes it incredibly easy to collaborate with colleagues via Adobe Document Cloud.
Bear in mind however that, since Bluebeam is purpose made for the AEC industry, there are some industry specific features that some of the PDF editing tools featured here do not have.
You May Also Like:
With this in mind here are the best alternatives to Bluebeam for Mac in order of ranking.
Adobe Acrobat Pro DC is the original PDF software for editing documents and our choice as the best alternative to Bluebeam for Mac in 2023.
This is no surprise because at one time, Adobe Acrobat Pro was the only software for turning PDFs into something editable or searchable on Mac.
That's because Adobe invented the PDF file format.
In fact, Bluebeam uses the Adobe PDF format to manage documents in its own product.
When it comes to doing pretty much anything with a PDF, Adobe Acrobat Pro DC is incredibly powerful.
Adobe Acrobat Pro DC can combine, delete, insert, replace pages, add bookmarks, adjust print and orientation settings or mark up plans which you can easily share with colleagues.
Other highlights of Adobe Acrobat Pro DC include:
Real time collaboration with colleagues via Adobe Document Cloud
Integration with Microsoft Sharepoint and OneDrive
Customizable Quick Tools interface similar to Bluebeam
Adobe Acrobat Pro DC has an excellent Mac desktop app although you can also use it online via Adobe Document Cloud if you need to collaborate with others.
Acrobat even allows you to add video and audio to PDF files and edit them in the Adobe Scan mobile app.
On the downside, Adobe Acrobat Pro DC doesn't integrate with other AEC tools like Bentley ProjectWise.
The sketch tools in Adobe Acrobat Pro DC aren't on a level with Bluebeam Revu either and you can't edit more than one layer like you can in Bluebeam.
Overall however, when it comes to editing in PDF format on a Mac, Adobe Acrobat Pro DC is still the most powerful PDF editing software for Mac out there.
It's also integrated with the excellent Adobe Acrobat Sign which is the best way to digitally sign documents including legally binding agreements and contracts.
Overall, If you need to edit PDF documents on a Mac desktop, collaborate with colleagues, scan, sign and send PDFs, there is still no better PDF application than Adobe Acrobat Pro DC.
On its own Adobe Acrobat Pro costs $19.99 per month but there are special business pricing plans for teams.
There is also Adobe Acrobat Standard DC which is slightly cheaper at $12.99 per month but there is no Mac version of the Standard version of Adobe Acrobat – it's Windows only.
If you already use other Adobe products in your business, you might find it makes more economic sense to subscribe to the entire Adobe Creative Cloud suite.
A subscription to Creative Cloud costs $54.99 per month but includes access to all of Adobe's industry leading apps such as Adobe Photoshop, Illustrator and Premiere Pro.
For a limited period, students and teachers get also an educational discount of 60% off the entire Adobe Creative Cloud suite.
You can also try a free trial of Adobe Acrobat Pro to judge it for yourself.
You can check out our full review of Adobe Acrobat Pro DC for more.
Pros:
Unrivaled PDF editing and customization features
Can be used offline on Mac desktops app or online
Integrated with rest of Adobe Creative Cloud suite
Excellent online collaboration tools via Adobe Document Cloud
Fully updated for the latest versions of macOS including Catalina and Big Sur
Generous discounts available
Works on the latest M1 Macs
Integrated with Adobe Sign for digitally signing documents
Cons:
Subscription pricing model
Lacks some of the AEC specific tools found in Bluebeam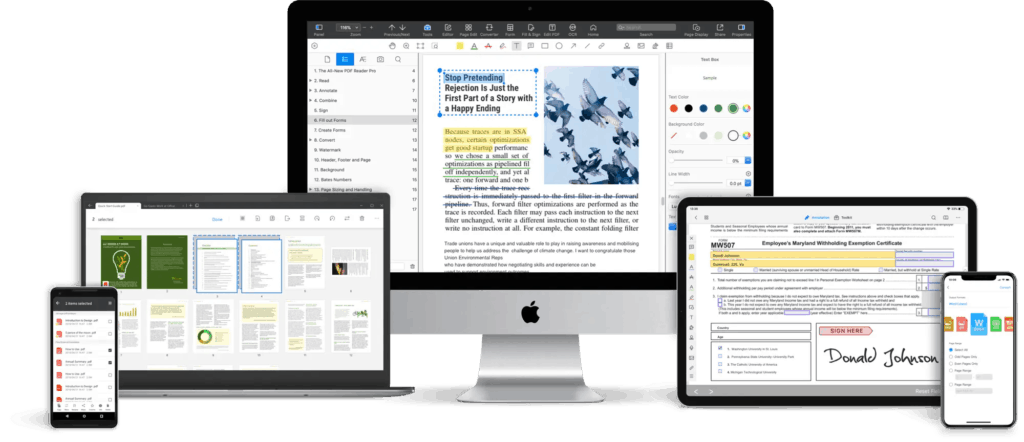 PDF Reader Pro is an incredibly popular PDF editing tool which has tools for Annotation, Editing, Form filling, Converting, Creating, Signing, Bookmarking and protecting PDFs.
You can do pretty much anything to a PDF with PDF Reader Pro including merge and combine multiple documents, split PDFs into multiple files, insert pages from another PDF and Convert PDFs to Word and other Microsoft Office formats.
PDF Reader Pro does an excellent job of preserving the formatting of documents including complex tables and bullet points.
You can scan and convert 50 different languages and batch convert multiple documents.
PDF Reader Pro costs $59.99 for the Premium version which includes OCR scanning but for Office export you'll need to pay $79.99 for a permanent license.
Pros:
Edits, converts and signs PDFs
Slick interface
Supports 50 languages
Cons:
Costs more for MS Office export support
Autodesk PlanGrid is owned by the makers of the mighty AutoCAD architecture and CAD software.
The Documents feature in PlanGrid allows you to upload blueprints, product data, RFI responses, installation instructions, or submittals.
PlanGrid is more of an organizational tool than a PDF editor though and allows you to organize them into subfolders and link to them to your sheets.
PlanGrid supports PDF files and many other document formats.
Although there's no Mac desktop version, it can be used on a Mac online in any browser. There's also an iOS app for iPad and iPhones.
Pros:
Built for the construction industry
Integrated with Autodesk products like AutoCAD
Cons:
Not many PDF editing features
Focuses more on document management than editing
Expensive depending on how many sheets you need
Stack is a professional pre-construction software that's designed to make it faster to produce takeoffs and estimates.
That includes customized document management for construction professionals including the ability to edit and annotate blueprints, estimates and other PDFs.
Stack is ideal for those companies that find they're buried in blueprints and makes it much easier to centralize and manage documents.
Because it's made for the AEC industries, Stack has many of the industry specific tools that are lacking in some of the other Bluebeam alternatives featured here.
Pros:
Customized construction industry software
Estimates and blueprint editing tools
Cons:
Limited PDF editing features
Pricing starts at $2,499 per year
PDFpen is a powerful but user friendly PDF conversion and editing software. PDFpen is a simpler alternative to Bluebeam on Mac for easy editing of PDFs.
PDFpen can also digitally sign PDFs with your trackpad or mouse, scan documents using your iPad or iPhone and re-order and merge PDFs on your Mac.
PDFpen is a cheaper alternative to Adobe Acrobat Pro although not as powerful.
PDFpen Pro Essentials 13 costs $129.99 although there's also PDFpen Pro 13 for $179.99 which includes added features such as Microsoft Excel export support, ability to create and edit forms and turn websites into PDFs.
There's also a PDFpen iOS app which costs $19.99 and although it's more limited than the desktop app, it does allow you to sign documents on the go.
Pros:
Allows you to edit PDFs instantly
Slick interface
Exports to Microsoft Word and Excel
Cons:
OCR engine uploads documents online
Not as powerful as Adobe Acrobat Pro DC
Export features require upgrading to Pro
Finally, if you're looking for something basic and free, Preview is a free tool in macOS which, although can't be compared to Bluebeam, can do basic editing of PDFs for free.
Preview allows you to perform basic annotation of documents although it can't be compared to an specialist PDF editing tool like Bluebeam.
If you just need to do a few quick and urgent edits to a PDF that you'd normally use Bluebeam for, Preview does the job but it's a not a serious long term alternative to Bluebeam.
Pros:
Free in macOS
Easy to use
Lots of PDF annotation tools
Works on Mac desktops
Cons:
Very basic
Not a long term solution to Bluebeam
How To Run Bluebeam in Windows on a Mac
It is possible to run Windows on a Mac and install Bluebeam. However, we don't recommend it.
In fact, not even Bluebeam recommends it because there are many technical problems running Bluebeam this way that mean it soon becomes a pain.
Bluebeam will not provide support or troubleshooting for Mac users that run Bluebeam in Windows on a Mac so our advice is, use one of the Bluebeam equivalents for Mac featured here