If you need to scan and digitize documents accurately, we've taken a look at the very best OCR scanning software for Mac in 2023 to scan paperwork into searchable PDFs and more.
Optical Character Recognition software (often referred to simply as scanning software) can scan, extract text and make documents searchable and editable including invoices, images, handwriting, magazines, textbooks and more.
They also make it possible to scan documents on a Mac without a document scanner.
With the coronavirus outbreak (COVID-19), being able to scan, sign and digitize documents is more important than ever before and OCR software also enables you to manage documents more efficiently if you're setting-up a remote office.
We found that by far the best OCR software for Mac is Adobe Acrobat Pro DC which is incredibly fast and accurate at scanning documents and preserving the formatting.
Since Adobe invented the PDF format, Acrobat Pro DC is also by far the best PDF editing software you'll find on Mac allowing you to convert any paper document into PDFs which makes them much easier to store, search and share.
It's also the best software to sign documents on a Mac if you need to scan and sign documents including legally binding contracts.
Best Scanning Software For Mac
Before diving in to the reviews, there's a few things to be aware of to avoid disappointment when choosing which is the best scanning software for Mac to use.
In our research, one thing that clearly stood out is that not all OCR scanning programs on Mac perform the same. The accuracy and speed varies considerably and there are definitely some that do a better job than others. OCR is a highly specialized technology and we found that in most cases, you get what you pay for when it comes to software that scans text accurately and quickly. This is essential if you want to avoid having to do a lot of tedious manual correction of text in PDFs and other documents. There are free OCR tools out there but they're no good if you want decent results.
The best OCR apps maintain the formatting of your original document after OCR scanning. Cheap or free OCR apps will only dump a text file onto your Mac (which of course is fine if that's all you want). However, most people want their document formatting preserving the same as the original document and budget OCR apps simply can't do this. The top OCR tools can export to popular formats such as Microsoft Word, and ePub/eBook formats while not losing the original formatting of the PDF or document.
The best OCR tools work well with all texts but some will struggle with certain types of documents. These include handwriting, documents that have been copied multiple times, faxes, tightly spaced text, text in tables, underlined text, small fonts and documents with folds or wrinkles.
With this in mind, here is our list of the best OCR scanning software for Mac of 2023 in order of ranking.
Adobe Acrobat Pro DC is the original OCR software for scanning documents and our choice for the best OCR software for Mac in 2023.
This is no surprise because at one time, Adobe Acrobat Pro was the only software for turning PDFs into something editable or searchable on Mac.
That's because Adobe invented the PDF file format.
Nowadays there are many other competitors on the market but when it comes to doing pretty much anything with a PDF, Adobe Acrobat Pro DC is still incredibly powerful.
Adobe Acrobat Pro DC has an excellent Mac desktop app although you can also use it online via Adobe Document Cloud.
Even better, Adobe Acrobat is the only OCR software that is compatible with the latest M1 Macs and M2 Macs.
While most OCR apps require Rosetta to run on M1/M2 chip Macs, Adobe Acrobat runs natively on Apple Silicon M1 & M2 Macs.
It's important to be aware however that Adobe Acrobat Pro DC is not primarily a dedicated OCR software.
Rather it's a PDF conversion software that has an in-built OCR engine that can take PDFs or other formats and turn them into something that can be searched by keywords or edited.
If you just want to make the text editable or searchable in a PDF document, it's very straightforward.
Open a PDF file in Acrobat.
Click on the Edit PDF tool in the right-hand pane. Acrobat automatically performs an optical character recognition scan (OCR) to your document and converts it to a fully editable copy of your PDF almost instantly.
Click on the element you want to edit. You'll see that any new text you add matches the look of the original font.
Choose File > Save As to save your new edited document.
If you want to perform an OCR scan of an image, scanned document or other file, the process is as follows:
Import the file into Acrobat either from your Mac or flatbed document scanner. All documents must have a resolution of at least 72dpi (Dots Per Inch) in order to scan in Adobe Acrobat Pro DC which is a fairly low requirement. However Adobe recommends scanning at 300 dpi (magazine print quality) for the most accurate results. You can also add multiple files if you want to OCR more than one document in one go.
When the document opens in Acrobat, click on the Enhance Scans option on the right:
Highlight the document or area that you want to turn into an editable PDF:
Use the Adjust enhancement level slider to tweak the contrast to make the text as clear as possible.
If there are images in your document, the PDF Output Style options allow you to create 3 different types of PDF and relate to how Adobe Acrobat handles images.
You can choose to create a Searchable Image, Exact Searchable Image and Editable Text & Images.
Searchable Image means images will be preserved but deskewed and an invisible text layer placed over it.
Exact Searchable Image preserves the original image location and does not deskew it.

Editable Text & Images

synthesizes a new custom font that's very similar to the original and preserves the page background in low-resolution.
There's also a Downsampling option which allows you to reduce the resolution and thus the file size of the document you want to OCR which is useful if it has a lot images. Downsampling decreases the number of pixels in images after OCR scanning is complete.
Finally, select Recognize Text from the toolbar to start the OCR scan.
In a matter of seconds, you'll have a searchable PDF that you can edit.
The difference between Adobe Acrobat Pro and ABBYY Finereader Pro is that in Acrobat, you can instantly start editing the PDF including formatting, text and images.
ABBYY's product meanwhile requires you to export to another format first – such as Word, Excel or Pages – in order to edit.
Acrobat even allows you to add video and audio to PDF files and edit them in the Adobe Scan mobile app.
The OCR engine in previous versions of Acrobat was quite slow and inaccurate but Adobe has improved it significantly nowadays. One big improvement has been the introduction of "Preflight" which will go through a document you have scanned and check for character recognition errors.
It does this by analyzing bitmaps of text and then inserts words and characters it thinks are correct. If Acrobat Pro is uncertain, it highlights the word as suspect so that you can easily see it and then check it manually yourself.
To use this feature, simply search for "Preflight" in the Search Tools box on the top right-hand side of the interface.
In the OCR Preflight search bar, type OCR and select Make OCR text visible.
Then just click the Analyze and fix button at the bottom.
After Analysis, save the file and close the Preflight tool.
Finally, open the Layer panel on the left to reveal the new layers. If you click on the eye symbol to the left of Invisible text, you can toggle the layers on and off to compare and decide whether to keep the corrections Adobe Acrobat has suggested.
Overall, when it comes to OCR converting and editing in PDF format on a Mac, Adobe Acrobat Pro DC is still the most powerful PDF editing software for Mac out there.
If you need to edit PDF documents after scanning, or sign and send them instantly, there is still no better application than Adobe's Acrobat Pro DC.
Here's a side-by-side comparison of how Adobe Acrobat Pro DC compares with its closest rival ABBYY FineReader Pro For Mac.
Acrobat Pro DC vs FineReader Pro
| | Adobe Acrobat Pro DC | ABBYY Finereader PDF |
| --- | --- | --- |
| Works on Mac | | *not Big Sur |
| Mac Desktop App | | |
| Turns Scanned Documents Into Searchable PDFs | | |
| Accurate Scans | | |
| Fast Scanning | | |
| Allows PDF Editing | | |
| Exports PDFs to MS Office & other formats | | |
| Preserves Original Format | | |
| Supports Batch OCR | | |
| Technical Support | Phone/Online | Phone/Online |
| eBook Export | | |
| Mobile Image Integration | | |
| Sign documents digitally | | |
| Reduces File Size | | |
| Educational Discount | 60% off Creative Cloud | 30% off |
| Price | $19.99 | $69.00 |
| | Buy Now | Buy Now |
On its own Adobe Acrobat Pro costs $19.99 per month but there are special business pricing plans for teams.
There is also Adobe Acrobat Standard DC which is slightly cheaper at $12.99 per month but there is no Mac version of the Standard version – it's Windows only.
However, if you use other Adobe products however, you might find it makes more economic sense to subscribe to the entire Adobe Creative Cloud suite.
A subscription to Creative Cloud costs $54.99 per month but includes access to all of Adobe's industry leading apps such as Adobe Photoshop, Illustrator and Premiere Pro.
For a limited period, Students and teachers get an educational discount of 60% off the entire Adobe Creative Cloud suite.
You can also buy Acrobat Pro as a onetime purchase but only for the older version of Adobe Acrobat Pro 2020 which doesn't integrate with Adobe Document Cloud or receive updates.
Adobe provides telephone support for Acrobat Pro and also live chat support. There are also lots of useful user forums to find answers to almost any problem since Acrobat Pro DC is such a widely used product.
You can also try a free trial of Adobe Acrobat Pro to judge it for yourself.
You can check out our full review of Adobe Acrobat Pro DC for more.
Pricing: $19.99/month
Pros:
Excellent PDF editing and customization features
Available as a one time purchase too
Integrated with rest of Adobe Creative Cloud suite
Fully updated for the latest versions of macOS
Optimized for Apple Silicon M1/M2 Macs
Cons:
Subscription pricing model
ABBYY FineReader PDF for Mac has been around for almost 20 years now although it's been known for most of that time as ABBYY FineReader Pro.
With the release of macOS Big Sur, ABBYY revamped the FineReader product line to create FineReader PDF although unfortunately it only works natively with Intel Macs.
ABBYY FineReader PDF for Mac does work with M1 & M2 Macs but only via Rosetta which is a software in macOS which translates Intel only software to work with Apple Silicon chips.
There is no native M1/M2 chip compatible version of FineReader PDF For Mac.
ABBYY FineReader PDF is nevertheless still one of the best desktop OCR tools for Mac and PC.
FineReader PDF has an accuracy rate of 99.8% and although this depends on the quality of the original document, the OCR text recognition performance is outstanding and easily the best on the market.
It certainly does the fastest job of accurately recognizing text and preserving the original formatting of the scanned document including text size, font styles, images, tables and layouts.
The FineReader PDF user interface is user friendly and straightforward. To get going, simply select the source of your scan and FineReader PDF will automatically detect which items can be scanned.
You can select three different sources:
Mac Hardrive: A PDF, image, digital camera photo or other document already saved on your Mac. Alternatively, you can simply Ctrl-Click on any file saved on your Mac and select Open With > ABBYY Finereader PDF from the drop down menu.
Flatbed Document Scanner: You can use a flatbed document scanner or multi-functional peripheral (MFP) such as an all-in-one printer If you need to digitize a document first. Note that FineReader PDF for Mac only works with ICA compatible devices that are officially supported on Mac including Fujitsu ScanSnap scanners – it does not support TWAIN. You can also use network scanners if you're in an office environment. You can find a list of official ICA compatible devices here.
Continuity Camera: This could be a photo taken on an iPhone or iPad including documents, receipts and other notes that you may have snapped on the move.
You can then then choose to convert the document on your Mac to a searchable PDF PDF/A or editable format such as Microsoft Word (DOCX), Microsoft Excel Spreadsheet (XSLX) or HTML web page format.
FineReader PDF for Mac also allows you convert to Apple Pages, Apple Numbers, OpenOffice Writer (ODT), RTF, Powerpoint (PPTX) and eBook EPUB/FB2 formats. Note that it can only convert password protected PDF documents if you know the password.
eBook export is another useful touch as it allows you to read documents on iPad, Kindle and other devices which support the EPUB and FB2 formats.
FineReader PDF automatically detects the scanning language but you can choose to scan in 192 different languages or a mixture of several including right to left scripts such as Arabic and Hebrew.
It doesn't matter how long the document is as there's no word limit on scans although the longer the document, the longer the scan will take.
One page takes no more than a few seconds to scan so even documents that run into hundreds of pages don't take more than a minute or so.
FineReader PDF uses it's own proprietary ADRT (Adaptive Document Recognition Technology) scanning engine which can detect everything from tables and headers to footnotes and page numbers.
This even includes native formatting attributes meaning it's easy to update or modify tables afterwards just as if you were editing the original document.
To speed things up however, you can highlight specific text or images on a page to scan if you don't want it to scan the entire document.
This allows you to exclude specific page elements such as page numbers, headers, footers and pictures so that you just get the raw text.
In general, Finereader PDF is very good at recognizing all types of fonts and accurately digitizing them. The accuracy of any OCR tool often depends on the quality of the original document but Finereader PDF is remarkably good at detecting text on older and less than perfect text quality in documents.
For optimal results, ABBYY recommend using Grayscale/color mode with a resolution of 300 dpi and a font size 10 or larger and 400-600 dpi for smaller text.
On a clear PDF document you can expect almost 100% accuracy but it may be considerably less on other documents in bad condition or where the text is barely legible. Like most OCR apps however, FineReader PDF cannot recognize hand writing (this requires a different technology known as ICR).
This level of accuracy means less time having to manually edit or correct documents afterwards which is usually one of the biggest problems with OCR software.
FineReader PDF for Mac is easily the best we've tried when it comes to preserving the format and layout of the original document. When a scan is complete, Finereader PDF For Mac will highlight the text it has detected but displays the document in it's original form.
One of the most convenient features of ABBYY FineReader PDF for Mac is the ability to scan photos that you've taken on your phone. This is ideal for archiving receipts and other documents when you get home or back to the office.
The application analyzes and corrects the image before scanning to ensure that the scanned text is as accurate as possible. Even on blurred or photos taken in low lighting such as the magazine page below, this works surprisingly well.
If you need to OCR large batches of documents on a regular basis, you can also use macOS Automator to automatically run OCR scans using FineReader PDF.
For instance, you can specify a folder to drag and drop documents into that will automatically OCR scan documents periodically.
Overall, in terms of OCR accuracy, speed, format preservation and conversion formats, ABBYY FineReader PDF for Mac is one of the best we've tried.
The real test of OCR software is how it performs on documents with low text quality or images in poor lighting and ABBYY FineReader PDF for Mac seems able to accurately read whatever you throw at it.
The one major downside is that ABBYY is quite slow to update products for the latest versions of macOS. ABBYY Finereader Pro was not updated to work with Big Sur until almost 6 months after it was released and FineReader PDF was released.
At the moment FineReader PDF does not work with macOS Monterey and users will probably have to wait until 2022 for it to be updated.
For that reason, we also recommend buying direct from ABBYY as you will get updates to the software much quicker than via the Mac App Store or other vendors.
You also get free phone support from ABBYY which is another bonus compared to most products which only offer support online or via email.
ABBYY FineReader Pro For Mac retails for $69 for a one year license which is a change from the previous standalone purchase price of $89.99 which wasn't limited to a year but did require upgrading frequently.
For more you can also check out our FineReader PDF For Mac review.
Pricing: $69/year
Pros:
Excellent accuracy and speed
Converts to edit PDF, Word, Excel and more
Maintains formatting of the original document
Performs well on low text quality or low lighting
Cons:
Updates to new versions of macOS are slow
Not compatible with macOS Monterey
No support for older TWAIN scanners
Does not work natively on Apple Silicon M1/M2 Macs
Manual split, erase and renumbering of pages not supported
Nitro (formerly known as PDFpen) is a powerful but user friendly PDF conversion and editing software that performs OCR scans of documents on macOS.
Nitro's main focus is PDF conversion and editing than OCR but the accuracy of Nitro is nevertheless very good as it uses the excellent Kofax OmniPage OCR engine.
Since Kofax OmniPage is Windows only, Nitro brings the OCR benefits of its technology to Mac users too.
Note that if you're scanning confidential documents, the Nitro OCR engine is cloud based and all documents scanned in Nitro will be uploaded to the Kofax OmniPage server.
When you open a PDF document in Nitro, it automatically asks you whether you want to perform an OCR scan and in which language.
Simply click on "OCR Page" or OCR Document to start the scan. When the scan is complete, Nitro overlays the text it has recognized which gives you the chance to edit any mistakes.
When done, you can then edit, annotate, search, copy and paste text from the PDF document.
Alternatively, you can export PDFs to Microsoft Word DOCX format for editing.
To help optimize documents for OCR scanning accuracy, Nitro also has a useful "Deskew and Adjust Image" tool which straightens the image and adjusts image contrast and exposure.
Other useful features in Nitro including the ability to digitally sign PDFs with your trackpad or mouse, scan documents using your iPad or iPhone and re-order and merge PDFs on your Mac.
Nitro is generally fast and for those that regularly need to edit and convert PDF documents, it's a good budget alternative to Adobe Acrobat Pro.
Nitro PDF Pro Essentials costs $129.99 although there's also Nitro PDF Pro for $179.99 which includes added features such as Microsoft Excel export support, ability to create and edit forms and turn websites into PDFs.
There's also a Nitro PDF Pro iOS app which costs $9.99 and although it's more limited than the desktop app, it does allow you to sign documents on the go.
Note that Nitro support is via email only.
You can read our full review of Nitro PDF Pro here.
You can see a full comparison of all the Nitro PDF products here.
You can also try a 14 day free trial of Nitro PDF Pro for Mac.
Pricing: Starting from $129.99
Pros:
Allows you to edit PDFs directly
Exports to Microsoft Word
Cons:
OCR engine uploads documents online
Accuracy not great with images
Not as powerful as Adobe Acrobat Pro DC
Export features require upgrading to Pro
OCRKit is a no-nonsense, easy to use and very effective open source OCR tool that also popular on Windows. Note that although OCRKit is based on open source OCR technology, it's a commercial product which costs $46.94.
OCRKIt is ideal if you just want to turn a PDF into a searchable PDF, RTF, HTML or TXT document. It's easy to use, fast and supports long documents and batch processing.
Apart from PDFs, you can also scan images in TIFF, JPEG, JPEG2000, PNG, PNM, BMP, PCX, GIF and OpenEXR formats.
OCRKit supports batch OCR scanning via macOS Automator and the accuracy is surprisingly good no matter what the condition or resolution of the original document.
Using OCRKit couldn't be easier. Simply drag or drop any PDF, TIFF, JPEG, JPEG2000, PNG, PNM, BMP, PCX, GIF or OpenEXR document into the OCRKit Dock icon or interface and it will prepare it for scanning.
Select a file name to save the OCR document to:
OCRKit is surprisingly fast even with documents over 100 pages and within a few seconds, it will display the searchable document:
There are a few other nice touches to OCRKit. The automatic rotation tool detects the orientation of each document automatically so you don't need to manually organize a stack before scanning – very useful if you're scanning multiple documents that aren't organized very well.
OCRKit will also automatically detect most major languages which is very useful if you're scanning documents in more than one language.
One other useful feature is that OCRKit is also integrated with Pages (Apple's alternative to Microsoft Word) meaning you can drag a finished OCR document into Pages to edit it. However, it doesn't work for converting a PDF to edit in Microsoft Word.
If you're looking for an easy, inexpensive but surprisingly powerful Mac OCR tool that preserves formatting in PDFs, OCRKit is an impressive tool.
OCRKit costs a very reasonable $46.94 which is excellent value considering the results you get.
Pricing: $46.94
Pros:
Decent OCR accuracy
Support batches of documents
Cons:
Very basic interface
Doesn't export to MS Word
Readiris Pro is one of the most established OCR programs on the market. It was originally designed for Windows only but is now available on macOS under the new ownership of Canon.
Readiris is a powerful OCR app that can scan in an impressive 130 different languages. Scanning with Readiris Pro is extremely accurate although less accurate than ABBYY on low resolution documents.
It's important to be aware that Readiris Pro does not edit PDF documents.
However, you can choose to export scans directly to a wide number of applications such as Adobe Acrobat Pro DC, DOCX, Pages, Numbers, Word, Excel, Evernote, Outlook and even iTunes.
You can also convert OCR scans to audio book AIFF and eBook formats.
The exported document also preserves formatting extremely well so that it looks exactly the same as the original.
Readiris Pro is a bit tricky to find your way around at first although you can easily add or delete pages and drag and drop formatting any way you want.
You can also save OCR scan settings from one scan to the next so you don't have to keep re-configuring it like in previous versions of the app.
Readiris also allows you to save documents to online services Box, SharePoint and OneDrive.
Readiris is available in 2 different versions.
Readiris Pro costs $99 and converts documents into different formats and allows you to modify documents in Word, Writer and Text documents but is limited to importing 50 pages at once.
Readiris Corporate is the complete solution for $199 and allows unlimited batch processing of documents, signing and has PDF/A solutions for long term archiving.
Pricing: Starting from $99.
You can watch ReadIris Pro in action below.
Pros:
Very accurate scanning
Exports to a wide range of applications
Good format preservation
Cons:
Requires expensive Corporate edition to avoid scanning & conversion limitations
Doesn't edit PDFs
Prizmo is a basic but very respectable OCR app for macOS. Prizmo does a partcularly good job on black and white documents and can handle images if they're in high resolution.
Prizmo supports an impressive 23 different languages thanks to an extensive neural network.
Although Prizmo supports multiple languages however, you can only scan in one language mode which may be a problem for those scanning documents that aren't just in English.
It's also not very good at handling articles in a low resolution which is often one of the things that separates more expensive OCR software from budget alternatives such as Prizmo. You'll need to make sure that any documents you scan with Prizmo are above around 200 dpi to get acceptable results.
Prizmo supports Handoff which means that if you take a photo of a document with the Prizmo iOS app for iPhone or iPad, you can access it in Prizmo straight away which is far more convenient than having to use a scanner.
Prizmo also has an OCR extension which can plug into macOS and allows you to OCR directly from within Finder any document or image you have open on your desktop.
Prizmo is available in a Standard ($49.99) and Pro ($74.99) version. The Pro version offers more language support, OCR batch processing of multiple documents in one go, Automator support and custom export scripts. You can see more on the differences here.
There is a free demo version of Prizmo which has no time limit but when you export a file, there is a watermark installed and some characters are omitted in business cards.
You can also see the sort of accuracy you can expect from Prizmo by checking the results gallery.
Pricing: Starting from $49.99
Pros:
Includes voice support to read PDFs to you
Syncs with an iOS app for photo scanning
Cons:
Accuracy can be hit and miss
No Microsoft Office export support
DEVONthink Pro (formerly DEVONthink Office) is aimed at those that want to go completely paperless in their home or office.
DEVONthink only makes software for Mac and iOS and so all of its products are tailored for macOS.
DEVONthink Pro is ideal for small businesses that want to automatically OCR everything that comes in and goes out to reduce paperwork.
The OCR engine in DEVONthink Pro is actually the same as the one used in ABBYY FineReader PDF for Mac. ABBYY license their OCR engine to integrate into other products and so in terms of accuracy, it's very similar to ABBYY.
All documents you upload to DEVONthink Pro Office whether on your Mac or iOS device are automatically synced and OCR scanned by DEVONthink Pro Office.
DEVONthink Pro Office intelligently files your documents based on how you previously filed similar documents. You can then search and retrieve these documents easily similar to the way you can search and retrieve emails in an email client.
You can also tag and group documents manually enabling you to keep everything far better organized digitally than having piles of paper documents.
DEVONthink Pro Office is more of a document organizer than a dedicated OCR solution so there are fewer OCR features but lots of document organization, syncing and filing tools.
If your main aim of using OCR is to go paperless, DEVONthink Pro Office is a powerful solution to make PDFs searchable and organize your documents.
Note that DEVONthink Pro ($199) and Server ($499) are the only DEVONthink products with decent OCR capabilities – the Standard version does not include OCR features.
DEVONthink Pro also includes professional email archiving and a web server for team collaboration. DEVONthink Pro for Mac support is via email or support tickets and there are user forums too.
You can check the DEVONthink blog for ideas and ways in which DEVONthink Pro is being used to help individuals and businesses manage theiir notes digitally.
There's also a free trial of DEVONthink Pro Office so you can test drive it yourself.
Pricing: Starting from $199.
Pros:
Excellent tool to go paperless at home or in the office
Syncs with the iOS app
Cons:
Focused more on document organization than OCR
Have you got a document scanner but the OCR software included with it doesn't work very well?
If so, VueScan Pro for Mac could be for you. VueScan is a flatbed scanning OCR software that works with virtually all brands of scanners new and old. The default language for VueScan Pro is English but you can download language packs for another 32 languages.
VueScan does a very crude job of scanning text in a document or image and dumps it into a text file with no formatting but if you simply need to extract text from a scanned document, it does the job.
To create an OCR text file with Vuescan, make sure you've purchased the Professional version ($119.95) not the Standard version ($49.95) which doesn't support OCR.
Also ensure that your scanner is connected to your Mac and to perform an OCR scan, make sure the "Input" tab is selected and then change the "Options" field to "Professional".
Then in the "Output" tab, simply select "OCR Output File".
Click "Scan" and then "View" to see the outputted text. The results won't be perfect and you'll have a lot of cleaning up to do but it's definitely quicker than typing an entire document.
If you're not bothered about formatting and just want a way to extract text from documents in a document scanner, VueScan Pro is an effective way to enhance the OCR capabilities of your document scanner.
Pricing: $119.95
Pros:
Enables your flatbed document scanner to OCR documents
Extracts text from documents
Cons:
Only useful for dumping text into a text file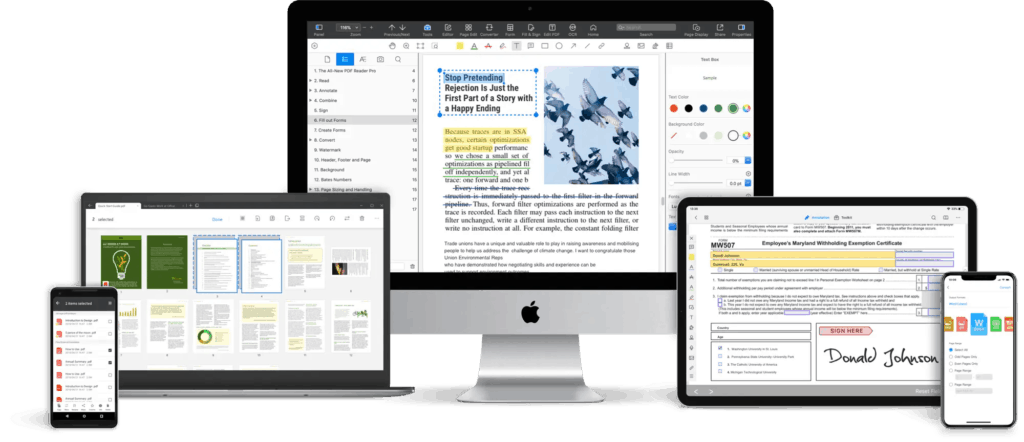 PDF Reader Pro is an incredibly popular PDF editing tool which can also OCR PDF documents.
If you need an OCR app with plenty of tools to edit PDFs including Annotation, Edit, Form filling, Convert, Create, Sign, Bookmark and protecting PDFs, it's worth checking out.
You can do pretty much anything to a PDF with PDF Reader Pro including merge and combine multiple documents, split PDFs into multiple files, insert pages from another PDF and Convert PDFs to Word and other Microsoft Office formats.
PDF Reader Pro does an excellent job of preserving the formatting of documents including complex tables and bullet points.
You can scan and convert 50 different languages and batch convert multiple documents.
PDF Reader Pro costs $59.99 for the Premium version which includes OCR scanning but for Office export you'll need to pay $79.99 for a permanent license.
However, you can currently get 33% off PDF Reader Pro for $39.99 from StackSocial.
Pricing: Starting from $59.99.
Pros:
Edits, converts and signs PDFs
Slick interface
Supports 50 languages
Cons:
Costs more for MS Office export support
Picatext is an ultra basic and budget OCR app to simply scan and dump text from images. If you just want to extract text from screenshots for example, it's a very good option. It does not support PDFs though.
Picatext is generally surprisingly good at extracting text from images or screenshots and supports over 40 languages. It does struggle with lower resolution images however and with font styles such as italics.
Picatext can only handle one image at a time making it fine for one-off or occasional OCR scanning needs.
Simply drag and drop documents into Picatext or access it from the Menu Bar. If you choose the Menu Bar option, Picatext shows a mini preview of the document and allows you to select all or part of the document that you want to scan.
Alternatively, you can access Picatext via hotkey combination TRL-CMD-ALT-P. Any text that extracted by Picatext is automatically copied to your clipboard when done.
For those that need an OCR app for images or screenshots on a very limited budget, Picatext is definitely worth a try at just $3.99.
If you're interested in other OCR text dump tools like Picatext, we also recommend taking a look at EasyScreenOCR For Mac.
Pricing: $3.99
Pros:
Good at extracting text from images
Quick and easy to use from Menu Bar
Cons:
No PDF support
Very basic
Only suitable for images
Best Free OCR Software For Mac
There are some free OCR solutions that Mac users can use but they're not very good and they're mainly online.
One of the better ones is the open source Tesseract project which is a text recognizer engine sponsored by Google.
Unfortunately, there's no official user interface as it's designed mainly for programmers to integrate into their own apps and software but there are projects like PDF OCR X which are based on it.
The accuracy of Tesseract is pretty good but it can only dump text into a file and like most free solutions, it doesn't preserve the formatting of documents.
You can however edit PDFs on a Mac for free with Preview although it's very basic and not as good as dedicated PDF editing software.
Does OmniPage Ultimate For Mac Exist?
There is no version of Kofax Omnipage Ultimate on macOS but we recommend using Adobe Acrobat Pro DC as the best alternative to OmniPage Ultimate For Mac.
Why Use OCR Scanning Software On Mac?
There are many reasons for using OCR tools to make life easier. Here's a few of the benefits of using the apps featured here.
Save Time: One of the main benefits is that it saves you lots of time having to retype text that is saved in either PDF documents or images such as business cards, receipts and bills. OCR technology has come a long way in recent years and now the best apps can not only extract text from images and PDFs, but even preserve document formatting, layouts, colors and fonts. These OCR apps also allow you to take a photo of a document with your mobile and then use your Mac to OCR it instantly. Rather than tediously retyping pages of text, these scans can be done in a matter of seconds. Educators for example can save considerable time retyping text and copying images from textbooks or turning paper based materials into digital form for use in class or sharing with colleagues.
Edit, Update, Scan & Extract Text: OCR scanning allows you to "unlock" text in images or PDF files that you can't normally edit. After converting, you can edit or update, scan and extract text from a document that wasn't possible before. Once a document or image has been processed, you can search it, copy and paste it into other documents or edit it and fax it from your Mac for example. Professionals that can particularly benefit from OCR utilities are those such as lawyers with reams of documentation and evidence they need to be able to search and quote quickly or academics that need to catalog and search piles of studies and research.
Reduce Paperwork: It allows you to go paperless in the home or office by creating an archive of PDF files that you can search and retrieve at anytime. This improves organization and helps you locate this quicker than having to go through reams of paperwork.
Create eBooks: If you want to read a document on the move on your Kindle or other eBook device, many OCR programs allow you to export documents to ePUB or FB2 format.
Text-To-Speech Apps: Once a document has been scanned, you can access them via text-to-speech apps and tools. If you want to search a document for keyword for example using Siri, you can use just say the word and find what you're looking for quicker.
OCR technology on Mac has come a long way.
If you need OCR scanning plus digital signing of PDFs and you already use other Adobe products, Adobe Acrobat Pro DC is still the PDF market leader.
ABBYY FineReader PDF for Mac now produces results just as good as the PC version and is an excellent OCR tool for accuracy, speed, format preservation and ease of use.
If you have any problems and questions with any of apps featured here or have any suggestions, let us know in the comments below.