Going paperless in your home or office is now a reality thanks to applications that make it possible. We've taken a look at the best document management software for Mac of 2023 so you can go paperless for good.
If you've also come here looking for an alternative to Mariner Paperless or the now discontinued iDocument for Mac, you'll definitely find something to solve your problem.
It's almost 40 years since the paperless society was first envisioned and yet most of us are still no closer to making it a reality.
Although the technology is there now for society to go paperless, we're still a long way off a truly digital world.
Since the Coronavirus (COVID-19) pandemic forcing more and more businesses online, the need to digitize everything has never been more important.
After hours of research, we ranked the amazing Adobe Acrobat Pro as the best document management and paperless office software for Mac especially for small businesses that need a document management software to digitize and sign documents.
All of the document management software reviewed here work with the latest version of macOS Ventura including the newest M1 and M2 Apple Silicon Macs.
Advantages Of Going Paperless
Whether you're thinking about going paperless in your home office or workplace, there are many compelling reasons to do it sooner rather than later.
Here's a few of the most common reasons to go paperless.
Reduces printer, office supply and administration costs.
Easier and faster to search and find documents you're looking for which results in a significant increase in productivity for companies. For instance, if you're in an office dealing with clients on the phone asking for specific information, you can find it instantly without the need to trawl through filing cabinets or papers and call them back later.
It enables you to scan and then shred confidential documents.
Less paperwork means less clutter.
It's arguably more secure to store files in on your hard drive or in the Cloud as you're less likely to misplace or lose digital documents. We still however recommend backing them up to an external hard drive in case the worst happens. An external storage solution is also useful because the more you digitize your paperwork, the more hard drive space you need.
Nowadays you can officially sign documents digitally without the need for paper.
Less paper use is better for the environment.
What To Look For In Document Management Software
The best way to go paperless depends on your needs but when it comes to the right tool, here are some useful points to consider.
Does it support Optical Character Recognition (OCR)? This means you can scan images, PDFs and other text and make it searchable by keyword on your Mac. The more accurate the OCR scanning, the more chance you can search documents accurately and the less time you'll spend having to go through them and change errors manually. Although there's a close relation between Optical Character Recognition (OCR) software and paperless office tools, there is a difference. While OCR technology is mainly concerned with converting images or PDFs to text that can be searched or edited, paperless office solutions are more about digitizing documents and organizing them which is what this article focuses on.
Does the software support document scanners, photo scanners or printers? To digitize all your documents, you'll need to scan them in first either via a scanner or a multi-use printer with a scanner built-in. This usually requires a TWAIN compliant machine which most are nowadays. You'll find that certain apps like Mariner Paperless and EagleFiler recommend using specific scanners such as the Fujitsu ScanSnap range as they produce the best results with those particular programs.
Do you need iPhone or mobile camera support? Most paperless apps allow you to upload photos of documents or receipts taken with your phone. However, there are dedicated iPhone apps such as Scanner Pro which do a much better job and include OCR scanning, search tools and auto-cropping.
Does it allow tagging of documents? It's much easier to find things if can tag documents by type such as "insurance", "certificates", "identification" etc. Since OS X Mavericks, Macs now support tagging in Finder by default and some programs such as EagleFiler and Yep automatically import these tags to make things easier.
Does it use a standard folder structure that you can easily access in Finder? This is important because if the app uses it's own proprietary folder structure or library (like Apple Photos does for example) and there's a problem with the software, you may not be able to find where your documents are physically stored on your Mac. Only the developer will be able to resolve this if there's a problem.
For receipts and financial documents, do you need it to add-up end of year reports, category totals and other summaries? This may be important if you plan to go paperless with your finances, tax returns, investments etc. Not many paperless office solutions on Mac offer this although Neat and Mariner Paperless do.
Do you need your paperless office to support online signing or e-signing? Again, not so many paperless solutions support this on Mac yet although Adobe Acrobat Pro DC does this better than any other app. You can sign documents either in the app using your mouse or Touchpad or by using a Mac compatible drawing tablet. Alternatively, you can also sign-up for dedicated e-signing services which handle online signing of legal contracts and other documents.
Finally, what's the developer support like? If you end up having problems with the app, you may find your entire library of documents impossible to manage or effectively "held hostage" by an unresponsive developer. The same goes for updates to macOS. If the developer doesn't update the product frequently to keep pace with macOS, you may find yourself unable to access your precious documents.
Is it compatible with the latest Apple Silicon M1 and M2 Macs. Although all Intel Mac software works on the latest Apple Silicon Macs such as the M1 MacBook Pro and M2 MacBook Pro thanks to Rosetta, it doesn't work as well as software that has been built natively for the M1 and M2 chip.
You May Also Like:
Best Document Management Software For Mac
With this in mind, here is the best paperless office and document management software for Mac of 2023 in order of ranking.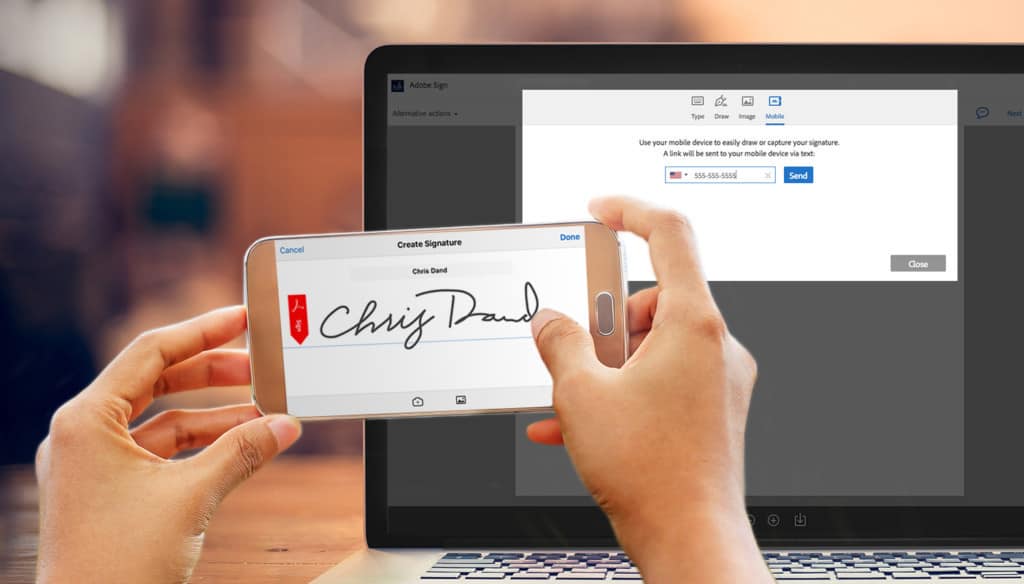 Adobe Acrobat Pro DC is aimed at offices and individuals that want to go completely digital to everything from scanning documents to e-signatures.
For a long time, Adobe Acrobat has been the best PDF editor for Mac but nowadays it can do so much more than manage PDF documents.
Adobe Acrobat Pro DC can not only scan and OCR documents, but it can be used to send and track large documents instead of attaching them to emails.
You can see who has read, received and downloaded documents and it's more secure than attaching confidential documents to an email.
You can even use your PC webcam or Mac iSight camera to sign documents on a Mac in Acrobat Pro DC although if you want clients and customers to e-sign documents, you're better using Adobe Sign too.
Adobe Sign allows you to prepare and send any type of document for e-signatures. Adobe Sign is even integrated into Microsoft Office products so that you can sign legally binding documents online without having to leave MS Office.
Acrobat DC also allows you to control who can see documents and what permissions they have to prevent unauthorized printing, distribution or editing of important documents.
On its own Adobe Acrobat costs $19.99 per month.
However, if you're in education, it makes far more sense to subscribe to the entire Adobe Creative Cloud suite of apps as  students & teachers currently get 60% off.
This includes access to all of Adobe's industry leading applications such as Photoshop, Illustrator and Premiere Pro.
Alternatively, you can also buy Adobe Acrobat as a one of purchase too.
You can also try a free trial of Adobe Acrobat Pro DC to see for yourself.
You can also read our full review of Adobe Acrobat Pro DC for more.
Pricing: $19.99
Neat isn't just a document scanner.  Neat is both a complete paperless filing system and automated book-keeping solution to keep your business organized and running smoothly.
Neat is designed to help businesses track, manage and centralize their financial data and is currently used by around 100,000 small businesses throughout North America.
Neat is divided into two applications – Neat Files and Neat Books.
Neat Files is designed to digitize your documents and stop you misplacing receipts, invoices and extracts vital financial data to track spending, expenses, sales and income taxes.
Neat Books is a simplified book keeping system designed to centralize transactions and reduce stress in tax filing season so that it makes tax filing on your Mac less stressful.
If you already use QuickBooks as your accounting solution however, Neat is fully integrated with it.
If you're looking for a mix between a paperless office system and an accounting software on your Mac, Neat is an excellent paperless tool to digitize documents and automate book keeping for small businesses.
Note that currently Neat only works up to macOS Monterey and macOS Ventura is not supported yet.
You can also try Neat Premium free for 15 days and plans start at  $200 per year for individuals with the option of enhancing your subscription with a VIP service for an extra $50 a year.
Pricing: $200/year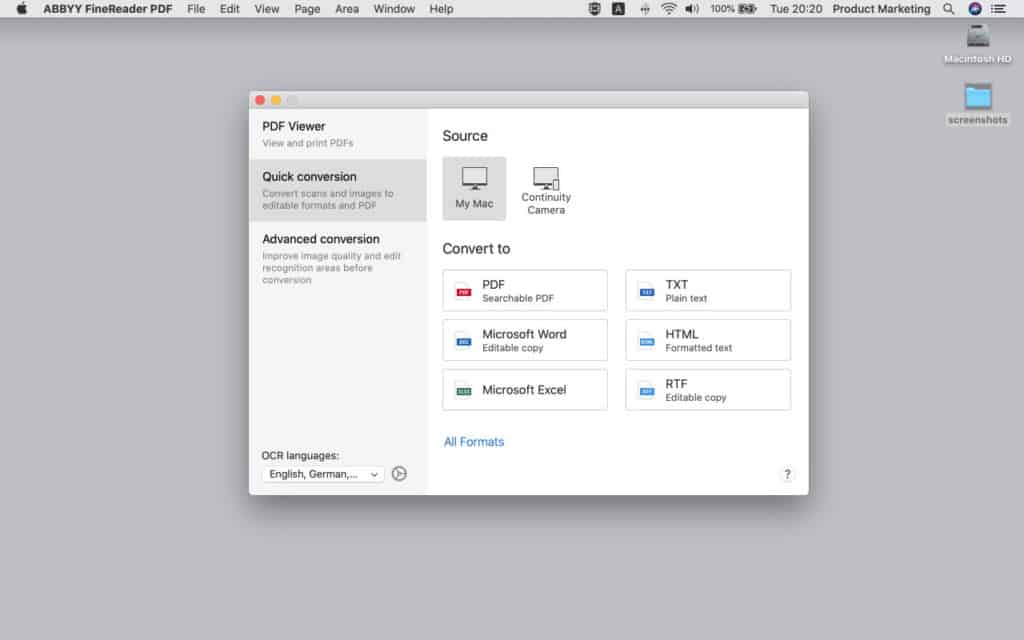 What makes ABBYY FineReader PDF for Mac (formerly known as FineReader Pro for Mac) great for paperless offices is speed, accuracy and convenience.
ABBYY FineReader PDF for Mac is extremely easy to use, fast at scanning and has the best OCR recognition of any app we've used on a Mac.
In our opinion, OCR is an essential feature of any paperless filing system because the ability to search documents by keyword or number is priceless.
If the OCR scanning is poor, it's much harder to search documents for the information you need.
The OCR engine in FineReader PDF is easily the fastest and most accurate on the market with an accuracy rate of around 99.8%.
The accuracy is so good in fact that other paperless software vendors such as eFileCabinet, DEVONthink Pro Office (see reviews below) and many other companies developing their own in-house solutions, use the ABBYY OCR engine under license.
When it comes to PDFs in particular, FineReader PDF is second to none allowing you to instantly scan, edit and search them by keywords within seconds.
It works with all TWAIN compatible scanners or all-in-one printers and digitizes documents within seconds of scanning.
We also really like the concept of "Hot Folders" in FineReader PDF which means that any document or file that's dragged into that folder on your Mac, is instantly scanned into PDF or PDF/A formats ready for archiving.
There's no need to even open the application itself as it all takes place in the background.
ABBYY FineReader PDF is a powerful solution for creating a paperless environment whether its at home or in the office.
If you're looking for the best digital filing cabinet for managing and editing PDFs on a Mac desktop, you won't find anything better.
ABBYY Finereader PDF For Mac costs $69 per year.
For more, you can also check out our full review of ABBYY FineReader Pro for Mac.
Pricing: $69/year
ExactScan Pro is basically an interface for scanning documents with any scanner or multi use printer.
Some of the notable features of ExactScan Pro include Paper Size Detection, Skew Correction, Color Smoothing, Print Support and AppleScript Support.
It also supports OCR scanning to make PDFs and images with text searchable although the accuracy isn't great and there are far better options on the market for this.
For what it is, ExactScan Pro is quite expensive at $93.89 but if you want a simple document scanning solution that works with almost any scanning device, it does the job very well.
Pricing: $93.89
Mariner Paperless is an advanced digital receipt and paper management software that was created for people who want to go completely paperless.
Mariner Paperless is ideal to scan paper documents such as contracts, receipts, bills and memos to create a clutter-free office environment.
Among the highlights of Mariner Paperless are OCR scanning so you can scan documents by keywords or numbers, ability to make notes on scanned documents and digital filing that meets IRS requirements.
One of the things we like most is that Mariner Paperless adds up running totals for all financial documents and receipts.
This includes things such as Taxes, Bills Due, Property and Expenses although the book keeping features are nowhere near as good as Neat's.
Although Mariner Paperless works with most all-in-one-printers and scanner, it has partnered with Fujitsu ScanSnap Scanners for best results.
The Fujitsu iX100 model is the most recommended as its wireless and portable so you can take it with you anywhere.
Although it took a while to be updated to be macOS Mojave compatible, the latest version of Mariner Paperless 3 now works with the latest version of macOS including Ventura, Monterey, Mojave, Catalina and Big Sur.
Pricing: $69.95
DEVONthink Pro (formerly DEVONthink Pro Office) is a dedicated personal document management software for Mac made specifically for macOS.
It's designed to make the digitization process as smooth as possible and even uses artificial intelligence to organize your documents.
You can sync documents to mobile devices and even though there's no PC version, you can share files with other PC users.
In fact DEVONthink Pro is an excellent choice for teams of researchers or journalists that need a central database to share and collate information digitally.
What we like about DEVONthink is that it learns from the way you file documents where things are supposed to go.
DEVONthink Pro also uses the ABBYY Finereader PDF OCR Engine scans documents so you can also search by keyword and it will even suggest other documents that may be of interest to your search terms with a "See Also" feature.
You can sync DEVONthink Pro with iPhones and iPads via iCloud or choose to sync via Dropbox, WebDAV or even a USB stick instead.
The Pro version of DEVONthink supports separate databases for each project, automatic grouping for better organization, RSS feeds and support for AppleScript.
If you're looking for a complete document management software on your Mac for home or office use, DEVONthink Pro is a highly accomplished solution.
You can try DEVONthink Pro free to test it for yourself by clicking on "Download" on the homepage.
Pricing: Starting from $99
EagleFiler has been around on Mac for over 15 years and although it's a bit dated, it's still a powerful digital documentation management tool that works on the latest versions of macOS.
EagleFiler is not only a digital office but it can be used for filing away snippets of all kinds such as your favorite web articles, classroom notes, shopping lists, manage bookmarks and more.
What we really like about EagleFiler is the ability to use Hotkeys that you can configure and instantly send items to the app when pressed.
EagleFiler makes it easy to tag, search and find almost any clipping you can think of. It even works for archiving emails and can convert Outlook mails on Macs into standard mbox or .eml files.
On the downside, there's no OCR scanning in EagleFiler and it's quite a lot to learn in one go to get the best out of it.
However, for $49.99 it's an extremely powerful package that's been lovingly maintained over the years by developers C-Command Software.
Pricing: $49.99
Evernote is one of the best note taking applications for Mac users and although it's primarily a productivity suite, it also serves as a powerful but easy to use paperless document management system.
If you're looking for something that makes it easy to take photos of documents, receipts and bills on your phone and file them away for safe keeping, Evernote is a good choice.
Evernote Premium is particularly handy as a receipt scanning software thanks to the mobile integration via Scannable.
A nice touch that many users aren't aware of is that Evernote also OCR scans documents that you upload to it so you can search it even without tagging things.
The accuracy of the OCR engine is pretty good although it doesn't always get it right and so it's also recommended to tag items too.
The Evernote team also provide some useful tips on how to go paperless with Evernote.
One way it makes things easier is by adding a "Print to Evernote" option to scanners so that you can instantly scan and send documents to Evernote after scanning.
The only thing we don't like is that Evernote creates its own proprietary database of your documents. Although this enables the app to work so well, it also means that if anything goes wrong, you can have a hard time rescuing your documents.
Evernote Premium costs $8.99 per month and students can get 50% off.
Pricing: $8.99/month
YEP calls itself the "iTunes for documents" and if you want a paperless filing system that's modeled on iTunes coverflow system, then look no further.
YEP is more of a document organizer than a scanner but it does work with most flatbed scanners and all-in-one printer-fax-scanners. What we like about YEP is that it doesn't "take over" like some document management apps do – it stores everything on your Mac in its original format but simply provides a more convenient way to access it all.
YEP takes some learning at first but it's particularly good for cataloging PDFs and Microsoft Office documents.
If you have thousands of documents however, you will find that YEP can get a bit slow as it populates the database every time you open it.
At just $58.00 for the cheapest version it's also an excellent cost-effective paperless database solution although it's not particularly sophisticated compared to proper paperless office software.
Pricing: $58
Revver (Formerly known as eFileCabinet) has been around since 2002 and actually uses the engine behind ABBYY FineReader PDF (see review earlier) to scan documents. As a result, you get superb OCR accuracy but with more features aimed at the needs of medium to large offices.
Revver is a sophisticated Document Management System (DMS) that offers powerful enterprise level features although it's aimed more at small to medium-sized businesses.
Revver supports eSignatures and integration with Microsoft Office, Salesforce CRM and DocuSign. It's got some very powerful search features if you need to search for documents by keyword, author or specific variables.
Which Document Scanner Is Best To Go Paperless?
A decent document scanner is an essential piece of hardware to go with all of the paperless systems reviewed here.
There are literally hundreds on the market and for more on this we've looked at the best document scanners for Mac.
There's one document scanner in particular that's frequently recommended by paperless software developers and vendors.
The Fujitsu ScanSnap range is recommended by popular apps like Mariner Paperless and EagleFiler.
The reason is because ScanSnap scanners are fast, accurate, easy to use and come in a variety of handheld or desktop versions. They can also convert any document to PDF and even perform OCR scans.
If you want something you can take anywhere, then look no further than the Fujitsu ScanSnap iX100 Wireless Mobile Scanner. It can scan a coloured page in just 5 seconds, it has a rechargeable battery and it's very light to carry.
Alternatively, if you want a desktop scanner, try the Fujitsu ScanSnap iX600 Color Duplex Desk Scanner. It can handle feeding 50 pages at one time and you can scan around 1,500 pages an hour with it if you want to digitize your office in one go.
In general, we'd recommend staying away from Flatbed Scanners as it's incredibly tedious to lay down page after page for scanning. Scanners with auto feeders like the ScanSnap range make life a lot easier.
For more check out our guide to the best Mac compatible scanners.