Overall, PDF Expert for Mac is a reliable and feature-rich PDF editing application that provides all the tools you need to edit and manage PDFs on a Mac. The app's impressive file conversion, redaction tools, and recent Sidecar support demonstrate its commitment to Apple devices and Mac users.
Pros:
Made specifically for Apple devices
Lifetime license plan available
Clean macOS style interface
Intergrated with macOS Sidecar to use iPad as extra screen
Works seamlessly with iPads and iPhones
Cons:
Lifetime license version doesn't support mobile integration
Not cross platform - iOS and Mac only
PDF Expert for Mac is one of the best PDF editors for Mac and in this PDF Expert for Mac review, we take a look at how it performs when editing and managing PDFs on a Mac.
PDF Expert is made specifically for Apple devices such as Macs so it's a product that's been made with the specific needs of iOS and macOS users in mind.
It's also one of the few PDF editors that offers a one time purchase option if you don't want to be locked into a subscription.
With powerful features for creating, editing, converting, and managing PDF files, PDF Expert goes beyond the basics of PDF editing and is aimed at the needs of professionals and organizations that need full control over PDFs.
Here we take a look at everything at what PDF Expert for Mac can do.
You May Also Like:
Pricing
PDF Expert comes with two premium plans: lifetime and yearly.
Here we break down PDF Expert's pricing structure to help you decide which plan is best for you.
Yearly
The Annual plan costs $79.99 annually.
This comes to roughly $6.67 monthly.
The subscription includes unlimited use of the program's complete set of functionalities and features.
Additionally, this plan includes all updates or new features released.
With an annual subscription, you also get the app on all devices, including iPhone, iPad, and Mac.
Other features of a yearly subscription include:
Annotation: PDF Expert allows multiple users to mark up and annotate PDF documents with highlights, comments, and drawings.
Edit PDF text, images, and links: Users can make modifications to PDF content, including editing text, images, and hyperlinks, providing greater flexibility in managing documents.
Convert PDF to Word, Excel, PPT: PDF Expert supports the conversion of PDF files into editable Word, Excel, and PowerPoint formats, streamlining document exchange and content reuse.
Recognize text (OCR): Power PDF's OCR capability enables users to extract text from scanned documents or images, making them searchable and editable.
Sign documents: PDF Expert supports digital document signing, eliminating the need for physical signatures and simplifying paperwork workflows.
Priority Support: Subscribers to the annual plan receive priority customer support for quicker assistance and resolution of problems.
Money-Back Guarantee: A PDF Expert subscription also offers a 30-day money-back guarantee so you can evaluate it and get a full refund if it doesn't meet your needs or expectations.
Lifetime One-Time Payment
For those that don't want to be locked into a subscription, PDF Expert offers a Lifetime Plan for a one-time payment of $139.99.
Unlike the Yearly subscription, this payment option grants perpetual access to all features and future updates without any additional recurring fees.
The Lifetime plan includes all the same features as the Yearly plan, allowing users to annotate, edit, convert, recognize text, sign documents, and enjoy priority support across all compatible devices, including iPhone, iPad, and Mac.
Similar to the Yearly plan, the Lifetime plan also comes with a 30-day money-back guarantee giving users the chance to evaluate the product first.
Interface
PDF Expert has a user-friendly interface that's clearly been crafted to look good on both macOS and iOS.
PDF Expert has a sleek and modern design that is both visually appealing and intuitive to navigate.
PDF Expert has been updated to work natively on the latest Apple Silicon Macs such as the M2 MacBook Pro so it's about as fast and responsive as any PDF editor on a Mac out there.
The well-organized layout ensures that essential tools and features are easily accessible, making it convenient for users to find what they need without unnecessary clutter.
Navigating through documents is easy with smooth scrolling and responsive page transitions that provide a seamless reading experience, even with large PDF files.
Additionally, the sidebar navigation allows users to jump between pages or sections effortlessly and quickly.
Annotation Tools
One of the standout features of PDF Expert's interface is its robust annotation toolkit.
The app offers a wide range of tools, such as highlighters, text boxes, shapes, and freehand drawing which allows you to mark up PDFs with precision.
Editing and Form Filling
PDF Expert streamlines the editing process by allowing users to modify text, images, and links directly within the PDF.
This is particularly handy for those who frequently need to update or customize documents.
Additionally, the ability to fill-in interactive PDF forms saves time and hassle.
The interface also seamlessly integrates file conversions. This makes it easy to convert PDFs to popular formats like Word, Excel, and PowerPoint, maintaining document formatting very well throughout the process.
OCR Scanning
The Optical Character Recognition (OCR) feature enhances PDF Expert's interface by enabling text recognition within scanned documents or images.
This converts non-searchable text into editable and searchable content, boosting productivity and convenience.
Device Synchronization
PDF Expert syncs seamlessly across all compatible devices, including iPhones and iPads.
This synchronization ensures that users can access their PDFs and annotations on the go without any hiccups.
Document Signing
The PDF Expert interface simplifies the process of signing documents electronically.
Users can add their signatures or initials with ease, facilitating digital workflows and eliminating the need for printing and scanning.
Multi-Tab Support
PDF Expert's interface offers support for multiple tabs, enabling users to work on multiple PDFs simultaneously.
This feature is a time-saver for those dealing with multiple documents or conducting research.
Editing in PDF Expert
PDF Expert offers a wide range of editing tools that allow users to modify PDF content.
Users can edit text, images, and hyperlinks directly within the document, providing flexibility and convenience in making changes.
Form Filling: The app supports interactive form filling, allowing users to complete and submit PDF forms electronically.
This feature is particularly useful for applications, contracts, and other documents that require filling-in.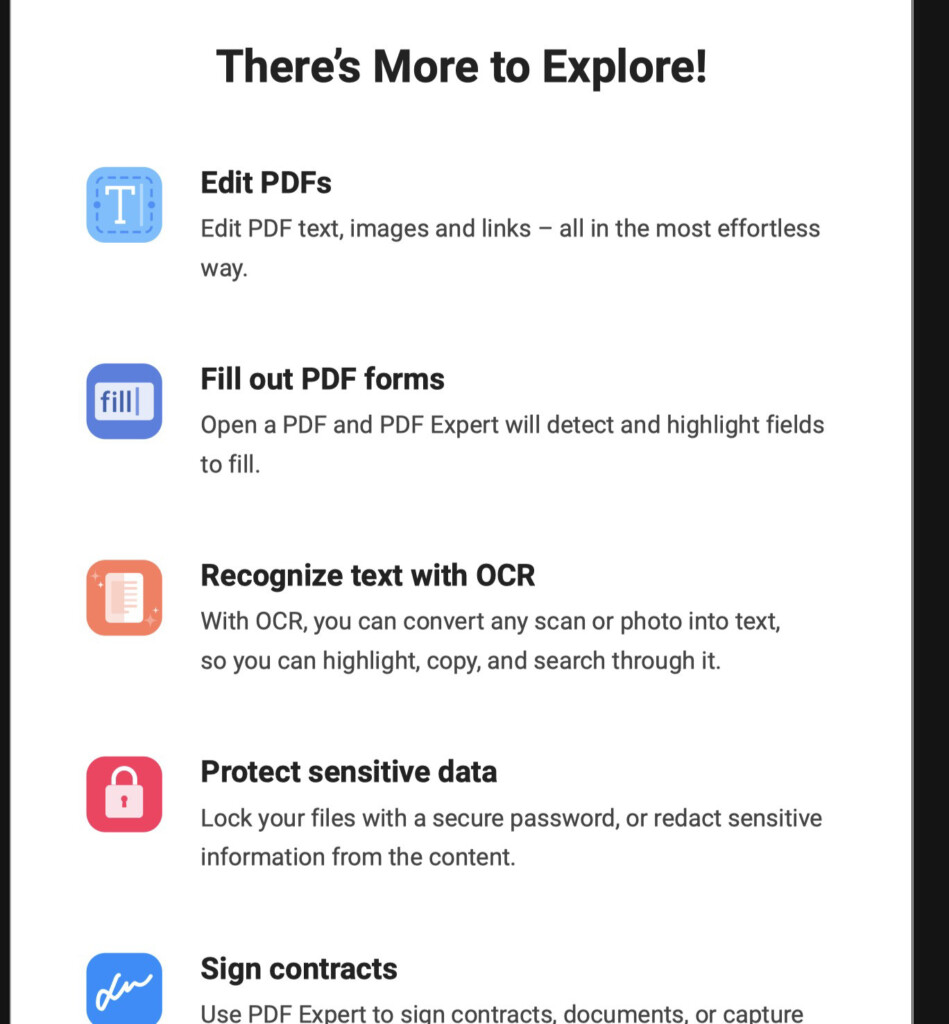 Efficient Image Editing: PDF Expert's image editing tool can be used to resize, crop, and rotate images.
Undo and Redo Functionality: The app includes an undo and redo feature giving users the freedom to experiment with edits.
Precise Text Editing: Text editing in PDF Expert is precise, with the ability to select individual words or characters to modify.
This accuracy ensures that changes are made only where intended.
File Conversions in PDF Expert
Whether you're a professional handling business documents or a student preparing academic materials, PDF Expert allows you to effortlessly transform your PDFs into a wide array of editable and shareable formats.
Here are all the options that files can be converted to:
PDF to Word, Excel, PowerPoint: PDF Expert allows users to convert PDF files into editable formats such as Microsoft Word (.docx), Excel (.xlsx), and PowerPoint (.pptx).
This feature is particularly useful when users need to extract text, tables, or images from a PDF and work with them in other applications.
PDF to Image Formats: You can convert PDF pages to a variety of image formats.
These types consist of JPEG, Portable Network Graphics and TIFF, and others.
This feature is useful if users need to retrieve particular sections or pictures from a PDF file for the purpose of lectures, website content, or image editing projects.
Text Recognition (OCR) for Scanned PDFs: PDF Expert uses OCR technology to convert scanned PDF documents into searchable and editable text.
This feature is especially helpful for digitizing paper documents or extracting text from images.
Image to PDF: Apart from converting PDFs to images, PDF Expert also supports converting image files, such as JPEG or PNG, into PDF documents.
This can be handy when you need to compile multiple images into a single PDF file for presentation or archiving purposes.
Other Supported Formats: PDF Expert supports various other file format conversions, including RTF (Rich Text Format), HTML (HyperText Markup Language), and more.
This versatility extends the usability of the app beyond standard PDF operations.
Users can access the conversion tools through the app's main menu or toolbar. There are also additional conversion tools you can use.
Customizable Conversion Settings: The app provides customizable conversion settings, allowing users to specify output file options, image resolutions, and other preferences according to their needs.
This flexibility ensures that the converted files are customized exactly how you need them.
Batch Conversion: PDF Expert supports batch conversion, enabling users to convert multiple files simultaneously.
This time-saving feature is useful for processing large volumes of documents or images efficiently.
Preservation of Formatting: When converting PDFs to editable formats like Word or Excel, PDF Expert preserves the original formatting as much as possible.
This is crucial to ensure the converted documents maintain their intended appearance and layout.
Quick Conversion Speed: PDF Expert's file conversion process is generally fast and efficient compared to other PDF editors.
File Conversion Limitations in PDF Expert
While PDF Expert does a good job of file conversions, there are some limitations to be aware of.
Complex Document Formatting: While PDF Expert does an excellent job of preserving basic document formatting during conversion, highly complex layouts with intricate design elements may not convert perfectly.
You should carefully review the finished converted document to ensure accuracy.
Image Extraction Quality: The quality of extracted images from PDFs may vary depending on factors such as the original PDF resolution and compression settings.
Users may need to adjust image settings or consider using specialized image extraction software for higher-quality results.
Online Collaboration
PDF Expert has both an iOS and macOS app and is one of the best PDF editors for Mac for integration between the two platforms.
With the integration of FaceTime, PDF Expert allows for effortless sharing and collaboration on PDFs during video calls.
Whether you're an educator conducting online lectures or freelancers discussing projects with clients on the go, this feature enables real-time interactions and annotations on shared PDFs.
Users can present and collaborate directly on PDFs from their iPads, enhancing productivity and teamwork.
By tapping the Pen icon, participants can draw and highlight over the slides, fostering active discussions.
Moreover, multiple presenters in team meetings can easily share their files
To start presenting, simply initiate a FaceTime call with others, open PDF Expert, select the file, and tap "Start Presenting."
Others can access the presentation by tapping "Open in FaceTime," and all notes and annotations disappear automatically after the session, leaving the original PDF intact.
With PDF Expert's online collaboration feature, sharing and presenting documents have never been easier.
Redacting Information
PDF Expert provides dedicated redaction tools that allows users to mark and remove sensitive information from a PDF.
These tools are designed to make the redaction process straightforward and efficient.
Users have the option to either redact or erase any sort of content in a PDF.
PDF Expert supports batch redaction, enabling users to apply redaction to multiple occurrences of sensitive information throughout a document or to redact multiple documents at once.
This feature saves time when dealing with large sets of documents.
The app allows users to review the redacted content before applying it permanently.
This ensures that users can verify and adjust the redaction markup before finalizing the changes.
Once redacted, the sensitive information is securely hidden and cannot be recovered by any means.
PDF Expert employs strong encryption and data protection to ensure the redacted content remains confidential.
PDF Expert's redaction feature is well-integrated with other tools, such as annotation and editing capabilities, allowing users to perform comprehensive document modifications while ensuring privacy.
PDF Expert Sidecar Support Feature
PDF Expert for Mac has recently introduced new features that enhance the PDF editing experience for Apple users.
With the adoption of Sidecar and Continuity Camera features in iOS and macOS, the application aims to make managing PDFs more productive, enjoyable, and user-friendly.
The inclusion of Sidecar is a significant boost to productivity for Mac users.
It allows the iPad to act as a second display in landscape orientation, effectively extending the workstation's screen space.
Users can now compare documents side by side, making it ideal for professionals who frequently work with complex PDFs or need to reference documents while writing and researching.
This feature is particularly useful for multitasking, enabling users to work with several PDFs simultaneously, whether for research purposes or combining PDFs.
With Sidecar integration, PDF Expert users can also enjoy touchscreen functionality when navigating and interacting with PDF documents on the iPad.
This level of touch control provides a more intuitive and seamless user experience when annotating, highlighting, or scrolling through PDF content.
You can also use Apple Pencil with PDF Expert.
Users can utilize the iPad and Apple Pencil for working on drawings directly within PDF documents, eliminating the need for additional hardware like tablets or graphics tablets.
This enhancement makes PDF Expert a versatile tool for artists, designers, and anyone who engages in creative work within PDFs.
In addition to boosting productivity, Sidecar's mobile capabilities allow users to work on PDF documents while on the go.
By transforming the iPad into a portable second display, users can take their PDF editing tasks anywhere, making it a valuable feature for professionals who travel frequently or students who need to work outside the traditional office setting.
Customer Support
Most users report that support for PDF Expert is responsive. If you pay for a annual subscription, you do however get quicker support than the onetime purchase version.
PDF Expert vs Adobe Acrobat Pro
Adobe Acrobat Pro is still the best PDF editing software for Mac and inevitably most PDF editing software is compared to it to see how it measures up.
While both applications share the common goal of providing robust PDF editing capabilities, they come with their differences.
Here's a comparison of PDF Expert vs Adobe Acrobat Pro side by side.
PDF Expert
PDF Expert is designed specifically for macOS and iOS devices, making it an excellent choice for Apple users who want a PDF editor tailored to their ecosystem.
User Interface: PDF Expert boasts a sleek and intuitive user interface, making it easy for users to navigate and access its various features. The design focuses on simplicity and ease of use.
Editing Capabilities: PDF Expert offers robust editing tools, enabling users to modify text, images, and hyperlinks directly within the PDF. The app also supports form filling and OCR for scanned documents.
Annotation and Collaboration: PDF Expert provides comprehensive annotation tools, allowing users to highlight, comment, draw, and markup PDFs.
However, as of my knowledge cutoff in September 2021, PDF Expert does not offer built-in online collaboration features.
File Conversion: The app supports conversion to popular formats like Word, Excel, PowerPoint, and various image formats, providing versatility in handling different types of files.
Redaction: PDF Expert includes redaction tools for securely removing sensitive information from PDF documents.
Price: PDF Expert offers a more affordable pricing structure, with options for both a yearly subscription and a lifetime one-time payment.
Adobe Acrobat Pro
Adobe Acrobat Pro is a cross-platform solution available on Windows, macOS, iOS, and Android, catering to users on various devices.
User Interface: Adobe Acrobat Pro has a feature-rich and powerful interface but it can be more complex and overwhelming for some users, especially those new to PDF editing.
Editing Capabilities: Adobe Acrobat Pro is known for its extensive editing capabilities, offering precise text and image editing, as well as more advanced features like object manipulation and content reflow.
Annotation and Collaboration: Adobe Acrobat Pro excels in collaboration with real-time document sharing, commenting, and review features.
It allows multiple users to work on the same PDF simultaneously and offers advanced commenting tools for feedback.
File Conversion: Like PDF Expert, Adobe Acrobat Pro supports file conversion to various formats, ensuring compatibility and versatility in handling different document types.
Redaction: Adobe Acrobat Pro includes powerful redaction tools, allowing users to securely remove sensitive information from PDFs.
Price: Like PDF Expert, Adobe Acrobat Pro offers both a subscription and one time purchase plan. However, it's more expensive for both than PDF Expert.
PDF Editor Drawbacks
Although PDF Editor is generally a very good all-round PDF editing tool there are some downsides to it.
Limited Advanced Editing Features: While PDF Expert covers the essentials for most users, it lacks some advanced editing features found in more specialized PDF editing software like Adobe Acrobat Pro.
For instance, advanced graphic editing and in-depth layout adjustments are not possible within the app.
No OCR for Editing Existing Text: Although PDF Expert has OCR functionality for recognizing text in scanned documents, it doesn't offer OCR support specifically for editing existing text.
Instead, users must manually edit text.
Non-Linear Text Editing: PDF Expert's text editing is mostly non-linear, meaning that adding new text may not automatically adjust the surrounding content.
Users may need to adjust nearby elements to accommodate new text manually.
Limited Font Options: While users can edit text, the app's font options are somewhat limited.
Users may not have access to the complete range of fonts they need for their documents.
Potential Formatting Issues: When making significant text edits, there is a possibility of formatting inconsistencies across the document, especially if the original PDF was heavily formatted.
PDF Expert does a good job of preserving formatting compared to many PDF editors but users should carefully review the document after editing to ensure the layout remains intact.
No Advanced Image Editing Tools: While basic image editing is available, users seeking advanced image manipulation features, such as filters, layers, or effects, may need to use dedicated graphic design software.
Compatibility with Complex PDFs: While PDF Expert handles most PDFs effectively, some complex layouts or files with extensive formatting may not be fully supported for editing.
Users may encounter unexpected behavior in these cases.