There is no version of Microsoft Access For Mac but if you want to create, manage and maintain databases on your Mac, we've looked at the best database software for Mac in 2023.
Databases are an essential part of managing business data from handling customer data in CRM software to lead generation via email marketing tools.
Effective collection and management of datasets equals knowledge and knowledge is power when it comes to understanding big data.
This is one big reason why the database management system (DBMS) market is growing rapidly and is expected to be worth over $200 billion dollars by 2023.
The good news is that nowadays, database platforms for both relational and non-relational databases are easy enough for anyone to create on macOS and the tools reviewed here make Microsoft Access look very dated in comparison.
You'll find all the following data management software make it incredibly easy to build business app databases for MySQL, PostgreSQL, SQLite and more even if you're a complete beginner.

Some can even open and edit MDB databases on a Mac and they all work with the latest versions of macOS including Big Sur and Catalina.
After hours of research, we found the best Microsoft Access alternative for Mac is Knack which makes database creation and creating business apps on a Mac so much easier, quicker and powerful than using Access.
It's also much cheaper than Microsoft's product without the steep learning curve.
Microsoft Access For Mac: Does It Exist?
Microsoft Access For Mac is not included in Microsoft Office for Mac and there is no version of Access for macOS. Microsoft Access is also not available to Mac users online via Office 365.
Although MS Access is still the most widely used database software by small to mid sized companies worldwide, Microsoft has never launched a Mac version of it.
The main reason for this is that most business environments still use Windows and the market for business users on macOS is relatively small.
There are also third party Microsoft Access viewers for Mac that allow you to open Microsoft Access databases but they are very limited and don't let you edit them.
How We Ranked The Best Database Software For Mac
Here's what we looked for in choosing which of these tools were the best at creating databases on a macOS and were ideal replacements for Microsoft Access.
Ease of Use: They're all easier to use than Microsoft Access and in the case of tools like Knack, don't even require any coding or database programming knowledge.
Filtering: The main aim of databases should be to make sifting through large volumes of data easier and all the tools here allow you to filter data easily.
Reports: They all generate useful and easy to digest reports which enable you to immediately spot trends, identify issues and get more out your datasets.
Price: We only chose database programs that offer excellent value for money with free trials or free plans to start out with.
Reviews: We selected tools that are widely acclaimed by other users and professionals for database generation and management.
MDB Import/Export: We looked for software that allows you to import and export Microsoft Access files in MDB format directly. This wasn't a deal breaker though because you can also export files from Access in CSV or XML format which almost all database apps can import.
Templates: We ranked those apps higher that have a wide choice of ready made database templates that allow you to get up and running quicker.
Sharing: We valued those programs that make it easy to share databases easily with other users or admins.
Backups: We looked for database programs that automatically backup your databases and provide recovery options in case you lose your precious data.
Security: We valued applications that offered the highest levels of data encryption possible and security systems like Amazon Web Services (AWS).
Integrations: We favored those apps that allow you to integrate with third party software such as Zapier, MS Office, Jira, Confluence, Trello etc.
Support: As your database grows, so does the complexity of it and we looked for database apps where the majority of users have reported excellent customer service.
GDPR Compliant: In 2018 new EU rules came into force regarding the handling of user data in European countries. We gave preference to database creators that comply with the new GDPR rules.
You May Also Like:
Here then is the best database software for Mac that make excellent alternatives to Microsoft Access for Mac.
Knack is easily the best database software for Mac users by some distance.
Knack is everything that Microsoft Access and traditional database software isn't – elegant, simple to use yet still powerful.
Amazingly, Knack requires absolutely no coding experience at all although for those that know what they're doing, you can tweak it manually.
It also works on the latest versions of macOS including Big Sur and the new M1 Macs based on Apple's silicon technology.
Knack has been around since 2010 and is used by everything from small associations and businesses to blue chip companies ranging from Intel and Panasonic so it's very scalable and accessible to all.
Although it's an online database software, it's still better than any other database software on Mac thanks to how easy it makes database creation and management.
Knack allows you to quickly create a database from scratch or speed things up by providing you with database templates which you can quickly tweak and modify for your own custom solution.
Simply define the data your "app" (Knack lingo for database) will store and use, structure your data with fields and then connect it all together.
You then simply build an interface by dropping in elements that define how your users view and update your database.
You can choose interfaces such as tables, lists, search fields, maps or forms.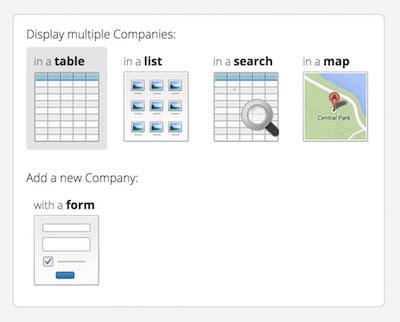 You can then deploy your app by embedding it in websites, show different pages to different users and display on mobile devices.
If you don't want to start from scratch, you can choose one of the many Knack database templates covering Search, Forms, Maps, Reports, Tables, E-Commerce, E-Commerce and more.
If you want to deploy your database online, you can either use your own domain name or you can use a Knack subdomain as you get a certain amount of free storage space with each plan.
Monitoring database activity is made clear and easy with data delivered to charts, graphs and pivot tables in real time.
You can also connect Knack to third party applications via Zapier such as Mailchimp, Google Docs and Dropbox so that it dynamically updates databases.
These "Zaps" can send information back and forth to Knack from over 750 different applications and as long as the application you want to connect to has an API (which most do) it's insanely easy to setup.
Knack is also integrated with payment solutions such as Visa, PayPal and Stripe if you're building an e-commerce database.
Although Knack can't import MS Access files, it can if you convert them to CSV format (Comma Separated Values) format which is the most common way to export databases from Access, Excel and other database tools.
Knack plans start at $49 per month for up to 20,000 records, 2GB of storage, 3 apps and basic support. There are corporate and enterprise solutions however for needs of almost any size.
There are no setup fees, contracts or database size limits. All data stored in Knack also remains the property of the owner at all times, not Knack itself.
If you need to quickly build business apps that deliver your data to the right users at the right time with the right workflows without touching any code, Knack is an amazing online database software.
You can try Knack for free with no credit card required to judge it for yourself and you'll get 1 hour of free support.
You can also check out our full review of Knack database software for more.
Pricing: Starting from $49/month
If you're looking for a native database creation software on Mac that's powerful, good looking and yet still easy to use, Ninox Database is definitely worth taking a closer look.
Ninox is a slick database creation software for Mac and iOS and although it can't import Microsoft Access file on macOS, it has taken the complex mechanics behind database creation and made it more accessible than Microsoft Access.
It goes beyond just database creation though and can easily be used as a powerful but easy to use CRM tool on your Mac and even as a project management solution.
Compared to most database software on Mac, Ninox makes it very easy to create databases and tables, customize layouts and collaborate with other team members on creating databases.
One way it does this is by providing templates for different tasks such as timesheet tracking, real estate databases and even listing recipes.
The other thing about Ninox is that it's incredibly fast. Compared to the time it takes Microsoft Access to setup and create databases, Ninox feels very quick indeed.
Even when handling tens of thousands of entries, Ninox handles things superbly for a database software in this price range.
Other nice touches to Ninox are the ability to build reports and charts within databases and even generate invoices automatically.
You can also sync Ninox with iCloud so that you can buy one license and install it on up to 5 devices so that you can work on your databases on any Mac or iOS device.
On the downside, you can't import MS Access files and the Ninox user manual can be a bit limited at although the German based developers are very responsive.
There are 3 versions of Ninox available.
Ninox Starter ($12.00 per month) which is aimed at small scale standard apps and includes public cloud access, unlimited databases and automatic backups.
Ninox Professional ($24.00 per month) which is a growth plan with custom user roles, manual backups and role based access permissions.
Ninox Enterprise (custom pricing) which is a database-as-a-service (SaaS) solution that can also be used anywhere on any Mac via a browser as a Private Cloud service or on desktop On-Premise service with enhanced security features.
Note that for all plans, there is an extra charge of $34.99 for the Ninox Mac app.
Ninox can get very expensive if you start adding additional members via Ninox Cloud at $8.33 per user per month.
If you're planning to use your database in a team or with multiple admins, Knack works out much cheaper.
However, there are many satisfied users that will vouch that Ninox is well worth it, and if you want an alternative to Access that's powerful, easy to use and looks great on both Mac and iPad/iPhone, it's a fantastic database application.
You can try a free trial of Ninox to judge for yourself first.
Pricing: Starting from $12/month
FileMaker Pro is one of the oldest database creation tools outside of Microsoft Access. Filemaker was originally created by Apple but is now owned by Claris International which is an Apple subsidiary.
Nowadays FileMaker Pro is designed to create custom business apps by building databases for managing clients, employees, projects, tracking inventory and more.
FileMaker does not support direct importing of MS Access MDB files but you can export them from Microsoft Access into XML and CSV that Filemaker Pro can read.
The main problem we have with FileMaker Pro is that it's not as "transparent" as other database solutions in the way it creates databases.
For example, the source files in FileMaker Pro are basically hidden from the user whereas in most database apps including Access, it's much easier to edit the source file directly.
It's also one of the most expensive database solutions available on Mac costing $594 for an on premise desktop license or you can subscribe to the Cloud plan for $21 per month.
If you need assistance, Claris also provides database experts to help you build your business apps in Filemaker Pro for Mac although this obviously costs extra.
There is a 45 day free trial of FileMaker Pro to try it first.
Pricing: $21/month or $594/license
LibreOffice – Base is a free open source databases for Mac and part of the excellent LibreOffice free office suite which is a free alternative to Microsoft Office on Mac.
It's nowhere near as powerful or as easy to use as tools like Knack but it still packs a lot of features into a free package.
LibreOffice Base supports opening of Access files although you'll need an ODBC or JDBC driver to connect it to Access and other databases.
Base also opens MySQL/MariaDB, Adabas D and PostgreSQL files.
Even if Base doesn't fit your needs, by downloading the LibreOffice suite, you're getting an office suite absolutely free.
LibreOffice Base is surprisingly powerful for a free package although it's not easy to use and there's very little support if you run into problems.
Pricing: Free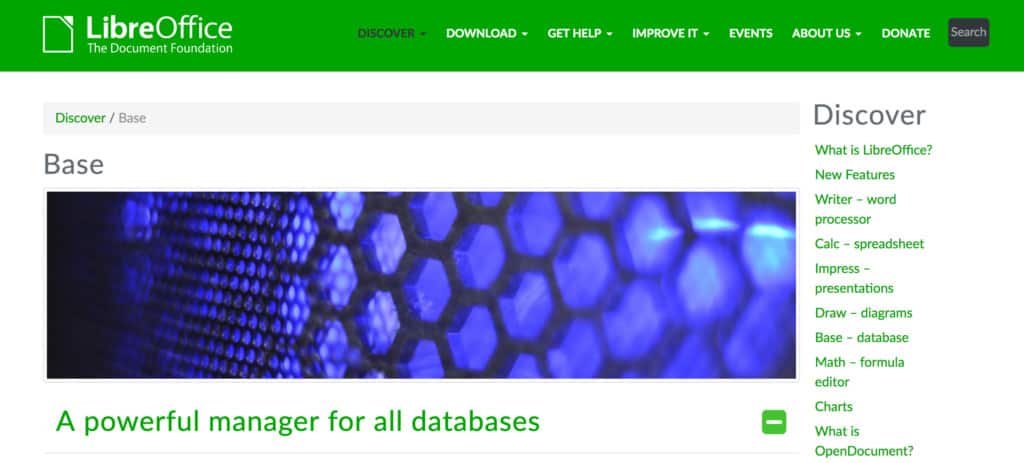 Tap Forms is a user friendly database manager designed specifically for Mac desktops.
It's ideal for those that can't handle the learning curve of tool like Filemaker Pro and Base but want to make databases for forms easily.
Tap Forms makes it easy to create databases for accounts, recipes, inventories and more. You can include things like images, audio recordings and links to other database files.
Tap Forms is a particularly good alternative to Bento on Mac which is now discontinued as you can import old Bento files, CSV, text and other formats.
You can also sync Tap Forms with iCloud, IBM Cloudant, WiFi networks and Apache CouchDB Sync Servers.
If you're looking for an easy way to create forms and databases on Mac without coding knowledge, Tap Forms does forms better than any app we know.
Pricing: $49.99
If you're looking for a way to manage MySQL databases on a Mac then Sequel Pro could be your answer.
Sequel Pro is a free open source Mac only database software for working with MySQL databases.
You will of course need to have MySQL downloaded and installed on your Mac before you can use Sequel Pro but Sequel Pro can be used to manage and edit databases.
You can use Sequel Pro to connect to MySQL databases on both local and remote servers.
Sequel Pro is easy to setup. Once you've downloaded the Mac desktop client, simply connect it to your MySQL database.
Sequel Pro is does not yet work natively on Apple Silicon M1 and M2 Macs but does work on them using Rosetta in macOS.
However, it may be more unstable on M-series Macs than Intel Macs.
Sequel Pro works on Mac OS X 10.6 or higher including Sonoma and Ventura.
Pricing: Free
Which Is the Best Database Program For Mac?
As you can see, there's still life after Microsoft Access on macOS.
Knack is our pick for the best database software for Mac users. Its about as easy as it gets when it comes to creating databases on macOS and yet is incredibly powerful and flexible.
Ninox Database meanwhile is the best on-premise desktop database solution for Mac users. It's got a great Mac desktop client but the cost per user subscription model gets expensive for large teams.
Can You Run Microsoft Access on Mac?
You can run Microsoft Access on a Mac using a virtual machine which works on both Intel and Apple Silicon Macs.
For full editing and opening of Microsoft Access password protected files your best option is to run Windows on your Mac and install Access.
The easiest way to run Windows on your Mac is to use Parallels which allows you to run Windows and macOS at the same time including on M1 and M2 Macs.
None of the apps featured here can edit password protected Access file but Parallels allows you to install Windows on your Mac and thus enjoy the full version of Microsoft Access.
You can read more about how to install Microsoft Access on a Mac here.