If you're looking for effective CRM tools on macOS, we've looked at the very best CRM software for Mac users in 2023 to manage your business.
We've reviewed a range of CRM services from small business CRMs to enterprise level solutions for the needs of large corporations.
All of the CRMs featured here work on the latest versions of macOS including the newest Apple Silicon M1 and M2 Macs.
In our extensive research, we found that the best CRM for Mac is Monday.com for its incredible ease of use and the way it comprehensively covers almost every aspect of sales funnels and customer relationship management.
Whether you're a freelancer, small business, editorial team, PR firm, estate agency or any kind of organization looking for a Mac friendly CRM, you'll definitely find a tool here to help.
Is There An Apple CRM?
There is currently no such thing as a CRM software made by Apple. Rather surprisingly, Apple don't make CRM tools for either macOS or iOS.
Nowadays, most Customer Relationship Management software are SaaS (Software as a Service) cloud based systems that run in any web browser on a Mac or PC.
However, there are some Apple only CRMs such as Daylite which is designed specifically for macOS and Apple devices.
There are also some CRMs that integrate better with macOS tools like Apple Mail and Contacts than others.
So in these reviews, we've looked at a combination of the best Mac compatible CRM apps and cloud based solutions.
Advantages of Using A CRM On Mac
The biggest advantage of any CRM is that it centralizes information and automates tasks and analyzes data to make your business more efficient.
Typical functions of a CRM include:
Some of the most significant advantages of using a CRM system are:
Improves how team collaborate. If you don't already use project management software, CRM tools can be used for things like assigning tasks, logging work and tracking time.
Manage clients more efficiently. A CRM solution makes it much easier to handle customer enquiries, follow-up leads and manage social media interactions across multiple channels. You'll also have a much better history of customer interactions to use when dealing with long term clients.
Automate tasks. The best CRM software can automate your customer management tasks such as on-boarding, follow up emails, SMS messages and contact reminders.
Generate reports. Reports allow you to take stock of how your business is doing periodically so that you can strategize and identify where improvements can be made.
How We Chose These CRMs For Mac
The most important thing we looked for in these CRM solutions were integration with Apple's built-in productivity tools in macOS such as Contacts and Mail.
Naturally, we also gave preference to CRMs with Mac desktop apps which as we found, are few and far between nowadays.
The fact is that the majority of CRM tools on the market now are SaaS Cloud based solutions.
However, some such as Daylite are designed specifically for Mac, iPad and iPhone so that you can sync them between iOS and macOS.
The main downside of using a Mac only CRM desktop app though is that you may have problems when new versions of macOS are released like such as the latest versions of macOS Sonoma and Ventura.
If the developer isn't quick to update the app for new releases of macOS, then you may find yourself unable to use your CRM which isn't a problem with cloud based solutions.
Some CRMs also haven't been updated to work natively with the latest Apple Silicon M1/M2 Macs but most still work either via Rosetta or via the Cloud.
Other things we evaluated these CRM tools on were:
Price
Ease of use
Contact and sales pipeline management integration
Reporting tools
Third party integrations
Email marketing tools
Depending on whether your business is active on social media, you may also want to consider whether the CRM can monitor your social media channels.
Some CRM tools like the excellent Zoho CRM allow you to monitor customer reaction to products or services on social media such as Twitter, Facebook and LinkedIn.
You May Also Like:
With this in mind, here then are the best CRM tools for Mac users of 2023 in order of ranking.
Monday.com CRM is the best CRM platform for Mac due to its incredibly easy to setup and use approach to CRM.
Monday.com is used by some of the biggest businesses in the world including Adobe, Uber and Unilever which gives some idea of how powerful it is.
Monday CRM is built on top of Work OS which is the basis for the company's incredibly popular project management software.
Monday CRM gives you full control over your sales funnel to help close deals and automate as many sales activities as possible.
Monday CRM covers absolutely everything including lead capturing, lead management, sales pipeline, contact management, customer projects, marketing activities, customer onboarding, team management and much more.
One of the outstanding features of Monday.com is the way it allows you to quickly customize ready made templates so that you can tailor sales pipelines, workflows and processes to suit your business.
This is all done via an easy to use drag-and-drop interface that anyone can use even if you're not familiar with CRM software.
The visualization tools in Monday.com are excellent giving you a clear overview of sales pipelines both on your Mac desktop and on mobile devices.
You can connect Monday.com to third party apps too including Gmail, Facebook Ads, Aircall and PandaDoc. This enables you to do everything in one CRM system without having to use multiple apps.
If you're already using a different CRM, Monday.com also allows you to import databases in Excel, Asana, Trello and many other formats.
You can try Monday.com CRM for free to judge for yourself.
You can also check out our full Monday.com review for more.
Pricing: Free / Plans starting from $8/seat per month
Pros:
Incredibly easy to setup and use
Gives full control over sales funnels
Automates and streamlines sales activities
Lots of industry tailored templates
Drag and drop interface
Integrated with lots of third party apps
Allows you to do everything in one convenient CRM
Cons:
No Mac desktop client but works in any browser
ClickUp is an incredibly easy to use and well integrated CRM tool with project management and office suite tools all in one.
ClickUp is designed to organize and grow your customer relationships with tracking, data visualizations, email and other office tools in one app.
ClickUp allows you to organize your accounts in a list, Kanban board, or in tables for quick data entry. In fact, ClickUp offers over 10 different ways of visualizing your data and customer relationships and sales pipelines.
For managing your most valuable or biggest customers, there's a special high level view to monitor customer lifetime value, average deal sizes and average spend.
The customer database in ClickUp is easy enough for all team members to edit and manage and it allows you to add dynamic links to tasks and documents.
Other features in ClickUp CRM are automated sales pipeline tracking, automatic onboarding and CRM templates according to industry such as real estate, account management, customer service, invoice management, patient management and human resources.
To extend the functionality of ClickUp it also integrates with most major third party apps including Jira, Zapier and G-Suite.
You can try ClickUp CRM for free before deciding whether it's right for you and your organization.
You can also read our ClickUp review for more.
Pricing: Free / Plans starting from $7/month.
Pros:
Very easy to use
Integrated CRM, project management and office tools
Slick interface
Automated sales pipeline tracking and onboarding
Lots of CRM templates
Lots of third party integrations
Cons:
No Mac desktop app but works in any browser
The best thing about OnePageCRM can be summed up in three words – value, simplicity and efficiency which makes it the best personal CRM for Mac such as freelancers and sole trader businesses.
It really doesn't come much easier or simpler to use than OnePageCRM which uses a highly effective to-do-list approach to CRM.
Although it's a very simple approach to CRM, it's clearly successful as companies such as T-Mobile, Remax and Hewlett Packard have used OnePageCRM to convert leads into sales and manage their customer base.
OnePageCRM is based around Dave Allen's well know Getting Things Done (GTD) philosophy and aims to keep your sales team's focus on converting sales instead of navigating around the CRM app itself – which is definitely no bad thing.
Once you click on a potential lead, you can easily see essentials such as contact information and configure the next appropriate action.
You can also leave notes with any comments you have about the contact plus notify other members of your team of your actions.
You can also automate and streamline your sales process by using Saved Actions to configure exactly when to call, email and follow-up with specific leads.
If you're looking for a CRM tool to simplify the sales and lead generation process on your Mac, OnePageCRM cuts out all the noise and keeps your team focused.
OnePageCRM has now also added Autoflow to automate repetitive follow-up tasks.
Pricing for OnePageCRM starts at $9.95 per month with 4 months free which allows unlimited contacts and notes plus integration with MailChimp, Google Contacts, Outlook etc.
You can get started now with OnePageCRM free for 21 days with no credit card required to judge for yourself.
You can also read our full review of OnePageCRM for a more in-depth look.
Pricing: Starting from $9.95/month
Pros:
Simple and effective CRM
Good value for money
Ideal for personal use or freelancers
Also easy to learn and understand for larger sales teams
Automated follow-ups
Cons:
Only focused on sales CRM
Pipedrive is a well established CRM tool with over 100,000 companies across 179 countries and a mission to make salespeople "unstoppable".
If you're looking for something that's like Salesforce but far easier to get up and running with, Pipedrive may be your answer.
It's extremely effective at keeping customer sales on track, targeted, ambitious but realistic.
As the name suggests, Pipedrive is all about giving high visibility to your sales pipeline so you can keep on top of the sales process.
All your emails and communications with customers are handled within Pipedrive and you can configure alerts for activity reminder emails, mobile notifications and alerts.
Pipedrive is particularly good at automating follow-ups to leads to keep you on top of potential sales with minimal effort.
Unlike tools like Daylite and OnePageCRM, Pipeline also includes tools for sales reporting and sales forecasting plus web forms for lead generation.
More recently, Pipedrive has added an impressive email marketing platform allowing you to efficiently manage customers, leads and marketing drives in one app.
You can get started with Pipedrive for free to judge for yourself.
Pricing: Starting from $14.90/month
Pros:
Similar feel to Salesforce
Handles all communications and emails with customers
Excellent financial planning and forecasting tools
Includes excellent email marketing platform
Cons:
Expensive with multiple users
No project management tools
Hubspot is one of the most popular CRMs on the market thanks to the way it effectively manages workflows for project management, leads, sales and customer communications.
Although there's no Mac desktop app, you can access it in any browser and there's a slick native iOS app for iPad and iPhone.
Hubspot is integrated with both G Suite and Microsoft Office and like all the best CRMs, works with Zapier for integration with just about anything from Google Drive and Gmail to Slack and Facebook Lead Ads.
There is a basic free Hubspot free plan but you need to purchase add-ons for reporting tools, AI, and advanced automation features.
There aren't many financial planning tools in Hubspot CRM but you can buy the Sales Hub add-on for forecasting although it costs an extra $50.
Hubspot also allows you to create a personalized product bundle to cover your exact needs.
Hubspot isn't one of the cheapest CRMs on the market starting at $1.600 per month although there's also a Starter Subsription for $20 per user/per month, billed monthly.
There's also a basic free version of Hubspot that you can test out.
Pricing: Free / Plans starting from $20/month
Pros:
Covers everything from project management to sales pipeline tracking
Excellent third party integration
Lots of internal Hubspot add-ons
Personalized product bundles
Cons:
Price
Add-ons can be expensive
Zoho CRM is made by software giants Zoho that make solutions for just about everything from remote desktop software to email marketing tools.
Zoho CRM is an incredibly easy-to-use Customer Relation Management system for small businesses and includes customizable modules, marketing automation, and social media management tools.
Zoho CRM is ideal for defining workflows and rationalizing everyday tasks. It's also got some excellent lead management features to help you close deals effectively.
Although there's no Mac desktop client it works in any web browser such as Safari, Firefox or Chrome and there's a separate CRM app for iOS.
Other useful tools include data porting features to migrate data from spreadsheets and contact management software.
The social media tools are some of the best we've seen in any CRM app and include integration with Twitter and Facebook.
Zoho CRM now also has an AI assistant which can help your team by predicting business trends and suggest the best time to contact customers among many other features.
The main downside is the add-on module system which can increase the price the more features you need but at the same time, you don't need them all and it's highly customizable.
Zoho CRM is free for up to three users with the Standard version costing $14 per user/per month and the Enterprise version $40 per user/per month.
You can also try Zoho CRM for free.
Pricing: Starting from $14/month
Pros:
Integrated across the Zoho suite of products
Excellent for managing social media channels
Spreadsheet migration tools
Marketing automation tools
Cons:
Add-on modules can be expensive
Freshsales CRM (formerly Freshworks CRM) is a lightweight CRM for SMBs that provides excellent value for money, a clever AI assistant and lots of customization options.
Freshsales is made by the Freshworks group which makes a range of SaaS business tools ranging from CRM to customer support software.
Freshsales is aimed at small to mid-size businesses and features some powerful workflow automation and sales pipeline management tools.
Freshsales is suitable for companies worldwide as it supports multiple currencies and works in 30 different languages including left to right languages such as Hebrew and Arabic.
Freshsales is also fully integrated with Freshworks other business products including Freshcaller and Freshdesk for customer support if you're looking for an integrated customer service solution.
However, integration beyond this via Zapier and APIs isn't great compared to CRM solutions like Zoho CRM but if you're looking for a value for money CRM with an easy learning curve, Freshsales is the definitely worth checking-out.
Freshsales has a free basic plan although this doesn't include reporting. Plans including reporting and other features start at $15 per month and include essential like visual sales pipeline, AI predictive contact scoring and sales sequencing.
Pricing: Free / Plans starting from $15/month
Pros:
Value for money plans
Supports multiple currencies and 30 languages
Fully integrated with other Freshworks products
Cons:
Limited third party integrations
Keap CRM (formerly known as Infusionsoft) is an incredibly popular CRM which focuses on providing a highly personalized service to clients and free your time from repetitive tasks.
Keap is excellent at automating highly personalized follow-ups plus email or text reminders. Keap is focused around a well designed activity stream where all communications are updated and everything is stored in one place.
Keap keeps track of Sales and Marketing automation, CRM, Sales pipeline, payments, reporting and analytics, appointments and email marketing.
Keap is popular with service based industries in-home or professional and personal services that are acquiring new leads, tracking or managing leads and invoicing clients.
Keap starts at $159 per month for two user and up to 1500 contacts.
You can also try Keap for free to judge it for yourself first.
Pricing: Starting from $159/month
Pros:
Excellent automated reminder system
Timeline view gives an easy overview
Integrated email marketing tools
Cons:
Setting up campaigns can be time consuming
Customization of Keap takes some learning
Bonsai is a slick and easy to use CRM that comes with convenient scheduling, project management, invoicing tools and time tracking tools included.
Bonsai allows you to easily add leads, manage existing clients and and keep track of all your contacts.
Bonsai gives you a clear overview of payments, tasks and timesheets in real time.
Bonsai also makes it easy for you to invite other stakeholders such as contractors into the CRM as long as they have a Bonsai account.
You can create profiles for clients where you can add notes, contact details and see an instant overview of your relationship history with them.
You can easily see important milestones such as first contact, contracts sent and when billing was setup.
All of the tools needed to onboard clients quickly and efficiently via form templates are included in Bonsai along with integrated invoicing, time tracking and scheduling tools too.
You can try a free trial of Bonsai CRM to test it for yourself.
Pricing: Starting from $21/month.
Pros:
Includes integrated time tracking, invoicing and scheduling tools
Clean, slick interface looks great in macOS
Lots of form templates for onboarding
Works on any platform in the Cloud
Cons:
No Mac desktop app
CSV data importing only
Daylite is an amazing, easy on the eye customer and project CRM software designed specifically for Mac and iOS devices.
If you're tired of using spreadsheets and different apps from managing your customer pipelines then Daylite offers a far more organized way of managing you clients and sales pipeline.
Because it's designed for macOS, it's one of the few CRMs that integrates with Apple Mail, Contacts, Siri and Calendars.
And because it works on your desktop, it's one of the only CRM software that can be used offline which is impossible with cloud based solutions.
Daylite does sync your data with Daylite Cloud however so that you can use it seamlessly in teams and switch between iOS and macOS at any time but there's no web browser access like with most SaaS CRMs.
Daylite can be scaled up for medium to large businesses or enterprises but is also an excellent starting point for small businesses too.
Daylite is not only a superb CRM but also an excellent project management tool and provides an amazingly in-depth and easy way of keeping tabs on multiple projects at once.
We found that although Daylite provides Quotes and Estimates for work, it does however lack sales and financial planning features.
However, the developer Marketcircle offers it's own excellent invoicing app Billings Pro and there's also a plugin for MoneyWorks which is one of the best accounting tools for Mac.
Daylite requires a monthly subscription starting at around $50 per user/month (or $500/yearly) which includes syncing via Daylite Cloud and is very competitive compared to some of the leading CRMs on the market.
There's also a very limited free plan but there is a strict limit on the amount of items you can create in Daylite.
You can try a 30 day free trial of Daylite for Mac.
You can also read our full Daylite CRM review for more.
Pricing: Starting from $50/month
Pros:
Built specifically for Mac and iOS
Amazing Project Management tools
Integrated with Apple Mail, Contacts, Siri and Calendars
Looks and works great on Apple products
Third party integration with Zapier, Slack, Zoom and more
Works offline on your Mac desktop
No contracts
Cons:
No financial planning tools
No email marketing automation tools
No real-time reporting
If you're a small business that doesn't need the complexities of a large CRM then the appropriately named Less Annoying CRM may be for you.
Less Annoying CRM is incredibly simple to setup, good value at only $15 per user per month with free customer support included.
If you don't have time to train a large sales team how to use a CRM, then pretty much anyone can get a pipeline up and running with Less Annoying CRM in minutes.
There are no email marketing, invoicing or financial forecasting tools in Less Annoying CRM but if you just want an efficient way to manage contacts and sales pipelines on your Mac, it's straightforward and effective.
You can try Less Annoying CRM free for 30 days with no credit card required. Plans start at $15 per user per month with no contracts required.
Pricing: Starting from $15/month
Pros:
Very simple to learn and use
Manage contacts and pipelines in minutes
Good value with no contracts
Cons:
No email marketing features
No sales forecasting
Only suitable for small businesses
If you're looking for a European based CRM tool that's easy to setup and use but can grow with your business, Really Simple Systems CRM may be for you.
One of the advantages of a European based CRM is that all data is stored in the EU thus avoiding any potential GDPR compliance issues.
As the name suggests, Really Simple Systems CRM keeps things straightforward but includes useful extras including automated email marketing and customer service module.
It's also one of the few CRM systems to include it's own accounting module although you can also integrate with other top accounting software solutions such as Xero, SageOne and Kashflow.
Really Simple Systems CRM has a limited free version for 2 people although it is limited to 100 company accounts and 100MB of storage.
Starter plans start at $17 per month and offer unlimited company accounts, contacts, storage, email marketing modules and many other advantages.
You can also try the Professional version free for 14 days which has no limits on the number of users or company accounts you can use it with.
Pricing: Starting from $17/month
Pros:
Limited free version
European based for GDPR compliance
Slick interface
Accounting software integration
Cons:
Marketing automation tools cost extra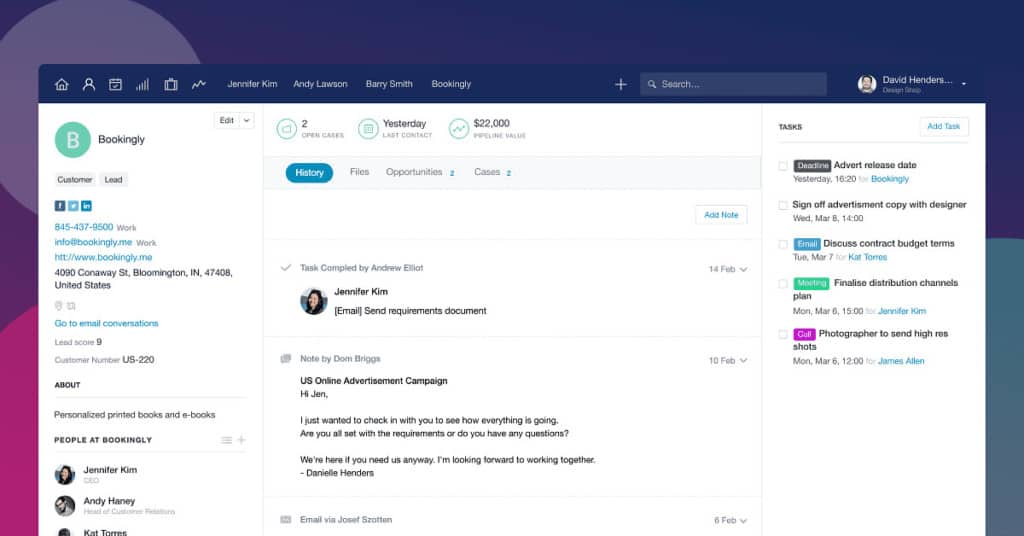 Capsule is an extremely slick, well organized CRM that's aimed specifically at small businesses. It's currently used by around 10,000 customers in over 170 countries and is based in the UK.
Capsule handles contact management, emailing, activity tracking, lead management and more.
What we like about Capsule is it's extremely clean with strong contact management tools, a highly customizable calendar and useful sales pipeline summaries that make it easy to track leads and share them with your team.
Capsule is also one of the most well integrated CRMs with third-party services we've seen.
Among the highlights are Mailchimp, Google Contacts, Zendesk and GSuite but there are many more ranging from invoicing and accounting apps to inventory management.
If it's not on this list, you can also build your own add-on with the Capsule REST API.
For freelancers or individuals, you can use Capsule for free although it's limited to 2 users, 250 contacts and 25MB of storage.
Small Business Professional plans start at $18 per month with support for up to 50,000 contacts, third-party app integration and full sales reporting/forecasting. Subscriptions are pay-as-you-go so you can cancel at any time without penalty.
You can start using a Capsule Professional plan now for free and try it for 30 days to see what you think.
Pricing: Starting from $18/month
Pros:
Great for UK based businesses
Lots of third party app integrations
Free version for freelancers
Cons:
No marketing automation
No official Office 365 integration
Close CRM is a powerful CRM that promises to double your deals and includes email, calling and texting leads with no extra add on costs.
Close CRM is a Sales, Contact Management and Sales platform designed for small businesses that want to scale without having to pay a premium for Enterprise level CRM software.
Close CRM is very well organized for sales teams that need to manage leads and emails in a coherent and structured way.
Close CRM is ideal for tracking contact with clients and discovering potential opportunities.
Close centralizes your lead generation and sales pipeline and can import exisiting contacts from other applications and Excel.
The VoIP feature in Close means you don't have to leave the app to call leads or customers inlcuding SMS messages.
Note that SMS messages aren't available in all locations though as Close is mainly focused on the US, UK, Canadian and Australian markets.
There are even call recording and voicemall included in Close making it one of the best CRMS for making calls.
Close also includes email marketing software to help nurture leads and makes it very easy to send simple mailouts to email databases and track the performance of them.
There are three monthly subscription models offered in Close CRM – Startup, Professional and Enterprise which start from $49.00 per month.
You can also try a 14 day free trial of Close CRM on your Mac.
Pricing: Starting from $49/month
Pros:
VoIP calling to 200 countries
SMS and call recording features
Email marketing tools
Ideal for scaling up businesses
Cons:
SMS is limited to certain regions
No free plan