Miro.com is a versatile and collaborative whiteboard platform that excels in promoting creativity and teamwork. Its pricing options cater to a broad spectrum of users, from individuals to large enterprises. The platform's intuitive interface, vast template library, seamless integrations and Mac desktop app make it a great choice for visual collaboration on a Mac. Despite a few drawbacks, Miro.com is clearly a very well thought-out tool for enhancing productivity and innovation in many different industries.
Pros:
Superb for whiteboarding
Slick, clean interface
Excellent team colloboration tools
Lots of templates
Easy to use
Good value pricing plans
Mac desktop app
Cons:
Free version limited to three boards
No offline access
Limited support
Miro.com is a powerful online collaborative whiteboard platform that aims to help with creativity, innovation, and teamwork.
Miro is ideal for teams that work remotely for long periods or those that do hybrid working between home and the office.
Miro is well established and claims to be used by 99% of Fortune 100 companies.
Although Miro is Cloud based, it also provides Mac users with a Mac desktop app which isn't always the case with Cloud based software.
In this review, we'll look at the platform's strengths, its drawbacks and the pricing structure of Miro.
Miro Pricing
Miro.com offers a range of pricing plans for different needs, making it accessible to individuals, small teams, and large organizations alike.
Here's an overview of Miro's pricing plans.
Free Plan: Miro's free plan is an excellent starting point for individuals and small teams. It includes essential features like unlimited boards, real-time collaboration, and basic integrations. However, it has limitations, such as a limited number of team members and boards.
Starter Plan: Priced at $8 per user per month (billed annually), the Starter Plan is suitable for small to medium-sized teams. It offers advanced features like unlimited team members, external editor access, and advanced integrations.
Business Plan: Designed for larger organizations, the Business Plan costs $16 per user per month (billed annually). It includes enterprise-grade features such as single sign-on (SSO), advanced security settings, and priority customer support.
Enterprise Plan: Miro.com offers customized Enterprise plans for large organizations with specific requirements. Pricing for this plan is available upon request.
All plans include the following:
Single workspace with 3 editable boards
5 Talktracks to share context and save time by giving interactive video walkthroughs of your boards.
Library of 2500+ Miro and community-made templates
100+ apps and integrations like Zoom, Slack, Google Drive, and Sketch
Ability to invite individuals to a specific area of a board or follow what they do
The Starter plan provides many additional advantages such as the ability to unlock unlimited and private boards while the Business plan adds advanced features and security for scaling-up.
There is also a free Education plan for students and educators.
You can find more information on the difference between all the Miro plans here.
Miro Interface & Features
Miro is based around it's superb unlimited canvas Whiteboard which you can annotate and collaborate on very easily.
If you've ever used Google Workspace, Miro is very similar but far slicker and advanced in what it can do.
You can access Miro either via the website in your browser or via the Miro Mac desktop app which works on both Intel and Apple Silicon M1/M2 Macs.
Some of the highlights of Miro include:
Intuitive Interface: Miro.com has an intuitive and user-friendly interface that is easy for anyone to navigate, even without prior experience with whiteboarding tools.
Collaborative Features: Real-time collaboration is at the core of Miro's appeal. Multiple users can work on the same board simultaneously, making it ideal for remote teams and brainstorming sessions. You can also invite non Miro users into a board to view them only.
Vast Template Library: Miro offers a vast library of over 2500 pre-made templates for various use cases, such as project management, design thinking, and agile workflows. These templates which include kanban boards, and project timelines speed-up the creation process and provide a framework for your ideas.
Integration Capabilities: Miro integrates with other popular productivity and project management tools like Slack, Trello, and Google Drive. This allows for a smoother workflow and helps to enhance overall productivity.
Versatile Canvas: The infinite canvas allows for unlimited space to brainstorm, organize ideas, and visualize complex concepts. It's highly adaptable and suitable for a wide range of applications including project management.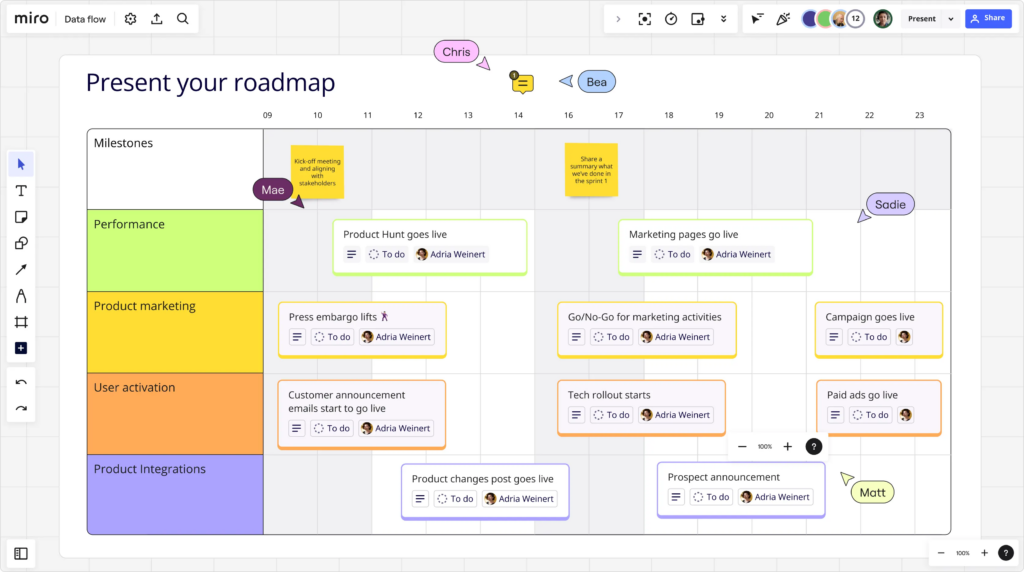 Mobile Accessibility: Miro offers mobile apps for both iOS and Android allowing users to collaborate and access their boards while on the go.
Presentation Mode: Turn your Whiteboards instantly into presentations for colleagues and other stakeholders. This means there's no need to export anything into presentation tools such as PowerPoint or Keynote.
Video Conferencing: You can instantly connect to other Miro users in a video call although if you prefer to use Zoom or Microsoft Teams, Miro will also connect to them too.
Miro Support
For all users, there's an extensive Help section on the site.
For paying users, there's email support and for Enterprise users there's an onboarding service and 24/7 critical issue support.
There's no phone support however.
Miro Security
With all Cloud solutions handling such important corporate data, information, processes and ideas, security is very important.
Miro is fully certified by numerous security standards and organizations including:
SOC 2 Type II
SOC 3
CSA (Cloud Security Alliance)
ISO/IEC Security Management
compliant with GDPR and CCPA standards.
Miro also uses Amazon Web Services (AWS) based both in Europe and the USA but no longer uses servers in Russia, Ukraine or Belarus.
Miro Downsides
There are some downsides to Miro that we identified. Some of biggest ones are:
Pricing for Larger Teams: While Miro.com is cost-effective for smaller teams and individuals, the pricing can become a significant expense for larger organizations, especially if they require the Enterprise plan with custom features.
Learning Curve: Despite its user-friendly interface, some users may find the multitude of features and options overwhelming at first. A learning curve may be involved in mastering the platform's full potential.
No Offline Access: Despite the Mac desktop app, Miro primarily operates online which means it requires a stable internet connection at all times. Offline access is limited, which can be a drawback for users in areas with unreliable connectivity or if you're on the move without internet access.
Limited Free Plan: While the free plan is a great starting point, it comes with limitations on team size and just three boards. This may mean you need to upgrade sooner than expected.
Alternatives To Miro
Depending on what you mainly aim to use Miro for, there are many competing mind mapping and brainstorming software that can be used as alternatives to Miro such as Monday.com and ClickUp.
There are some dedicated project management software for Mac such as Project Plan 365 and Teamwork which are more focused on Gantt charts and other project management specific tools.
In terms of whiteboard software however, Miro is hard to beat.