If you're wondering whether Apple Silicon M1 Macs or M2 Macs can run Windows the good news is they can and here we show you how to install Windows on an M1 or M2 Mac for free.
In our research, although there are various ways of running Windows on a Mac, by far the best way to run Windows on an M1 or M2 Mac is with Parallels.
Parallels is a virtual machine which runs Windows "virtually" within macOS meaning you can switch between Windows and macOS instantly.
Parallels is incredibly easy to use even for beginners and once you've downloaded everything, will install Windows on an Apple Silicon M1 or M2 Mac in little more than 10 minutes.
Parallels was the first virtual machine to be officially compatible with the M1 & M2 chip and allows you to run Intel only Windows software on Apple Silicon Macs.
Parallels is also the only virtual machine to run Windows on a Mac that is authorized by Microsoft.
At the moment, the only major rival to Parallels is VMWare Fusion which took a lot longer to support M1 & M2 Macs and doesn't have Microsoft endorsement.
You May Also Like:
How To Boot Camp On M1 & M2 Macs
Boot Camp is a free utility in macOS that allows you to install other operating systems on a Mac but you can't use Boot Camp on M1 & M2 Macs because it does not work with the Apple Silicon chip.
If you search for Boot Camp on an M1 or M2 Mac, you won't find it because Apple has not made an Apple Silicon chip compatible version of Boot Camp for M1/M2 Macs.
This means you can't dual boot in Windows or macOS with Boot Camp on an M1 or M2 Mac like you can on Intel Macs.
Windows ARM on M1 & M2 Macs: Before You Start
There are a few catches to be aware of though when installing Windows with Parallels on an Apple Silicon M1 or M2 Mac.
Since Apple Silicon is based on an ARM (Advanced RISC Machine) chip, Parallels can only run the "Windows for ARM" version of Windows not the standard Intel version that's installed on most computers.
The problem with Windows for ARM is that many programs and applications either work slowly in it or don't work with it at all.
As a general rule, if the application you want to run is available in the Microsoft Store, then it probably runs on Windows for ARM.
If it isn't however, it may not work.
Although Windows for ARM can run most software that the Intel x86 version of Windows can (thanks to something called x86 emulation in Windows for ARM), it doesn't always work with all programs or games.
You may therefore find that some games or software simply don't work or experience lag after installing Windows for ARM on an M1 or M2 Mac.
It's also worth being aware that you can't actually buy a license from Microsoft for Windows ARM to use on Apple Silicon Macs.
However, Microsoft provides a free preview version of Windows 11 ARM that you can use on Apple Silicon Macs and unless Microsoft suddenly decided to withdraw the Preview, it's not an issue to worry about.
Windows 10 On M1 & M2 Macs
Parallels no longer offers an automatic option to download and install Windows 10 for ARM because Microsoft has discontinued support for Windows 10 ARM it to concentrate on Windows 11 ARM.
However, you can still install Windows 10 by downloading an old insider Preview version of Windows 10 and uploading it to Parallels to install.
We strongly recommend installing Windows 11 as the installation process is much simpler and most applications that worked on Windows 10 also work on Windows 11.
Can You Install Windows 11 on an M1 or M2 Mac?
You can now install Windows 11 on M1 & M2 Macs which was released in Fall 2021.
Windows 11 requires a physical TPM chip to run and although Macs don't have one, Parallels can now emulate a virtual TPM chip so that Windows 11 will run on both Intel and Apple Silicon Macs.
Parallels can now automatically download and install Windows 11 from Microsoft without having to sign-up for the Windows Insider program which was necessary in previous versions of Parallels.
You can watch Windows 11 running on an M1 Mac below.
How To Install Windows 11 on an M1 & M2 Mac
With this in mind, follow these instructions to install Windows on an Apple Silicon M1/M2 Mac.
Download Parallels for Mac and install it. You can use the free trial to try it first.
When prompted, allow Parallels to access all folders and directories.
Parallels will confirm that you're using an M1 or M2 chip Mac explaining that it will use the Windows for ARM version. Click on Continue.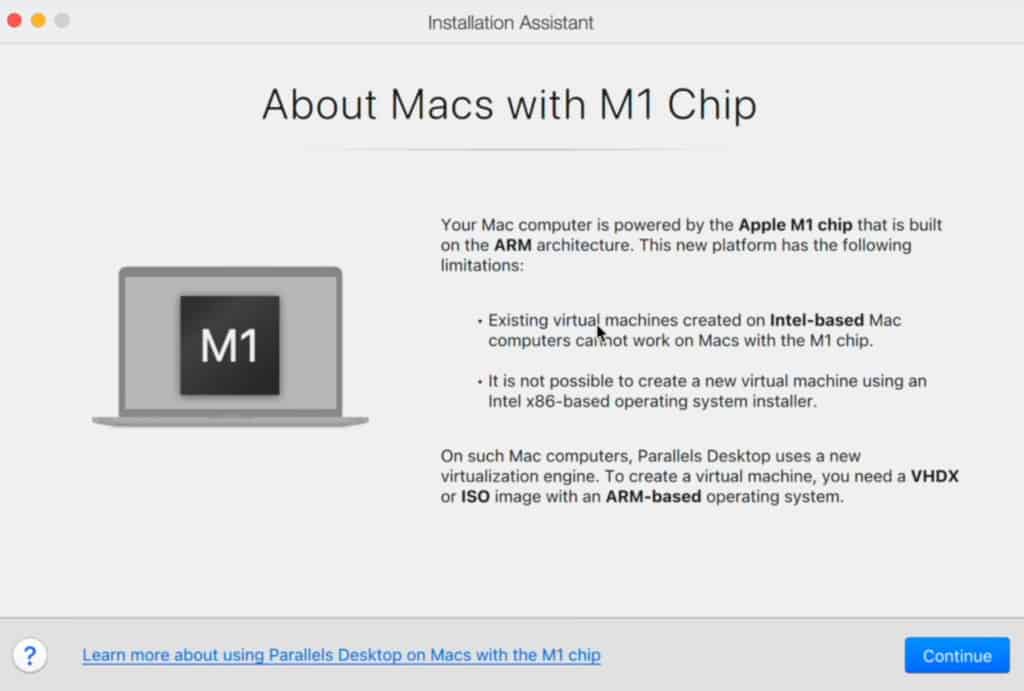 Parallels will then prompt you to Get Windows 11 from Microsoft and click Continue. Note that there is no longer the option to Get Windows 10 From Microsoft as Microsoft no longer supports development of Windows 10 For ARM. If you need to install Windows 10, you'll need to download an old Windows 10 ARM Preview version and select the other option "Install Windows or another OS from a DVD or image file".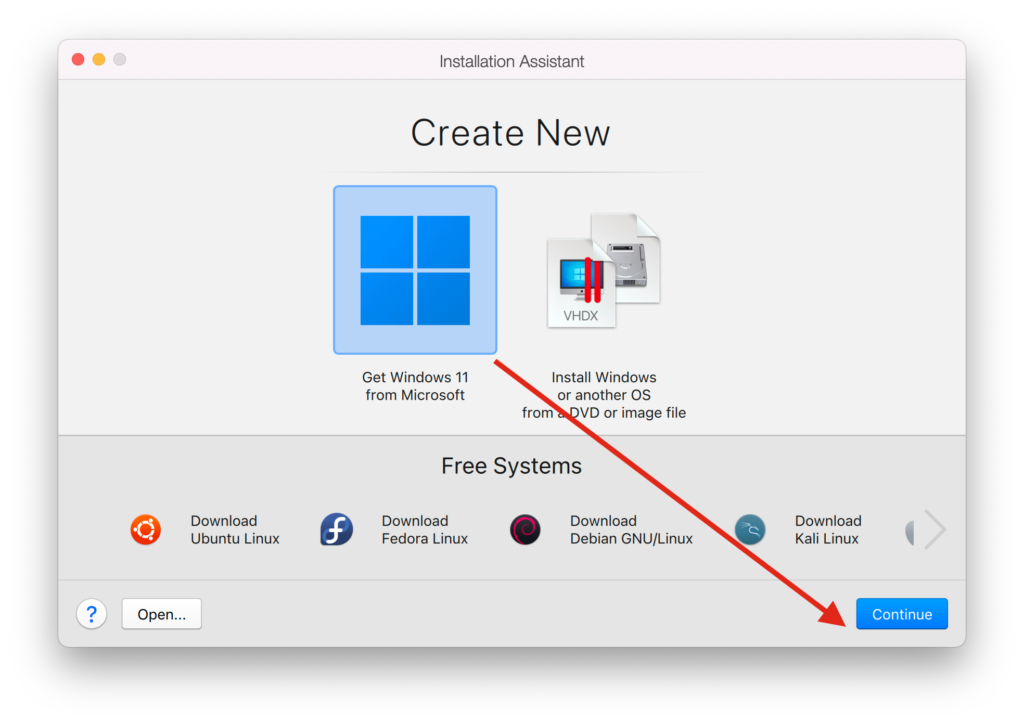 Parallels will then automatically download and Install Windows 11 on your Apple Silicon M1 or M2 Mac when you click Install Windows.
Windows will then download and install automatically and you'll get an "Installation Complete" message when done.
If you do not see the option to Get Windows 11 From Microsoft, you must be using a version of Parallels earlier than Parallels 17.1.1. You will either have to update Parallels to the latest version of do this process manually by downloading the Windows 11 for ARM VHDX file from Microsoft and select "Install Windows or another OS from a DVD or Image file" instead.
To get the Windows 11 VHDX file, you have to register for the Windows Insider Program here.
Note that you'll need to register for a Microsoft account too to do this if you don't already have one.
When you've registered, you can download the Windows 11 for ARM VHDX file here.
Once Windows has been installed on your Mac, Parallels will need some information to optimize it for how you plan to use it.
Parallels will ask you whether you want to use Windows primarily for Productivity or Gaming. This helps it optimize the Windows installation on your Mac for how you will mainly use it.
You'll also need to specify a name for the installation (e.g. Windows 11) and chose where to save it on your Mac. This will require 17.18GB of disk space.
Select the options "Create alias on Mac desktop" and "Customize settings before installation" at the bottom of the installer.
When you've done this, click "Create" to create the Windows 11 installation on your M1 or M2 Mac.
After some time, Parallels will prompt you to customize the installation settings. The default setting is 4 CPUS and 4GB of RAM allocated to Parallels. If you've got the 16GB M1 or M2 Mac, we strongly recommend increasing this to 8GB or 12GB in order for Windows to work as fast as possible with games and software on your M1 or M2 Mac.
Click Continue when you're done and Parallels will then ask you to allow other permissions such as access to your Mac's iSight camera, microphone and Bluetooth.
Finally, Parallels will ask you to sign-up for a free Parallels account after which you'll need to accept the Parallels user agreement.
Then that's it – you've completed the installation of Windows 11 on your M1 or M2 Mac.
From here, you can install Windows apps or gaming platforms in on your Mac such as Steam, Microsoft Office or any other Windows only games and software that won't work on a Mac.
How Does Windows 11 Perform on an M1 or M2 Mac?
Windows 11 runs incredibly fast on M1 and M2 Macs using Parallels. In fact, it's so fast that it's arguably better at running Windows than any PC laptops.
If you measure the performance in Geekbench, even when running Windows virtually, then Apple Silicon M1/M2 chips outperform some PCs with Intel chips running Windows natively which is pretty incredible.
Considering the amount of emulation that is going on between Parallels and Windows 11 for ARM to run Intel only games and software, it's incredible how smooth everything is.
For example, you can play GTA V in Windows on your Mac via Steam absolutely perfectly even on an M1 MacBook Air.
You can also watch YouTube videos in 4K which play amazingly well even using the Microsoft Edge browser.
You can easily switch between macOS and Windows by pressing CMD+TAB on your Mac at any time and there's no lag when resuming the virtual machine.
Which Games Work on M1 & M2 Macs Running Windows?
Installing Windows on a Mac is often the only way to play PC only games on a Mac.
However, unfortunately we found that some games simply would not work on an M1 or M2 Mac running Windows for ARM.
Steam games such as GTA V, Rocket League and Final Fantasy 7 worked amazingly well even on the highest graphic settings at 30 FPS with no glitching at all.
However, many other games simply wouldn't launch on Steam and other gaming platforms.
We had the same problem with games on Battle.net in Windows such as World of Warcraft III, Call of Duty: Cold War and Overwatch 2 all of which wouldn't work either.
Downloading extra Windows plugins such as DirectX and the x86 version of Visual C++ didn't help either.
This is usually because some games such as Fortnite and Valorant won't work in Parallels due to the anti-cheat Vanguard anti-cheat software and EasyAntiCheat software used in Epic games.
DirectX 12 and Open GL 3.3 or above are also not supported in Parallels which means that software and especially many Windows only games that require them won't work in Parallels (DirectX 11 is supported in Parallels though).
For games that don't work in Parallels, we recommend checking out our guide on the best ways to play Windows only games a Mac.
Overall all, playing those Windows games that do work on an Apple Silicon Mac in Parallels is an incredible experience and illustrates the awesome power of the M1 and M2 chips.
If you have any problems or questions installing Windows on your M1 or M2 Mac, let us know in the comments below.