The 27 inch Asus ProArt Display is an excellent value 4K display that works very well with Macs. The brightness levels and color range are excellent although not quite up to Adobe RGB levels for pros. For designers and artists on a budget though, the Asus ProArt Display is a great monitor.
Pros:
Excellent color accuracy
Ideal for artists and graphic designers on a budget
Crisp 4K images
Lots of color presets
Cons:
Not suitable for fast gaming
No real Adobe RGB support
HDR support limited
We voted the 27 inch Asus ProArt Dispay 4K as one of the best monitors for Macs and in this Asus ProArt Display PA279CV 4K review we take a closer look at how it performs.
The 27 inch Asus ProArt Display 4K is aimed at professionals on a budget in graphic design, CAD, desktop publishing, video editing and other creative industries that need high quality color accuracy.
However, it can also be used for all-round general from surfing the net to watching videos.
The impressive panel of the Asus ProArt Display renders 100% of the sRGB colour gamut and the display is Calman-certified for color accuracy.
The Asus ProArt Display PA279CV also supports true 10-bit color rendering which means it can handle more than a billion different shades.
In this Asus ProArt Display 4K review, we take a closer look at what it can do and why it's a great choice for Mac users.
You May Also Like:
Asus ProArt Display PA279CV 4K Overview
If you need high color accuracy but are on a budget, then the 27 inch Asus ProArt Display is designed with graphic design and drawing tablet artists in mind.
At less than $499, the 27 inch Pro Art Display is one of the best budget monitors for Macs that we've seen.
The Asus ProArt Display is very similar in spec to the excellent BenQ PD2720U but the maximum brightness is much higher although there's no handy Mac setup mode like you get with the BenQ.
The Asus ProArt Display is available in sizes ranging from 27-inch to 34-inch and supports a maximum of 4K HDR UHD (3840 x 2160 resolution).
This is an upgrade from the previous Asus ProArt PA278CV which only had 2560 x 1440 resolution.
The Asus ProArt Display 4K also has an LED backlight display with an IPS 178° wide viewing angle panel.
There's an added anti-glare protection on the screen which prevents reflections.
The Calman certified color depth in the Asus ProArt Display is impressive with a wide color gamut of 709 and Delta E < 2 color accuracy.
Although there's no Thunderbolt port, you can connect to the display via USB-C which also provides 65W of charging power to charge a MacBook Pro or MacBook Air battery while you use it.
There's also a range of other ports including 2 HDMI 2.0 ports which you can also use to connect your Mac to a TV or Smart TV if you want to.
For video editors and gamers, the Asus ProArt Display 4K also has Adaptive-Sync technology that adjusts automatically between 40Hz to 60Hz for animated content or fast action footage although this isn't as effective as a higher 120Hz monitor.
For digital artists there are also useful ProArt Gamma Presets and ProArt Palettes that allow you to configure and save color settings depending on what you're working on.
Asus ProArt Display 4K Specifications
Panel Size (inch): 27
Pixels Per Inch (PPI): 163
Aspect Ratio: 16:9
Display Viewing Area (H x V): 596.74 x 335.66 mm
Display Surface: Non-Glare
Backlight Type: LED
Panel Type: IPS
Viewing Angle (CR≧10, H/V): 178°/ 178°
Pixel Pitch: 0.155mm
Resolution: 3840×2160
Color Space (sRGB): 100%
Brightness (Typ.): 350cd/㎡
Contrast Ratio (Typ.): 1000:1
ASUS Smart Contrast Ratio (ASCR): 100,000,000:1
Display Colors: 1073.7M (10 bit)
Response Time: 5ms(GTG)
Refresh Rate (Max): 60Hz
HDR (High Dynamic Range) Support: HDR10
Flicker-free: Yes
LCD ZBD Warranty: Yes(3 yr)
Asus ProArt Display Design
The dimensions of the 27 inch Asus ProArt Display 4K are 614mm wide, 228mm deep with a maximum height of 524mm and a weight of 8.6kg.
The display bezels on the Asus ProArt Display are not too big and unusually there's even a ruler included on the bottom of the monitor although it's doubtful anyone would really use this.
The plastic casing and stand on the 27 inch Asus ProArt Display feel a bit cheap but this is the case with the majority of modern monitors nowadays.
The stand is very versatile however allowing you place the monitor in many different positions including horizontally and vertically.
To control the monitor, you have some buttons on the front which feels a bit dated compared to the joystick design you usually get nowadays to navigate the On Screen Display (OSD).
Asus ProArt Display Connectivity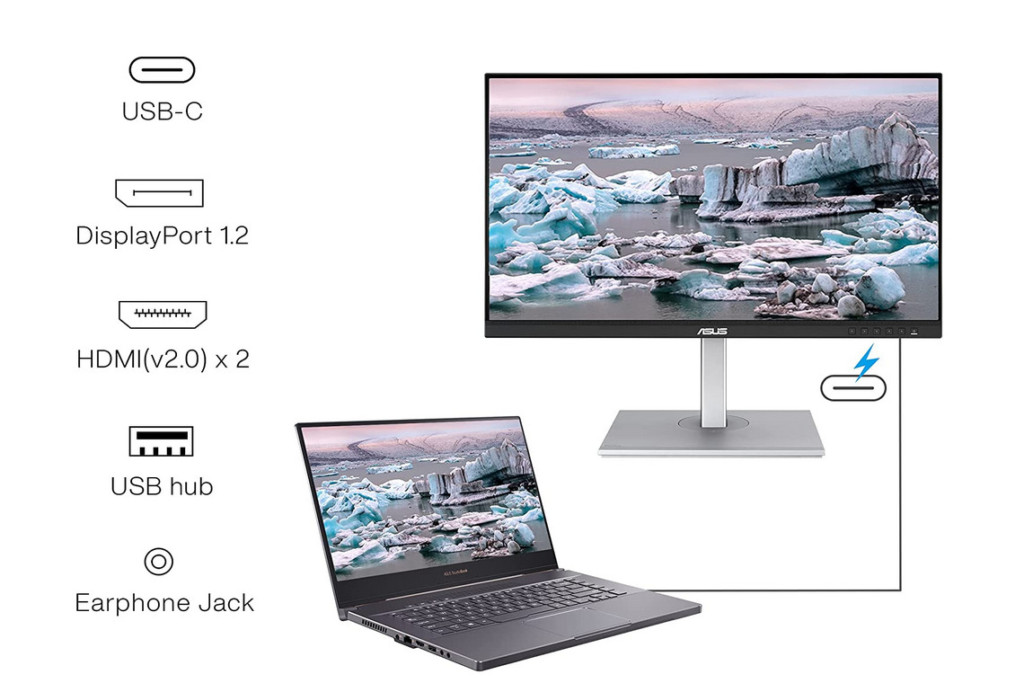 The most important port for Mac users is the USB-C port which supports DisplayPort Alternate Mode and provides up to 65 watts of battery charging power for a MacBook.
There are also two HDMI 2.0 ports which you could connect a TV, Smart TV or gaming console to and a DisplayPort 1.2.
There's also a USB hub which you can connect up to 4 USB 3.2 Gen 1 Type-A devices such as external hard drives.
If you're not sure about the difference between all the different ports and speeds, you can read more about the difference between Thunderbolt vs USB-C here.
Finally there's also an ear jack port for connecting headphones.
There's no Ethernet port on the Asus ProArt Display though.
Included in the box are an HDMI cable, DisplayPort cable, and 1.5m USB C cable.
Asus ProArt Display Color Presets
One of the Asus ProArt Display's strengths is the number of presets it has.
Clearly made with the needs of designers, it has sRGB, Rec. 709, and DCI-P3 modes with customization options for hue, color temperature and gamma.
The color gamut is 100% of sRGB, 86% of DCI-P3, and 84% of Adobe-RGB which isn't the widest of color displays but at this price point isn't bad.
For creative professionals that use Adobe Creative Cloud and need full Adobe RGB support, this may not be enough though.
Certainly for working sRGB and Rec.709 the monitor is fine and the colors look lifelike. The 4K makes images look incredibly crisp and it's great for simply surfing the web or watching videos.
One of the things we liked about the Asus ProArt Display is that it has a very high maximum brightness of 402 nits. This is high for an SDR and definitely gives it an edge over similar monitors like the BenQ PD3220U.
This means that even in office and homes with bright lightening or that are flooded with light in summer, you'll have no problem seeing the screen.
The Asus ProArt Display supports High Dynamic Range (HDR) 10 to 491 nits which is respectable for a monitor in this price range.
HDR makes bright and dark parts of an image incredibly intense and contrasted and the Asus ProArt Display does a great job of this.
Asus ProArt Display Gaming
The Asus ProArt Display can be used for gaming although we wouldn't really recommend it.
The Asus ProArt Display has Adaptive Sync which supports between 40Hz to 60Hz with a 5ms response time but it lacks an enhanced refresh rate.
The problem with this is that you'll see what's known as "ghosting" in fast action footage.
Asus have tried to compensate for this with a rapid rendering mode but it's not as effective as a 120Hz refresh rate.
However, non-action or fast moving games look great in 4K.
There are some low quality speakers included which is pretty much par for the course with monitors nowadays and you're much better off getting a soundbar.
Asus ProArt Display 4K Scaling Issues On Macs
The big problem Mac users have with 4K and 5K external displays others than the Apple Studio Display and Apple Pro XDR display are scaling issues.
In full 4K, the Asus ProArt Display is great for video editing software like Final Cut Pro X with long timelines or CAD software like AutoCAD but not so good for reading text as it minimizes the size of everything.
When using non Apple displays such as the Asus ProArt Display, Mac users find that they can hardly read the tiny text when the monitor is using 4K resolution on a Mac due to technical limitations in macOS.
To prevent this, make sure that in the display settings, the "Default for Display" setting is selected.
This will automatically select the best possible setting to use the Asus ProArt Display with a Mac although it may only be half of the monitors full resolution.
However, you can also change the resolution manually yourself and force it to use 4K by going into System Preferences > Displays and then hold down the Option key and click on Scaled.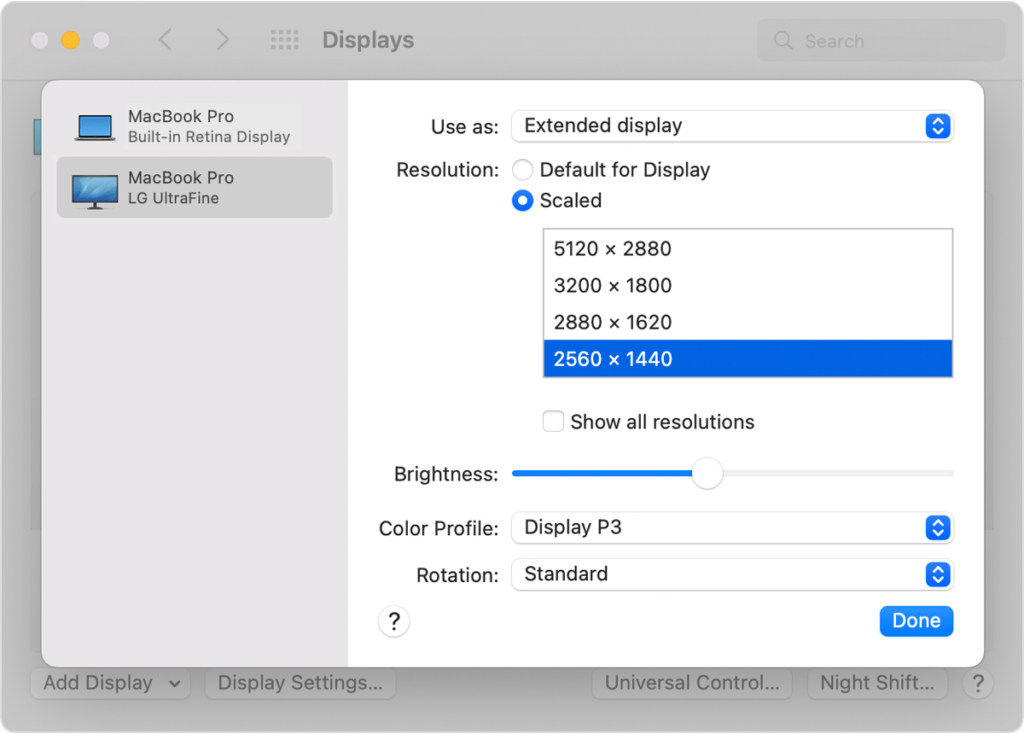 You can then change the setting to full 3840 x 2160 4K although you will find that everything appears extremely small on your screen.
It's therefore better to use a scaled resolution such as 3200 x 1800 or 2880 x 1620 which still provide a very clear and sharp picture and make it much easier to read text.
You can also use an app such as Display Menu ($1.99) to make this easier or there is also free open source software which allows you to customize scaling on macOS.
You can read more on how to fix display scaling on issues on a Mac here.