The BenQ PD3220U is an excellent all purpose monitor especially for anyone doing creative work in 4K. For graphic designers, photographers, architects using CAD software and video editors, it's a very good value alternative to the Apple Studio Display. The color depth is impressive although the lack of brightness is a downside.
Pros:
Mac mode designed for connecting to Macs
Fast user interface access via Hotkey Puck
Amazing color depth thanks to wide P3 color gamut
Thunderbolt 3 ports for daisy chaining other monitors
Lots of other port connections
Cons:
Internal speaker quality is poor
Lack of brightness
No integrated webcam
We voted the BenQ PD3220U as one of the best monitors for Macs and in this review we take a closer look at how it performs.
The BenQ PD3220U is aimed at professionals in graphic design, CAD, desktop publishing, video editing and other creative industries that need the highest quality color accuracy.
However, it's also an excellent value for money all-round monitor for general home use with a special profile for using it with Macs for maximum compatibility.
In this BenQ PD3220U review, we take a closer look at what it can do and why it's a great choice for Mac users.
You May Also Like:
BenQ PD3220U Monitor Overview
Outside of the 5K Apple Studio Display and the 6K Apple Pro XDR Display, we ranked the the 4K BenQ PD3220U as one the best external monitors for the MacBook Pro, Mac Mini and Mac Studio.
The Apple Studio Display also costs $1,599 and Apple Pro XDR Display $4,999 but not everyone has that kind of budget to spend.
The BenQ PD3220U comes in at around $1,199 which while still not cheap, is considerably cheaper than Apple's displays.
The BenQ PD3220U 34 inch offers 4K 3840 x 2160 resolution at 140 pixels per inch (ppi) which is still pretty high although can't quite compare with full 5K 5120 x 2160 resolution (also known as 5K2K) like you get with the LG 34BK95U-W UltraFine.
This is still nothing like the 218 PPI in the M1 MacBook Pro Retina display but still makes text and images look razor sharp.
However, the full 3840 x 2160 resolution of the BenQ PD3220U can make the text look rather small for graphic design and desktop publishing and you might need to scale down the resolution to prevent squinting.
Alternatively, you can go to Settings > Ease of Access > Display and move the "Make text bigger" slider to 120% which will increase the size of the text, file names and menus.
The same is true of internet browsers which you may have to increase to the zoom to 120% in order to see the text clearly when the BenQ is at its full resolution.
However, due to limitations in macOS that make everything look extremely small at 5K on a non Apple external display, it's advisable to use a scaled resolution especially when dealing with lots of text which we go into in more detail later on.
BenQ PD3220U Specifications
The 32 inch BenQ PD3220U display specifications are as follows:
Size: 31.5″
Screen Area: 27.45 x 15.44″ / 697.31 x 392.23 mm
Panel Type: IPS-Type LCD
Touchscreen: No
Max Resolution: 3840 x 2160
Aspect Ratio: 16:9
Pixels Per Inch (ppi): 140 ppi
Finish: Anti-Glare / Matte
Maximum Brightness: 250 cd/m2 (Sustained in SDR Mode) 300 cd/m2 (Peak in HDR Mode)
Contrast Ratio: 1000:1
Refresh Rate: 60 Hz
Variable Refresh Technology: None
Bit Depth / Color Support: 10-Bit (1.07 Billion Colors)
HDR Compatibility: HDR10
Color Gamut: 100% sRGB 100% Rec. 709 95% DCI-P3
Response Time: 5 ms (GtG)
Viewing Angle: (H x V) 178 x 178°
Connectivity: 2x HDMI 2.0, 1x DisplayPort 1.2, 2x Thunderbolt 3, 1x USB Type C, 1x Mini Display Port 1.2, 1x USB B, 1x 3.5in headphone/mic jack
BenQ PD3220U IPS & Color Depth
The BenQ PD3220U is an IPS monitor which means In-Plane Switching and uses liquid crystals in parallel to produce richer colors.
This makes it a particularly good monitor for graphic designers and creative professionals as it supports the P3 wide color gamut and HDR with a 60Hz refresh rate so it's ideal for digital work that requires Adobe's RGB profile.
In fact the BenQ PD3220U has a special CAD/CAM Mode and Animation Mode with presets to optimize it for the needs of professional architects and animators.
The wide P3 gamut of the BenQ PD3220U is ideal for working with Adobe RGB profiled images and RAW photos which covers Rec BT 709 (although not up to Rec BT2020).
The BenQ PD3220U contrast ratio on is a respectable 1300:1 although this isn't as high as the 16″ Macbook Pro which reaches around 1,000,000:1 for XDR content.
For professional video editors that require XDR support, this may be something to be aware of although for all other creative industries it's not a big drawback.
The color accuracy is Delta E < which means a well trained designer's eye will be able to see subtle color differences. However, if you need maximum color accuracy you may need a monitor with a Delta E value of < 2 or lower.
BenQ PD3220U HotKey Puck
A highlight of the BenQ PD3220U is the HotKey Puck adjuster for controls, KVM switch and the ability to hot-swap color profiles and display two profiles at once.
The HotKey Puck is a dial attached to the monitor which instantly allows you to conveniently switch between monitor setup profiles depending on the type of work you are using it for.
This is much more convenient that using the On Screen Display (OSD) buttons on the monitor and is a really nice touch to the monitor.
There are 12 presets to choose from which are mainly for designing and editing needs such as DCI-P3, Rec.709, Adobe RGB, CAD/CAM, and HDR.
BenQ PD3220U Color Accuracy & HDR
One of the things that really strikes you about the BenQ PD3220U 32 inch is the color quality compared to most IPS monitors.
The display supports High Dynamic Range (HDR) 10 which, like Dolby Vision, makes bright and dark parts of an image incredibly intense and contrasted.
Combined with the Pantone validated and Calman verified color technology this provides amazing depth and 10 bit color support.
Even the impressive Apple Studio Display doesn't support HDR and so this is a real plus point for an external display in this price range.
However, it's important to be aware that the display only supports HDR 10 – it's not true HDR support.
The BenQ PD3220U 32 inch has 95% P3 and 100% sRGB color coverage with Delta E ≤ 3. Color mapping is made extremely easy thanks to the BenQ Display Pilot software although this doesn't always work with new releases of macOS.
This is slightly less than the 98% coverage of the DCI-P3 color space of the LG UltraFine 34 inch 5K which may be important for video editors to be aware of.
You can test the screen's ability to display P3 wide color on WebKit to try this out.
The BenQ PD3220U also uses BenQ's own AQCOLOR Technology to enhance color representation for its monitors.
What we also like is that BenQ have specifically catered from Mac users with a special M-Book mode which optimizes color matching when connected to Macs.
BenQ PD3220U Speakers & Stand
In terms of build, the BenQ PD3220U stand allows you to tilt, pivot, swivel, and adjust the height of the monitor.
The silver finished stand feels sturdier than many plastic stands which can wobble quite a bit if the desk is moved or hit.
You can pivot the stand 90 degrees to use it in portrait mode which is also a very nice touch and the monitor will automatically adjust the picture to fit portrait mode.
The BenQ PD3220U does have 4 watt internal speakers but the quality is very poor and you're much better off using external speakers or getting a sound bar for it.
BenQ PD3220U Connectivity
The connectivity options on the BenQ PD3220U are one of its best features.
Apart from the standard 2 HDMI 2.0 ports you get with all displays, there's 2 dedicated Thunderbolt 3 ports (with 2 meter Thunderbolt cable included) one of which which provides 85W of charging power to any MacBook.
Because it has Thunderbolt ports, you can also daisy-chain other Thunderbolt enabled monitors to it and other Thunderbolt devices to the the BenQ PD3220U such as external drives.
Note that the base model M1 and M2 chip Macs can only support one external monitor although there are workarounds to connect more than one monitor to M1/M2 Macs.
The BenQ PD3220U also has 1 USB-C port, 1 USB-B port, 2 USB 3.1 ports, 1 DisplayPort with DisplayPort Alt Mode, and a one Hotkey Puck port. There's also a KVM switch and headphone jack.
Although you can connect the monitor to your Mac via HDMI 2.0 (which supports up to 4K) and DisplayPort (which supports 5K), for best results we strongly recommend connecting via Thunderbolt 3 which offers several advantages.
HDMI 2.0 does not have the bandwidth to handle anything above 4K resolution and the results often look poor when connected to a Mac.
Thunderbolt 3 supports much higher bandwidth for resolution and means that you only need a single cable for video, audio, and data as well as MacBook Pro or MacBook Air battery charging up to 85W.
Thunderbolt 3 also supports 40 Gb/s data transfers for high-bandwidth video and either a 4K signal to two different screens or 5K/60 fps to a single screen.
Gaming On The BenQ PD3220U
The refresh rate of the BenQ PD3220U is 60Hz which isn't ideal for gaming or having to edit fast moving video editing or ProMotion footage on.
In addition the response time is 5ms which is fine for designers but not so good for gaming so gamers may want to look for a monitor with a faster response than the BenQ PD3220U.
There is no integrated webcam for chatting when gaming in the BenQ PD3220U either although you can connect one via USB-C or use a digital camera as a webcam.
If you buy an external webcam for it, we recommend the Logitech Brio 4K which works very well with Macs and also includes a noise cancelling microphone.
Note however that we don't recommend using the BenQ PD3220U with an eGPU on an Intel Mac for gaming.
Connecting external displays to eGPUs on Macs is notoriously unreliable and there are too many comptaiblity issues between graphics cards and different brands of monitor to make it worthwhile.
This is not an issue for Apple Silicon M1 or M2 Mac users as eGPUs don't work with M1/M2 Macs anyway.
BenQ PD3220U vs Apple Studio Display
Many users choose the BenQ PD3220U 4K Monitor as a cheaper alternative to the Apple Studio Display.
However, although the Apple Studio Display is around $300 more expensive, it does have some advantages over the BenQ PD3220U:
The Apple Studio Display supports 5K vs 4K with the BenQ PD3220U
The Apple Studio Display supports 600 nits of brightness vs 350 nits in the BenQ PD3220U
The Apple Studio Display has a Quality Aluminum casing vs plastic casing in the BenQ PD3220U
The Apple Studio Display has a high quality six speaker system vs two 4 watt speakers in the BenQ PD3220U
The Apple Studio Display supports True Tone which the BenQ PD3220U does not
The Apple Studio Display USB-C ports are the fastest 3.1 Gen 2 vs the slower USB 3.1 Gen 1 port in the BenQ PD3220U
The Apple Studio Display features a 12 megapixel ultra-wide camera with support for Center Stage compared to no webcam in the BenQ PD3220U
The Apple Studio has a professional studio quality three microphone array vs none in the BenQ PD3220U
Note that neither the Apple Studio Display or the BenQ PD3220U support ProMotion but the BenQ PD3220U does have mini-LED backlighting although it's rumored this will be added to the Apple Studio Display in 2023.
You can check out other alternatives to the BenQ PD3220U here.
BenQ PD3220U 4K Scaling Issues On Macs
The big problem Mac users have with 4K and 5K external displays others than the Apple Studio Display and Apple Pro XDR display are scaling issues.
In full 4K, the BenQ PD3220U is great for video editing software like Final Cut Pro X with long timelines or CAD software like AutoCAD but not so good for reading text as it minimizes the size of everything.
When using non Apple displays such as the BenQ PD3220U, Mac users find that they can hardly read the tiny text when the monitor is using 4K resolution on a Mac due to technical limitations in macOS.
To prevent this, make sure that in the display settings, the "Default for Display" setting is selected.
This will automatically select the best possible setting to use the BenQ PD3220U with a Mac although it may only be half of the monitors full resolution.
However, you can also change the resolution manually yourself and force it to use 4K by going into System Preferences > Displays and then hold down the Option key and click on Scaled.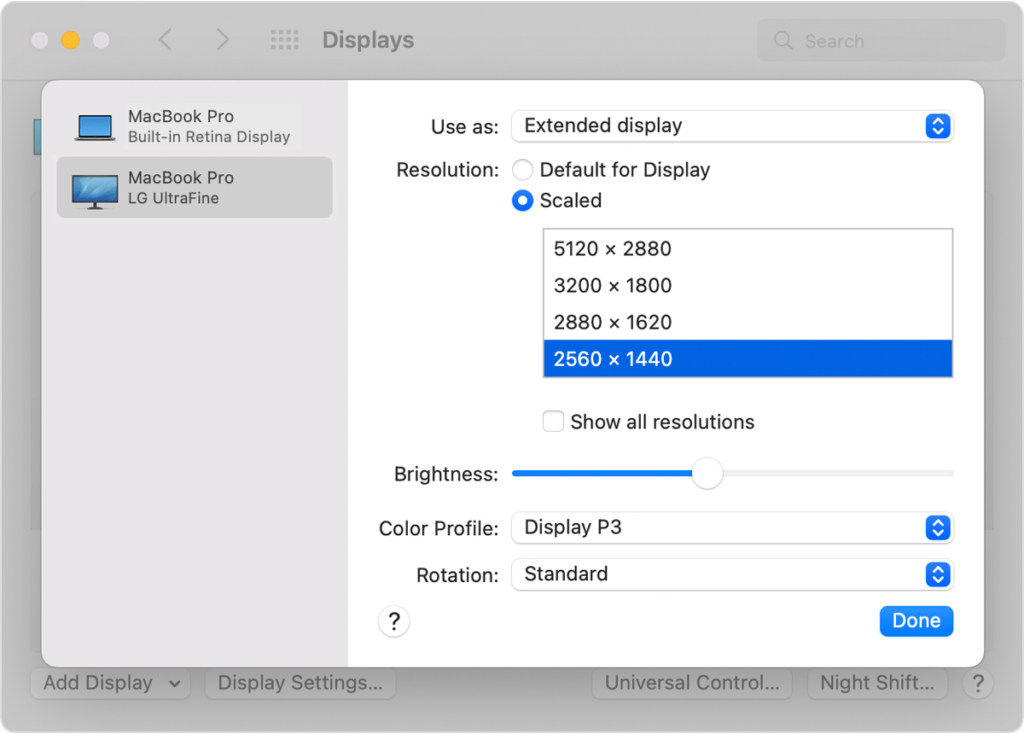 You can then change the setting to full 3840 x 2160 4K although you will find that everything appears extremely small on your screen.
It's therefore better to use a scaled resolution such as 3200 x 1800 or 2880 x 1620 which still provide a very clear and sharp picture and make it much easier to read text.
You can also use an app such as Display Menu ($1.99) to make this easier or there is also free open source software which allows you to customize scaling on macOS.
You can read more on how to fix display scaling on issues on a Mac here.
BenQ PD3220U Monitor Drawbacks
The biggest downside we found of the BenQ PD3220U is the lack of brightness. With a maximum brightness of 350 nits compared to the MacBook Pro display of 500 nits, the display feels a but dull depending on your lighting environment.
As already mentioned, the fact that at full 4K, everything looks small on the BenQ PD3220U is also a bit frustrating but this is the case with all non Apple monitors on a Mac and simply requires scaling the resolution lower.
Finally, the speakers on the BenQ PD3220U are poor although it's very common now in many big brand external displays and can be fixed by buying external speakers.
There's no microphone or webcam in the display either although the Logitech Brio 4K is a good add-on option as it also includes a noise cancelling microphone.