If you want to draw up a new floor plan for your home, office or any kind of space, we've taken a look at the best floor plan and home design software for Mac of 2023.
Home renovation and office remodeling can run into tens of thousands of dollars and unless you're a professional designer that knows how to use CAD software, you need something easy to use to turn your ideas into reality.
Floor plan creators and home design software allow anyone including home owners, real estate agents, builders, remodelers, home designers and interior designers to bring a dream home or office to life.
In our research, we found that by far the best floor plan software for Mac is SmartDraw because it's an incredibly powerful yet easy to use tool to map out new room layouts in 2D.
For those new Mac users that used to create floor plans in Visio, SmartDraw is also a brilliant alternative to Visio for Mac since Visio does not exist on Mac.
Whichever software you choose, all of the tools featured here will save you thousands of dollars making mistakes further down the line and they all work with the latest versions of macOS including Monterey, Big Sur, Catalina and the latest Apple Silicon M1 Macs unless specified.
Floor Plan Software vs Home Design Software
It's important to be aware from the start that there's a slight difference between floor plan software and home design software for Mac.
Floor plan software like SmartDraw are usually for planning layouts of home or office in 2D.
Floor planners are usually very easy to use and allow you to quickly identify problems, save time on costly errors and visualize your ideas more clearly.
Floor planning creators are ideal for mapping-out layouts for homes, offices, real estate etc.
Home design software such as Live Home 3D on the other hand are usually aimed more at visualizing your house designs in 3D with far more interior design tools.
The best house design software for Macs allow you to visualize interiors in 3D, choose furniture materials and even do Virtual Reality walk-throughs of redesigned homes.
Note that although you can do landscape design with interior design and floor planning software, we recommend using special landscape design software for this.
How To Draw a Floor Plan
Although the tools here make it possible to draw professional looking floor plans on your Mac, you'll get the most out of them with a certain amount of advance planning and a structured approach.
Here's a few tips on how to draw a floor plan on your Mac.
Outline What You Want To Achieve
Decide on what you want to get out of your floor plan including a list of features, requirements and maximum dimensions.
Get The Right Dimensions In Place
It's important to make sure you measure the dimensions of the room or space you're targeting not forgetting dimensions of the furniture and features you want to put in it.
Drag & drop basic structural elements like walls or rooms onto your canvas. You must then ensure that your floor plan is drawn to scale.
Add Furniture & Interior Elements
You can then get down to the more interesting job of adding furniture and appliances. Some floor plan tools also allow you to upload your own custom images and items if you can't find them in the library.
Always get someone else to cast a fresh pair of eyes over your floor designs to double-check them for errors and get a second opinion on things.
You May Also Like:
With this in mind, here are the best floor plan creators and home design software for Mac of 2023 in order of ranking.
SmartDraw is the best floor planning tool for Mac for creating 2D floor plans quickly and easily.
In fact we also voted SmartDraw as the best CAD Software for Mac for doing 2D designs because it makes the normally complex business of architectural planning easy enough for beginners.
SmartDraw also works on any Mac as it's entirely cloud based, so it is compatible with both Intel and the latest Apple silicon M1 Macs.
One of the things we really like about SmartDraw is that you're not just getting a floor planner.
You get an all round powerful diagramming software that can be used for anything from flowcharts and org charts to genograms and even Gantt charts.
Another of the things that's really impressive in SmartDraw is the sheer number of floor plan templates available.
There are literally thousands of Quick Start templates and symbols including a huge number of ready-made floor plans which you can personalize very quickly.
These include detailed templates for office floors, conference floors, event floors, warehouse floors and reception floors.
SmartDraw's floor plan creator allows you to quickly add structures like walls, windows, doors and then decorate them with stamp furniture, appliances and fixtures.
This includes bathroom fixtures, lighting fixtures, cabinets, office furniture, wiring, plumbing, HVAC, security systems, plants, landscape elements and many more.
There are also plenty of textures to choose from for flooring, countertops and different types of furniture.
You can share floor plans easily via a link online, PDF or transfer it to Microsoft Office and Google apps.
If you want to import Visio floor plans on your Mac, SmartDraw can even import Visio VSD and VSDX files.
SmartDraw is also the best Visio alternative we've seen only tool for Mac that can also export to the latest Visio 2016/2019 VSDX format if you want to send a floor plan to a Visio user on Windows.
Other things that really stand out that make SmartDraw so easy to work with are the ability to:
Set angles just by typing
Show the distance between a corner and openings like doors and windows
Change scales from architectural to metric instantly
Draw and print to scale
Adjust dimension lines
Adjust wall dimensions easily
Easily adjust the rotation of shapes attached to walls
You can start drawing floor plans with SmartDraw for free to judge for yourself.
You can also read a more in-depth look in our SmartDraw review.
Pricing: $9.95/single user or $8.25/5+ users
Pros:
Very fast and easy to create floor plans
Automated floor plan templates do the hard work for you
Excellent for creating social distancing floor plans
Exports to Microsoft Office, PDF, Google apps and Visio VSDX format
Very versatile, can be used for many different types of diagrams
Ideal for collaborating with others
Simple, cost effective pricing policy
Works on all platforms including on M1 Macs
Cons:
No mobile app (although works on mobile via browser)
Not suitable for 3D floor plans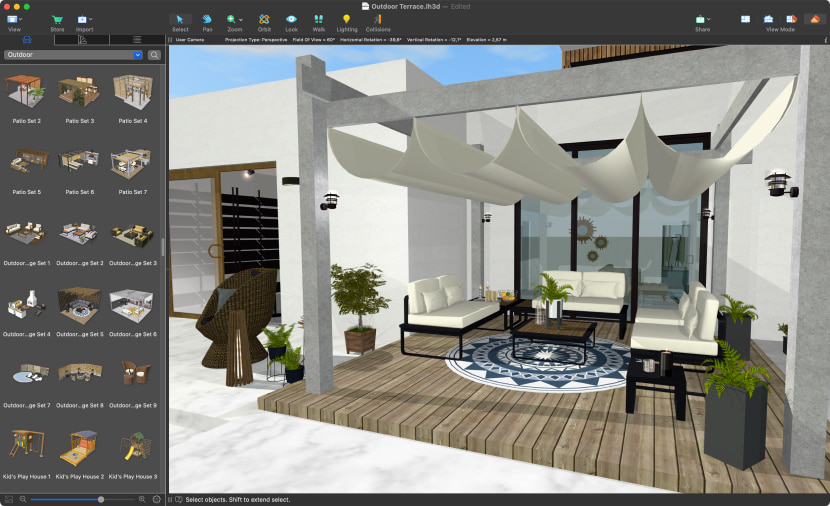 If you need something that goes beyond just floor planning to redesign your home or office, Live Home 3D (formerly known as Live Interior 3D) is by far the best home design software for Mac we've tried.
There are many things that make Live Home 3D stand out from the crowd and the developers have clearly put a lot of thought into how to make home design easy, visually striking and fun.
The interface to Live Home 3D is perfect for beginners to home design as it's so clear and logically laid out without being overwhelming.
The graphics in general are also superb with high quality 2D objects and highly realistic 3D rendering. You can switch between 2D and 3D at any time and with no waiting around to see how your designs look close up.
You can design in 2D and 3D with a selection of furniture and objects from the vast Trimble SketchUp 3D Warehouse which allows you to download thousands of objects and models.
Live Home 3D is also one of the only home design apps to allow terrain editing. This allows you to create a house on a hill for example or a property surrounded by mountains, slopes and other elevations.
Live Home 3D is also very hot at keeping-up with the latest Macs and versions of macOS.
It's one of the only interior design software for Mac we're aware of that is optimized for the latest Apple Silicon M1 Macs and macOS Monterey.
Live Home 3D is available in two versions – Standard and Pro but the Standard version is very basic.
We strongly recommend going for Live Home 3D Pro for $49.99 as it includes essential features like unlimited floor levels, furniture, terrain editing and impressive full HD walkthroughs.
This entitles you to a lifetime license too whereas all the other Live Home 3D versions are subscription based.
You can find full details on Live Home 3D pricing here and there's a 30 day money back guarantee if you're not satisfied with it.
You can also read our full review of Live Home 3D for a more detailed look.
Pricing: Starting at $29.99
Pros:
Mac desktop app
Powerful yet easy to use home design tools
Huge choice of interiors, furniture and materials
Impressive 3D rendering and walk-throughs
Terrain editing functionality
Excellent value lifetime license if you buy direct from the developer
Native version for M1 Macs
Cons:
Limited landscaping tools
No support for layers
No direct support line
If you're looking for the HGTV home design software for Mac used by Chip and Joanna Gaines in the show Fixer Upper, then SketchUp will look very familiar.
That's because Chip and Joanna Gaines use SketchUp to redesign houses in the HGTV show Fixer Upper although they use the rather more expensive Sketchup Pro which costs $349.
SketchUp (formerly Google Sketchup) has evolved from a free online 2D design tool that was once owned by Google to a very powerful 2D and 3D modelling software that produces professional interior and architectural designs.
SketchUp was known as Google Sketchup until 2012 when Trimble Navigation bought it and turned it into a powerful, professional 3D architectural software.
The professional version of SketchUp is SketchUp Pro which is a professional tool costing $349 per year and there's a more limited version SketchUp Go which costs $119 per year.
However, there is also a basic free version for non commercial use called SketchUp Free which works online allows you to model in 3D for free with a generous 10GB of online storage.
The free version is perfect for hobbyists although professionals in architecture, construction, engineering and commercial interior design will need SketchUp Pro.
There are also far fewer templates in the non Pro versions of Sketchup to get you going although it's very easy to create them from scratch.
One thing that Google SketchupPro really excels in is furniture and objects – there's an enormous database of 3D models of just about any type of furniture or object – for chairs alone there are 35,000 choices.
SketchupPro isn't cheap at $349 per year  but it's a very powerful professional house planning and interior design tool. 
You can check out our review of SketchUp for more.
Pricing: Starting from $119/year
Pros:
Does both 2D and 3D design
Draw freehand if you want
Lots of objects and items to design with
Lots of extensions to enhance functionality
Limited free version
Cons:
Advanced features only available if you upgrade to the Pro version
Topping Homestyler (formerly Easyhome Homestyler) is a user friendly, yet powerful home design software that allows you to redesign your home.
Although it was originally based on project Dragonfly by Autodesk in 2009 (later renamed Autodesk Homestyler), it has nothing to do with Autodesk Homestyler which was discontinued in 2017.
The surprising thing is that the Basic version of Homestyler is a free home design software for Mac but feels like a commercial interior design app. The only requirement is that you sign-up for a Homestyler account although if you want to render designs in HD, you must pay.
Creating interiors in Homestyler is simply a case of dragging and dropping elements in your web browser.
You can add small details like grass, gravel and water elements to add realism to your blueprints. It even allows you to import and export DWG files.
There are other nice touches such as 3D video walk throughs, an enhanced furniture library and mobile apps with Augmented Reality.
These allow you to take a photo of a room and then start decorating it with products immediately from the catalogs of various furniture product vendors which really brings things to life.
You can also share designs made in Homestyler to social media such as Facebook, Twitter, Pinterest etc.
Although it's not suitable for professional house design, we think Homestyler is once of the best free interior design software for Mac and if you just want some fun redesigning your home, you can't go wrong with the Basic version.
You can check out our full Homestyler Review for more.
Pricing: Starting from $4.90/month
Pros:
Easy to drag and drop interior design elements
Huge catalog of over 50,000 objects
Panorama views of designs
HD and Ultra HD rendering in paid version
Cons:
HD & Ultra HD rendering costs extra
Can be very slow and unresponsive when dragging and dropping
Not suitable for professional home designing
Complicated credit based pricing policy
Roomle is a very attractively made 2D and 3D room planning app for Mac, iOS and Windows PCs that makes it very easy to redesign your home or office.
Roomle was originally aimed more at business that want to plan where to place Point of Sales (POS) in shops although it can now be used by anyone from professional interior designers to laymen that want to create a mock-up for their dream home.
The smart thing about Roomle is that it's integrated with the furniture catalogs of major manufacturers such as Ikea, Samsung and Vitra meaning you can use (and purchase) objects from these brands in your designs.
Roomle has a minimal interface with very few visible tools. You can very easily change floorings, wall colors and add furniture from Roomle's extensive catalog of objects and materials.
You can plan in both 2D and 3D and use the 3D orbit view to get a birds eye or ground level view of how your redesigned home or living space would feel like for real.
The Roomle iOS app is one of the best mobile home design planning apps we've tried allowing you to pretty much everything you can do in the web version.
You can also use the Augmented Reality (AR) tools in iOS which enable you to take a photo of a room and its objects and Roomle will automatically create a floor plan from it.
There's even a Roomle Viewer VR app which allows you to view rooms with any VR viewer on iPhone.
You can check out our full Roomle review for a more in-depth look at Roomle.
Pricing: Starting from $150/month
Pros:
Impressive VR walkthroughs
Simple, clean interface
Use your iPhone or iPad to map out and edit a room
IKEA catalog integration
Cons:
Focused more on professional interior designers
Expensive pricing plans
Exports limited to JPG
Floorplanner is a very slick dedicated online floor plan software that's used by everyone from home owners to professional interior designers to create impressive 2D and 3D floor plans.
Floorplanner is particularly popular with Real Estate professionals that need to create professional floor plans on Mac quickly.
This is partly because Floorplanner can use your phone or iPad to capture rooms and then aggregate a floor plan thanks to integration with Magicplan.
Floorplanner is easy to use and conveniently snaps items and objects into place to keep your designs both geometrically correct and tidy with minimal effort.
There are also convex tools to help you create complex rounded walls and dividers in floor plans.
Floorplanner allows you to create designs in 2D but you can render them in 3D. This is a really nice touch as it allows you to better visualize what your floor plans will look like if you were standing in the room.
The good thing is that you can use Floorplanner to draw floor plans on your Mac for free although this only entitles you to one saved floor plan.
The pricing policy for advanced Floorplan features is complex but works on a subscription plus credits system starting at $5 per month for individuals and $59 per month for teams.
Floorplanner is great for beginners and professionals alike and although it's not the cheapest floor planning software for Mac available.
You can check out our full Floorplanner review for more.
Pricing: Plans starting from $5/month
Pros:
Slick easy to use interface
Can render 2D plans in 3D
Uses your phone or iPad to capture rooms
Specialized tools for Real Estate Professionals
Convex tools to create complex rounded walls
Cons:
Expensive cost per design unless you subscribe
Confusing credit/subscription pricing policy
It's hardly surprising that furniture giant Ikea has gone into the world of interior design software and Ikea Home Planner is Ikea's way of helping you re imagine your home (and then buy its furniture of course).
Ikea Home Planner works in any browser including Chrome, Safari and Firefox and allows you to create 2D and 3D home design blueprints in your browser.
Although it's nowhere near as advanced as most of the other software featured here, it is completely free to use and fine for creating simple mock-up plans.
Ikea Home Planner allows you to place objects around a floor space to rearrange your home in 2D and 3D. The smart thing is you can "look" around the room at ground level in 3D mode to see exactly how your new home design would feel.
Of course, because it's an Ikea product, you can get pricing for all of the objects so that you can order them in store or online where available.
Of course, you are limited to objects and furniture in the Ikea catalogue although as anyone that has been to an Ikea will know, that's pretty extensive. It's also limited to lounge and kitchen planning.
You can check out our full IKEA Home Planner review for more.
Pricing: Free
Pros:
Free To Use
Easy to get started
Cons:
Only allows you to use Ikea furniture and objects
Very basic toolset
Cedreo is an increasingly popular home design software which claims to be the only software that can help you design an entire home in less than 2 hours.
Cedreo is aimed more at professionals that want to sell a home building or remodeling project although it can be used by individuals that want to design their own home.
Cedreo supports creating photo realistic 2D or 3D interiors and allows you to furnish them easily thanks to a database of over 7000 interiors.
Cedreo allows housing professionals to trace the plot in a few clicks, add the elevation lines to get a scaled ground plan and visualize the terrain slopes on the 3D renderings.
You can also import existing plans, add roofing automatically and select a huge range of walls from Cedreo's library.
Rendering is extremely fast in Cedreo with 3D models of your designs available in little more than 5 minutes.
Cedreo can be used for free by one user per project but plans start at $99 for full design capabilities.
Pricing: Starting from $99
Pros:
Creates 2D floor plans and site plans with dimensions & symbols
3D realistic floor plans to understand interior & exterior flow
Generates interior & exterior photorealistic 3D renderings in quickly
Extensive library of 3D products to customize (color & texture) to create unique projects
Easy to learn for reduced drafting time
Cons:
No DWG file export
Limited features in free version
Tutorial videos, email/phone support only in Pro & Enterprise versions
Sweet Home 3D is a simple free interior design application for remodeling your home. If you're looking for something free and suitable for total beginners to do home design, it's ideal.
Sweet Home 3D allows you to arrange the design of your home or office in 2D and then view them in 3D.
Sweet Home 3D can be used online for free although you can't save anything. However, you can pay $13.99 for the Mac desktop version from the Mac App Store which allows you to redesign your home or office and save the designs offline.
Sweet Home 3D is easy to use and has an active community of users to share ideas and get feedback on your designs from.
One useful touch to Sweet Home 3D is that you can also do landscaping although we'd generally recommend using landscaping design software for this anyway.
Sweet Home 3D is quite dated nowadays and is only suitable for basic interior design but it has recently been updated to work on M1 Macs too.
Pricing: Free
Pros:
Easy to use
Works online and on desktop
Good value for money
Includes landscaping tools
Updated for M1 Macs
Cons:
Feels very dated
Can be unstable and crash at times
Lucidchart is another easy to use cloud diagramming software that makes designing floor plans very easy on all platforms.
Lucidchart is suitable for everything from home and office floor plans to planning the most efficient traffic flow at an upcoming convention.
Lucidchart is similar to SmartDraw although it has a Chrome extension which allows you to work offline as well.
Although it has far less templates than SmartDraw, it still has plenty to complete floor plans quickly and easily including for offices, homes, events, receptions and warehouses.
You can also import and even export to Visio format although it doesn't export to the latest Visio VSDX format and you'll need a Team subscription or higher in order to do this.
You can share floor plans online via link, export to PDF and use a special presentation mode which strips away the interface and just leaves your floor plan.
Lucidchart also has an iPad app which allows you to create floor plans on the move.
Overall, Lucidchart is a simple, convenient and fast way to draw floor plans on macOS.
You can read more in our full Lucidchart review.
Pricing: Free / Plans starting from $7.95/month
Pros:
Slick mobile app
Works offline with Chrome extension
Good for team collaboration
Easy to adjust scale
Cons:
Many features require a Team plan
No automated templates
Virtual Architect Home Design covers absolutely every aspect of interior and exterior home design from door handles to hot tubs.
The design wizards in Virtual Architect Home Design make it easy even for beginners to start designing everything from extensions and outbuildings to home offices and patios.
The design wizard quickly takes you from foundations to roof whether you're building a new home from scratch or remodeling an existing one.
Virtual Architect Home Design also allows you to take photos of your own furnishings and upload them for added interior design details.
There are even 7,500 plants in the Virtual Architect Catalog for different climates and soil types giving you an idea of just how complete it is.
You can also take photo-realistic 3D tours of your home designs at any point to see how they will look and feel in real life.
Note that this software is called Virtual Architect Home Design with Landscaping and Decks on Windows but that version is not available for Mac.
Pricing: Starting from $79.99
Pros:

Does both interior design and landscape design
Incredible attention to detail
Supports your own photos
3D photo-realistic walk-throughs
Cons:
Cost
Phone support costs extra
Doesn't work with M1 Macs
Dreamplan 3D Home Design Software for Mac allows you to model your dream home in 3D.
If you just want to sketch out a basic idea of your home to give to an architect or structural engineer, then Dreamplan 3D Home Design software is easy to use on macOS and Windows.
Dreamplan 3D Home Design Software allows you to switch from 2D blueprints to 3D renderings of how your home will look.
You can even trace existing blueprints in PDF and other formats in Dreamplan 3D Home Design Software.
Dreamplan 3D covers not only home design but also interior design and landscape design too. For landscaping, it has templates for decking, gardens and pools.
Dreamplan 3D isn't very good when it comes to defining dimensions, establishing zero points but it you've ever played The Sims, then the results with Dreamplan 3D are very similar.
There's a free version of Dreamplan 3D Home Design Software for Mac for non-commercial use available from the Mac App Store but a license costs $35.
Pricing: Free for non commercial use
Pros:
Supports both 2D and 3D designs
Mac desktop app
Traces blueprints in PDF
Includes landscaping tools
Supports DWG and DXF import
Cons:
Windows inspired interface
No Cloud version
No team collaboration tools
Is HGTV Home Design Software For Mac Available?
If you want to know which home design software Joanna Gaines uses to layout her designs in HGTV Fixer Upper then the answer is SketchUp Pro.
SketchUp Pro is the professional version of the SketchUp Free but will be beyond the capabilities and budget of most home owners.
However, you can use SketchUp Free which is the closest thing to having HGTV Home Design software on your Mac without paying a cent.
If you're looking for the HGTV home design software used by HGTV's Property Brothers to renovate run down homes, then the answer is a powerful 3D CAD tool by Neezo Studios.
Again, this costs thousands of dollars and although you won't get quite the same photo-realistic 3D walk-throughs you see in Property Brothers, many of the Mac compatible home design software we've featured here support 3D rendering.