Although there's no Netflix app for Mac, you can still watch Netflix offline on a Mac or download Netflix videos with a few workarounds including on the latest M1/M2 MacBook Pro, MacBook Air and Mac Mini.
There are also ways to record Netflix shows and films in macOS although we don't recommend this as we'll explain.
Note that if you want to watch Netflix offline in another country other than the one you are in, you will need a VPN to get around the regional blocking restrictions.
Using NordVPN (65% off) can even speed up your internet connection to prevent buffering on Netflix as it re-routes traffic around Internet Service Providers (ISPs) that throttle your bandwidth when streaming.
You May Also Like:
Is There A Netflix App For Mac?
Netflix has never released a Netflix app for Macs and even in 2023, there is no sign of one being released anytime soon.
Any websites that claim you can download a Netflix for Mac app are either misleading or could even install malware on your Mac.
Previously, there were some unofficial Netflix movie viewing apps on the Mac App Store but Apple has now removed them due to stricter controls over apps that are really just website wrappers.
There is however an official Netflix app for iOS that works on iPhone, iPad and iPod Touch but not on macOS.
Can You Download Netflix on a Mac?
Since Netflix has never made an official app for macOS, there's no official way to download Netflix content on a Mac or watch Netflix offline on a Mac.
However, there are workarounds to download Netflix content on a Mac which we will show you here.
Can You AirPlay Netflix From iPhone or iPad To a Mac?
Unfortunately you can no longer use AirPlay to stream Netflix from an iOS device such as an iPhone, iPad or Apple TV to a Mac.
Netflix killed this feature in April 2019 saying "there isn't a way for us to distinguish between devices" and as a result could not ensure that its "standard of quality for viewing is being met".
Netflix has now made it clear on its website that "Airplay is no longer supported for use with Netflix".
You May Also Like:
How To Watch Netflix Offline On A Mac
Here then are the best ways to download and watch Netflix offline on a Mac in 2023.
The best way to get the Netflix app on a Mac is to install Windows on a Mac and then use the official Netflix for Windows app to download and watch shows offline on a Mac.
This is a good solution if you want to watch Netflix on a Mac without WiFi as you can download shows and movies in Windows for offline viewing.
It's also a good idea if you're into gaming as it allows you to play Windows only games on Mac.
There are various ways to install Windows on a Mac but only installing Windows on a Mac with Boot Camp allows you to watch Netflix offline on a Mac.
Boot Camp allows you to install Windows in a partition on your Mac so that you can boot your Mac in either macOS or Windows when you want to use the Netflix app.
However, Boot Camp only works on Intel Macs – it does not work on Apple Silicon M1/M2 Macs.
You can also install Windows on both Intel and Apple Silicon M1/M2 Macs with the Parallels virtual machine but this will only allow you to use and watch the Netflix app in Windows – it doesn't support watching Netflix offline on a Mac.
If you try to download and watch Netflix offline using Parallels on M1/M2 Macs you'll receive an error code U7354 due to technical limitations.
You can find full instructions how to install Windows on a Mac with Boot Camp here.
Important Note: Since the release of macOS 11.3 Big Sur or later, sideloading has been completely disabled from the Mac App Store.
If you're still running macOS 11.2.3 Big Sur or earlier, Apple Silicon M1 and M2 chip Macs can also run iOS apps on macOS.
So if you have an M1 or M2 Mac running Big Sur 11.2.3 or earlier, you can download and use the Netflix iOS app on your Mac.
The latest generation of iPads and iPhones use the same Apple Silicon chip that's used in the latest Macs.
However on January 19th 2021 Apple started disabling this feature in the Mac App Store meaning it is no longer possible to sideload the Netflix app into the most recent versions of macOS including Monterey and Ventura.
If you try to sideload the Netflix app on later versions of macOS it either won't appear or if it does and you select it, you will receive the error message "This application cannot be installed because the developer did not intend for it to run on this platform".
If you're still running Big Sur 11.2.3 or earlier however, you can still sideload the Netflix iOS app onto your Mac this way.
However, even if you are running Big Sur, some developers are increasingly choosing to block running iOS apps on M1/M2 Macs for various reasons, usually because of performance and commercial concerns.
Apple may also remove the option to run iOS apps on Apple Silicon Macs at any time so this method of running the Netflix iOS app on a Mac may not always be available.
To see if you can run Netflix for iPad or iPhone on a Mac just follow these instructions:
Go to the Mac App Store
In the App Store search field, search for "Netflix"
Click on the "iPhone and iPad apps"
Click on the download button or cloud icon to download it onto your Mac.
Click Open to start using the Netflix app on your Mac.
If Netflix doesn't appear when you search for it on your M1 or M2 Mac, then it's because Netflix has blocked it from running on macOS.
Bear in mind that the Netflix iOS user interface is designed for touch screens rather than Macs so you'll have to get used to using the Touchpad to use it.
You can find more instructions how to sideload Netflix onto macOS here.
PlayCover is an open source project allows you to run iOS apps and games on Apple Silicon M1 and M2 Macs with mouse, keyboard and controller support.
PlayCover works on all versions of macOS including the latest versions of Ventura and Monterey.
PlayCover basically works by putting the Netflix app in an iPad wrapper which allows the apps to run natively on Apple Silicon Macs.
PlayCover even allows you to map custom keyboard touch controls to keyboard which isn't possible in other ways of running iOS apps a Mac.
Here's how to watch Netflix offline on a Mac using PlayCover.
Download PlayCover and double click on the DMG file.
Drag PlayCover into your Applications folder.
Double click on the PlayCover app to open it or Ctrl-click on it and select "Open".
Click "Open" when macOS warns you whether you want to open it.
When you first run PlayCover you may have to install Xcode Command Line Tools if you've never installed it before.
To complete the installation you need to authenticate with either Touch ID or your password on your Mac.
You must then download what's called the decrypted IPA file for the Netflix iOS app. These are only available from third party sites such as Decrypt and ARM Converter. PlayCover warns that it cannot verfify the safety of these downloads so you download them at your own risk. For example, if you search for Netflix in Decrypt you are given the option to download the Netflix IPA file by clicking on Download Latest.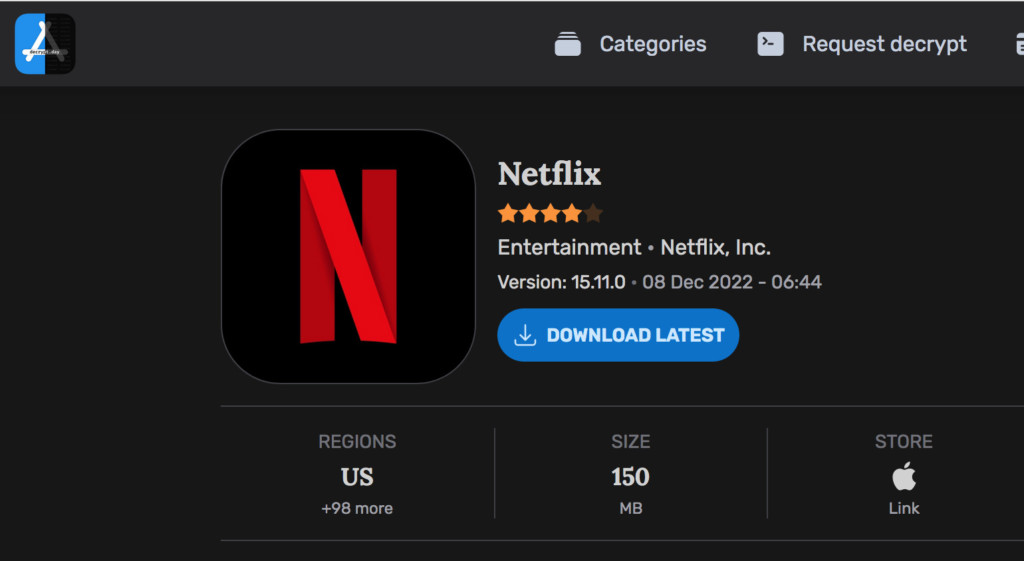 You then simply drag and drop the decrypted Netflix IPA file into PlayCover to add it to your PlayCover App Library. You can then double click on the the iOS Netflix app to use it on your Mac.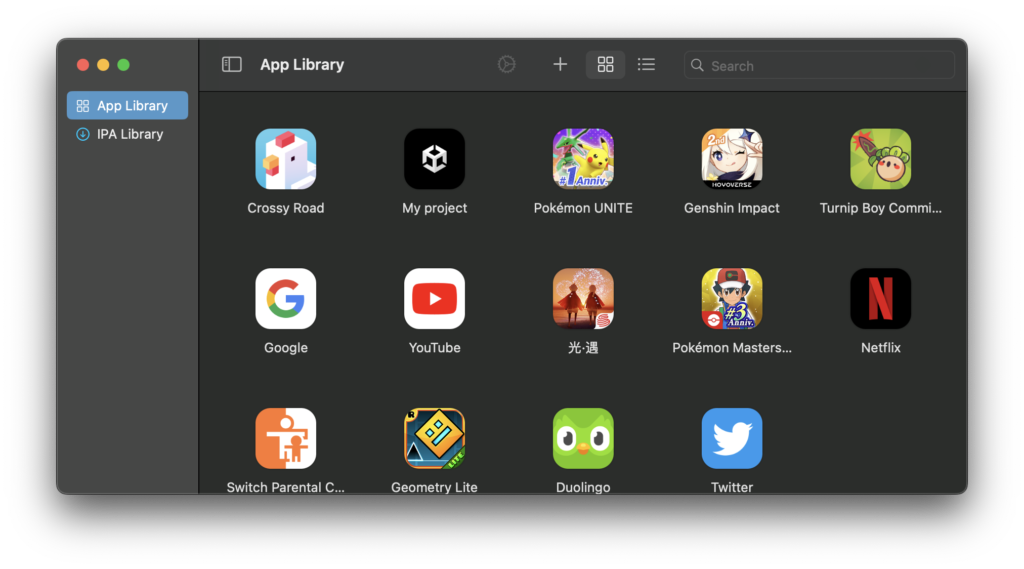 A screen recorder allows you to record anything that's playing on your screen including Netflix shows and movies.
To record Netflix on your Mac you can either use the free macOS screen recording tool in QuickTime Player (requires macOS Mojave or later) or use special screen recording software to record Netflix on Mac.
However, there are many reasons why we strongly advise against using a screen recorder to download Netflix on your Mac:
Screen recording is against Netflix terms and conditions and could result in your account being suspended.
It's also the least convenient way of downloading Netflix shows on a Mac because you have to play the entire show or movie while recording it meaning you can't use your Mac to do anything else in the meantime.
The audio and video quality of the recorded files will depend on your internet connection. If you have a bad WiFi connection or it is disrupted during recording, the quality will be very poor.
Using a screen recorder to save Netflix videos on your Mac will result in poor video quality in many cases as a lot of frames will be skipped by whichever screen capture software you use.
The recorded files are extremely large and take-up valuable space on your Mac hard drive. Unless you have an external hard drive or lots of space on your Mac, it's really not worth it. We recommend checking how much storage space you have on your Mac first before saving large video files on your hard drive.
To record Netflix shows on your Mac for free you can use QuickTime to record your entire screen by selecting QuickTime Player from the Applications folder.
You then simply choose File > New Screen Recording from the menu bar.
You can find full instructions how to screen record on a Mac here.
Note that by default, the screen recording tool in macOS only records sounds from your Mac's internal microphone and not your Mac's internal audio coming from Netflix.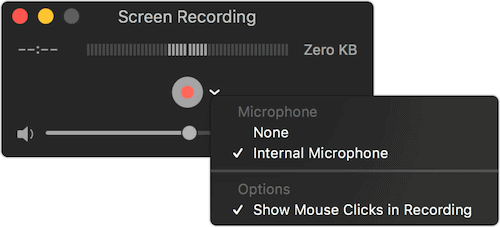 To record the audio coming from Netflix you need to install an additional plugin so that QuickTime can record the internal Netflix sound on your Mac too.
Follow these instructions to screen record on Mac with internal audio.
Once setup, you can click anywhere on the screen to start recording the entire screen or use the drag and selection tool to just select Netflix.
5. Connect An iPhone Or iPad To A Mac & Use QuickTime
Important Update: This method now only works for listening to Netflix audio offline. Netflix video streams can no longer be captured using QuickTime.

If you've already got an iPad, iPhone or iPod Touch, this method is by far the best way to download Netflix and watch shows offline on a Mac legally.
You can use the iOS app to download Netflix on your iPhone or iPad and then connect it your Mac to watch offline.
Follow these instructions to watch Netflix offline on a Mac:
On your iOS device go to Settings > General > About and make sure you are running iOS 13 or higher.
Open the Netflix app on your iPad, iPhone or iPod Touch.
Tap on any show or film and look for the download icon in the description. Note that not all Netflix titles are available for download so if you can't see it, you can't download it.
Download the shows or films you want to watch offline. You can download up to 100 titles at once.
In the Netflix app, go to Downloads to see all the shows and films you have downloaded.
Connect your iPhone or iPad to your Mac via a Lightening cable or Lightening to USB cable.
On your iOS device if prompted, click on "Trust Your Mac".
On your Mac open a Finder window, select your iPhone in the sidebar and if prompted select "Trust Your iPhone" or "Trust Your iPad". You should then see your iPhone or iPad device in the Locations section.
Open QuickTime Player on your Mac and select File > New Movie Recording.
Click the Options pop-up menu and choose for Camera your connected iPhone or iPad.
You should now be able to see your iPhone or iPad home screen where you can open the Netflix app.
Go to Downloads in Netflix on your iOS device to start watching shows or films that you've downloaded on it on your Mac offline.