If you want to start recording and editing music on a Mac, we've looked at the best music production software for Mac of 2023.
Music production software, also known as a Digital Audio Workstation (DAW), allows you to record, edit, mix, arrange and edit music professionally on your Mac.
We looked at the best DAWs for MacBook Pros, MacBook Air, Mac Minis and Mac Studio including the latest M1 MacBook Pro, M2 MacBook Pro, M2 Mac Mini, M2 Mac Studio and M3 Macs which are suitable for everything from studio and live production to making your first tracks at home in the bedroom.
If you plan to DJ on your Mac, you may also find our guide to the best DJ software for Mac useful too as it focuses on software aimed specifically at DJs.
And if you're wondering which Mac is best for music production now that the latest M1, M2 and M3 Macs are available, you might find our guide to the best Mac for music production useful too.
You May Also Like:
Here then are the best music production and recording software for Mac of 2023 in order of ranking.
1. FL Studio (Best For Loops)
FL Studio, formerly known as FruityLoops, is unique because it's based around loops which has made it incredibly popular with Electronic Dance Music (EDM) producers.
An indication of how good FL Studio is, is that major artists including Avicii, Mike Oldfield and Basshunter have all used FL Studio to help create music.
Mac users had to wait almost 20 years after the Windows release for it to arrive on macOS but it has rapidly developed a following in the Apple world.
FL Studio works by creating loops that you add to your main track so it's more of a loop creation software than an all round music production tool.
Plugins are one of the things that make FL Studio so popular and there's a huge range of virtual instruments, sounds and loops in FL Studio for Mac just as in the PC version.
You can extend the functionality of FL Studio with a range of plugins including over 30 synthesizers, drum machines, samples and effects.
FL Studio doesn't have a native Apple Silicon Mac version yet but still works on them thanks to Rosetta although the performance isn't quite as optimal.
FL Studio has launched the career of many aspiring DJs and musicians and you can download a free trial to test it for yourself.
FL Studio provides a Lifetime Free Update policy, meaning that whatever version of FL Studio you buy – you will get all future updates for free.
You can find out more in our FL Studio for Mac review.
Pricing: Starting from $99.
Pros:
Ideal for EDM producers
Lots of amazing plugins for loops and instruments
Lots of cool effects
Excellent for wannabe DJs and those starting out
A Lifetime Free Update Policy
Cons:
Many plugins cost extra
Some plugins don't work on Mac
Rewire feature not available on Mac
No native Apple Silicon Mac version
2. Adobe Audition (Best For Beginners)
Adobe may be most famous for graphic design and video editing software but Adobe Audition is its answer to music production.
Adobe Audition, formerly known as Cool Edit Pro, might not be the most advanced music production software on the market but it's far more accessible and easier to use than most which is what makes it the best music production software for beginners.
Adobe Audition is often used by videographers and podcasters thanks to it's amazing ability to restore and repair tracks that have audio issues.
Adobe Audition makes it extremely easy to remove background noise and echo's from a track in a way that other DAW's simply can't or make very complicated.
Like all the best DAWs for Mac, Adobe Audition supports both single and multi-track recording, powerful audio editing tools and a fast, logical workflow.
You can drag and drop audio files into the timeline, connect external audio interfaces or mixers (but not MIDI devices) and record tracks easily.
Adobe Audition is also well integrated with the Creative Cloud suite which means it's ideal for adding tracks to Adobe's excellent video editing software Adobe Premiere and video editing software for beginners like Adobe Premiere Elements.
You can try a free trial of Adobe Audition to try it for yourself.
Pricing: $20.99/m or included free in Creative Cloud subscription
Pros:
Simple and easy to use
Single and multi-track editing
Amazing audio repair tools
Creative Cloud integration
Native version for Apple Silicon Macs
Cons:
No MIDI support
Lacks power of professional DAW
3. GarageBand (Best Free Music Software)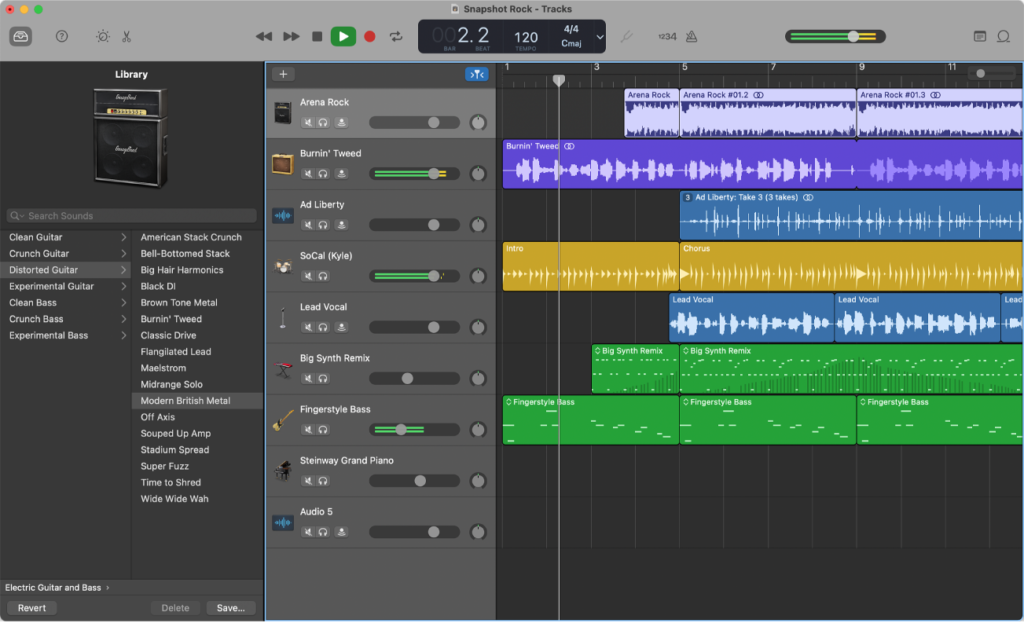 GarageBand is free in both macOS and iOS on iPhone and iPad and is an incredibly powerful free music creation software made by Apple.
GarageBand is the best free music production software for Mac and is surprisingly powerful for a free music creation tool.
GarageBand supports an impressive 256 tracks and it also supports any MIDI device so you can plug in your keyboard or guitar to record into it and create tracks or samples.
Apple has roped-in artists like Mark Ronson to add samples and loops to GarageBand to give your tracks a truly professional touch.
GarageBand also has some cool automated features like Smart Drummer which automatically creates a drum beat or bass line for your music based on the instruments you've selected.
GarageBand might be free but it's still quite complicated at first and you need to follow the detailed tutorials to learn how to use it properly.
GarageBand offers not only music production but even music lessons if you want to learn the piano and guitar for example.
There's no traditional mixing deck in GarageBand though so mixing tracks in it isn't as easy as other software.
Because it's an Apple product, it's also been updated to work natively with the latest Apple Silicon Macs too.
GarageBand is included in macOS for free but you can also find out more and download it.
Pricing: Free
Pros:
Free to use
Supports 256 tracks
Lots of cool samples and beats
Automated drum tools and more
Native Apple Silicon Mac app
Cons:
Not advanced enough for professional production
Takes some time to learn properly
No traditional mixing deck
4. Apple Logic Pro (Best For Apple Devices)
Logic Pro is Apple's professional music production software and is aimed at pros that need more than GarageBand can offer.
Unlike GarageBand however, Logic Pro is not free for Mac and costs $199.99.
The layout of GarageBand and Logic Pro are very similar but Logic Pro has much more power under the hood to be discovered.
Compared to GarageBand's 256 tracks for example, Logic Pro can handle one thousand tracks per project.
It also includes advanced tools like a Step Sequencer and Live Loops to add pre-programmed beats and piano rolls easily.
Logic Pro has been updated for the latest Apple Silicon Macs to support dynamic spatial audio mixing which offers studio level production quality on any M-chip MacBook.
Logic Pro has also been optimized to take advantage of the immense battery power on Apple Silicon MacBooks too so that you can edit for hours without having to charge.
You can connect a MIDI keyboard to Logic Pro and the Logic Pro can turn it into a sampler to create your own truly original samples.
There's also a clever Smart Tempo tool which ensures all of your instruments stay at the same tempo automatically.
Finally, if you've got an iPad, Logic Pro allows you to use it as a controller for Logic Pro via the Logic Remote app.
You can also record sounds and beats anywhere on your iOS device and then upload them to iCloud for use in Logic Pro on your Mac.
Apple also released Logic Pro for iPad in May 2023 although it's only available on a subscription basis for $4.99 per month or $49.99 per year whereas the Mac version is a one-off purchase.
Initially the iPad version of Logic Pro actually had more features than the Mac version but Apple updated Logic Pro for Mac 10.8 in November 2023 with some of the iPad features that were missing.
These include Mastering Assistant, Sample Alchemy, Beat Breaker, Slip & Rotate tools, 32-bit recordings and new sound packs.
You'll need macOS 13.5 or later to install Logic Pro for Mac.
You can try a free trial of Logic Pro to test it first.
Pricing: $199.99
Pros:
Supports thousands of tracks
Incredibly choice of instruments and samples
Suitable for professional music production
Amazing live looping and tempo controls
Logic Pro for iPad available
Cons:
Doesn't support all plugins
Steep learning curve
iPad version requires subscription
5. Ableton Live (Best For Live Production)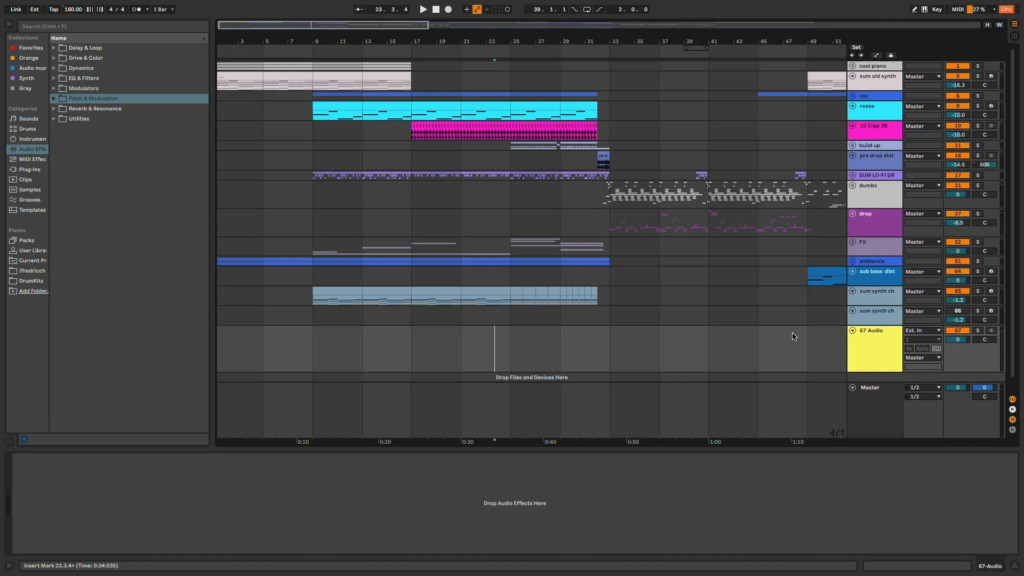 Ableton Live is one of the most widely used DAW's in the music business and is arguably the best live music production software for Mac.
Ableton Live is used by some of the biggest music producers in the world and is incredible when it comes to improvising and producing live music.
Ableton Live has two main uses: a sequencing DAW with multiple tracks and a Session Mode for solo artists.
Ableton Live offers some of the most advanced recording tools in any music software including Comping, MIDI Polyphonic Expression and Tempo Following that any professional producer will appreciate.
The Session Mode is where Ableton Live excels and if you're a live music producer, you can take live vocals and music and turn it into something truly professional on the fly with Ableton Live.
You can try Ableton Live for free to test it for yourself.
Ableton Live comes in three different versions; Intro, Standard and Suite and starts at $79.
Pricing: Starting from $79.
Pros:
Incredible for live music production
Session Mode is ideal for solo artists
Advanced comping and MPE tools
Native Apple Silicon Mac version
Cons:
6. Pro Tools (Best For Professionals)
Pro Tools is made by Avid Technologies which is one of the most established names in professional video editing suites, long before personal computers were used for video editing.
Pro Tools has now been updated to work on the latest Apple Silicon Macs and the results are amazing compared to the older Intel Macs.
Pro Tools can be used for music creation and production, sound recording, editing, and mastering on a Mac.
Pro Tools has won Grammy awards for its DAW toolset and plugins which are used by professional music producers and artists across the world.
The M1 compatibility update also introduced the Pro Tools Hybrid Engine which lets you switch between native and DSP processing track-by-track.
Pro Tools also supports a staggering 2,048 voices and audio tracks from 128 to 28KHz and up to 64 I/O channels. You can also extend the functionality of Pro Tools with more than 110 plugins, all of which work on Apple Silicon Macs.
The entire Pro Tools suite also works on M-series Macs now which includes Pro Tools Artist, Pro Tools Studio and Pro Tools Flex.
Since April 2022, pricing for Pro Tools is subscription only and Avid is no longer offering Pro Tools perpetual licenses anymore.
Subscriptions for Pro Tools start at $9.99 per month.
You can also try a 30 day free trial of Pro Tools to test it for yourself.
Pricing: Plans starting from $9.99/m.
Pros:
Amazingly fast on Apple Silicon Macs
Huge collection of loops, plugins and samples
MIDI tools help you build tracks and convert to audio
Connects other instruments and apps via Ableton Link
Cons:
Subscription pricing only
Many features only available with Pro Tools Flex subscription
Steep learning curve for beginners
Best Music Software For Mac Compared
To help see how these music production suites compare, the comparison table below shows you how they match-up side-by-side.
| | FL Studio | Adobe Audition | GarageBand | Logic Pro | Ableton Live | Pro Tools |
| --- | --- | --- | --- | --- | --- | --- |
| Supported Formats | OMF, Open TL. Plus AIFF, WAV (BMF), CAF, SDII, ReWire, MP3, MP4 and MIDI | AAC (including HE-AAC), AIF, AIFF, AIFC (including files with up to 32 channels) | AIFF, CAF, WAV, AAC (except protected AAC files), Apple Lossless, MIDI and MP3. 64-bit. | AAF, OMF, Open TL, and XML (Final Cut Pro) projects. Plus AIFF, WAV (BMF), CAF, SDII, ReWire, MP3, MP4 and MIDI | WAV, AIFF, MP3, Ogg Vorbis, FLAC. | BWF/WAV (including WAVE Extensible, RF64 and BW64) and AIFF. |
| Supported Plugins | Instruments, loops, beats and more | Audio Units and 64-bit audio plug-ins in VST 2.4, VST 3.0 formats | Audio Units | 64-bit only | VST2, VST3, Audio Units, ReWire | Avid Plugins, VST |
| Supported Hardware | MIDI, DJ Controllers & Most Audio Interfaces | MME and Core audio | Core audio and MIDI controllers | Core audio and MIDI controllers | Most MIDI controllers, Ableton Control Surface (Push) | Most MIDI controllers, Ableton Control Surface (Push) |
| Notation | No | Yes via extension | Yes | Yes | No | Yes |
Other Music Production Software For Mac
These are the best music production software of Mac of 2023 although by no means the only ones we could have covered.
Other options include Audacity, Studio One, Reason and Cubase but we felt the shortlist here offered the best user experience and compatibility with Apple Macs, including Apple Silicon Macs.
If you want to extract a specific track from a song such as the vocals or backing track, then you might also find RipX DAW for Mac useful.
RipX DAW is designed for remixing and stem unmixing using AI for incredibly fast and accurate results.
RipX DAW uses AI to scan and detect songs so that you can isolate and extract specific elements from a song which you can then use in your own tracks.
RipX DAW can also be used to clean-up, transform and rearrange tracks.
External Monitors For Music Production
One thing you might want to consider when producing music on your Mac is getting an external display.
Making music on the smaller MacBook Pro screens in particular isn't ideal and you can find a roundup of the best external monitors for Mac and if you've got a Mac Mini, the best external monitors for Mac Mini here.
Note that the original base level M1 and M2 chips only support one external monitor. However there are workarounds to make M1 and M2 Macs support more than one monitor.
Note that this one external display limitation only applies to the first generation of M1 and M2 chips. It does not affect the later 2021 M1 MacBook Pro, Mac Studio or Macs with M1 Pro or M1 Max chips.
External Storage For Music Production
Music production involves handling a lot of large files and you'll soon run out of space on your Mac's hard drive.
You'll almost certainly need an external hard drive to store or edit files on if you're producing music professionally.
For music production, the faster the drive, the better and we recommend using an external Thunderbolt drive for the fastest data transfer and editing speeds.
You can also check out our broader look at the best external hard drives for Mac to extend your Mac's storage space.